Get up close and personal with some of the most dangerous sea creatures in the world at this unusual predator-focused aquarium. You'll go on an adventure through a submerged temple that is the hunting realm of everything from sandbar sharks to rare golden crocodiles.
Shark Reef Aquarium tickets include access to state-of-the-art underwater tunnels for a diver's perspective without getting your feet wet. Meanwhile, intrepid explorers can swim with sharks!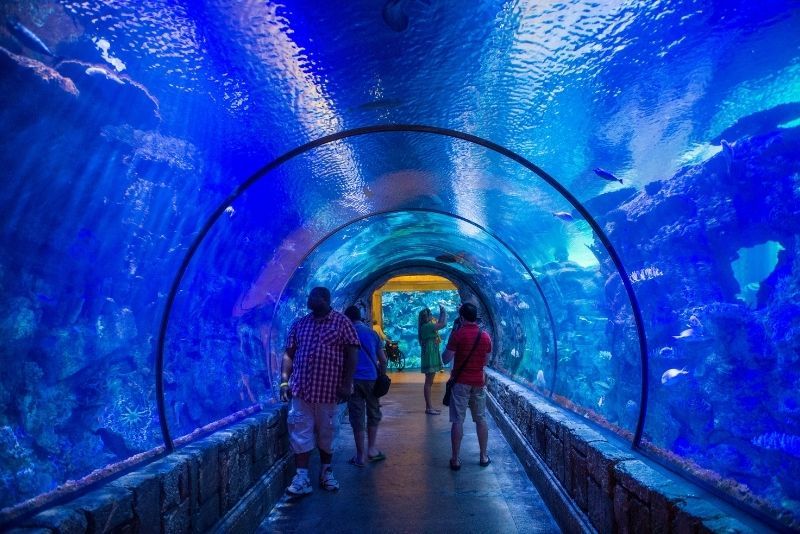 How much do Shark Reef Aquarium tickets cost?
Shark Reef Aquarium tickets are priced as follows:
Adult: $29
Senior (aged 65+): $27
Children (aged 5 - 12 years): $24
Infants (aged 4 years and under): Free
The following experiences are not included in the Shark Reef Aquarium entrance fee and can be purchased separately.
Stingray feeding
Adult: $65
Child (aged 5 - 12 years): $45
Turtle and shark feeding
Shark diving
1 Diver (18+ years): $650
2 Divers: $1,000
Who is eligible for discounts?
Discounts on the standard Shark Reef Aquarium rate are available for Nevada residents, with $3 off per person. These can only be purchased at the box office on-site.
Should you book Shark Reef Aquarium tickets in advance?
Absolutely! We highly recommend buying your Shark Reef Aquarium tickets ahead of your trip as it's a very popular spot and the timed slots do sell out fast.
Booking in advance also means you can compare prices for the cheapest deals.
What will you see inside the Shark Reef Aquarium?
Fish, and lots of them! There are over 2,000 creatures to meet, including giant rays, green sea turtles, and of course sharks.
The Shark Reef Aquarium tickets price includes entry to all the main tanks and the underwater tunnels that give visitors a unique view of the sharks and their companions. You'll see these fearsome creatures swimming right above your head!
Undersea Explorer VR Theater
Have a blast with your friends in this 30-seat theater where a simple 3D headset is your passport to oceanic adventure.
This virtual reality experience takes you swimming with humpback whales in Tonga, and diving with toothsome tiger sharks in the Bahamas. You can also snap selfies in shark cages, learn a bit of biology, and listen to haunting whale songs.
Animal encounters and feeding
Head to the touch pool and meet the stingrays, who are waiting for you to feed them their breakfast! Brave souls can stroke the rays and the other tank inhabitants. You can also hand-feed sea turtles and zebra sharks on a behind-the-scenes visit.
Shark dives
For the ultimate thrill, plunge into the aquarium and dive with the resident sharks. This experience is for certified adult divers only.
Where is the Shark Reef Aquarium located?
The Shark Reef Aquarium is conveniently situated in the Mandalay Bay Hotel and Casino at the south end of the Las Vegas Strip. The hotel is on the airport shuttle run and can also be easily reached by taxi from anywhere in the city.
If you're driving, there is a parking lot on-site for guest use.
When is the best time to visit the Shark Reef Aquarium?
Shark Reef Aquarium entry is possible between 10 AM and 6 PM daily, with the last admissions at 5 PM.
For the most relaxing Shark Reef Aquarium visit, try and avoid lunch times and early afternoons as these are the busiest periods. Weekdays are also quieter than weekends so time your trip accordingly if you can.
Which other theme parks can be visited in Las Vegas?
Travel tips
You can compare deals for Shark Reef Aquarium tickets on TourScanner to make sure you find the cheapest prices.
Make reservations well in advance to avoid missing out on your chosen time slot and date.
You don't need to be staying at the Mandalay Bay Hotel to visit the aquarium.
Children aged 12 and under must be accompanied by an adult at all times.
Allow a couple of hours for a standard aquarium visit without the optional feeding and diving activities.