The 4.5-star Mandalay Bay is most famous for its 11-acre beach, enormous pool and tropical getaway atmosphere. This luxury resort has been welcoming partygoers, gamers and visitors of all kinds since the turn of the century.
Considered one of the best family-friendly resorts on the Strip – alongside names like Excalibur and Circus Circus — Mandalay Bay boasts award-winning restaurants, Shark Reef Aquarium and the relaxing Spa Mandalay.
Not to be forgotten, however, is its diverse roster of entertainment. When planning your Sin City getaway, consider snapping up some Mandalay Bay Hotel shows tickets.
Here's all you need to know about the Mandalay Bay, where you can watch the best shows in Las Vegas.
Michael Jackson ONE by Cirque du Soleil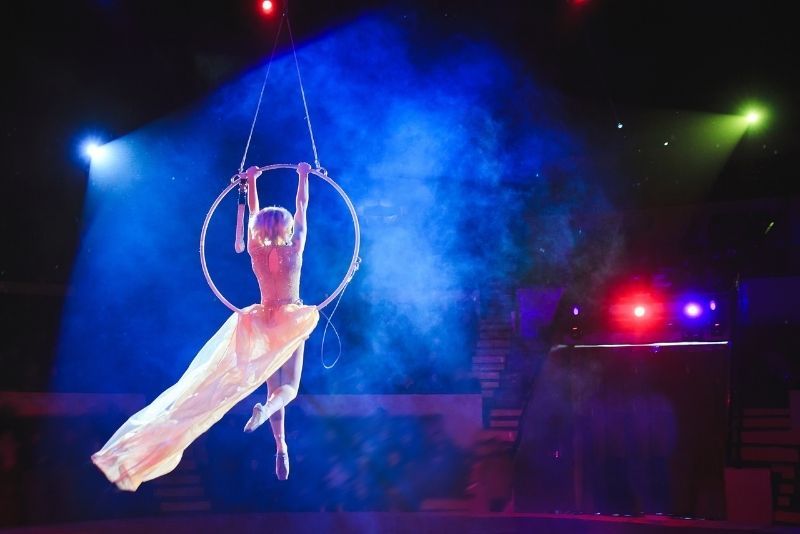 Featuring dozens of chart-topping hits, dazzling choreography and never-before-seen special effects, Michael Jackson ONE is a state-of-the-art show. It celebrates the King of Pop in a way that only Las Vegas – and Cirque du Soleil – can.
A must for any fan of MJ's music, this 90-minute extravaganza weaves together his most popular songs with gravity-defying acrobatics, heart-pounding beats and unforgettable moments.
From "Bad" to "Beat It" to "Billie Jean," Michael Jackson ONE is an immersive experience that will have you singing and dancing along in your seat the whole way through.
Since the performance takes place in a traditional stage theater rather than a big top, you'll get a view of everything that's happening at once — all facing toward the audience.
For those unfamiliar with Michael Jackson's music, the show is still an entertaining and visually stimulating way to spend an evening in Vegas.
With astounding multimedia effects, the circus acts are top-notch. These include trampoline artists, bungees, shadow theater, hat juggling, pole dancing, a Spanish Web routine, Wushu, rhythmic gymnastics and Russian swings.
The general storyline follows four misfits dubbed "The Heroes," named Clumsy, Sneaky, Shy and Smarty Pants. Together, the foursome sneaks into the theater to see the show.
When they sneak in, they find four special objects that belonged to Michael Jackson — a black fedora, black shoes and socks, sequence white gloves and sunglasses. The rest, well, you'll have to see for yourself.
Ticket prices
Mandalay Bay show tickets to Michael Jackson ONE by Cirque du Soleil vary from $69 for the most basic seats to over $300 for the ultimate VIP experience.
Like at most Las Vegas shows, if you want to sit closer to the stage, be prepared to shell out a little more cash. Category E tickets start at $69 and are usually located toward the back of the room.
The price climbs closer to $170 for Category B, the best of the standard seats. Golden Circle and Producer Seats tickets — which are considered the best seats in the house — start at around $168 and $207 respectively.
VIP packages are also available for an all-exclusive experience, with the best seats. You'll have private entrance, early theater access, a pre-show reception in the VIP room, a meet and greet with the performers, souvenirs gifts and photos.
Event times
Performances of Michael Jackson ONE are held every Thursday, Friday, Saturday and Sunday throughout the year.
The earlier show is at 7 PM and the later show is at 9:30 PM — the shows are identical and run for approximately 90 minutes with no intermission.
During busy times of the year such as the Christmas holidays, there may be additional days and timeslots or time adjustments. Double-check the schedule before you book your tickets.
Arrive at the theater at least 30 minutes early to ensure you have time to find your seats, get a drink and have time to enjoy the pre-show experience.
The VIP Experience for the 7 PM and 9:30 PM shows start at 6:10 PM and 8:50 PM respectively.
Age requirement
To hold Mandalay Bay show tickets to Michael Jackson ONE, you must be at least 5 years old. All guests under the age of 18 must be accompanied by an adult.
The show is considered family-friendly and all of the music is from the King of Pop's catalog. It will be familiar to parents and grandparents, while the younger kids will enjoy the high-energy acrobatics.
However, the show does incorporate loud sounds and substantial periods of darkness which can spook younger children. It is ultimately up to the parents or guardians to decide if their child is old enough and will be able to handle the show.
Location & Directions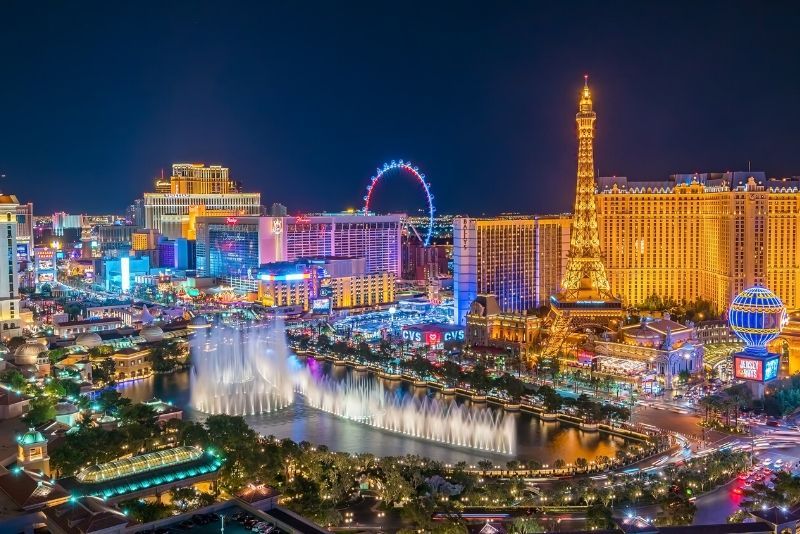 Mandalay Bay is located on the southernmost end of the main Las Vegas Strip, just past the Welcome to Fabulous Las Vegas sign. It's on the western side of The Strip, right next to the airport.
Mandalay Bay is also the first famous casino you'll see if driving into Sin City from the south, and it is adjacent to the Luxor Hotel & Casino.
If you're flying into Las Vegas airport, a taxi or rideshare to the hotel-casino will cost around US$15 to US$25 for what should only be a 5-10 minute drive.
If you prefer to take public transport and save a few dollars, you can also take the CX Centennial Express Northbound bus from Terminal 1 to the "WB Tropicana after Las Vegas" stop. Then walk for about 15 minutes.
Alternatively, if you're arriving at the main bus terminal in Downtown Las Vegas near Fremont Street, the Deuce bus will take you right to the door of Mandalay Bay in about an hour. It will stop at major casinos along the Strip en route.
You can also take the CX Centennial Express southbound to Tropicana and walk 20 minutes — despite the walk, it's still 20 minutes quicker than the Deuce.
Which other hotels host shows in Las Vegas?