When visiting Las Vegas, it's easy to get mesmerized by the glittering lights and pulsating place of the place. But just outside of Sin City, another world of excitement and adventure awaits, ready to be explored.
River rafting tours in Las Vegas are a great option for lovers of the great outdoors — and anyone can find an expedition to suit them, with tours ranging from casual and laid-back to intermediate and more challenging.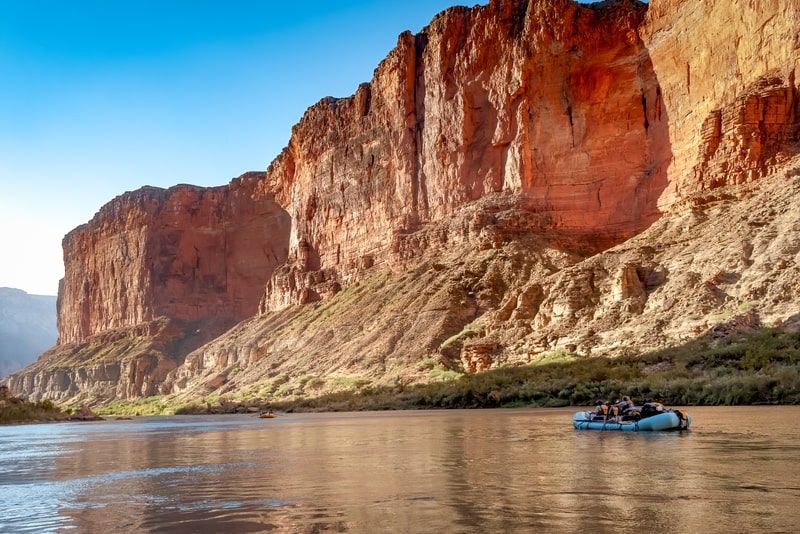 Here's all you need to know about rafting tours, one of the most exhilarating outdoor activities in Las Vegas.
What are the best rafting tours in Las Vegas?
Hoover Dam river rafting tour from Las Vegas
This is the most tranquil rafting tour available and you'll spend a couple of hours exploring the Hoover Dam and the Black Canyon. The laid-back nature of this rafting expedition makes it perfect for families with small children — enabling them to still enjoy a memorable day out on the water in a safe and fun manner.
After arriving at the dam, you'll receive a safety briefing and introduction before climbing aboard. From here, you'll journey down the mighty Colorado River, discovering some of its best-kept secrets. Along the way, you will stop on the river banks for lunch and a quick dip before heading back to the dam.
The rafting tour allows you to discover parts of this iconic dam that can only be reached by boat — and your passionate guide and skipper will tell you more about the region's history as well as the local fauna and flora. If you're lucky, you might even spot a couple of Bighorns while they traverse the iconic cliffs.
Half-day river rafting tour from Las Vegas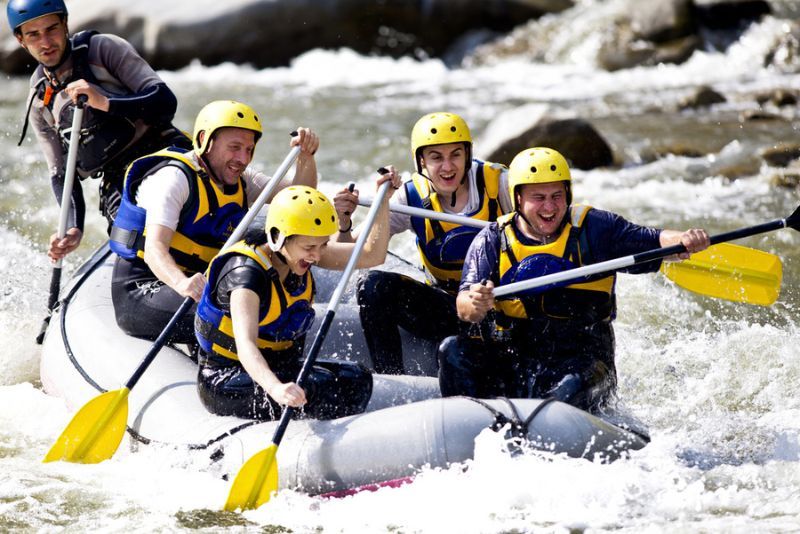 This rafting tour is relatively tame, and focuses on exploring the Black Canyon and its rich biodiversity. Your day out on the water begins with an air-conditioned pickup from your hotel transporting you to the starting point.
The rafting tour takes place upstream from the Hoover Dam and you'll set sail from Lake Mead during a 3-hour cruise on a motorized raft. Your route will take you along 20 kilometers of shoreline at a leisurely pace to take it all in.
Your expert guide will tell you more about the construction of the dam, as well as the people who gave their lives for its completion. You'll hear more about how the dam now forms part of an intricate ecosystem and marvel at the natural beauty on display. After a quick swim and lunch on the banks of the Colorado, you will return to Las Vegas.
Las Vegas full-day river rafting tour
Spend the entire day out on the Colorado River, navigating and taming its roaring rapids. Your whitewater adventure starts out tame enough, with a hotel pickup and drive to the river.
There, comfort takes a backseat, while adventure takes the wheel. Your home for the next couple of hours is an 8-person inflatable raft with an out motor and a qualified boatsman.
Along the way, you'll brave some intimidating Class III+ rapids while learning about the beautiful biodome. Your guide will take you to hidden canyons and waterfalls along the way, as well as on a short hiking tour to Travertine Waterfall.
Is there any combo available with rafting tours in Las Vegas?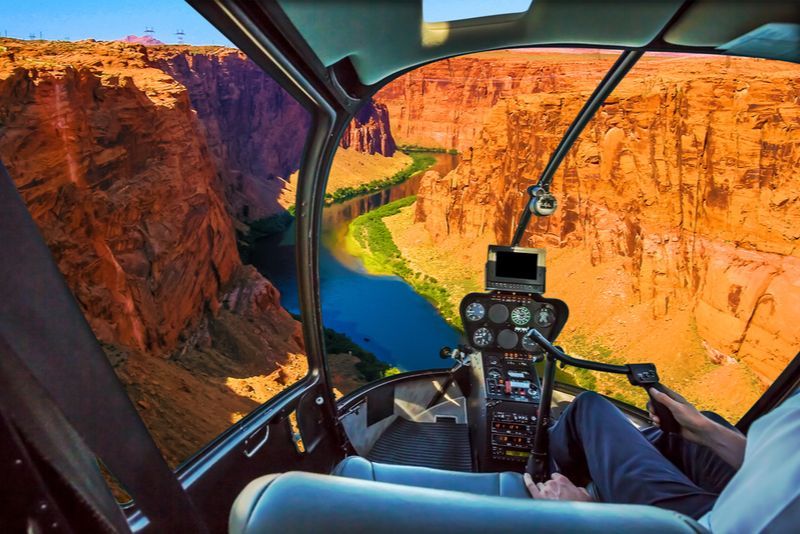 Combining your rafting tour with another expedition in Las Vegas is a great way of getting the most out of your visit to Sin City.
Las Vegas full-day river rafting and helicopter tour
This action-packed rafting and helicopter tour from Las Vegas will keep you on the edge of your seat for the entire day — as you explore the iconic Grand Canyon and Hoover Dam by land, sky and water.
Start your day with air-conditioned vehicle ride from your hotel to the helipad, where you will meet your pilot and take to the skies. After admiring Lake Mead, the Colorado River, Hoover Dam and the Grand Canyon from up high, you will touch down at the bottom of the world's largest canyon.
Celebrate your flight in style with a bottle of champagne and a delicious lunch, before setting off on the next leg of your indelible journey — a 20-kilometer rafting tour of Hoover Dam and the Black Canyon.
How much do rafting tours in Las Vegas cost?
Hoover Dam river rafting tours cost US$70 per person, making it the most affordable option. You'll need to arrange transportation to the Hoover Dam, as it isn't included.
Half-day river rafting tours from Las Vegas cost US$140 per person — making it the perfect sweet spot between cost and quality.
Full-day Las Vegas river rafting tours cost about US$700 per person, which includes over 8 hours in the water, roundtrip transportation and a light lunch.
Las Vegas full-day river rafting and helicopter combo tours also cost US$700 — providing great value for money when you consider that it includes a helicopter flight as well as a 3-hour rafting tour.
What is included?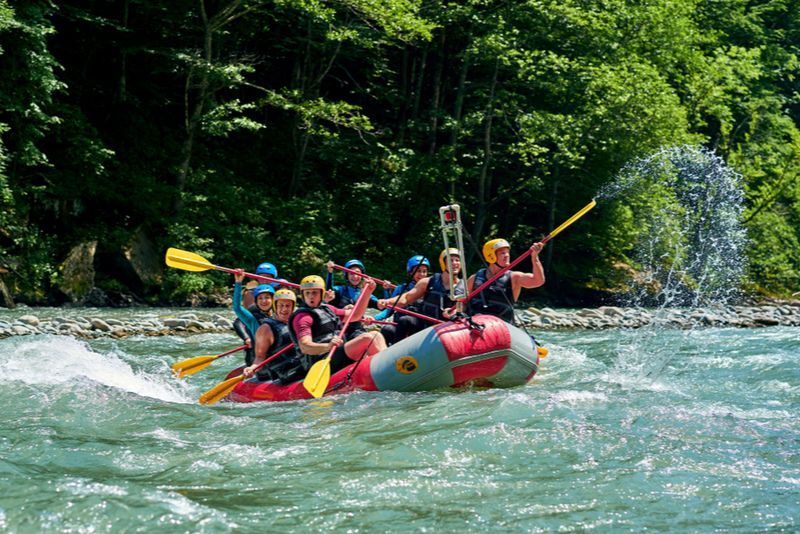 Las Vegas rafting tours include the use of the raft, the guidance of a qualified expedition leader — as well as all the safety equipment that you'll need. Some of the longer tours will also include a light lunch, as well as the opportunity to swim in the river. On rafting and helicopter combo tours, you will have to pay an additional US$30 fuel surcharge per person.
Where does it start?
Rafting tours in Las Vegas will generally start with a hotel pickup service. However, not all rafting tours include this service, so confirm the starting point when booking.
How long does it last?
Half-day rafting tours generally take up between 4 and 6 hours, while full-day tours last anything from 8 to 15 hours. The helicopter flight portion of a combination tour is usually around 1.5 hours.
When is the best time for a rafting tour in Las Vegas?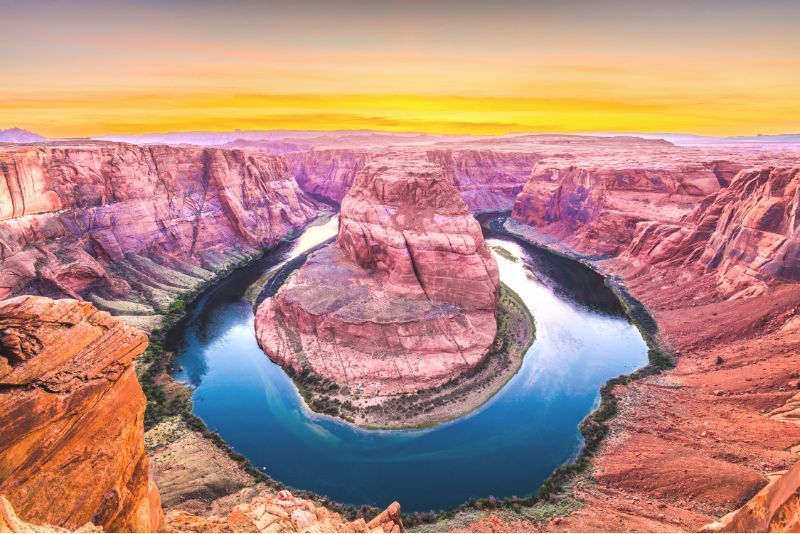 The best time for a rafting tour in Las Vegas is from late spring to early fall (April to October), when the weather is warm and conducive for water activities. Summer (June to August) can be very hot, so morning trips are preferable to avoid the peak heat.
Is it safe?
Yes, Las Vegas rafting tours are generally safe and operated by experienced, professional guides. While most travelers with a moderate level of physical fitness can participate, these tours should be avoided by pregnant travelers and people with heart or back problems and other serious medical conditions.
Are children allowed?
Yes, children of all ages can generally join rafting tours in Las Vegas, provided they are accompanied by an adult. Keep in mind though that more demanding rafting excursions have a minimum age requirement, so confirm the details before booking.
What happens in case of bad weather?
Rafting tours from Las Vegas depend on favorable weather, so if the conditions are bad, then your tour may be canceled. In that case, you can either reschedule for a later date or request a refund.
Which other water activities can be done in Las Vegas?
Travel tips
Popular rafting tours can sell out, especially during peak seasons. Secure your spot early.
The desert heat in Nevada can be intense, so apply water-resistant sunscreen and consider wearing long sleeves for additional protection.
Wear quick-dry clothing, a hat, and sunglasses. Non-slip shoes are also essential.
Rafting can be physically demanding so it is important to stay hydrated. Carry ample water and drink regularly.
Always wear a life jacket, even if you're a strong swimmer, and listen carefully to your guide's safety briefing.