Lace up those boots and hit the trails to discover the scenic wilderness on the doorstep of bustling Las Vegas. You'll be exploring deep canyons and photographing colorful rock formations while encountering native wildlife and admiring ancient art.
Hiking tours in Las Vegas are a fun way to experience the Nevada desert and visit places few other tourists get to see. You'll be accompanied by a professional guide so don't worry about getting lost!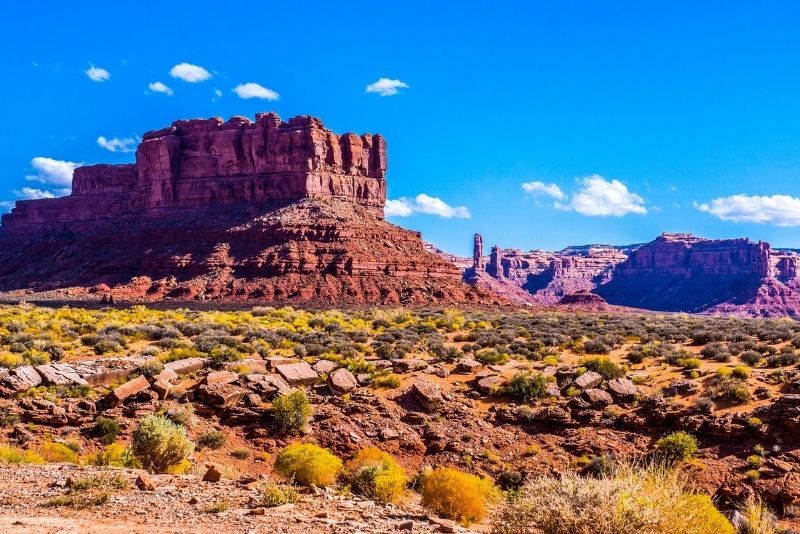 What are the most popular hiking tours in Las Vegas?
There are a few different hiking trips around Las Vegas to choose from, so have a look and see which best suits your requirements.
Small group guided hiking tour
Most Las Vegas hiking tours take place in a small group setting, keeping costs down while ensuring an intimate experience for all party members.
You'll be walking with like-minded travelers, stopping for breathers at the best viewpoints with lots of breaks for drinks and snacks. Group sizes are usually limited to around 13 with hotel transfers often included for a seamless start to the day.
Private guided hiking trip
If you want to go at your own pace and have the guide all to yourself, then a private Las Vegas hiking trip is the answer. You will enjoy exclusive transportation as well as some flexibility in the itinerary.
Hotel pick-ups and drop-offs come as standard, and lunch is provided at a scenic spot during the hike.
2-day hiking tour
If you want to spend longer out in the desert, then opting for a multi-day tour ticks all the boxes. As well as hiking through canyons, there will be opportunities for kayaking or stand up paddle boarding on lakes too.
You'll sleep in tents overnight and enjoy a meal around the campfire with all gear and meals provided. Round-trip transportation is included so you don't need to worry about logistics either.
The days are long so you can pack in as much adventure as possible. Expect to depart early on day one, and return in the evening on day two.
How much do hiking tours in Las Vegas cost?
If you want a cost-effective and energetic adventure in the Nevada desert, then hiking in Las Vegas is the way to go. Excursion prices vary depending on the trip type and length.
Small group Las Vegas hiking excursions start at $105 for 3 hours, rising to $119 for 5 hours, and $165 for 9 hours. A guide, snacks, and hotel pick-ups are usually included.
For a private hiking adventure, expect to pay $500 for a group of up to six participants. A wilderness guide, exclusive transfers, lunch, and backpacks are included.
The 2-day hiking and kayaking trip costs $499 per person. This includes all safety gear, meals, boats or paddle boards, camping equipment, hotel transfers, and a guide.
Which places are seen on a hiking tour in Las Vegas?
Hiking trips from Las Vegas take in some of the most dramatic landscapes in the surrounding Nevada desert. Check out these spectacular places that you're likely to be exploring during your visit:
Red Rock Canyon
If you want to see some unique sandstone formations that have been shaped over hundreds of years by the weather, then choose one of the Red Rock Canyon hiking tours. The conservation area is lined with colossal cliffs, and there are several trails that take you up close to the incredible geology in this remote wilderness area.
Hidden deep in the canyon there are a series of ancient Indian petroglyphs to discover. Keep your eyes peeled for coyotes and hawks who call the desert home too.
Valley of Fire
The magnificent Valley of Fire really lives up to its name, with rock formations setting the landscape ablaze with color on a sunny day. Rugged ravines and towering red cliffs dominate the 46,000-acre park, making this a paradise for photographers. This is some of the best hiking in Las Vegas!
Delve a little deeper and you'll discover Native American rock art that dates back 3,000 years. This is Nevada's oldest state park, and you can feel the history beneath your feet as you explore the trails winding around the red rocks.
White Rock Canyon
White Rock Canyon is the place to go for hot springs, ideal for soaking your weary feet after a hard morning hike. The trail leads down to the Colorado River and the famous Black Canyon which separates Nevada and Arizona.
This Las Vegas hike is for adventurous souls, as some scrambling down narrow slot canyons is required. Admire the volcanic rock looming above your head and see if you can spot some of the local wildlife making use of the shade.
How long does a hiking tour last?
You have a lot of choices when it comes to the length of hiking tours in Las Vegas. Both half- and full-day trips are available, with some lasting just three hours and others taking up to nine. Consider your fitness and how long you want to spend out on the trails and choose accordingly.
There is also a two-day tour that includes kayaking as well as hiking if you fancy a longer adventure in the great outdoors.
Where do hiking tours leave from?
Las Vegas hiking tours offer transfers from centrally located hotels, to keep transport hassle to a minimum. Do check the details with your operator to confirm the arrangements beforehand.
Some Red Rock Canyon excursions set off from the parking lot on Sandstone Drive near the conservation area entrance. You will need to make your own way there by car or taxi.
Another popular meeting place is the parking area at White Rock Canyon, which is about 6 miles from the Hoover Dam bypass bridge. You can drive there or take a taxi.
When is the best time for a hiking tour in Las Vegas?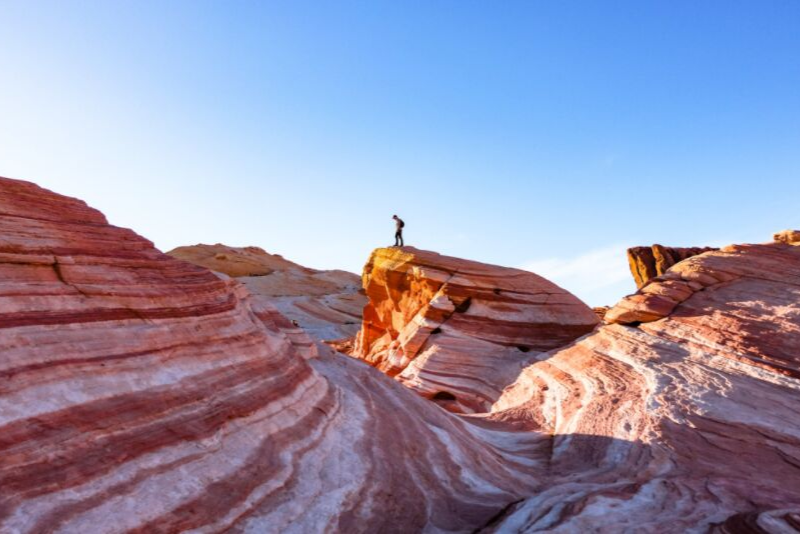 You can enjoy hiking excursions in Las Vegas all year round but remember that in summer the temperature soars. Walking in the intense heat isn't always the best idea! If you do visit during the hottest months, try to time your hike for the morning, or early evening when things are a little cooler.
Spring and fall are the best times for Las Vegas hiking tours when the weather is pleasant, and your experience will be more comfortable.
Which other outdoor activities can be done in Las Vegas?
Travel tips
Book your hiking tour in Las Vegas in good time as places are limited and fill up fast.
Wear sturdy walking shoes as you will be traveling over rough terrain in a wilderness setting.
Lightweight clothing and sunglasses are advised during the hotter months and take plenty of water to stay hydrated on the trails.
There is no cell phone reception in Red Rock Canyon so just enjoy this chance for a short digital detox.
The landscapes here are phenomenal, so make sure you charge your camera batteries the night before and take a spare memory card if you tend to be trigger happy.