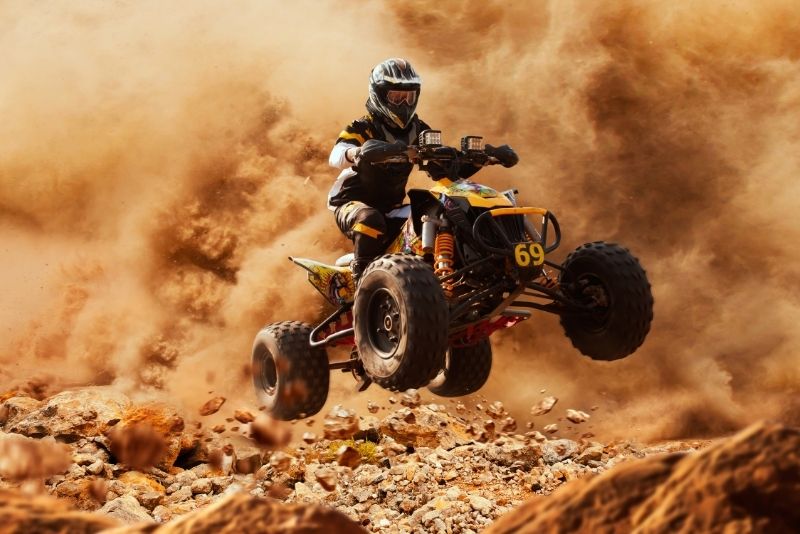 The area surrounding Las Vegas is a prime destination for adventure. Stunning red canyons, sand dunes, never-ending off-road trails, and plenty of breathtaking desert scenery make for a world of fun. And while there are plenty of ways to discover the desert, exploring it on an ATV or sand buggy certainly takes the adrenaline rush to a whole new level.
From world-class destinations like the Grand Canyon to well-kept secrets like the world's tallest dunes at the Amargosa Dunes, there's plenty to see here. Discover backcountry trails, find your favorite new place to make memories, or just let your hair down for some fun in the sun.
New and experienced ATV and off-roading enthusiasts will find much to love in our ultimate list of the best Las Vegas ATV tours.
1 – First Timers ATV tour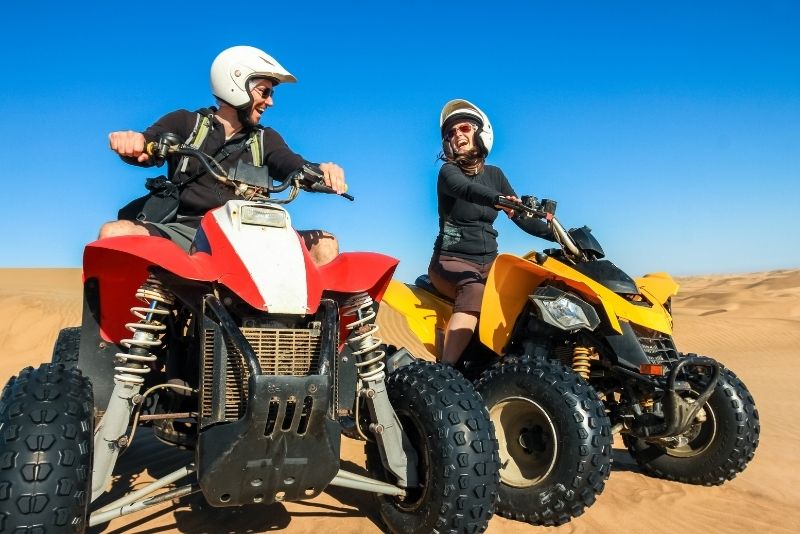 New to the fun of riding ATVs? Don't worry, we got you covered! If you've never tried driving an ATV before, they can be tricky and even a little bit dangerous to handle. While there are many ATV tours available around Las Vegas, most require some basic understanding of how to drive them before your guide will let you take off blazing down an offroad trail.
This short first-time rider course offers the best of both worlds. You will head out to the dessert with your guide for 30 minutes of skill training in an open, safe area. There, you'll practice basic driving skills in a controlled environment, safety techniques, and riding over obstacles.
The second half-hour of the tour includes a first-time riding adventure. Under the guidance of a professional, you'll drive your very first ATV around the desert, putting into practice everything you've just learned. Get ready for lots of laughs, fun, and an adventure to remember!
2 – Eldorado Canyon Goldmine ATV tour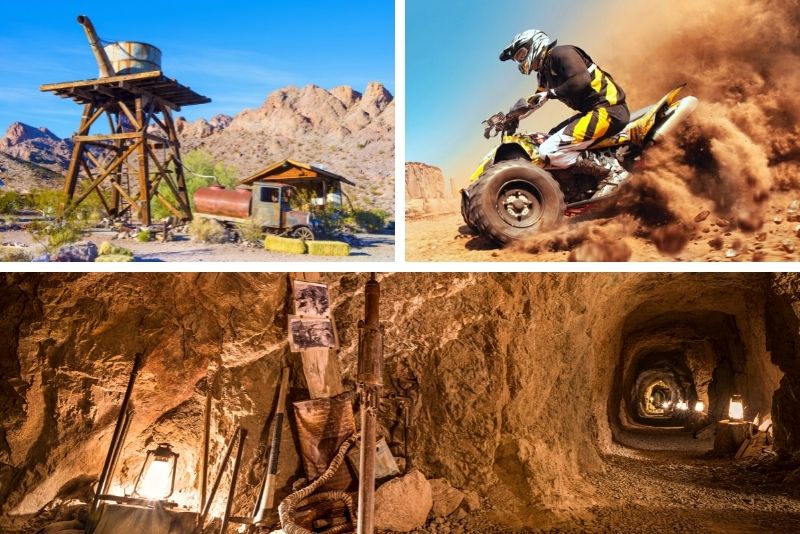 Eldorado Canyon State Park, just minutes outside Las Vegas, is well-known today for its sandstone golden cliffs, picturesque trails, and great rock climbing. But back in the 1860s, the canyon was a prime destination for silver and gold miners. Today, the former Techatticup gold mine is a major tourist destination and one of the stops in your ATV desert adventure if you choose this tour option.
For a chance to mix adrenaline with a peek into the Old West gold rush, try a tour to Eldorado Canyon. Whether you choose an ATV or a quad bike, you'll get to ride on the same rough trails that gold miners traveled on with their mules back in the 1800s.
The scenic views all around – including the beautiful Colorado River and plenty of desert foxes and other wildlife – make for the perfect background for an off-road experience. You don't need to be an experienced driver either –your professional guide will help you go over the basics so you can enjoy the ride.
Your guide will then direct you to break for lunch near a restored 1800s mining settlement, which you can then tour on foot. Your last stop is the Techatticup Mine, where you'll get a chance to walk down mineshafts where men once worked plus see some of the original mining equipment used back then. On the list of best Las Vegas ATV tours, this is a must-try!
3 – Mojave Desert ATV tour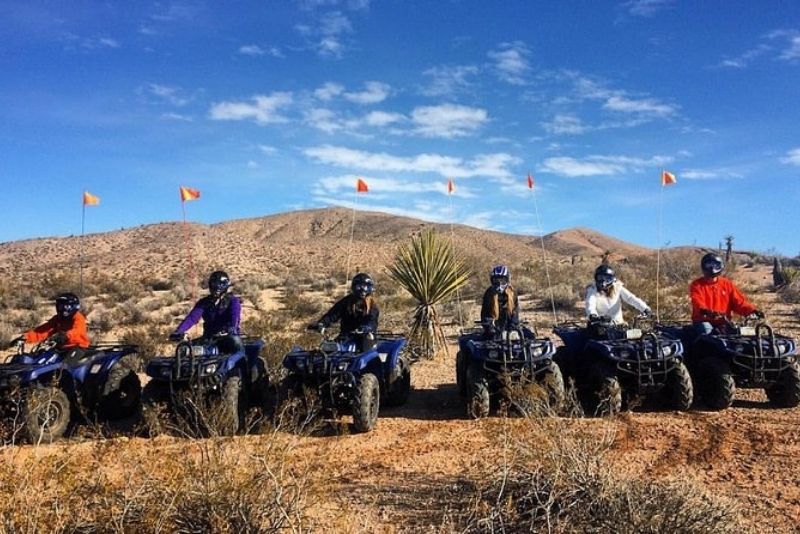 The Mojave Desert is the perfect setting for adventure. Just minutes outside Las Vegas, this vast area offers some of the best Las Vegas ATV tours, with everything from mountainous trails to rolling dunes, incredible fauna and unique flora like Joshua trees.
Riding an ATV in the Mojave opens up a world of possibilities: you'll be surrounded by breathtaking views of red sandstone cliffs and dirty roads cutting through mountains and surrounded by sagebrush.
For this adrenaline-packed adventure, you'll be picked up by your guide at a meeting point on the Las Vegas Strip to then make your way into the Mojave Desert. There, you'll get geared up, get a quick review of ATV driving if you need it, and then follow your guide to the trails.
For the following 1.5 hours, you'll get to ride around the driest desert in the world, filled with all the adrenaline and excitement this magical place has to offer. All tours work with small groups only, so you get dedicated attention and plenty of chances to stop for photos or to ask questions. Your guide will even take you to the most picturesque spots for photo ops worth sharing on all your social media accounts.
Much of the trail you'll ride is private, so you will have the area all to yourself, with no other riders disrupting the magic of the experience. At the end of your half-day out, you'll be taken back to Las Vegas.
4 – Lake Mead ATV tour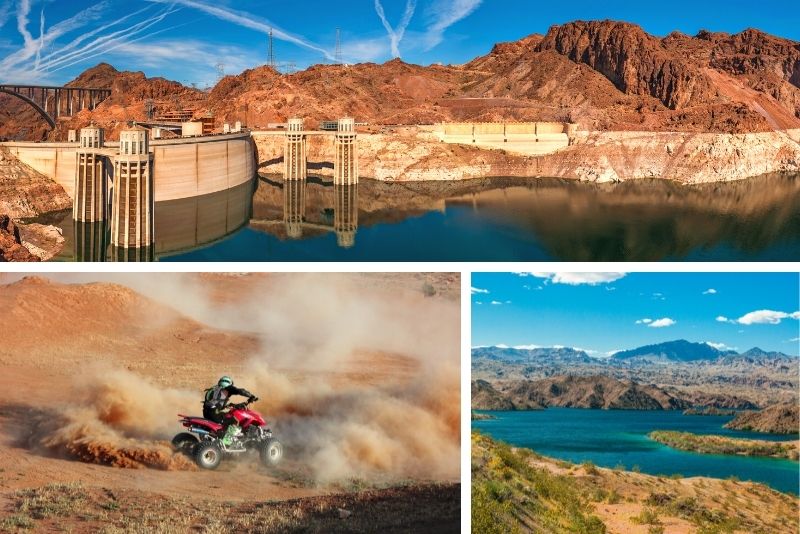 Lake Mead is much more than just the name of the reservoir created by the Hoover Dam. A massive recreation area featuring canyons, cliffs, and bodies of water to explore, the Lake Mead area has some of the best Las Vegas ATV tours outside the main desert areas. Located just 35 minutes from Las Vegas, Lake Mead's rugged terrain is perfect for off-road riding.
ATV tours in Lake Mead often take you through breathtaking scenery all the way to the edge of the Colorado River, where you'll be able to take a break for some great photos or to jump into the refreshing waters to cool off. The drive alone will take about three hours, giving you plenty of opportunities to spot wildlife and experience the thrill of zipping down the trails.
Want to put your driving skills to the ultimate test? In addition to your ATV adventure, some of the tours also let you get on a professional race track on board of a Pro Race truck or car or a Pro Dune buggy for the adrenaline rush of a lifetime! Up for even more excitement? Look for an ATV tour with an optional Grand Canyon helicopter ride, so you can see the wonders of the desert both on the ground and from up above.
Most tours also include a stop at the majestic Hoover Dam itself so you can snap some photos. Others will take you on a ride on the world's largest Monster Truck limousine. And if you're hungry after a day of desert fun, look for one of the tours that offer a food on the way back to Las Vegas, where you can sink your teeth on the world's best burger and fries.
5 – Valley of Fire ATV tour
The 40,000 acres Valley of Fire State Park – about an hour away from Las Vegas – is a stunning wilderness of bright red Aztec sandstone, 2000-year-old petroglyphs, petrified trees, and rugged desert trails that seem to go on forever.
For adventure-seekers, there are plenty of quad tours that allow you to explore Valley of Fire on ATVs, UTVs, or dune buggies. Dune buggies are especially unique, as they are custom-built for the rugged terrain and offer plenty of fun and driving freedom.
If you're going to get down and dirty in the desert, why not do it with a 3.5-hour guided buggy ride in the depths of this geological wonderland? Routes are available for both beginners and experts and you'll receive a driving and safety orientation once you get to the desert regardless of your experience.
As one of the most popular off-road riding areas in the country, the park has much to offer, including plenty of interesting wildlife and open spaces for zipping across the landscape.
Some tours will take you to the Logandale Trail system, a more remote area where you'll have a lot more privacy, other tours will treat you to lunch and guide you to stunning photo spots. There are also chances to stop along the way to hike some smaller trails before continuing on with your ride.
Not ready to drive off-road? There are also non-driving tours available, where you can let professional guides take the wheel while you enjoy the views, feel the wind in your face, and take amazing photos.
6 – Nellis Dunes ATV tour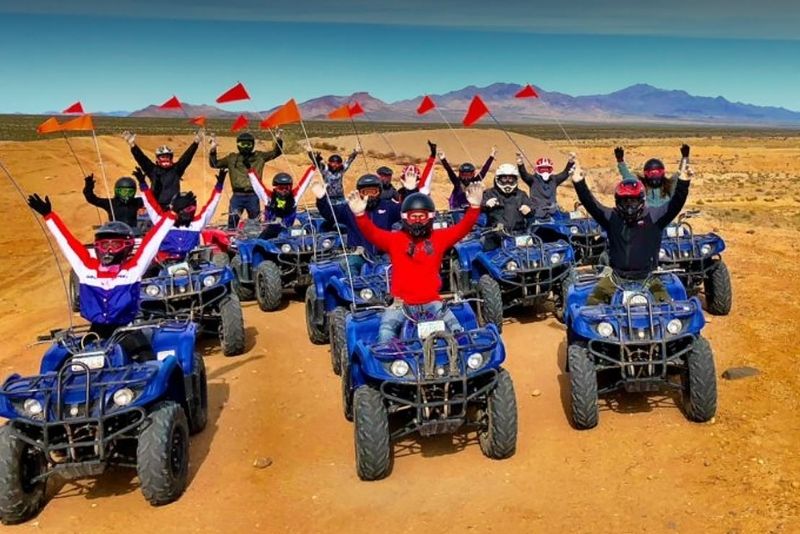 Located just 24 kilometers outside Las Vegas, the Nellis Sand Dunes is an off-road area specially created for recreational vehicle driving, training and race events. The terrain here is a mix of rolling hills, loose dirt and open sand spaces – the perfect combination for both beginners and advanced riders who want to satisfy their "need for speed."
As this isn't a national park area, the trails aren't protected and there's more flexibility on speed and off-road driving. Plus, visitors have plenty of choices when it comes to trail difficulty – but all offer great views of the Las Vegas Strip.
An ATV tour of the Nellis Dunes is a great way to take a couple of hours' break from the casino life. You'll have access to over 10,000 acres of mountainous canyon trails and sand dunes so you can fill your need for speed for the entire duration of the tour!
All safety and riding gear is included in the tour and your professional guide will help you navigate the how-to of ATVs so you can feel comfortable behind the wheel, even if you've never tried off-road driving before.
The tour includes roundtrip transportation from the heart of Las Vegas as well as bottled water and an option to grab lunch on your way back to the city.
7 – Hidden Valley ATV Tour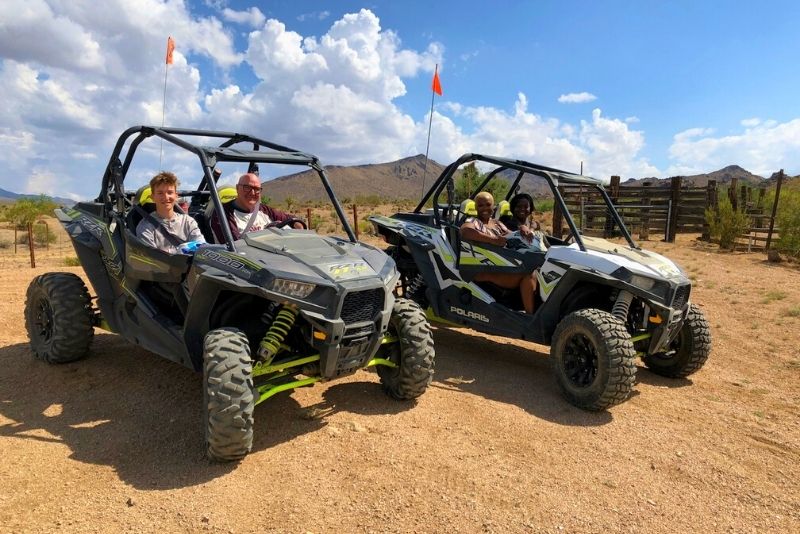 A short ride away from Las Vegas Strip is Hidden Valley, an area famous for its sand dunes, unique vegetation, and a mountainous landscape perfect for active travelers. In fact, the best way to experience Hidden Valley is by jumping right into that adventure and taking quad tours into the desert.
No experience is necessary either – the dusty trails at Hidden Valley are perfect for both beginners and advanced riders. Your professional guide will provide a thorough safety briefing upon arrival, and then make sure everybody makes the most of the mountain terrain. As you maneuver through rugged trails, you'll find your way to mountain overlooks and around extinct lava beds.
Tours include round-trip transportation from selected hotels, all equipment (including helmet, gloves and goggles), and bottled water.
Some of the tours will stop by the Seven Magic Mountains art installation on your way to the desert. Your guide will also take you to the Primm Valley overlook for postcard-worthy views of the landscape around you. Be ready to take plenty of photos before you jump on your ATV again to continue the adventure.
There are also "extreme tours" available, where experienced riders can embark on an 80-kilometer adventure through the Mojave Desert. These tours take on off-road paths that are rarely used by shorter tours – including the Roach Dry Lakebed and the McCullough Mountain range — and are a must for thrill-seekers. And at 5 hours long, these are the longest and best Las Vegas ATV tours you'll find.
8 – ATV & Dune Buggy Combo Tour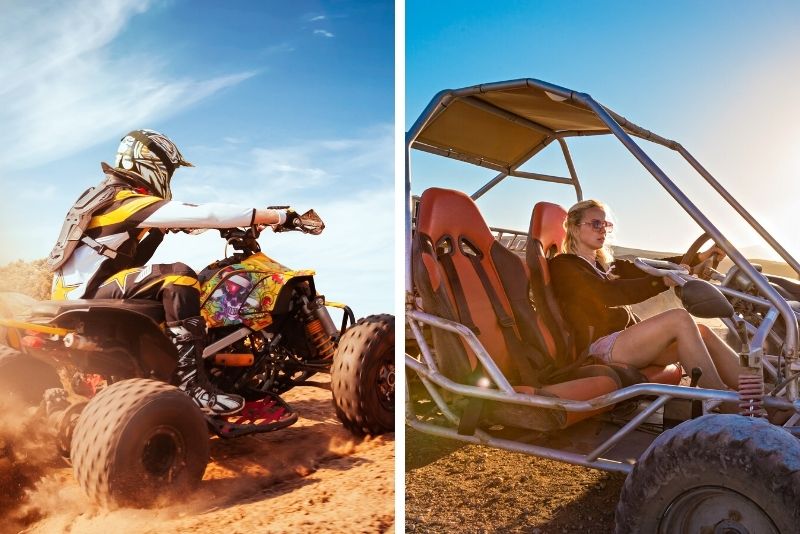 Why explore just one place when you can combine stunning desert views with the adrenaline of sand dunes and the excitement of riding an ATV? How about also adding some off-road trail driving as well? Combo tours are a great way to make the most of a day outside Las Vegas, whether you're looking to spend three hours or eight getting down and dirty in the desert.
Dune tours head to different areas in the desert so if you have a specific destination in mind, check in advance that a tour you like will take you there. The ultimate sand dune adventure is at the Amargosa dunes, which are both singing and migrating dunes. This means that the dunes move across the desert as the wind blows here, but they also produce a low and deep "singing" sound. This is a very unique desert phenomenon that can only be experienced in a few places around the world.
An ATV or buggy adventure at the singing dunes is hard to beat, as some of the dunes are incredibly tall (over 150 meters high!) and a real (but very fun) challenge to climb. This tour will include expert instruction to help you navigate the soft sand, learn how to avoid getting stuck, and help you have the ultimate safe adventure. Plus, you'll get lunch and stop by the place where the custom-built SunBuggy vehicles are built.
If you'd prefer a closer and shorter tour, Valley of Fire has some fun desert landscape to discover and you have the option of buggies/quad tours in the exceptional red scenery of the canyons. Valley of Fire also offers full-day tours that include a safety briefing on how to drive the buggies. These guided tours will take you out among the beautiful rock formations, where you can catch sight of wildlife (Big Horn sheep are always around) and discover stunning photo opportunities.
Want to get the best of both worlds? Pick a combo tour that takes you out to Valley of Fire for an ATV adventure, followed by an hour of pure adrenaline riding at the Las Vegas Dunes Recreation Lands, where you'll be racing over dried-out riverbeds and shifting dunes.
9 – ATV & Shooting Experience Combo Tour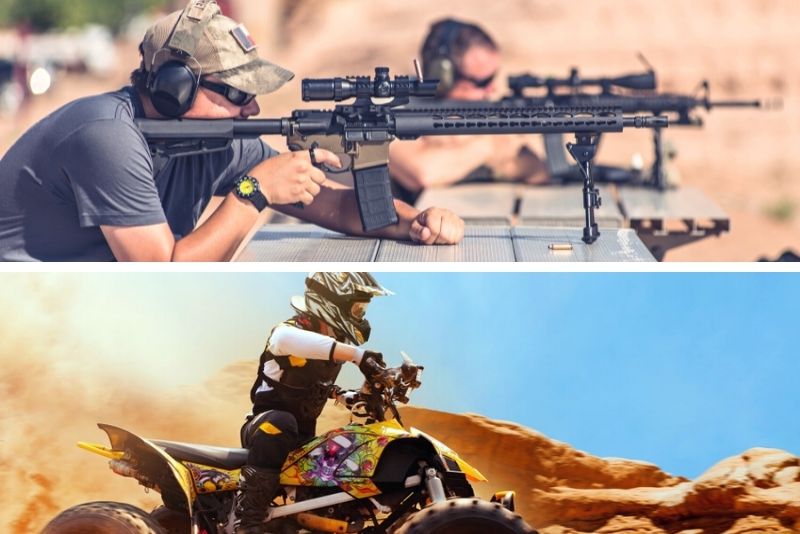 For an experience filled with adrenaline you won't easily forget, how about heading to the desert to ride an ATV plus a stop at a shooting range for some electrifying fun?
Your day begins with a stop at the Hoover Dam for some great photos before you head off to an outdoor Las Vegas shooting range designed with military-style bunkers.
Here, an expert instructor will teach you how to handle a number of guns. You will have a choice of gun packages based on the price level you choose, starting with the Bronze (which includes 1 submachine gun, 1 machine gun, 1 Glock, 1 exploding target) all the way to the Ultimate Platinum (8 machine guns of your choice, Barrett .50 Cal Sniper rifle, M2 Deuce .50 Cal BMG, Glock, and 5 exploding targets). By the end of this experience, you'll feel like James Bond (or Mad Max) as you're heading to your free lunch.
You also have the chance to add a three-hour ATV ride to the package to explore the beauty of the Mojave desert or a thrilling Grand Canyon helicopter tour (with landing and a champagne toast) to this package. Or add both for the ultimate experience!
These tours also include a ride on the World's largest Monster Truck Limo, as recorded by the Guinness Book of World Records.
10 – Airplane & Grand Canyon ATV Combo Tour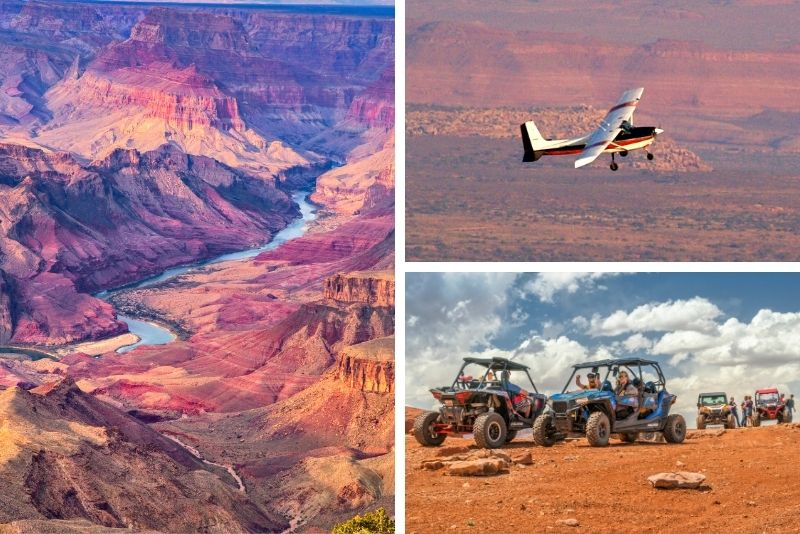 It's hard to beat the beauty and grandeur of the Grand Canyon, considered one of the world's seven natural wonders. Over 5 million people visit the canyon every year to enjoy a number of activities, including hiking, rafting, and helicopter tours.
With colorful rock layers formed over millions of years, towering red cliffs, deep canyons washed away by powerful rivers, and a never-ending network of trails and roads, this is a place that would take you weeks to discover.
If you don't have the time for such a grand adventure, a great option is to catch the stellar view from above with a tour that includes a plane or helicopter ride over the Colorado River, Hoover Dam, and Lake Mead. After a breathtaking flight, you'll land for a guided ATV tour through the desert landscape of Whitmore Canyon and Lake Mead Recreation Area or a Polaris Ranger tour around the canyon's edge. You can even choose a quad bike tour to discover the wild landscapes of the Grand Canyon.
Some of the tours start you off on the ground, with an exciting ATV tour of Lake Mead National Park before whisking you off on a helicopter ride over the Grand Canyon. Others take you to an adrenaline-charged military-style outdoor shooting range with optional add-ons for an ATV tour and helicopter ride over the canyon.
Lunch is often included, either out in the desert or in the form of an authentic BBQ lunch at a local restaurant before heading back to Las Vegas.
Whatever option you prefer, go ahead and experience the beauty of the desert from 1,000 meters up in the sky! It's a sight you won't soon forget.
Final thoughts
So there you have it: we've put together a list of the best Las Vegas ATV tours so you can find the perfect match for your needs. Whether you're after a short escape from the city or a full day of adventure in the sand, the perfect ATV tour is out there waiting for you!
First-time drivers, combo tours, and even a chance to photograph the beauty of the desert from high above. Our curated list aggregates all the ATV tours available online in one place – and all it takes is one click for our smart search engine to help you find the ATV tour of your dreams.
We hope you've enjoyed our selection and are looking forward to an adrenaline-charged ride in the Mojave desert! And if you're looking for more outdoor activities, check out the best national parks near Las Vegas.
As always, happy travels.