Want to go skiing in the desert? Whether you enjoy swishing serenely through the powder or love showing off your expert moves, Ski Dubai is a world away from the city heat.
Ski Dubai tickets cover a wide variety of activities, from snowboard lessons and slope sessions to penguin encounters and jaw-dropping icy rides. The best indoor ski resort in the Middle East is sure to be your vacation highlight.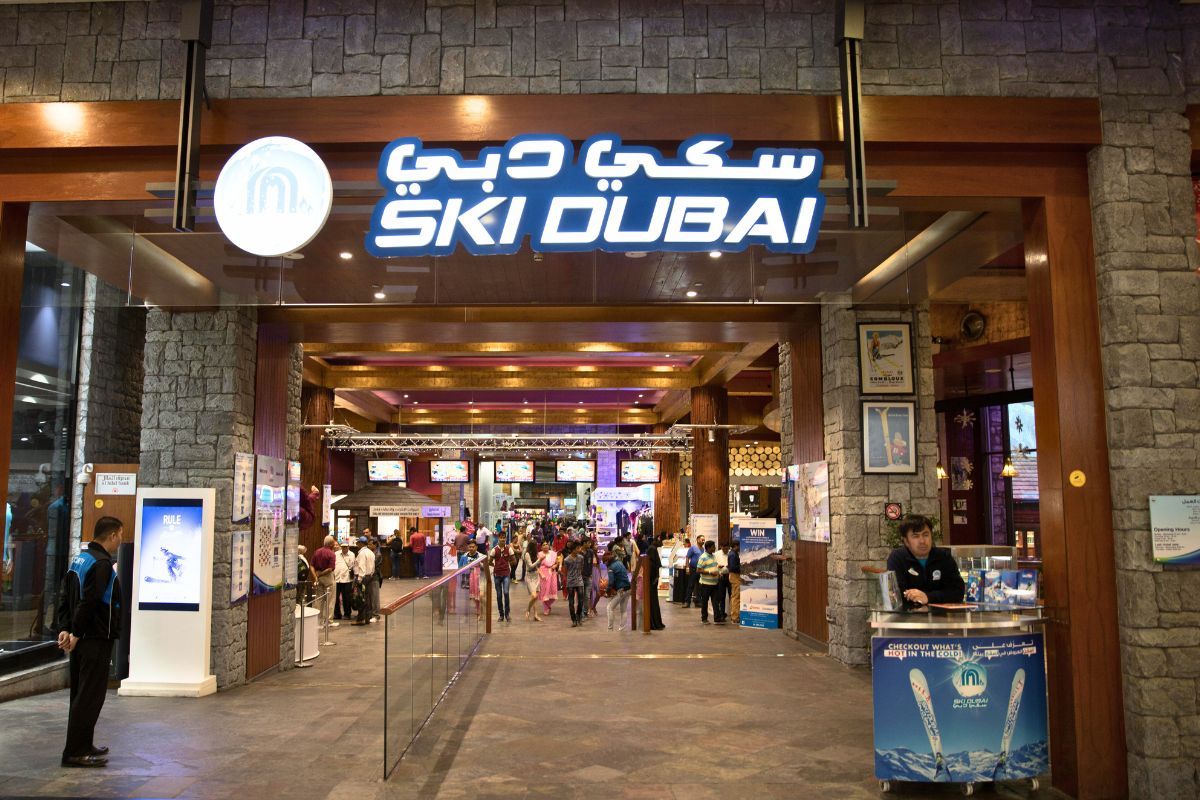 Here's all you need to know before visiting the Ski Dubai, one of the top theme parks in Dubai.
How much do Ski Dubai tickets cost?
There is a range of Ski Dubai tickets available giving access to different attractions. All passes include equipment rental, and some include a locker too.
Slope Passes
Slope access is for experienced skiers and snowboarders only.
2-Hour Slope Pass: AED 210 ($57)
Full-Day Slope Pass: AED 310 ($84)
Minimum age: 3 years
Snow Park Pass
Enjoy one-time access to the Snow Park with unlimited rides and zorb balling.
Snow Park Pass: AED 150 ($41)
Minimum age: 3 years
Penguin Encounters
There are several penguin packages available:
Breakfast with Penguin Walk: AED 150 ($41)
40-minute Peng-Friend Encounter: AED 230 ($63)
75-minute Exclusive Peng-Friend Encounter: AED 520 ($141)
75-minute Ultimate Peng-Friend Pass: AED 890 ($242) – also includes unlimited Snow Park access.
Minimum age: 2 years
Snow Daycation Pass
This pass includes all-day access to the snow park rides, zorb balling, and Mountain Thriller. It also includes a chairlift transfer and entry to one of the following: Snow Bullet Ride, ski/snowboard lesson, Penguin Encounter, or a 2-hour slope session.
Snow Daycation Pass: AED 250 ($68)
Minimum age: 3 years
Snow Premium Pass
Enjoy unlimited access to the snow park attractions, zorb balling, chairlift, Mountain Thriller, and Snow Bullet Ride. You will also have a 40-minute Penguin Encounter, and either a slope session or a ski/snowboard lesson. A meal and hot chocolate sweeten the deal.
Snow Premium Pass: AED 490 ($133)
Minimum age: 3 years
Hike Pass
This unique pass lets you join the morning hike up the ski slope.
Morning Hike: AED 100 ($27)
Minimum age: 6 years
Snow Cinema Packages
These passes include a movie in the Snow Cinema, plus popcorn and hot chocolate.
Snow Cinema 2 Guests: AED 200 ($55)
VIP Cinema 4 Guests: AED 800 ($218) – also includes 2 meals
Minimum age: 2 years
What are the best Ski Dubai tours?
There are no guided tours at Ski Dubai because everything is so easy to discover by yourself. Staff members are always on hand to point you in the right direction.
If you are new to the slopes and fancy learning how to ski or snowboard, private lessons are available for individuals, families, and groups of all abilities.
Some Ski Dubai tour packages include return transfers from hotels or central pick-up points in the city, which will help your day go without a hitch. Private transfer tour packages are also available.
Should you book Ski Dubai tickets in advance?
Absolutely. Visitor numbers are restricted on the slopes to give everyone plenty of space, so booking your Ski Dubai tickets ahead of time will ensure you bag your preferred time slot.
Pre-arranging a tour that includes transfers will minimize hassle and make your visit run like clockwork.
What will you see inside Ski Dubai?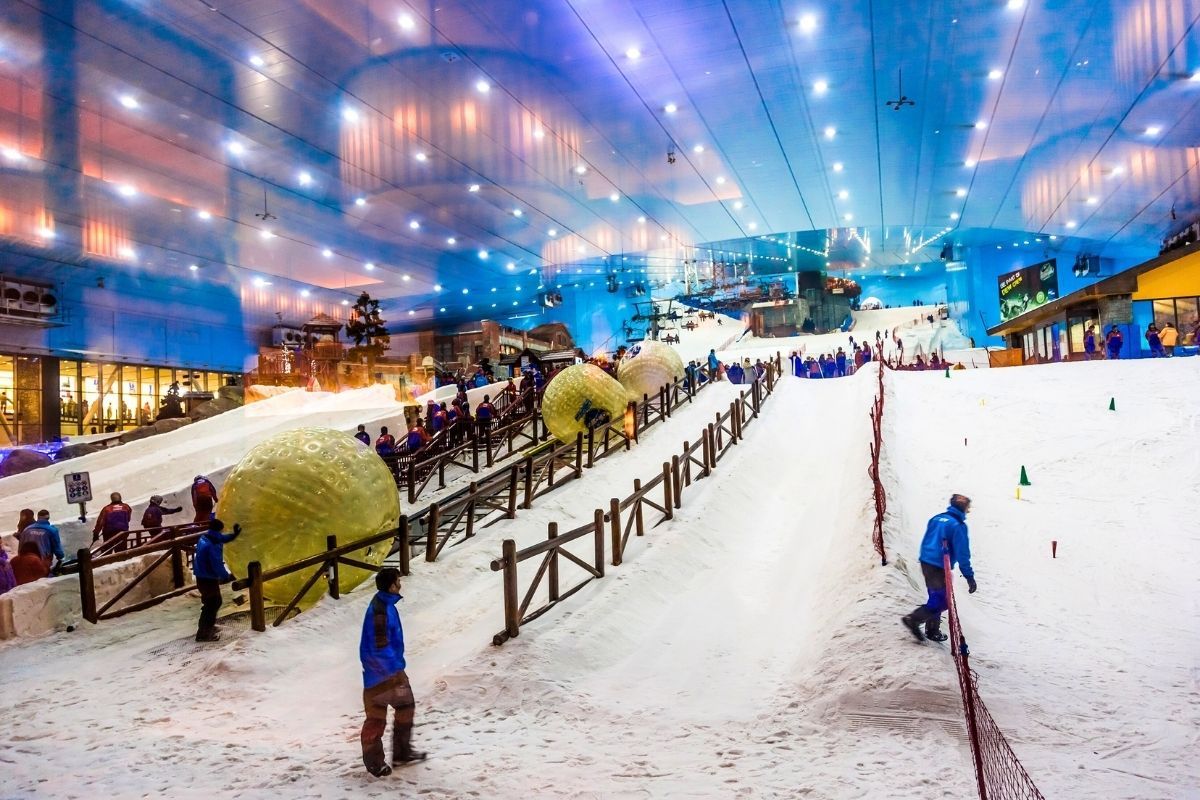 The main event at Ski Dubai is the perfectly conditioned indoor slope, where you can practice your snowplows or race your friends to the finish line. Only open to experienced skiers and snowboarders, the slope is the best place in town for some serious chill time. Lessons are available for those who are new to the sport or want to brush up on their skills.
Younger explorers and bird enthusiasts love interacting with the emperor and gentoo penguins that call Ski Dubai their home. Walk beside these fascinating creatures from the Antarctic and watch them waddling through the snow on the Penguin March.
Not into skiing? Then sit back and admire the views from your lofty perch on the chairlift ride, or go sledding in the Snow Park. See who can build the best snowman and roll around inside a giant zorb ball.
Thrill-seekers should fly along the Snow Bullet zip line, or try hurtling down the Mountain Thriller bobsled track for an exhilarating winter sports experience. Are you brave enough?
Reward your exertions with a gourmet meal at the North 28 Restaurant, or take the chairlift up to the Avalanche Café for sweet treats and steaming mugs of hot chocolate.
Where is Ski Dubai located?
Ski Dubai is conveniently located in the Mall of the Emirates, so you can enjoy some shopping after hitting the slopes. Parking at the mall is free with validated Ski Dubai tickets.
The Mall can also be reached by metro – take the red line that runs from Rashidiya Station to the UAE Exchange Station.
When is the best time to visit Ski Dubai?
To avoid the busiest times of day, try to time your Ski Dubai visit during the morning or later in the evening. Weekdays tend to be quieter than weekends and public holidays.
What are the Ski Dubai opening hours?
Ski Dubai is open throughout the year during the following times:
Snow Park and Slopes
Sunday – Thursday: 10 AM – 12 AM
Friday – Saturday: 9 AM – 12 AM
Last tickets are sold at 10.30 PM.
Penguin March
Daily: 2 PM, 4 PM, 6 PM, 8 PM
Which other theme parks can be visited in Dubai?
Travel tips
We recommend booking your Ski Dubai tickets in advance so you can compare prices and bag your preferred time slot.
Visitors must be able to control their speed, perform link turns, and stop safely in order to access the slopes.
Lockers are available for storing your valuables during your snow sessions.
For lessons and penguin encounters, you need to arrive 40 minutes before the session starts.
Kids under 14 years must be accompanied by an adult.