Al Khayma Camp is the place to go if you want to experience a slice of desert life during your Dubai vacation. You can visit on a day trip from the city and realize all your Lawrence of Arabia fantasies.
On Al Khayma Camp tours you'll enjoy a range of activities, including camel riding, dune bashing, and quad biking. Delicious barbecue dinners and live entertainment shows are the icing on the cake.
Where is Al Khayma Camp located?
Al Khayma Camp is hidden away in the Dubai desert, just 26 miles and a 40-minute drive from the city center. The easiest way to get there is on a guided day tour with an expert driver to navigate those sand dunes.
What activities can you do at Al Khayma Camp?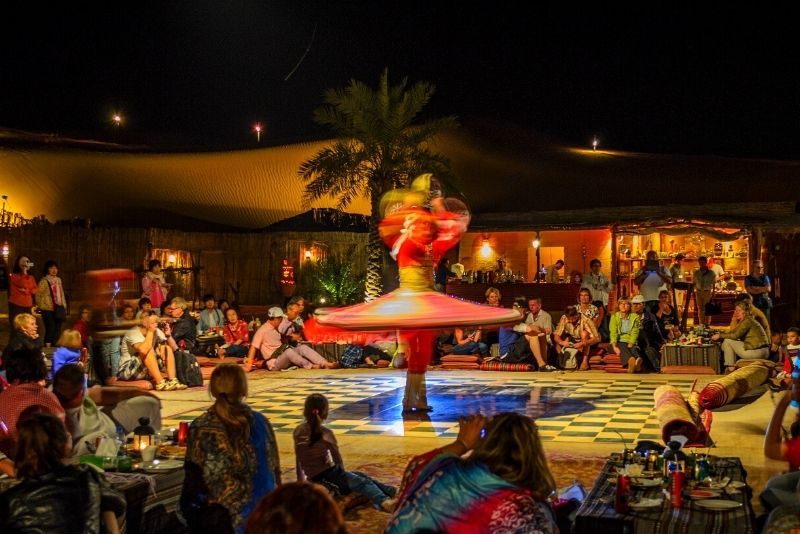 Desert safaris from Dubai combine thrilling sand-based activities with an evening of feasting afterward at Al Khayma Camp.
To work up an appetite and earn your place at the camp table, there are lots of adventures to sink your teeth into. Here are the top experiences:
Dune bashing
On the way to Al Khayma Camp, you'll be thrown into the action with a spot of dune bashing. Feel the adrenaline pumping through your veins as you zoom up and down the sandy peaks in a trusty 4x4 with an expert driver.
Hang on tight and enjoy the views, keeping your eyes peeled for desert wildlife along the way.
Camel riding
Saddle up and ride off into the sunset on a mini camel adventure in the heart of the Dubai desert. This quintessential experience is the highlight of any day trip to Al Khayma Camp, and you'll come away with a new skill too!
You can ride solo or tandem, depending on how brave you're feeling. Just don't forget to take some selfies for serious bragging rights back home.
Sandboarding
A key element of most Al Khayma Camp tours is sand boarding. After a few practice runs you'll soon get the hang of it, and the soft landings help too.
At the end of your session, you'll be racing your friends as you slither down the biggest dunes.
Feasting
After all your excitements it's time to gather on the colorful camp rugs and tuck into an authentic barbecue dinner. Both Arabic and international favorites are on the menu, followed by shisha for those who want it.
While you're at camp, there will be opportunities to have henna tattoos and meet the falcons too. Finally, your day ends with a live show full of music and dance. Feel free to show off your moves if you like!
How long are Al Khayma Camp tours?
Tours to Al Khayma Camp last between four and seven hours. The majority are a full day so you can make the most of your time in the Dubai desert.
Longer trips give you the opportunity to try all the activities, but if you just want a camel trek and dinner, opt for one of the half-day experiences.
What are the best tours to Al Khayma Camp?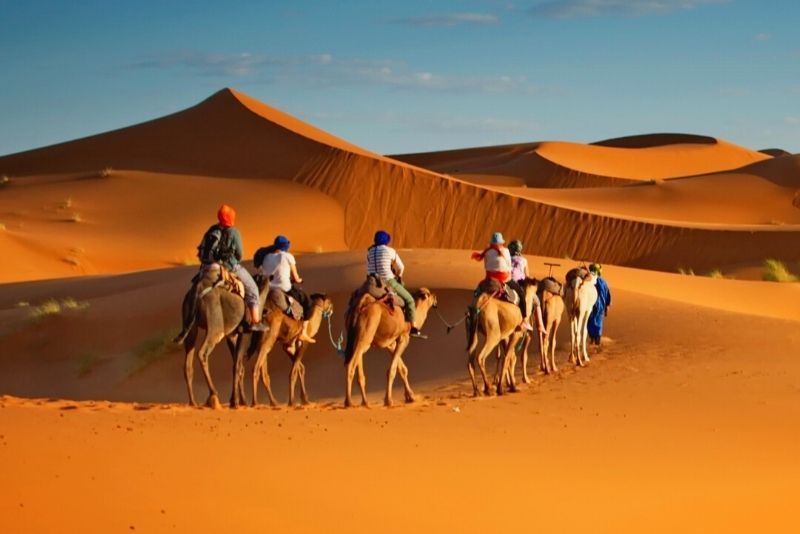 Tours to the camp all follow a similar theme, with desert exploration and adventure activities serving as a fun prelude to dinner.
Day trips to Al Khayma Camp
The most popular Al Khayma Camp day trips begin with a pick-up from your hotel in Dubai or Sharjah. You'll then be driven deep into the desert in a comfortable air-conditioned vehicle, ready for a dune bashing session. This often takes place in the famous Red Dunes.
On arrival at Al Khayma you will be welcomed with traditional coffee and sweets. Then it's time for activities like camel riding, quad biking, and sandboarding. During longer tours, you can also take part in the falcon experience and henna painting or try a spot of shisha before dinner.
Finally, the feast is served, and you'll enjoy local barbecue delicacies while relaxing on bean bags beneath the night sky. Afterward, you will be returned to your hotel.
Sunset tours to Al Khayma Camp
If seeing the sun sink behind the gleaming sand dunes is top of your agenda, then the sunset Al Khayma Camp tours are just the ticket.
The schedule operates similarly to the day tours, with an added focus on evening entertainment and that magical moment just before dusk.
What are the prices of Al Khayma Camp tours?
For a four-hour Al Khayma Camp tour, expect to pay around $44 per person. This includes hotel transfers, and activities like dune bashing, camel rides, and dinner at camp.
The longer day trips start at $55. In addition to the above activities, they also include henna tattoos, falcon experiences, sunset photo stops, live entertainment, and shisha.
Special sunset tours are priced from $95 per person with a camel trek and dinner provided.
Quad biking is an optional extra expense on most tours.
When is the best time to visit Al Khayma Camp?
The optimum time for an Al Khayma Camp day trip is over winter when temperatures are pleasant. November to February are the most popular months.
If you want to avoid the crowds then March and October are a good choice too.
Temperatures in the desert rocket during summer so we don't recommend traveling at this time.
Travel tips
Wear loose clothing to combat the heat, and remember to take a sunhat, sunglasses, and sunscreen.
It's a good idea to book Al Khayma Camp tours well in advance as places are limited and tickets do sell out.
Charge your camera battery the night before and take a spare one too so you don't miss a moment.
Don't set off with a full stomach if dune bashing is on the agenda. There will be plenty of time to eat at camp afterward.