Your next larger-than-life adventure awaits in the deserts of the magical city of Dubai. Be sure to take one of the many quad tours in Dubai to get a taste of the real safari life. Known as one of the world's most visited destinations, Dubai is showing no signs of slowing down in its tourism boom.
So take a look at the many ways that you can capitalize on this once-in-a-lifetime experience on your next memorable excursion!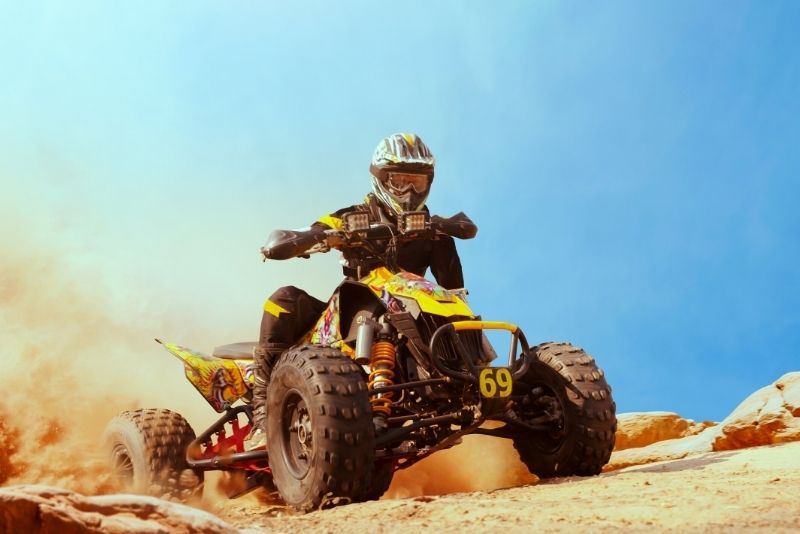 Here's all you need to know about quad bike tours, one of the most exciting outdoor activities in Dubai.
What are the best Quad tours in Dubai?
Morning Safari Quad Tours
In Dubai, the desert is just a Quad Tour away! Start your day with an escape to the Arabian desert on one of the morning Quad tours in Dubai. Filled with breathtaking desert scenery, immerse yourself in activities like dune bashing, sand-boarding, or just cruising on the quad bikes.
Desert 4x4 Safari with Quad Bike Tours
You're in for fun, food, and entertainment if you make this tour your choice! Take a comfortable ride to the desert camp by 4x4. Enjoy Arabic coffee and dates, then hop on a quad bike to explore the desert sands. Henna tattoos, camel rides, and a starlit dinner await you on this adventure, all while being entertained by seductive belly dancing to traditional Emirati sounds.
Two-Hour Quad Biking Tour from Dubai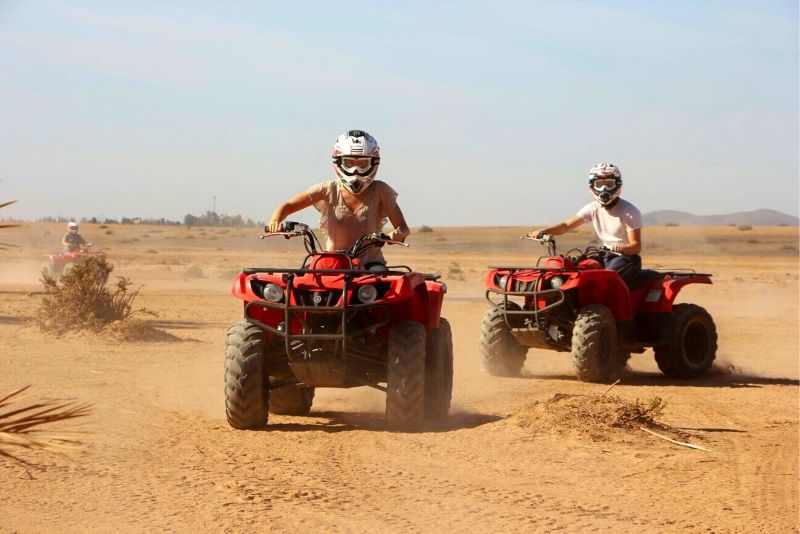 Take an exhilarating ride as you speed across the desert on this two-hour quad bike experience. You'll leave Dubai or Ras Al Khaimah in a comfortable air-conditioned vehicle, but the moment you hit the desert, ditch those wheels for a quad, helmet, and gloves and set off across the sands.
With multiple photo opportunities and a chance to cool off in a Bedouin-style tent, this tour is the perfect option for anyone looking for thrill and excitement.
Quad biking or buggy tours from Dubai
Let our professional guides take you on the adventure of a lifetime, by going on a quad bike or buggy ride in Dubai. Ride the dunes at full speed with true four-wheel power and feed your adrenaline as you chart your path across the desert. Pass by the Fossil Rock, Big Red Dune, and Pink Rock and take in the scenery with every passing moment!
Dubai City Tour and 30 Mins Quad Bike tour
Of all the Quad tours in Dubai, this one gives you the best of both worlds as you take in the City of Dubai and get a taste of the safari all in this two-day excursion! Pass by the Burj Khalifa, the Dubai Creek, and the Jumeirah Mosque and learn the most interesting facts about these attractions.
On day two, it's quad time! Hop on your quad bike and head into the desert to take part in an adrenaline-charged off-road experience across the trackless dunes.
Are there any combo tours including quad and other activities in Dubai?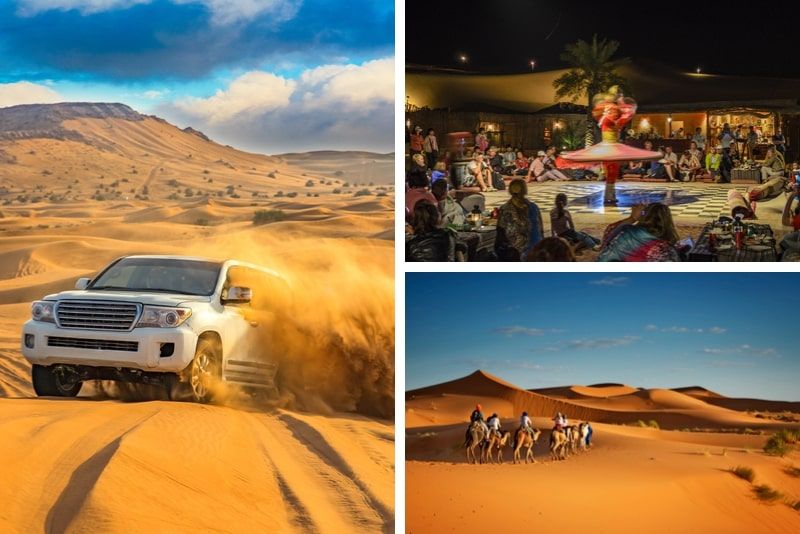 Desert Safari, Quad Bike, Camel Ride & Al Khayma Camp
This tour brings you face to face with the hot desert terrains in style. Even better; it mixes it up with a cool camel ride, a visit to the Al Khayma Camp, a thrilling quad bike ride, or other sports like dune bashing and sandboarding.
Dune Bashing With Quad Bike And Sand Boarding
You'll get the thrill of piloting your very own quad bike for 30 minutes on this exclusive off-road experience. It's certainly not for the faint at heart, but you won't regret it when you feel the wind in your hair and the sand in your toes.
Desert Safari, Dhow Cruise, Dubai City Tour, Burj Khalifa
Indulge in the extravagant cosmopolitan atmosphere of the city while enjoying a half-day of sightseeing followed by an evening Safari tour on day one. The next day, visit the record-breaking Burj Khalifa skyscraper before ending the experience in style with a Dhow Cruise (Creek) tour. City, Desert, Scenery, and Cruise, there's not much more you can ask for!
How much do Quad Tours in Dubai cost?
Depending on your preference and your budget, Quad tours in Dubai can range from about US$40 up to US$250 per person. Count around US$40 for a half-day quad tour, and US$75 for a full-day tour including other fun activities such as sand-boarding. Please note that private tours can also be more expensive than group tours so that you can get a personalized experience.
Full-day tours with added activities like solo quad biking, camel rides, and private entertainment can carry a medium cost of about US$160 but they're worth each penny!
What is included during a quad tour in Dubai?
Our Quad tours in Dubai come with the full package to ensure you have everything you need for the best experience.
Each tour comes with all the necessary safety equipment: helmet, gloves, goggles/all-rider kits, and safety gear.
An experienced and trained tour guide will also be present on every tour, offering safety and support every step of the way.
Refreshments will also be offered on selected tours, with meals and other tasty attractions included depending on the package you choose.
Each tour will also provide you with pick up and drop off from your hotel.
From where quad tours in Dubai start?
Though most of the tours start with pickup at your preferred hotel, activities for the quad tours in Dubai begin upon entry at the Lehbab Desert (known as the Red Desert) where you'll have controlled access to roam the sands on your quad bike.
How long quad tours in Dubai last?
The average duration of each tour ranges from two to six hours depending on the itinerary and the combination of travel options included (4x4, dune buggy, quad bike, etc.)
What is the best time for a quad tour in Dubai?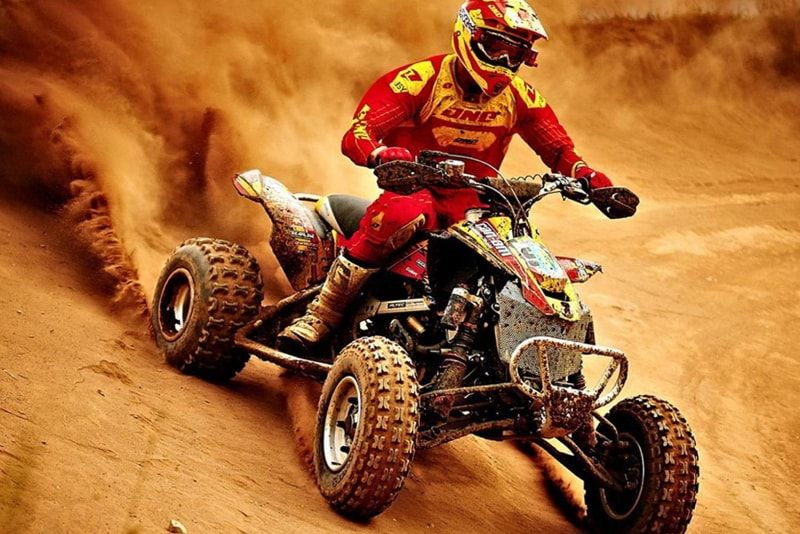 No matter the time of day you choose, there is something exciting to see on each tour. Morning tours give you a glimpse of the desert sunrise and bring daytime activities like camel riding and sand-boarding, whereas evening tours bring moonlit delight with cool, worthwhile entertainment.  As soon as you get to Dubai, be sure to check out the options for quad tours in Dubai and make your bookings early!
Are quad tours in Dubai safe?
All quad tours in Dubai are equipped with the best safety measures and experienced tour guides, making these activities extremely safe for the tourists. However, you should check with your healthcare provider if you have a history of heart complications, vertigo, or other underlying health issues before booking one of these tours.
Are children allowed for quad tours in Dubai?
Quad biking can be quite a strenuous activity, so it is not advised that you take children under three years old or elderly persons on these tours.
Which other outdoor activities can be done in Dubai?
Travel tips
Know your budget and check the prices of each tour before choosing the best option.
Check the duration of each tour and plan your schedule around it. Make sure you are ready on time so that the tour can go according to the plan.
Winter months are better for these tours than peak summers in Dubai.