Falconry is hugely popular in Dubai and is something of a national sport in the United Arab Emirates. To gain an insight into this unique culture, falconry tours in Dubai are fun for all the family.
You'll learn how to command the birds and have them land on your fist. Don't forget to smile for the camera! Falconry in Dubai can be combined with other desert activities to make your day extra special.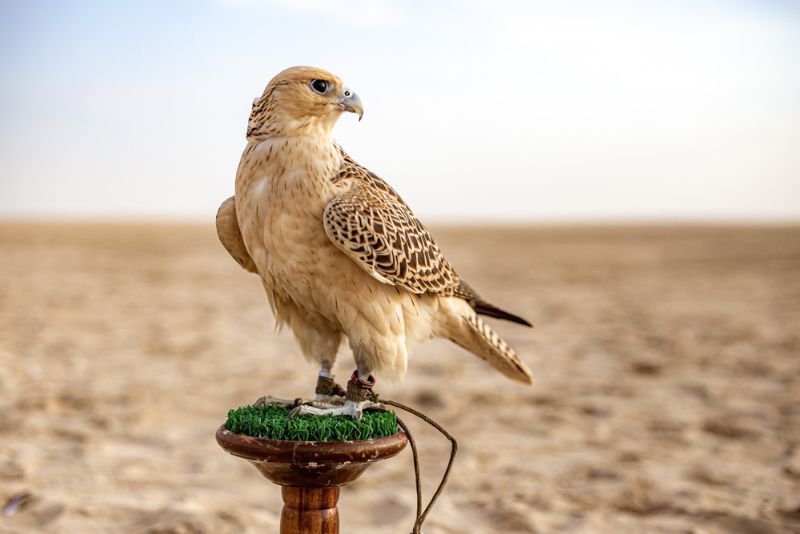 Here's everything you need to know about falconry, one of the most thrilling outdoor activities in Dubai.
What are the best falconry tours in Dubai?
Falconry experience and wildlife safari
If falconry and wildlife are your sole focus, then these shared trips are just what you're looking for. They usually last half a day and offer an intimate desert experience.
After being collected from your hotel in the morning, you'll trundle through the dunes in a vintage 4X4. Your guide will point out wildlife during your safari in the Dubai Desert Conservation Reserve, so keep your eyes peeled.
The falconry show is next, where traditional training techniques will be demonstrated by the handlers. You can take part if you wish. Camel rides and breakfast complete the experience before you're returned to Dubai by lunchtime.
Falconry tour with desert activities and dinner
The most popular falconry experiences in Dubai are the ones that come with added extras. These group adventures offer a fun-packed day out in the desert, with multiple activities and even dinner. Tours begin in the afternoon to avoid the worst of the heat.
Round-trip transfers from your hotel come as standard, so this is a hassle-free way to explore the desert. You'll be traveling in a 4X4, sometimes in a convoy with other participants. It takes around 50 minutes to reach the desert.
On arrival, you'll enjoy an exhilarating dune bashing session. The Red Dunes are the highest in the area, so hang on tight. Next up is sandboarding and perhaps a camel ride if you fancy a more sedate ride across the sand. Some excursions offer quad biking tours for an additional fee.
The grand finale is the desert camp, where the falcon show takes place. Don't leave without having your photo taken with one of the birds!
Afterward, you'll be entertained by belly dancers and musicians while tucking into a barbecue feast. Henna tattoos and shisha pipes are available for those who want to fully immerse themselves in local culture.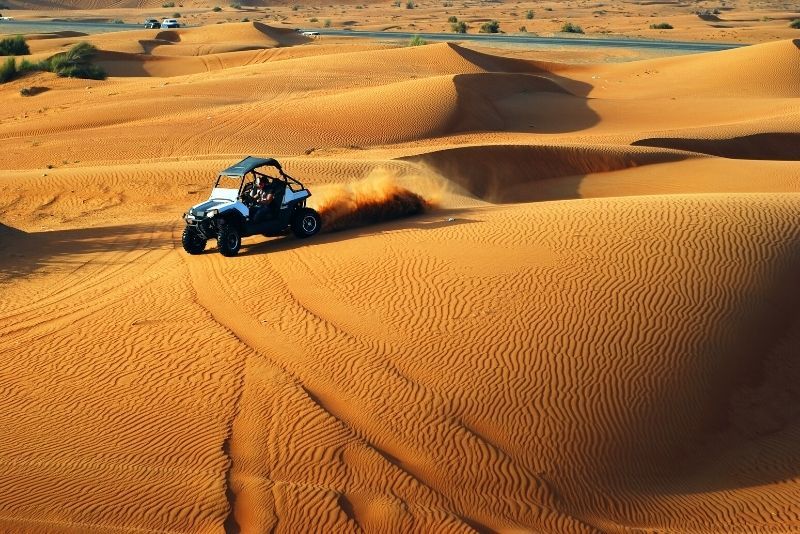 Falconry excursion with sunrise hot air balloon flight
If you're an early bird, then these sunrise tours will have your spirits soaring. They combine falconry with hot air ballooning for the ultimate desert adventure. Falconry in Dubai doesn't get much better than this!
You'll soon arrive in the desert after your early morning pickup, ready to take to the skies for a spectacular sunrise. The balloons will float silently over the Margham Desert, with the red dunes stretching out to the horizon. See if you can spot the wildlife down below.
The in-flight falcon show is out of this world – you can even pose for photos with the birds at 1,200 meters! Back down on earth, there's time for a buffet breakfast and camel ride before heading back to Dubai.
Private falconry safari
These VIP experiences take you on a nature drive through the Dubai Desert Conservation Reserve. Private Dubai falconry tours last up to 5 hours, and it will be just you and your group in the vehicle.
You'll be collected from your hotel at around 5 AM, ready for your 4X4 desert adventure. Before long, you'll be cruising through the dunes, watching out for wildlife along the way. Sand gazelles, Arabian oryxes and houbara bustards are often spotted.
Once you arrive at the camp, you'll get to fly falcons, owls and eagles. There will be plenty of photo opportunities to celebrate the encounters. You then have the option to enjoy breakfast, either at camp or a luxury desert resort, before being returned to your Dubai hotel.
How much do falconry tours in Dubai cost?
Dubai falconry excursions that include camel trekking, the falcon show and dinner start at US$60 per person. For trips that offer dune bashing and sandboarding as well, expect to pay US$70 per person. There is a premium package available that includes all of the above, plus henna tattoos and Arabian costume photography for US$120.
A 5-hour experience that focuses solely on falconry and wildlife watching costs US$170 per participant. For hot air balloon tours with an in-flight falconry show, the price is US$330 – this includes breakfast and a camel ride.
Private land-based falconry tours in Dubai cost US$280 per person. This covers transport, hotel pickups, a desert safari and the falconry experience. Refreshments like Arabic coffee and dates are generally included in the price. If you want to add breakfast to your trip, the cost rises to US$330 per person.
What is included?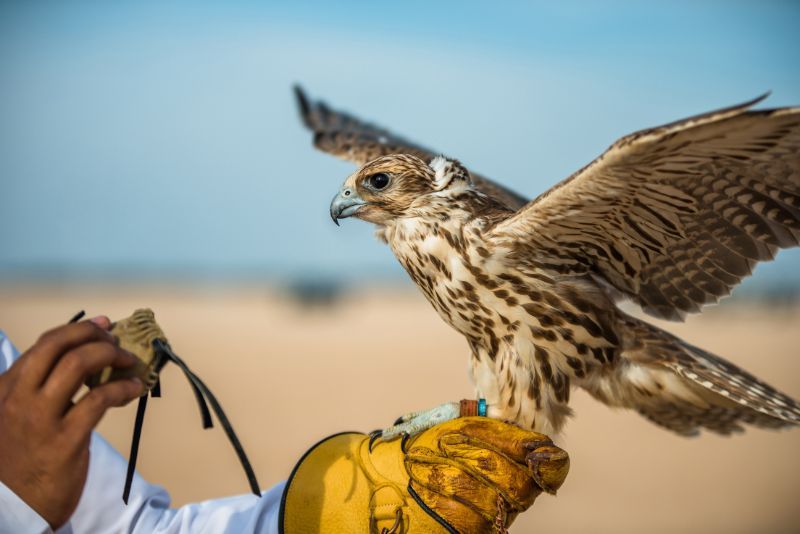 You don't need much to enjoy a bit of falconry in Dubai, as everything is taken care of by the operator. Tours usually include the following:
Round-trip 4X4 transfers from your hotel in Dubai.
Guided wildlife safari in the Dubai Desert Conservation Reserve.
Interactive falconry show with photo opportunities.
Activities such as dune bashing, camel riding, sandboarding, hot air ballooning and quad biking, depending on the tour.
Breakfast or dinner in the desert, plus complimentary Arabian coffee and dates.
Live entertainment (dinner tours only).
Where does it start?
For your convenience, most Dubai falconry tours include hotel transfers in the package price. Check with your provider to make sure your accommodation is on their pickup list.
A few excursions depart from the Dubai Mall – you'll need to arrive 45 minutes before your departure time.
How long does it last?
Dubai falconry experiences are usually combined with other activities, so expect to spend between 4 and 7 hours out and about. The longer tours often include either breakfast or dinner, depending on the start time of your trip.
Excursions that focus solely on falconry and wildlife safaris last about 5 hours, including transfer time.
When is the best time for a falconry tour in Dubai?
The Dubai desert is like an inferno during summer, with high temperatures putting a stop to any sand-based adventures during the day. This means that if you want to enjoy a falconry trip in Dubai, you'll need to book a morning or evening tour. For the best conditions, visit in winter.
Morning tours begin around 5 AM and are often combined with a hot air balloon flight. Meanwhile, evening experiences start at about 2 PM and include adrenaline activities and dinner.
Are there any combo trips available with falconry tours in Dubai?
Dubai falconry excursions plus other desert activities
Combine a whole host of desert activities for the ultimate Dubai adventure. As well as the falconry show, these tours offer everything from dune bashing and sandboarding to camel rides and quad biking.
These trips usually come with a barbecue dinner at a desert camp, plus live entertainment and shisha pipes to get you in the mood. This is a great way to experience a lot in a short space of time.
Falconry in Dubai plus hot air ballooning
Floating high above the Dubai Desert in a hot air balloon is one of life's greatest pleasures. This trip steps things up a notch by offering an in-flight falconry display, where the birds will come and land on your fist.
This is a romantic way to experience the desert, so tours are popular with couples. You'll finish with a flourish by enjoying an al fresco breakfast after you land.
Are children allowed?
Yes, children are welcome on most Dubai falconry tours as these are great family adventures. Some operators specify that children under 5 years cannot join group trips, so a private vehicle must be booked. You can check this with your provider at the time of reservation.
For safety reasons, to participate in the hot air balloon rides, children must be aged 6 years or over.
What happens in case of bad weather?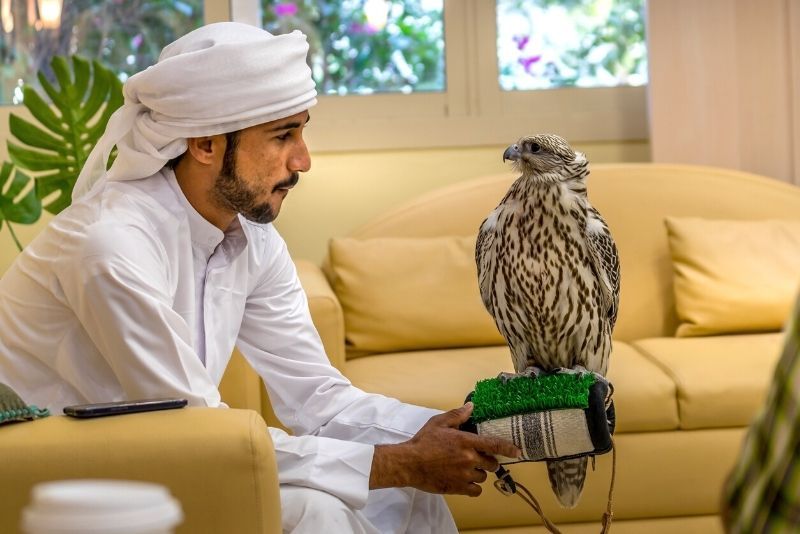 Falconry in Dubai and indeed vacations in the city are most popular during winter when the weather is pleasant and stable. As a result, excursions are rarely canceled.
Occasionally, it may not be suitable to launch the hot air balloons. If that happens, your tour will be postponed, or a full refund will be offered.
Travel tips
Wear comfortable clothing as you'll be participating in physical activities out in the desert. It gets hot out there, so dress accordingly.
Note that live entertainment and alcoholic drinks are not provided during religious holidays like Ramadan.
Tours that involve desert activities like dune bashing are not appropriate for pregnant travelers or those with back problems.
Falconry excursions in Dubai are popular, so don't leave your booking until the last minute.