The desert city of Al Ain is an intoxicating blend of traditional culture and contemporary society. Known as the seat of the Sheikhs, Al Ain attracts historians and adventurers from all corners of the globe.
On a day trip to Al Ain from Dubai, you will discover everything from hot springs and palm groves to camel markets and ancient fortresses. It feels a bit like walking into an Arabian fairy tale.
Here's all you need to know about Al Ain, one of the most interesting day trips from Dubai.
How to get to Al Ain from Dubai?
Al Ain sits on the border between the United Arab Emirates and Oman and makes an easy day trip from Dubai. Here are the best ways to visit:
From Dubai to Al Ain by car
The journey to Al Ain from Dubai takes around 1.5 hours, driving through 100 miles of picturesque desert landscapes. The route is quite straightforward, using the E66 all the way to your destination.
Remember to drive on the right.
From Dubai to Al Ain by bus
Buses depart from Dubai Central Station every 30 minutes. The journey takes 1 hour 45 minutes, with all buses arriving at the Al Ain Central Station. You can then take a taxi to explore the sights.
Guided tour to Al Ain from Dubai
Taking a guided day trip to Al Ain from Dubai is hands down the simplest way to visit this intriguing garden city. With no public transport hassles or navigation worries, the tour takes you from door-to-door, with plenty of sightseeing in between.
What is the typical itinerary of a day tour to Al Ain from Dubai?
Your day begins with a pick-up from your hotel after breakfast, followed by a comfortable 1.5-hour drive to Al Ain. Admire the desert scenery during your journey.
Your Al Ain day trip from Dubai starts in earnest as soon as you arrive in the city, with plenty of sightseeing to keep you entertained. Visit the famous landmarks, explore markets, and soak up the views as your guide shows you the highlights.
Due to the distances covered, Al Ain excursions tend to last a whole day so you will enjoy lunch at a local restaurant. Your driver will then return you to Dubai in the evening.
What kind of tours are available to go to Al Ain?
There are several different Al Ain day trips from Dubai on offer, including group tours and private experiences.
Guided group tour to Al Ain from Dubai
The most popular day tour to Al Ain is the small group guided trip. These excursions are a fun way to explore the city with like-minded travelers while keeping your costs to a minimum.
Travel is usually by air-conditioned minivan with round-trip hotel transfers and a local guide included.
Private day trip to Al Ain from Dubai
The ultimate Al Ain jaunt is of course the private day tour. You can sit back and relax in your exclusive vehicle, while your private driver and guide do all the hard work.
Enjoy tours of all the main sights, with entrance fees usually included in the tour price. You will be returned to your Dubai hotel in time for an evening meal.
Overnight Al Ain tour with desert safari
Want to spend a bit longer in the desert? This two-day trip includes sightseeing in Al Ain, and an overnight camp in the Dubai desert with camel riding, dune bashing, and quad biking.
Transfers and meals make this tour run super smoothly.
8-day tour to Al Ain plus Dubai, Abu Dhabi, Sharjah, and the Musandam Fjords
Combine some of the best sights in the United Arab Emirates on this fun-filled multi-day tour. All transfers, meals, and accommodation are provided so you can concentrate on enjoying the experience.
Several activities are offered during the week, like a Musandam Fjords cruise, a desert safari in Dubai, and a visit to the Sheikh Zayed Grand Mosque in Abu Dhabi.
How much does a tour to Al Ain from Dubai cost?
Small group day trips to Al Ain from Dubai start at $79 per person, with transport and a guide included.
For a private day tour to Al Ain from Dubai, expect to pay from $186 - $825. The price varies depending on your group size, and whether lunch and attraction fees are provided.
The overnight Al Ain visit with a desert safari starts at $239, with camp accommodation, meals, and activities all thrown in.
The 8-day tour to Al Ain that also takes in Dubai, Abu Dhabi, Sharjah, and the Musandam Fjords is $906 per person. This includes transport, accommodation, and most meals.
What will you see and do in Al Ain?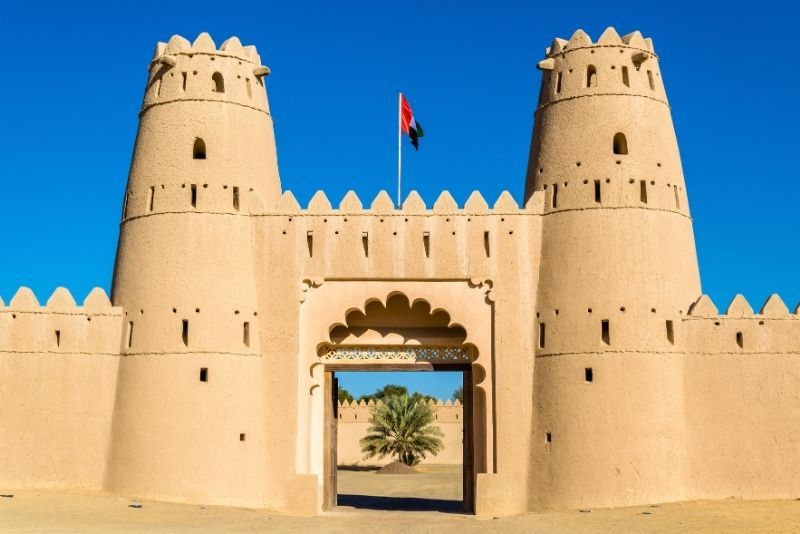 You can pack a lot into a day trip to Al Ain from Dubai, which is just as well since there's a lot to see! Here are the highlights:
Al-Jahili Fort
Travel back in time as you wander around the imposing Al-Jahili Fort, with its shaded gardens and iconic ramparts. Built in 1891 to protect the palm farmers, it is one of the largest fortresses in the United Arab Emirates.
There's a small exhibition inside, and the views from the towers are the best in town.
Qasr Al Muwaiji
This impressive fortress has kept watch over Al Ain for over a century, with its mud-brick architecture standing the test of time.
Qasr Al Muwaiji is a UNESCO World Heritage Site and was once used as a community meeting place as well as the seat of local governance. Today, you can take a tour inside and snap stunning photos against the oasis backdrop.
Camel Market
Immerse yourself in local culture at the famous Al Ain Camel Market. The animals sold here are often destined to be top racers and breeders, with buyers coming from miles around to see the stock.
You can watch races, take photos with the camels, and soak up daily market life.
Hot Springs
Many Al Ain day tours stop at the mysterious Al Mubazzarah hot springs which are reputed to have healing properties. Found at the base of Jebel Hafeet, the springs are the perfect place to take a break or have a picnic.
When is the best time to visit Al Ain?
The optimum time to take a day tour to Al Ain from Dubai is in October and November when temperatures are a pleasant 75˚F. Conditions are great through to April, and the shoulder months of May and September are bearable if you don't mind the heat.
Avoid June to August as temperatures rocket, making sightseeing a sticky business.
Can Ai Ain be reached from other cities in the United Arab Emirates?
Yes, there are tours to Al Ain from Abu Dhabi.
Travel tips
Booking your day trip to Al Ain from Dubai should be done in advance to avoid disappointment, as places are snapped up quickly.
Wear loose, lightweight clothing to keep cool and take sturdy shoes as there will be some walking during the tour.
Tipping the guide is not obligatory but feel free to show your appreciation if you have enjoyed your experience.
Always carry water with you during the tour as the heat of the desert can be intense and there isn't much shade.