Visit Yas Island and discover the first ever Ferrari-themed amusement park, located in Abu Dhabi, just outside Dubai. Learn why previous visitors have named Ferrari World the "Middle East's Leading Tourist Attraction" by World Travel Awards.
Break records, race your friends, and admire the most exquisite cars ever made (or drive one for yourself!).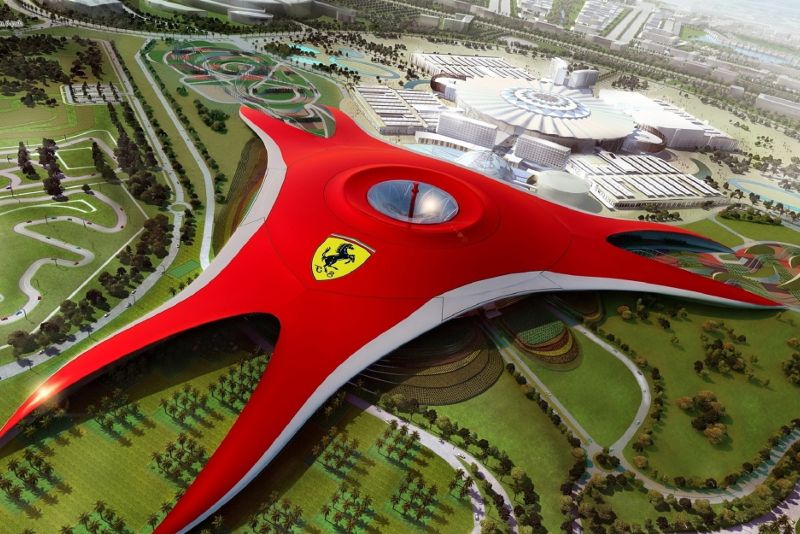 Here's all you need to know about Ferrari World, one of the most popular theme parks in Dubai.
How much do Ferrari World tickets cost?
There are different tickets for Ferrari World. Below are the details. Deals for single entrance tickets can be found on the page Ferrari World Abu Dhabi Tickets.
Single Day Ticket: Admission includes a full day of rides at Ferrari World Abu Dhabi.
VIP Experience: The VIP experience to Ferrari World Abu Dhabi will grant you and your family priority access to rides so you don't have to wait in lines near as long. Additionally, the VIP experience includes admission to Driving Experience and Scuderia Challenge.
Driving Experience: Cruise around Yas Island in a stylish Ferrari. Now that you've experienced the roller coaster you can ride the real thing!
Scuderia Challenge Advanced Simulators: Race in a simulated activity where you get the opportunity to see what it is like to become a Ferrari driver.
Annual Theme Park Pass: Visitors have the option of purchasing an annual pass either to Ferrari World, or all of the theme parks on Yas Island. The annual pass features several other discounts and exclusive offers.
Ferrari World Annual Pass: AED 990 (US$ 270)
Yas Parks Annual Pass: AED 1,595 (US$ 435)
Yas Parks Annual Pass Platinum: AED 2,895 (US$ 788)
Are there any combined tickets with other theme parks?
Yes. Consider booking one of the following passes if you wish to visit several theme parks during your vacations.
1 Day, Any 2 Parks Pass: The ticket package provides unlimited access to Ferrari World as well as the opportunity to visit either Warner Bros. World Abu Dhabi or Yas Waterworld Abu Dhabi.
2 Day, Any 2 Parks Pass: The package provides entry to Ferrari World as well as either Yas Waterworld or Warner Bros. World for two days worth of adventures. Also includes free shuttle bus transport to theme parks.
3 Day, All 3 Parks Pass: The ultimate Yas Island adventure! Experience Ferrari World, Warner Bros. World, and Yas Waterworld in three different days over a span of 13 days.
Who is eligible for discounts?
Ferrari World tickets are discounted for select individuals:
Nannies Special Rate: Nannies are permitted entry into Ferrari World Abu Dhabi for only AED 50 (US$ 14).
Students Offer: Students that are attending college can receive 25% off a single day admission.
Family & Friends Rate: Purchasing four or more tickets online can get you a special single day entry rate of AED 221.25 (US$ 60) per person.
How do you book Ferrari World tickets in advance? How do you skip the line?
Ferrari World tickets are available online through the official website. Additionally, you can find tickets through a variety of online travel agencies including Headout, Viator, GetYourGuide, and Musement.
Prices for Ferrari World tickets fluctuate and you can compare and contrast offers on TourScanner. We recommend doing a price comparison between travel sites on TourScanner in order to get the best deal.
Are there any combined tickets including Ferrari World tickets and other attractions?
Yes! There are a variety of ways to combine Ferrari World tickets with other tourist attractions and save money:
Ferrari World +Abu Dhabi Tour: Tour the exciting city before ending at Yas Island where Ferrari World, and two other theme parks exist.
Ferrari World + Sheikh Zayed Mosque Tour: Tour the famous mosque and learn more about Islam culture before racing friends at Ferrari World.
Ferrari World + Yas Waterworld: Experience two of the three amusement parks on Yas Island for a full day of fun!
Ferrari World + Warner Bros. World: Experience two theme-parks designed to provide a lifetime of fun and memories.
Ferrari World + Seaplane Flight: View the spectacles of Dubai and Abu Dhabi before reaching Yas Island via plane.
How do you get to Ferrari World from Dubai? How long does it take?
Ferrari World is located near Abu Dhabi. You can get from Dubai to Ferrari World by bus or by car. It takes one hour drive to reach Ferrari World from Dubai center folowing the E11 highway. There are many packages available including both tickets and transfers.
If you are travelling by car or bus, take a look at our page Ferrari World Abu Dhabi to compare the single entry tickets of the park.
For the most adventurous ones, consider going to Ferrari World on a seaplane. There are several websites proposing such package. Check TourScanner catalog.
Are there any Ferrari World guided tours? Are they worth it?
The VIP experience at Ferrari World Abu Dhabi will provide you with the complete experience of the amusement park including a two hour personal guided tour. There are also opportunities to arrange a guided tour through a special holiday, group, corporate, educational, or birthday booking.
Guided tours are a fantastic way to get a behind-the-scenes look at one of the most popular amusement parks in the Middle East, as well as the world! Personal tours present you with an opportunity to ask questions to a knowledgeable representative and learn more about Yas Island.
What will I see and do at Ferrari World?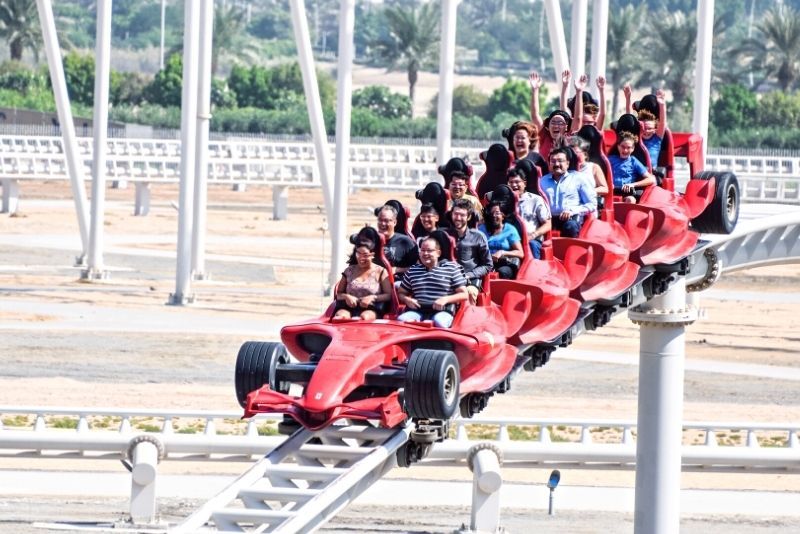 Ferrari World Abu Dhabi features countless rides and attractions. It is home to the fastest roller coaster in the world - Formula Rossa. The notorious roller coaster reaches speeds of 0 to 240 km/h in 4.9 seconds and heights of 52 meters.
Ferrari World also features a state-of-the-art racing simulator and opportunities to cruise around in a real Ferrari.
Other popular rides include the Bell' Italia, Flying Aces, Turbo Track, and Junior Grand Prix.
Ferrari World Abu Dhabi is also home to a few shows, as well as several dining and shopping options.
What is the best time to visit the Ferrari World? How to avoid the crowd?
Ferrari World gets crowded on weekends and holidays. You can avoid some of the crowds by visiting Yas Island and the theme-park on weekdays.
The amusement park generally receives its highest volume of people between the hours of 3-6 pm. We suggest visiting the park late morning or evenings in order to avoid longer lines for rides.
What are the Ferrari World opening hours?
Ferrari World is open daily from 11 AM to 8 PM. Holiday hours are a little different:
December 20-30: 10 AM - 10 PM
December 31: 10 AM - 8 PM
January 1-4: 10 PM -9 PM
Travel Tips
Booking tickets at the door are more expensive than booking them online.
You can save time by purchasing tickets in advance online through the official website, or comparing multiple deals through TourScanner. Combo tickets to multiple tourist attractions on Yas Island, or Abu Dhabi can save you even more money!
Special access tickets like the Driving Experience run on a timed ticket system. Therefore, it is important to sign up for the experience prior to your visit in order to secure a spot.
Bring your booking confirmation and a valid driver's license the day you visit the park. The license is especially important if you have tickets to the Driving Experience.
Ferrari World recommends that you arrive at least thirty minutes before your scheduled time slot for scheduled events. Orientation is required prior to enjoying the Driving Experience or Scuderia Challenge.