The golden deserts around Dubai attract adrenaline junkies from across the world, with adventure lying at the top of each perfectly formed dune. An endless sea of sand makes the perfect playground for nature enthusiasts too, with everything from camels to gazelles often spotted.
Buggy tours in Dubai are the ultimate way to explore, offering an up close and personal encounter with the desert. Here's all you need to know about the experience.
What are the most popular buggy tours in Dubai?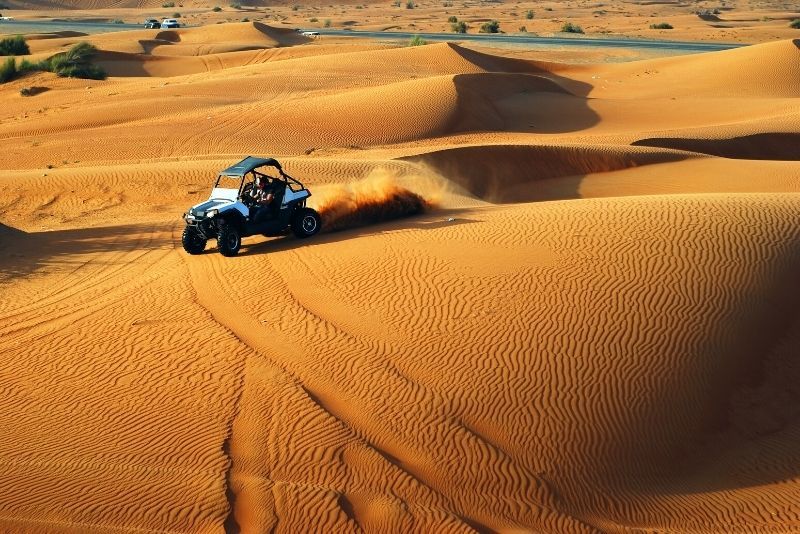 Desert safari buggy tour in Dubai
Get behind the wheel of a buggy and zoom about the desert like a pro. You'll climb enormous dunes and slide down the other side in your powerful machine.
Participants will travel in convoy on this group tour while your guide shows you the best routes. Some excursions offer complimentary sandboarding too.
Dune buggy tour with barbeque and live entertainment
This is one of the most atmospheric buggy tours in Dubai. You'll enjoy a thrilling ride among the dunes, before having a go at sand surfing if you dare!
Then it's time for a buffet dinner at a traditional desert camp, with a live show to keep you entertained.
Moonlight buggy tours
Power over moonlit dunes on this thrilling night adventure – it's one of Dubai's most epic buggy excursions! You will bounce along the rugged desert, stopping for campfire snacks beneath the starry night sky.
Buggy safari with private dinner
After your rip-roaring Dubai buggy tour, you'll be treated to an exclusive dinner in the middle of the desert.
Settle down on your blanket and watch the sun setting behind the dunes. Then tuck into Arabic barbecue delicacies and maybe some shisha.
Buggy tour with camel ride
Combine the best of both worlds with a camel trek after your buggy experience. Feel like an explorer as you plod silently across the sand on your trusty ship of the desert. You can feed the camels afterwards as a reward for their efforts!
Sandboarding and a desert dinner are often included.
Buggy tour with dune bashing
Enjoy a special desert roller-coaster ride as you are driven over the golden peaks on an epic dune bashing adventure. Then hop in a buggy and have a go yourself! These combo tours are designed with thrill-seekers in mind.
Private Dubai buggy tour
These exclusive Dubai buggy tours are a luxurious way to explore the desert. You will have your own private guide and buggies, as well as dinner and a show in the evening after your adventure.
How much do buggy tours in Dubai cost?
The prices for buggy tours in Dubai are generally per vehicle, which has space for two participants.  Transfers are usually included, although a few excursions ask you to make your own way to the departure point.
Desert buggy rides in Dubai start at $136 for 2 hours, rising to $204 for 4 hours, and $272 for 6 hours. Excursions include soft drinks, safety gear, and often sand boarding.
Dubai buggy safaris with barbecue and a live show cost from $201 to $272 depending on the length of the tour. For a buggy ride with private dinner expect to pay $574 for 7 hours of adventure.
The moonlight buggy excursions are priced at $356 for a 2-hour jaunt. Campfire snacks are included.
Combination tours with buggy excursions and camel rides cost from $190 per person for 4 hours. Sand boarding and dinner are often included. The buggy tours with dune bashing are $165 for a 4-hour trip.
Private 5-hour Dubai buggy tours cost $285 and include luxury transfers and your own personal guide.
Which places are seen on buggy tours in Dubai?
Buggy rides in Dubai are a fun way to discover the delights of the Arabian desert, which lies just outside the glittering city. Here's what you can expect to see during your tour.
Lahab Desert
The Lahab Desert is one of the most stunning landscapes surrounding Dubai. The dunes glow red in the sun, towering high with some incredible views from the top. The sea of sand stretches as far as the eye can see, giving a real sense of wilderness and adventure.
Thanks to its accessibility, this is one of the most popular locations in the country for camel treks, dune bashing, and sand boarding, as well as Dubai buggy tours.
Mleiha Desert
Next door to Lahab is the UNESCO World Heritage Site of Mleiha, which is home to several internationally renowned archaeological sites. If you look hard enough, you'll see Bronze Age tombs and pre-Islamic fortresses.
Mleiha is a popular hang-out with locals, and little-visited by foreign tourists, which gives it a thrilling "unexplored" feel. The vast tracts of soft sand sit in the shadow of the Jebel Faya mountains, with highlights including the humorously shaped Camel Rock.
Fossil Rock
Keep an eye out for Fossil Rock as you take a spin around the Mleiha Desert. You can spot this iconic landform from 25 kilometers away.
The fossils found in the crevices here reveal the intriguing story of early marine life from long ago when this area was beneath the sea.
How long does a buggy tour in Dubai last?
Dubai buggy excursions are between 1-7 hours long, depending on which other activities you want to include on your tour.
Most trips that focus solely on buggy rides tend to be 2-3 hours in length, while the combination tours with camel rides, camp dinners, and live shows are longer. Allow 2-4 hours for night buggy tours in Dubai.
Where do buggy tours in Dubai leave from?
Most buggy tours in Dubai offer convenient hotel transfers in air-conditioned vehicles. Check with your provider to ensure your hotel is on the list.
Some excursions ask you to make your own way to the meeting point on the edge of the desert, which is usually the operator's office. You can easily take a taxi here from your hotel.
When is the best time for a buggy tour in Dubai?
You can sign up for buggy rides in Dubai at any time of year. However, we strongly recommend avoiding the summer when scorching temperatures make visiting the desert uncomfortable.
Most people travel to Dubai between November and March when temperatures are glorious, and skies are sunny. Make sure you book well ahead as this is peak season.
The buggy tours take place throughout the day, with the mornings and evenings being the coolest times to explore.
Note that during the month of Ramadan, live entertainment and alcohol will not be available on the evening excursions.
Which other outdoor activities can be done in Dubai?
Travel tips
It's always a good idea to book your Dubai buggy tour online so you can compare prices. Do this in advance as places can fill up fast.
The minimum age for buggy drivers ranges from 10 – 16 years, and all under 18s must be accompanied by an adult. Drivers should take their passports with them for ID.
Dress in lightweight, comfortable clothing suitable for a hot day out in the desert. Sunglasses and hats are recommended.
Keep your camera in a protective case or bag to shield it from the sand during your buggy ride.