Leave the glittering skyscrapers behind and head into the desert on one of these thrilling horseback riding tours in Dubai. You'll discover a land of towering dunes and arid forests, with sand that seems to stretch on forever.
Riding through the desert is a once-in-a-lifetime experience that comes with full bragging rights back home. Keep your eyes peeled for desert foxes and reward your trusty stead with carrots after the tour.
What are the most popular horseback riding tours in Dubai?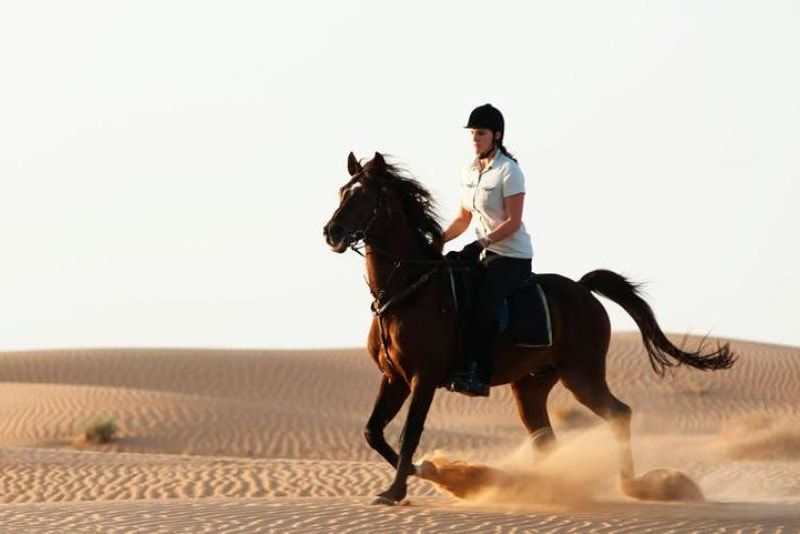 If you're looking for thrills, there are lots of horseback riding tours in Dubai to choose from.
Guided horseback riding tour in Dubai
These small group Dubai horseback riding trips are an adventurous and cost-effective way to explore the Arabian Desert.
After being collected from your hotel or meeting at the designated starting point, you will take to the saddle and ride along desert trails and over dunes for a totally immersive experience. Beginners and experts are all welcome.
Private horseback riding tour from Dubai
For the ultimate horseback safari in Dubai, opt for a private adventure with a flexible itinerary and your own personal guide.
Excursions are based on skill level so you could be walking through fragrant desert forests or galloping across the endless sea of sand. Special sunrise and sunset tours are available for an extra dash of romance.
Private horseback riding lesson in Dubai
If you want to learn how to ride from some of the best instructors in the world, then book a private lesson in the exclusive Mushrif Park.
First-timers will learn how to sit in the saddle and pick up some basic commands. Meanwhile, more advanced riders can discover new tricks to progress their skills.
Horseback riding tour in Dubai plus camel trek, dune bashing, falcon photography & dinner
This combination tour shows you the best of Dubai in a single day, with dune bashing and a camel trek thrown in for good measure.
You will also have the chance to meet the famous desert falcons and pose for photos, before settling down for a traditional buffet dinner and entertainment show at a Bedouin camp.
Hot air balloon rides, sandboarding, and henna tattoo sessions can also be included.
Full moon horseback riding tour in Dubai
Go riding by the light of the full moon on this romantic evening tour. Seeing the park and desert flooded by soft lunar light is eerie yet magical.
Keep watch for desert wildlife and see how white horses seem to glow in the dark.
How much do horseback riding tours in Dubai cost?
The cost of Dubai horseback riding trips varies depending on group size, included activities, and trip duration.
Small group guided horseback riding tours in Dubai start at $92 per person for an hour, rising to $136 for 2 hours, and $160 for 3 hours. Private transfers are often included.
Private Dubai horseback riding excursions cost between $50 and $215. A romantic couple's package that includes a desert massage, evening dinner at a luxury resort, and star gazing from a rooftop lounge is $1307 for two participants.
The private riding lessons are priced at $143 per person for a tailor-made 45-minute session.
Some horseback riding tours in Dubai offer other activities like camel treks, dune bashing, falcon photography, and dinner. These cost between $35 and $146 depending on the inclusions and trip length.
The riding excursion with an added hot air ballooning adventure is $439 per person.
For the full moon horseback riding tour in Dubai, expect to pay $137 for an hour-long trip.
Which places are seen on a horseback riding tour in Dubai?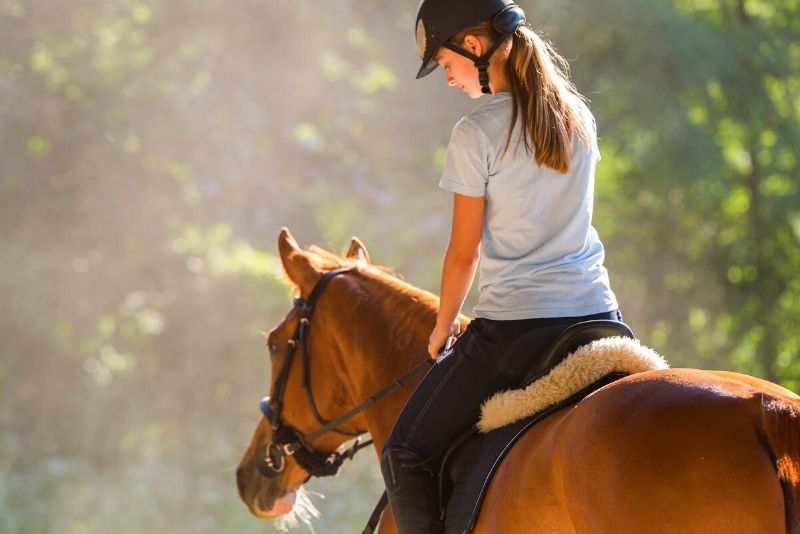 Horseback riding is one of the best ways to experience the Arabian desert on the outskirts of Dubai. Here are some of the top places to explore during your adventure.
Mleiha Desert
The desert around the village of Mleiha makes the perfect backdrop for your horseback riding tour in Dubai. Popular with locals and little-known by tourists, the Mleiha desert is characterized by vast swathes of sand punctuated by the mountain outcrop of Jebel Faya, and the iconic Camel Rock.
This UNESCO World Heritage Site is home to several important historical areas, including pre-Islamic forts and Bronze Age tombs. Some tours stop at the Mleiha Archaeological Museum so you can learn more about this intriguing landscape.
Trip highlights include views of the ancient Fossil Rock where evidence of early desert life can be found in deep crevices. You can see it from 25 kilometers away!
Mushrif Park
Located on the edge of central Dubai, Mushrif Park is a favorite location for riding lessons and short hacks. This is where woodland meets desert, with wild sand dunes and groves of iconic ghaf trees making for a beautiful backdrop to your adventure.
The 1300-acre green space feels a world away from the city bustle, with nature around every corner. The birdlife here is splendid – you might see Arabian babblers and yellow-throated sparrows flitting about the trees during your ride.
Lahab Desert
The desert around Lahab is the place to come for all those Lawrence of Arabia dreams. The dunes here are colossal, and red, which makes for some stunning vacation snaps. It's a great place for dune bashing, camel riding, and sandboarding too if you're on a combined tour.
How long does a horseback riding tour last?
Dubai horseback riding excursions can last from an hour to a full day, depending on whether other activities are included.
Lessons and short desert hacks are between 45 minutes and 3 hours long, which is plenty of time to see the desert in all its glory.
Longer riding tours that include other experiences like camel riding, dune bashing, hot air ballooning, and falconry tend to last 5 – 7 hours.
Where do horseback riding tours leave from?
Most horseback riding tours in Dubai offer hotel pick-ups and drop-offs from central city hotels. Check with your provider to see if your accommodation is on their list.
A few excursions ask you to meet at Mushrif Park which is on the edge of the city by the desert. You can easily take a taxi here from your hotel.
When is the best time for a horseback riding tour in Dubai?
Most people prefer to visit Dubai between November and March when the weather is pleasant and ideal for horseback riding tours. In Dubai, temperatures rocket during summer from May to August, so this is not a good time to be out in the desert.
To avoid the crowds, come during the shoulder seasons in April and September for the best of both worlds. Whenever you visit, always carry water and sunscreen with you.
Ramadan is also a quieter time to visit but be aware that some activities may be restricted, and you can't eat or drink in public during the day.
Which other outdoor activities can be done in Dubai?
Travel tips
Reserve places on your favorite Dubai horseback riding trip ahead of your visit as tours do sell out. You can compare prices online for the cheapest deals.
It will be hot so wear comfy clothing that will keep you cool and don't forget to slap on some sunscreen.
Remember to take your camera – you can fasten it to a pocket in case you're worried about dropping it.
There is a traveler weight limit for horseback riding in Dubai. Restrictions are clearly stated by the provider in the tour details so do check before booking.