Escape the jet-high skyscrapers towering across the ever-so luxurious and lavish Dubai and venture towards the vast desert land where fresh air comes in abundance. Once you arrive, get ready for a traditional, once-in-a-lifetime camel riding experience, traveling across rolling sand dunes.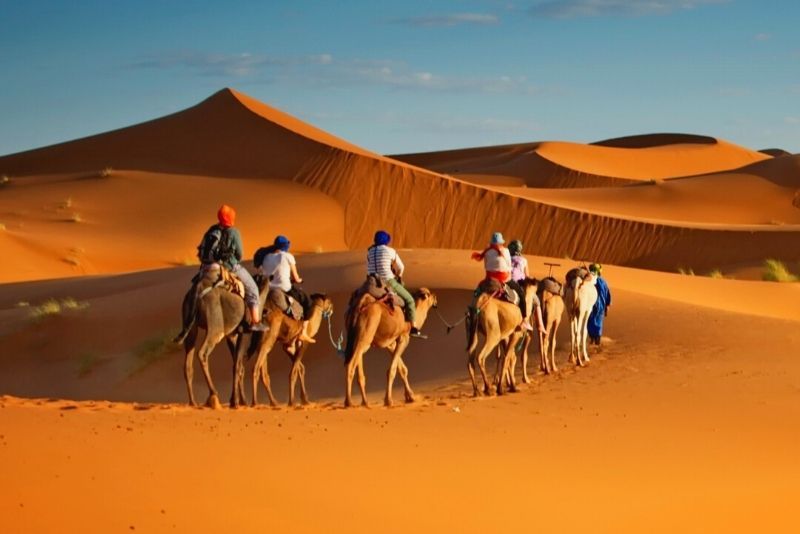 What will you see and do when you go camel riding in Dubai?
Camel riding in Dubai grants you the chance to explore the natural corners of the United Arab Emirates, where tradition, nature, and memorable experiences magically collide.
Most tourists will get the chance to see pink, purple, and orange hues paint the sky either at sunrise or sunset. Some trips will introduce you to other traditional delights, such as scrumptious Arabic-style meals and coffee. Other excursions enable you to catch a glimpse of authentic Bedouin camps.
Your camel riding voyage in Dubai will introduce you to the uncanny nature spanning the outskirts of the lively city. Some camel riding tours may include more activities and sights! What are they? Let's take a look!
What other tours or activities are included together with a camel riding in Dubai?
Do you want to add some adventure to your camel-riding excursion? Whether you want to surf the red dunes, enjoy a fulfilling BBQ amid the desert land, let the falcon show enthrall you, watch a colorful, lively belly dancing performance or experience the thrill of ATVing through the rolling sand, it's safe to say that you can choose from a collection of exciting options.
Can't choose which activity you want to include with your camel riding excursion? Thankfully, most tours include almost all of the options listed above. However, some camel riding tours occur when the morning light ignites the desert sands while other trips will last until the stars dot the sky.
What kinds of tours are available to ride a camel in Dubai?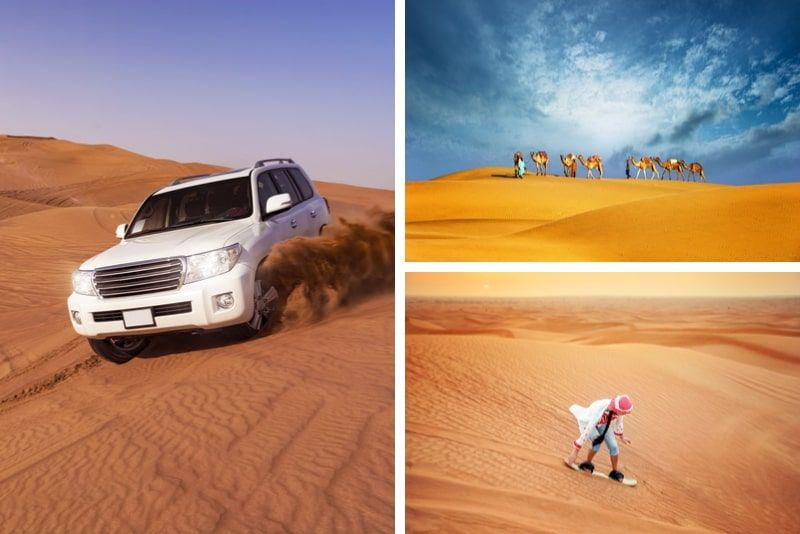 Morning camel riding tours
You can opt to venture on a calming 1-hour camel ride tour, which, more often than not, includes a sunrise camel experience and a mouth-watering Arabic breakfast, paired with a cup of traditional coffee.
Full day and night camel riding tours
If you want to include more activities, you can opt for one of the many tours that, through electrifying dance shows, tasty BBQs, and thrilling desert safari adventures, help to enliven and enhance your total camel riding experience.
What is the typical itinerary for camel riding in Dubai?
If you opt for the more basic (but equally enlightening) camel riding sunrise excursion, your itinerary will likely follow this format:
Hotel pick-up (or from a designated location) at 4 am
Journey to the desert via a comfortable vehicle
Sit atop your camel for 25 minutes
Watch the sunrise from your camel
Travel for 20 minutes via camel to a Bedouin area where you will sip traditional coffee and munch on Arabic-style snacks
Enjoy a tasty breakfast in the atmosphere of the desert
Travel back to your hotel
Total duration: 4 hours
If you plan to join a full desert safari, including some of the following activities: dune bashing by 4x4, quad biking, sandboarding, BBQ Dinner at Al Khyama Camp and overnight at the Bedouin camp.
This is a typical itinerary:
Get picked up from your hotel between 2:15 pm and 3 pm
Travel for around 40 minutes to Lahbab Desert
Hop on your quad bike for 45 minutes—after a brief information session
Get on your sandboard for an hour or so
After you get your thrill on, stop at Bedouin camp
While you are at the camp, you can smoke Shisha, let Henna artists draw vibrant designs on your hands, and hop on a camel
Shortly after exploring the area, you will sit down for a meal and let entertainment envelop your mind
Step back into your comfortable, air-conditioned mode of transportation and head back to your hotel
Total duration: 6 hours
It's important to note that some excursions may grant more time for camel riding, while others may give you more time for other activities. Please keep in mind that some tours begin in the afternoon and end when night falls, while others start before sunrise and will have you back at your hotel in the early afternoon.
How much does camel riding in Dubai cost?
It depends on which tour you decide to take. For example, the 4-hour Dubai: Sunrise Camel Trek with Breakfast excursion costs around $60 (€55) per person. If you just want to hop on a camel, you can always sign up for a camel ride tour—with no add-ons—for $50 (€45).
The Red Dunes by Quad Bike, Camel Riding, Sandboarding and BBQ Dinner at Al Khyama Camp tour described above costs around $88 (€80) per person. Yet, some cheaper options include fewer activities.
It's important to note that camel riding in Dubai adventures can cost anywhere between $44 to $165 (€40 to €150).
Where does the camel riding take place and where does the tour start?
Most tours will pick you up from your hotel, but be sure to double-check this information beforehand. Some desert excursions may ask you to meet at a designated location. After your pick-up, you will travel by vehicle to the ever-so expansive Arabian desert.
How long does camel riding last?
Most camel riding in Dubai tours will take you on a 1-hour long camel ride, but some excursions jam-packed with more activities may include a shorter camel-related adventure.
When is the best time to go camel riding?
It depends on your answer to this question: do you prefer to watch the sunrise or set? Watching the sun dip or rise above the golden dunes makes for an unforgettable image (and a stunning photograph).
If you want to avoid the intense summer heat, try to visit Dubai between October and April.
Is camel riding safe?
Yes! Camels can carry around 150 kg—they are super strong.
Travel tips
Pregnant women should avoid riding a camel
Wear pants and socks—the movement of the camel may cause your pants to rise, leaving your legs unprotected from the sun
Bring a hat, sunscreen, camera, and sunglasses
Some tours may not provide refreshments, so be sure to bring water along