Sitting pretty on the Persian Gulf, Abu Dhabi is the capital of the United Arab Emirates. Its sparkly skyscrapers, mega shopping malls, and marbled architecture lure visitors from all over the world.
Taking a day trip to Abu Dhabi from Dubai is easy, whether you want to join a tour or go it alone. With everything from cultural sights to theme park thrills on offer, you're in for a real treat.
How to get to Abu Dhabi from Dubai?
Abu Dhabi lies 150 kilometers south of Dubai, which makes it accessible to visit on a day trip. You can drive yourself, ride on the bus, or join a guided tour.
From Dubai to Abu Dhabi by car
The journey to Abu Dhabi from Dubai takes 90 minutes by car. You need to drive south on the E11, before turning off into the city center. There are plenty of parking areas, including at the Sheikh Zayed Grand Mosque.
From Dubai to Abu Dhabi by bus
It is possible to travel to Abu Dhabi by bus from Dubai, with departures from beside the Ibn Battuta Mall and the Bur Dubai area. The trip takes two hours.
Guided tour to Abu Dhabi from Dubai
Taking a day trip to Abu Dhabi from Dubai is by far the easiest and most relaxing way to travel. You will visit the major sights with an expert local guide, and ride in a comfortable air-conditioned minivan or car. Hotel transfers are included too.
What is the typical itinerary of a day tour to Abu Dhabi from Dubai?
Your driver will pick you up from your Dubai hotel in the morning and whisk you off on a 90-minute ride to Abu Dhabi. On arrival, you will take a tour of the major sights or enjoy time at theme parks depending on your itinerary.
Lunch can be eaten in a local restaurant (sometimes at your own expense), and your guide will make suggestions if you like.
At the end of your busy day trip to Abu Dhabi, you will be transferred back to your hotel in time for dinner.
What kind of tours are available to go to Abu Dhabi?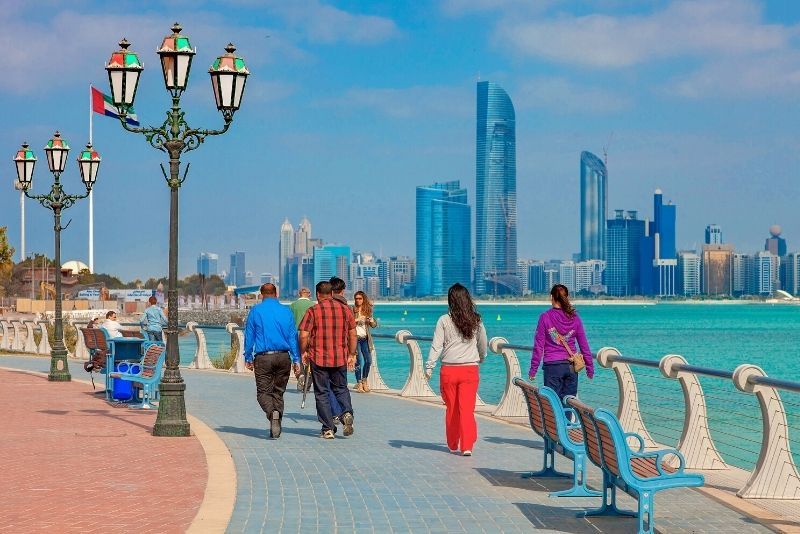 When it comes to day trips to Abu Dhabi from Dubai you have lots of choices. Here are the main tours available:
Guided group tour to Abu Dhabi from Dubai
Small group tours are a fun way to explore, without blowing your budget. Transport is by minivan, with pick-ups from central Dubai hotels.
You'll enjoy a full day of sightseeing in Abu Dhabi with your guide, and lunch at a local restaurant. Some tours focus on theme parks instead of cultural attractions.
After your excursion to Abu Dhabi, your driver will return you to the hotel.
Private day trip to Abu Dhabi from Dubai
On private Abu Dhabi day tours from Dubai, you will receive luxury treatment. Enjoy your own exclusive vehicle and guide for the duration of your visit, with room for some flexibility with the itinerary too.
Door-to-door transfers are all part of the experience.
Combination Dubai and Abu Dhabi tour
See the best of both worlds on this fun combo two-day tour. You'll visit the Dubai Museum and ride on the Dubai Creek, before traveling to Abu Dhabi to see the world's largest mosque.
Some tours also take in Yas Island and Saadiyat Island. This trip begins and ends in Dubai.
Shuttle transfer to Abu Dhabi from Dubai without a guide
If you want to explore Abu Dhabi independently but fancy a stress-free transfer, then this is the tour for you. Just arrange with your driver a time to be picked up after your day out, ready for the journey back to Dubai.
Day trip to Abu Dhabi plus desert safari and barbecue
This fun-packed trip from Dubai includes sightseeing in Abu Dhabi, as well as some desert adventures. You will enjoy a dune drive, a camel ride, and sandboarding before feasting on barbecue delicacies at a Bedouin camp.
How much does a tour to Abu Dhabi from Dubai cost?
Guided small group tours to Abu Dhabi from Dubai range from $27 to $224, depending on what is included. The more expensive excursions offer extras like attraction entrances, lunch, and theme park tickets so check the details carefully.
For a private day trip to Abu Dhabi expect to pay between $200 and $504, according to the tour length and number of attractions visited.
The two-day group trip that visits both Dubai and Abu Dhabi are just $50 per person. Overnight accommodation and meals are not included.
Prices for shuttle transfers to Abu Dhabi in an air-conditioned vehicle start at $80.
The day trip to Abu Dhabi with a desert safari and barbecue is $85, with excursions and dinner provided.
Most Abu Dhabi day trips from Dubai include hotel pick-ups and drop-offs.
What will you see in Abu Dhabi?
There are enough sights in Abu Dhabi to fill a few days, but if you only have one, here are the things you shouldn't miss.
Sheik Zayed Grand Mosque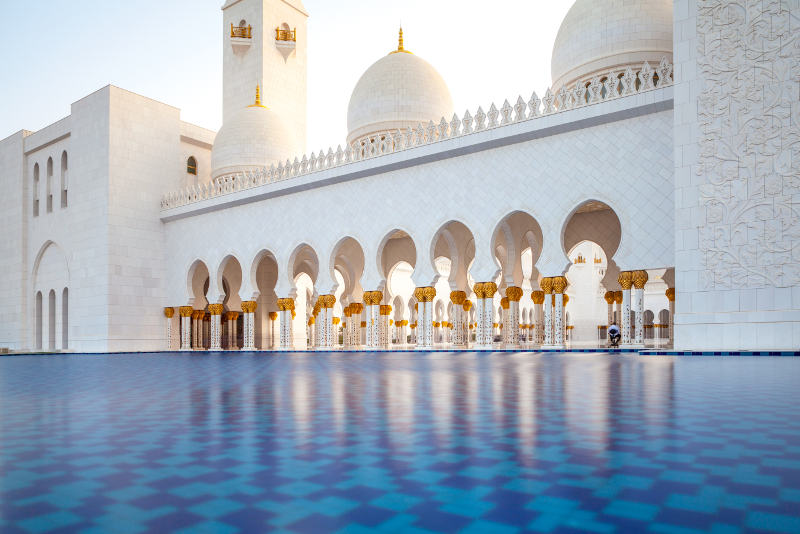 The shining star of most Abu Dhabi day tours from Dubai is the Sheik Zayed Grand Mosque. Dominating the skyline with its minarets and domes, the mosque is one of the few that can be visited by non-Muslims.
You can enjoy a guided tour to admire the reflective pools, marble columns, and intricate plasterwork. The architecture is a beautiful blend of Arabic, Andalusian, and Moroccan styles.
If you stay into the evening, you will see the mosque illuminated.
Qsar Al Watan Palace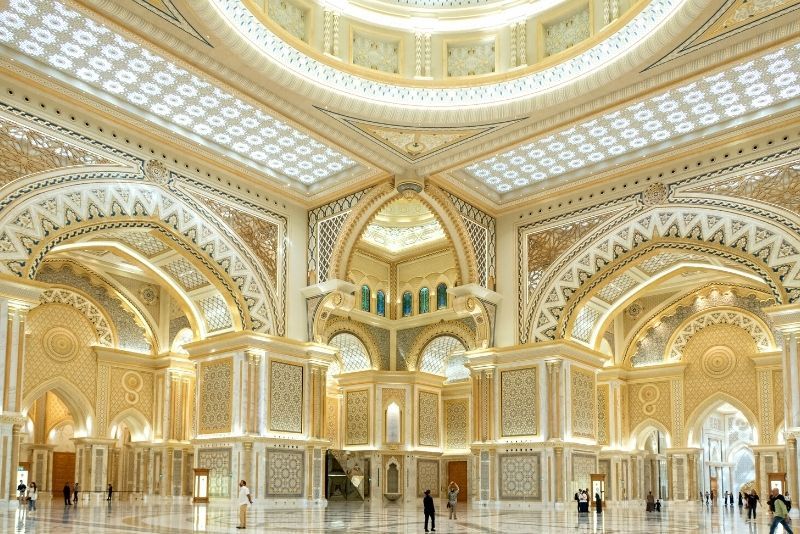 Qsar Al Watan is the presidential palace of the United Arab Emirates and is one of the main visitor attractions on an Abu Dhabi jaunt.
It's a recent addition to the city and shines a light on Arabian heritage through opulent architecture and intricate craftsmanship. Tours through this grand palace are a must during your stay.
Louvre Museum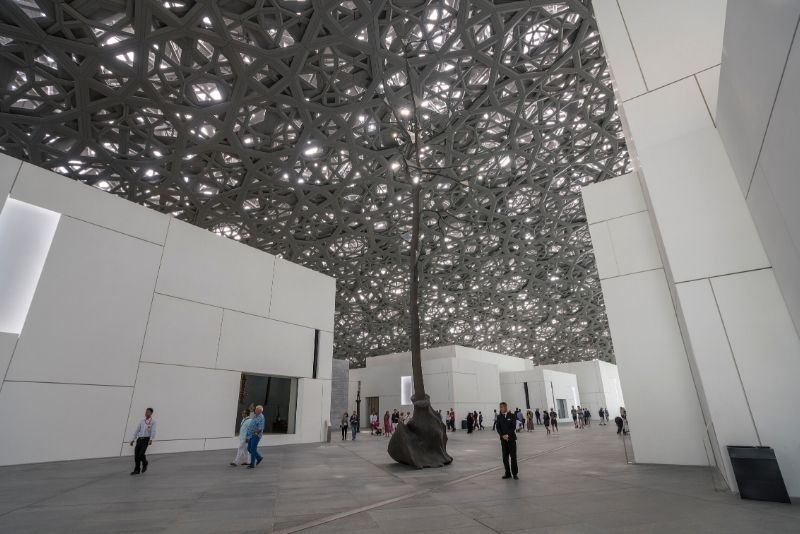 The Louvre Museum Abu Dhabi is often a highlight of any day trip to Abu Dhabi. Located on Saadiyat Island, this museum of world cultural history showcases significant artworks dating from ancient times through to today. The building itself is an architectural marvel too!
Theme Parks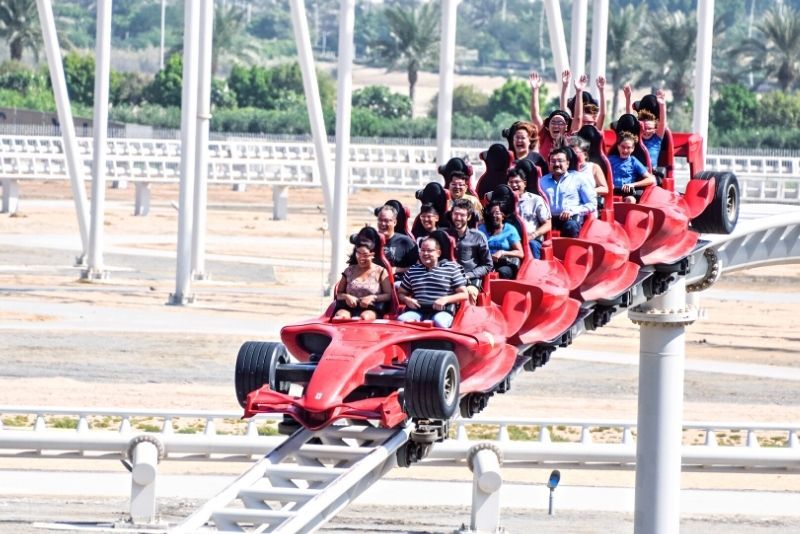 Visiting theme parks is a popular reason for an Abu Dhabi day trip from Dubai. Feel the need for speed at Ferrari World, zoom down flumes at Yas Waterworld, and meet your favorite characters at Warner Bros. World.
When is the best time to visit Abu Dhabi?
You can enjoy Abu Dhabi excursions from Dubai all year round, but most people prefer to visit over winter when temperatures are just right. November through March offers the best conditions.
It gets very hot during summer, so if you are traveling at this time try and keep your sightseeing to indoor venues.
Are there any tours to Abu Dhabi from other cities in the United Arab Emirates?
Several tours include Abu Dhabi and one or more of its attractions. Check out specific pages to refine your search.
Travel tips
Places on Abu Dhabi day tours from Dubai do fill up fast, so book well ahead to secure your chosen dates. Making reservations online gives you the chance to compare prices for the cheapest deals.
Dress modestly when visiting the Sheikh Zayed Grand Mosque, keeping bare skin to a minimum. Women should cover their head with a scarf.
It will be a long day out so wear comfortable shoes for walking around the sights.
Tipping your guide is not mandatory but is always appreciated if you feel you have had a good time.