Thinking about indulging in one of the countless boat tours in Dubai? We don't blame you! Adventure, romance, thrill, and panoramic landscapes await you on every nook and corner of these enchanting excursions.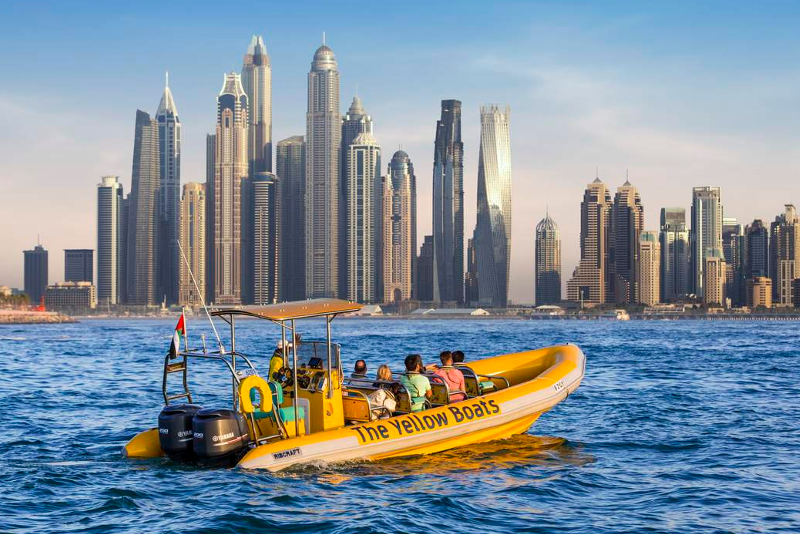 Experience the magnificence of one of the world's most magical cities as you sail along its coastline filled with world-famous landmarks, glittering illuminations, and iconic attractions. Here's what you can expect when embarking on one of these tours.
What are the most popular boat tours and cruises in Dubai?
1.  Dubai speedboat sightseeing boat tours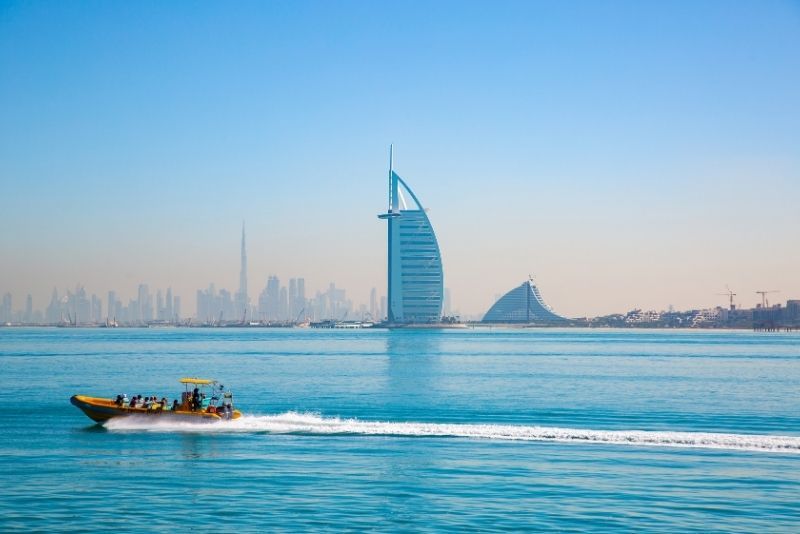 Get the full red-carpet treatment from arrival to departure on this tour. It's a 90-minute ride along the Persian Gulf where you can capture a lifetime of memories of Dubai's top landmarks. The Dubai Eye Wheel, Jumeriah Beach, and the Dubai Rulers Private Island are just some of the stops you'll make on this unforgettable tour while learning interesting facts about each site along the way.
2. Burj Lake traditional boat tours
If the authentic Dubai experience is what you crave, then this short cruise aboard the traditional "abra" water taxi will do the trick. Sail smoothly across the Burj Lake while being entertained by a mixture of music and lights from the Dubai Mall Fountain Show.
This evening tour allows you an intimate view of Dubai's stunning skyline while passing by monuments such as Souk Al Bahar and the Burj Khalifa. The ambiance of this experience alone makes it one of the most beautiful boat tours in Dubai.
3. Dubai dinner & show dhow cruises
Dine-in fine style as you admire the illuminated city skyline while sailing along the Dubai Creek. With a choice of three, four or five-star cuisine, enjoy unlimited access to a buffet of international specialties including Arabic food and drinks. A traditional Tanoura performance will help to relax you while cruising along the edge of the Deira neighborhoods.
4. Musandam Peninsula full-day cruises
Perhaps you seek a full day's adventure when in search of Boat tours in Dubai. It's a sage idea to discover the clear waters and untamed beauty of the Musandam Peninsula. Set sail from Khasab aboard a traditional dhow and enjoy a trip into the heart of the famous Fjords of Arabia.
A stop at Telegraph Island will bring you amazing photo ops and you may even be able to see dolphins if you're lucky! Enjoy a scrumptious self-service buffet throughout the cruise and indulge in relaxing activities like swimming and snorkeling. It's a day spent in the heart of nature, and a trip you won't forget.
5. Self-drive boat trips
Captain your boat as you cruise along the coastline of Dubai. Steered by an escort-guide, you'll spend 90 minutes sailing past various landmarks of the city and hearing interesting anecdotes and stories about the rich Dubai culture.
Eminent beaches and iconic buildings form part of this expedition where you can savor the sights of the upscale developments of the city. This unique adventure makes it one of the most exciting Boat tours in Dubai as you get a chance to take on the seas on your own!
6. Private boat tours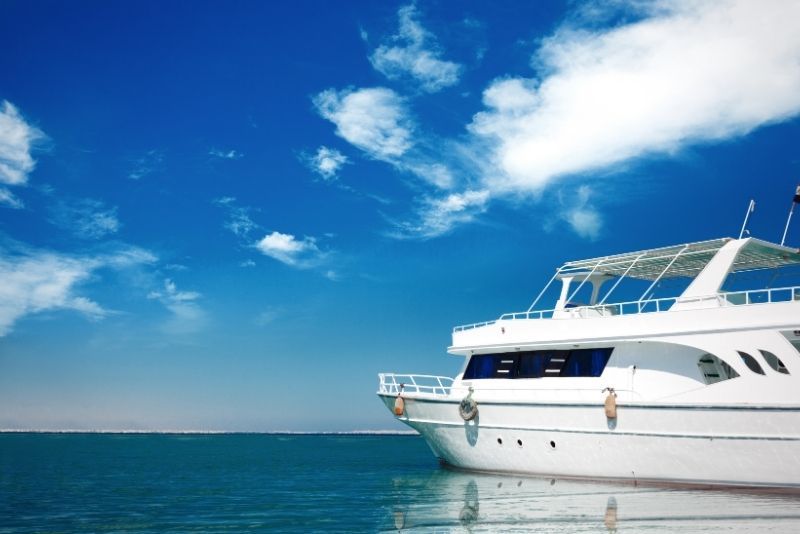 For tourists looking for an exclusive experience, climb aboard one of the private Boat tours in Dubai. Indulge in luxury at its best while taking in the exquisite Dubai skyline. Choose from a 2-hour, 90-minute, or 60-minute cruise that sails you past the best landmarks of the city such as Dubai Marina and The Palm Jumeirah. Take in the sights of the Arabian Gulf as you navigate the peaceful waters.
How much should I budget for a boat tour in Dubai?
Boat tours in Dubai are extremely affordable depending on your budget, with each outing allowing you a packed package of memories no matter which one you choose.
Speedboat and traditional tours range from about $22-$28, while dinner tours can cost from $18-$90 depending on your choice of meal. More exclusive tours like the self-drive tours can cost around $112 while a full day or private tour can range from $158-$202.
How long does a boat tour take?
The average boat tour lasts for about 90 minutes. But if you're looking for a quick, thrilling journey, the traditional Burj Lake tours give you 30 minutes of worthwhile entertainment. For longer, more exclusive tours, full-day tours are available and last for up to 10 hours.
Where do boat tours in Dubai depart from?
Depending on the choice of tour, your port of departure will be different. Most speed boat tours depart from the Dubai Marina while the full-day tour will arrange pickup from your hotel and take you to its departure port in Khasab located north of Oman.
Self-drive tours depart from the heritage fishing harbor near Jumeirah Beach while the traditional Burj Lake tours depart from the lake itself. Be sure to ask your tour operator what your departure arrangements are when booking Boat tours in Dubai.
When is the best time to experience a boat tour in Dubai?
The best time to capitalize on Boat tours in Dubai is in the early morning or late in the evening to beat the Dubai desert heat. Early morning excursions bring you cool, fresh beginnings while evening tours allow you to be enthralled by the illuminated beauty of the city attractions.
Travel Tips
Wear comfortable clothing and shoes as these trips are breezy, lightweight and fun
Walk with a camera so you don't miss out on capturing the scenery
Bring sunscreen and sunglasses for protection
Pregnant women and very young children should not take these tours
Lifejackets will be provided, be sure to wear them while on the boats at all times