Dune bashing in Dubai is a thrilling way to explore the desert on the outskirts of the city. Adrenaline junkies from around the globe come here to experience the thrill of bouncing over the golden dunes, which stretch to the horizon.
Keep an eye out for camels and gazelles as you zoom around and get the camera ready for the sunset if you're on an evening tour.
What are the most popular dune bashing tours in Dubai?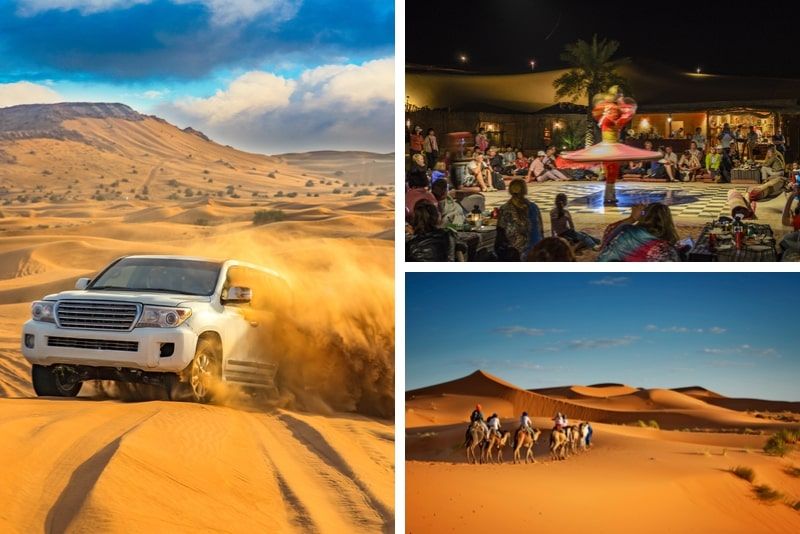 Most Dubai dune bashing trips include other desert activities so you can make the most of your day. Here are the different excursions available:
Small group guided dune bashing tour
Dune bashing in Dubai is generally enjoyed on a small group tour, which is a great way to keep your costs down. Depending on the number of participants in your personal group, you may get a vehicle to yourselves.
These tours can also include buggy rides, ATV excursions, camel treks, and sandboarding. A few trips also offer hot air ballooning and falconry experiences.
Dune bashing tour with dinner and a show
Some of the longer day tours combine dune bashing and other desert adventures with an evening meal in a Bedouin camp. After a day of thrills, you will settle down for a hearty barbecue feast, with Emirati and international favorites to try.
You will be entertained with fire shows, belly dancing, and a hypnotic tanoura whirling dance.
Sunrise and sunset dune bashing tours
The most romantic dune bashing tours in Dubai depart later in the afternoon, so you can watch the sun sink below the horizon. Camel riding, sandboarding, and dinner are often included in these excursions.
Private dune bashing tour
For an exclusive experience, go dune bashing in Dubai on a private tour. You will have your own driver and a hotel transfer just for your group. Morning and sunset excursions are both available.
There are options to include other activities and have dinner too if you wish to spend longer in the desert.
Overnight dune bashing tour
Up the adventure and stay overnight in a desert camp after a day of dune bashing, sandboarding, and camel rides. You will enjoy dinner and dancing by the campfire under a starry sky.
Get up early for the sunrise and fortify yourself with breakfast before returning to the city.
How much does dune bashing in Dubai cost?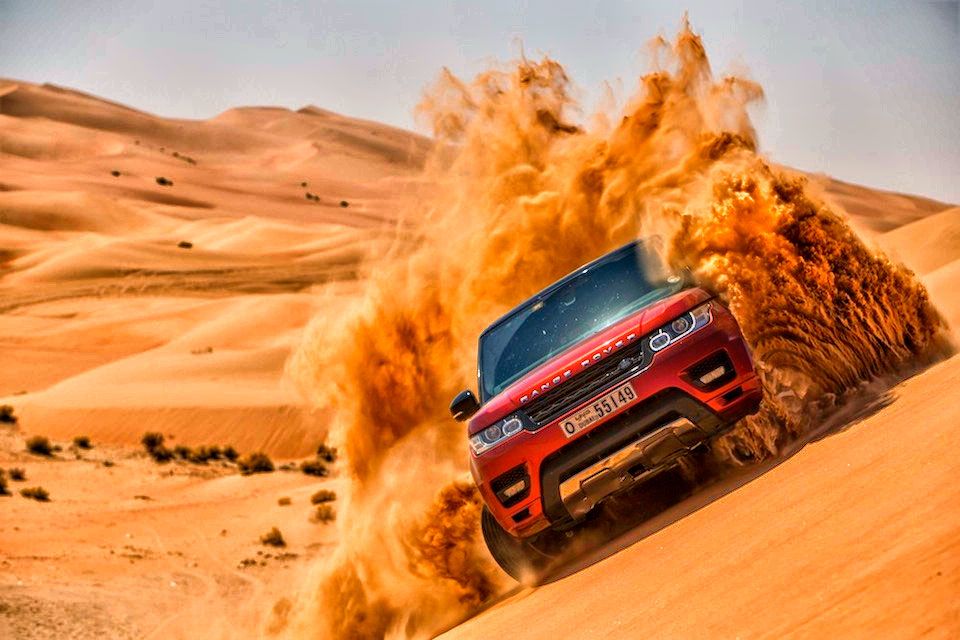 Small group dune bashing tours start at $28 for four hours and $34 for seven hours, depending on which other activities are included. If you want to try hot air ballooning, see the falcons, and enjoy a gourmet breakfast before going dune bashing, expect to pay $385.
The tours that offer dinner and a show cost from $39 for a full day out. This includes food and entertainment.
Sunset dune bashing tours in Dubai are $41 for four hours. These trips sometimes include other desert activities too.
Private dune bashing experiences are $210 and include an exclusive vehicle and guide for your party. Camel rides and sandboarding are usually provided.
The 18-hour overnight dune bashing tour costs $149, including accommodation in a desert camp, dinner, and breakfast.
Hotel transfers are available for all dune bashing excursions in Dubai.
Which places are visited while dune bashing in Dubai?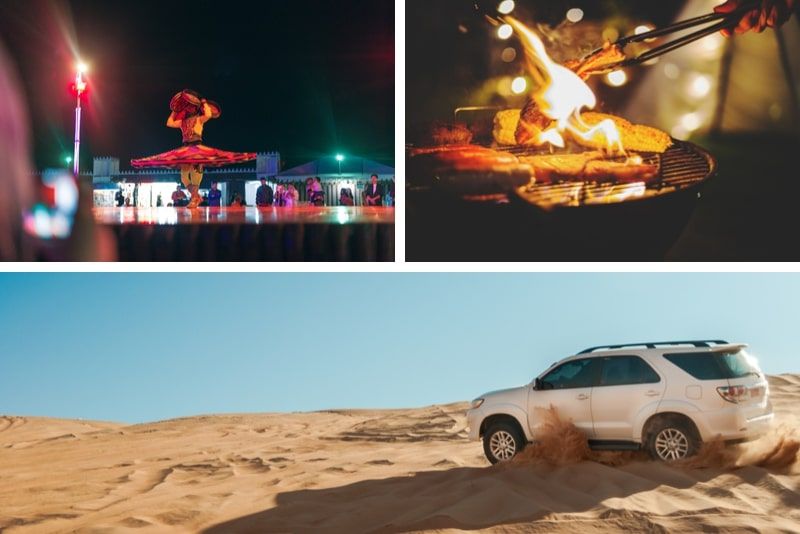 Dune bashing in Dubai takes place in the desert surrounding the city. The drive to the dunes is around 45 minutes, depending on which area your tour is focusing on. Here are the most visited locations.
Al Hibab Desert
This spectacular desert region just outside the city is famous for its towering red sand dunes. This is one of the most popular places for dune bashing tours in Dubai, although there is always fresh sand so you can carve your own tracks and avoid the crowds.
The colors change during the day as the sun moves across the sky, making for breathtaking photos. Sunrise and sunset are the best time to see the full effect. As you drive up and down through the undulating desert peaks, keep watch for gazelles and camels.
Al Badayer Desert
The secret oasis of Al Badayer is home to the renowned "Big Red" dune, which is sure to get the adrenaline pumping. The desert here is stunning, and one of the most accessible wilderness areas near Dubai.
The wind-sculpted dunes glow orange and gold in the sun, with some jaw-dropping views from the top. Thanks to the endless sea of sand stretching to the horizon, this is a popular place for buggy tours and camel rides too.
Fossil Rock
On some dune bashing tours, you will see the famous Fossil Rock – the only solid bit of land for miles around.
From a distance, it's not much to look at but get up close and you'll discover fossils of early marine creatures in the crevices. This area was once under the ocean, something that is hard to imagine as you explore the arid landscape today.
How long does a dune bashing tour last?
Dubai dune bashing trips last between two and seven hours, although most tend to be around the six-hour mark.
Shorter tours focus on the dune bashing experience, while the longer excursions include other activities so you can enjoy a full day out in the desert.
For dune bashing in Dubai with an overnight camp stay, tours are 18 hours long.
Where do dune bashing tours leave from?
Door-to-door transfers are generally included in Dubai dune bashing trips, from selected hotels in the city center.
Check with your operator to see if your accommodation is on the list.
When is the best time to go dune bashing in Dubai?
It gets extremely hot out in the desert during the summer months, so dune bashing in Dubai is best enjoyed over the winter. The most popular time to visit is between November and March when the weather is warm and pleasant.
Taking a morning or evening tour will avoid the worst of the heat. This is peak season, so make sure you book your excursion in good time to avoid disappointment.
For a romantic Dubai dune bashing tour, choose a sunset trip and see the desert flooded with color.
Which other outdoor activities can be done in Dubai?
Travel tips
Try and book dune bashing in Dubai well in advance as it's one of the most popular excursions and trips do sell out.
Wear light clothing to combat the heat of the desert, and don't forget your sunglasses and sunscreen. Take a bottle of water with you too.
Avoid eating large meals before your excursion as driving over those dunes will feel a bit like a roller-coaster ride!
Due to the bumpy nature of the experience, this tour is not suitable for anyone with back problems.