Dubai is famed for two things – its skyscrapers and the surrounding desert. Once you've seen the city sights, enjoy a change of pace by gliding silently over the sea of sand, watching camels munch on their breakfast down below. Ballooning is a magical experience, and there's nowhere better to try it than here in the Arabian desert.
There are lots of different hot air balloon rides in Dubai on offer – here are some of the best.
What are the most popular hot air balloon rides in Dubai?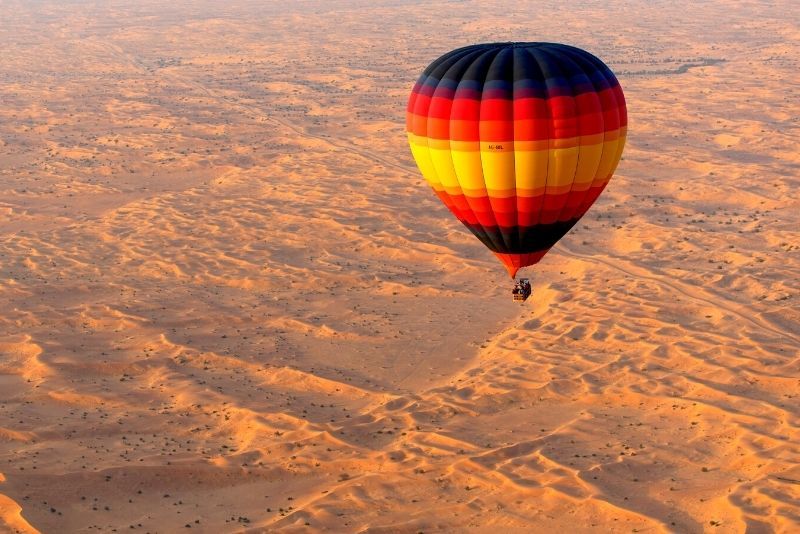 Hot air balloon ride in Dubai with breakfast and falcons
This shared group trip is one of the most popular hot air balloon rides in Dubai. Arise early and enjoy a comfortable transfer by air-conditioned minivan or car to the hot air balloon launch site. You can watch the balloon being inflated, before climbing into the basket and floating over the desert.
Watch camels and gazelles grazing down below and see the sunrise over the desert. Your pilot will spill the beans on the local geology and wildlife, and you can watch falcons soaring at 4,000 feet during a flying demonstration.
Back on the ground, it's time for a gourmet breakfast before being returned to your hotel.
Standard Dubai hot air balloon flight
If you just want to enjoy a hot air balloon flight without any of the extra experiences, this tour is for you. Round-trip transfers are included, and you'll take to the skies in time to see the sunrise. The pilot will present you with a certificate after the adventure.
Hot air balloon excursion in Dubai with camel ride, falconry, and breakfast
There aren't many Dubai hot air balloon tours as epic as this! After a thrilling flight over the Arabian desert, you will celebrate getting your feet firmly back on the ground with a camel ride and breakfast at a traditional Bedouin camp.
A short photo shoot with falcons is the icing on the cake. Transfers are included for a seamless experience.
Hot air balloon ride in Dubai with quad biking, dune bashing, and more
This adventurous tour ups the action by adding an ATV ride and dune bashing to your ballooning and desert safari experience. Camel treks, breakfast, and falcon watching are also included.
Combination tours that include helicopter flights, boat trips, or horse riding are also available. You can enjoy multi-day adventures too, and some offer sightseeing in Dubai and Abu Dhabi.
Private hot air balloon ride in Dubai
This exclusive Dubai hot air balloon tour begins with a luxury Range Rover transfer and a basket all to yourself! After the flight, you will enjoy a wildlife drive, and an intimate desert breakfast of smoked salmon, caviar, and traditional shakshuka.
How much do hot air balloon rides in Dubai cost?
Dubai hot air balloon rides vary in cost, depending on group size, and which other desert activities are included. Hotel transfers are available on all tours due to the early start.
Standard shared flights without the extra experiences start at $177 per person.
The hot air balloon ride in Dubai with breakfast and falconry display costs from $228 and includes food and drink. If you want to enjoy a camel ride during your adventure, expect to pay $315 for the tour.
For the balloon ride with quad biking and dune bashing, prices start at $385 per person.
Combination tours with a balloon flight, plus a helicopter ride or horse-riding excursion start at $439.
Private hot air balloon rides in Dubai cost $2722 per group, with luxury Range Rover transfers, a gourmet breakfast, and an exclusive flight.
An overnight desert safari adventure with ballooning costs $603 for 18 hours.
Eight-day adventures with visits to Dubai and Abu Dhabi as well as ballooning are $1840.
Which places are seen on a hot air balloon ride in Dubai?
A hot air balloon flight over the Dubai desert gives you an exhilarating bird's-eye view of this vast arid landscape.
Dubai Desert Conservation Reserve
The Dubai Desert Conservation Reserve spans 225-square kilometers and lies on the edge of the city making it easily accessible for day trips.
This protected area is home to native desert wildlife like gazelles, falcons, camels, and the iconic Arabian oryx. You may see all of these while you glide silently overhead on your hot air balloon ride in Dubai, so keep your eyes peeled. Elusive sand foxes and Gordon's wildcats can also be occasionally sighted.
The undulating dunes create a mesmerizing sea of sand that seems to stretch on forever. The silence here is truly golden, and you will see the desert flooded with color as the sun rises over the horizon. You'll be in a prime position to watch the land below come to life against the majestic backdrop of the Hajar Mountains.
This stretch of desert is the place to go for camel riding, sandboarding, and dune bashing tours, as well as ballooning. It's also home to some luxury hotels, like the Al Maha Desert Resort and Spa.
How long does a hot air balloon ride last?
Most Dubai hot air balloon rides tend to give you between 40 and 70 minutes of actual flying time, depending on the operator.
The total length of hot air balloon tours in Dubai varies according to whether any other desert activities are included. The shortest experiences last four hours, with the longest taking up to six hours.
The combination tours that also include a helicopter flight and desert safari are nine hours long.
Where do hot air balloon rides leave from?
Pick-ups and drop-offs from select Dubai hotels are included on all hot air balloon rides in Dubai due to the early start.
Expect to set off any time between 3.30 AM and 5.30 AM depending on what time sunrise occurs. This changes throughout the year – it's later during winter, giving you some precious extra time in bed.
You will be returned to your hotel after the tour for a stress-free transfer.
When is the best time for a hot air balloon ride in Dubai?
You can experience a Dubai hot air balloon ride at any time of year, but most people prefer to visit between November and March to avoid the searing temperatures. As a result, this is the peak time to travel so we recommend booking your tour in good time to avoid disappointment.
Hot air balloon flights take off early in the morning when the air conditions and weather are ideal for a smooth ride. This means you will get to see the sunrise from the sky, which is worth the unsociable start!
Which other outdoor activities can be done in Dubai?
Travel tips
Hot air balloon rides in Dubai are very popular and tours do sell out so book online in advance to secure your preferred date.
Attach your camera to a handy strap to prevent it from being accidentally dropped out of the basket.
Children under 5 and pregnant women are not usually permitted on Dubai hot air ballooning tours for safety reasons.
Get an early night the evening before so it's not too difficult getting up just a few hours later.