See Dubai from above as you take to the skies in a state-of-the-art helicopter. You'll fly over some of the city's most iconic landmarks and be treated to panoramic views of this dazzling desert masterpiece.
These epic helicopter tours in Dubai will have you on the edge of your seat as you soar among the skyscrapers. Keep your eyes peeled for favorites like the Burj Khalifa and the Jumeirah Emirates Towers.
What are the most popular helicopter tours in Dubai?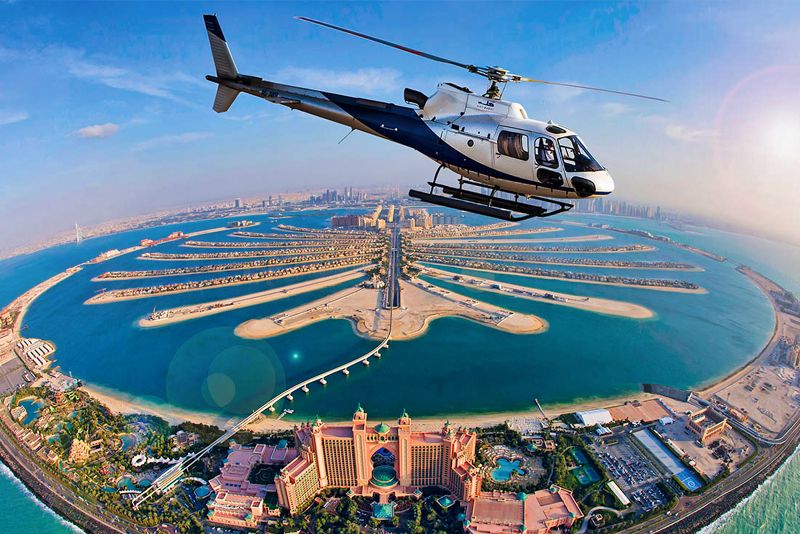 There are several scenic helicopter tours in Dubai on offer, with shared and private trips both available. Here are the ones that will guarantee to get your heart pumping.
Small group helicopter tour in Dubai
This is the most popular Dubai helicopter tour as it allows you to book individual places on shared flights to keep costs down. These aerial excursions take in all the top sights, with pilot commentary so you can learn more about what you're seeing.
There are windows on both sides of the helicopter so you will have a great view no matter where you are sitting.
Private Dubai helicopter tour
Up the luxury with an exclusive helicopter flight over Dubai just for you and your group. Places are usually limited to six passengers, giving you front-row seats to all the best views.
If there is something in particular you would like to see, let your pilot know so they can try and include it in the tour.
Dubai helicopter tour with private transfers
For a seamless excursion without the hassle of having to arrange your own transport, these Dubai helicopter trips offer private door-to-door transfers. You will enjoy your small-group sightseeing flight in comfort before being driven back to your hotel afterward.
Helicopter tour over Dubai with other adventurous activities
Combine some of the best excursions in Dubai with these epic multi-activity tours. As well as a thrilling helicopter flight over the city, you can also enjoy desert safaris, hot air ballooning, and boat rides. These tours generally last a full day and are a cost-effective way of packing in as many experiences as possible in a short space of time.
Other excursions also offer a dhow cruise and dinner in the marina or entry to the Aquaventure Waterpark after your helicopter flight.
How much do helicopter tours in Dubai cost?
The price of Dubai helicopter tours varies according to group size and flying time.
Shared helicopter flights in Dubai cost from $168 for 12 minutes, $233 for 17 minutes, $319 for 22 minutes, and $438 for half an hour.
Private Dubai helicopter tours start from $728 for up to five passengers.
Expect to pay from $275 per person for a Dubai helicopter tour with round-trip private hotel transfers.
Combination tours that include other activities, as well as a helicopter flight, are great value for money. For $289 you can enjoy a desert safari after your aerial excursion, or for $293 you can also have dinner in the marina and go on a dhow cruise. Meanwhile, it's $260 for a flight plus entrance to Aquaventure Waterpark.
The ultimate combo trip costs $457 and includes the helicopter flight, a hot air balloon ride, and either a desert safari or a yellow boat tour.
Which places are seen on a helicopter tour in Dubai?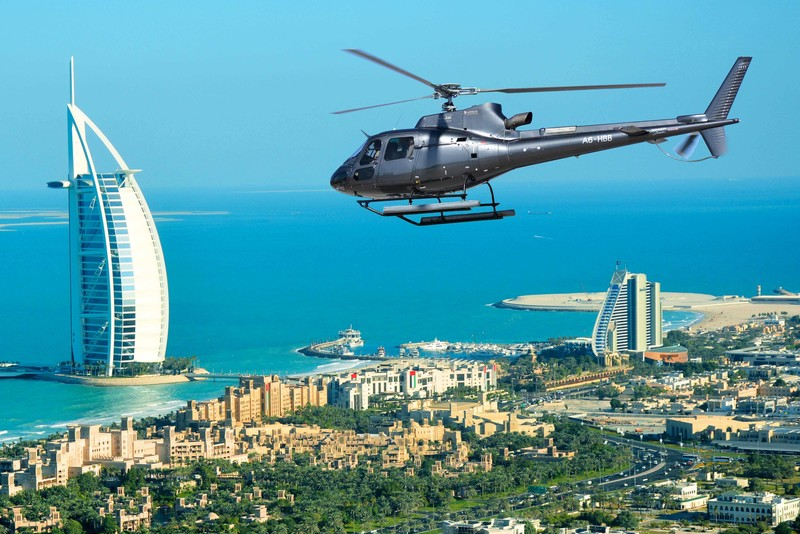 Taking a helicopter flight over Dubai is a fun way to see the top sights from a unique perspective. Here are the highlights:
Burj Khalifa
Famed for being the world's tallest building, the Burj Khalifa is a proud city icon of Dubai. Standing at 2,717 feet, the skyscraper is over half a mile high!
The rocket-shaped tower boasts 163 floors and a viewing deck that offers visitors the best panoramas of the city. See if you can spot the famous Dubai Fountain at the base of the tower.
Palm Jumeirah
The tree-shaped Palm Jumeirah is probably the most famous sight in Dubai. Best appreciated from above, this artificial island archipelago is home to glamorous hotels like Atlantis The Palm, as well as luxury local residences.
This is the place to come for beach clubs and internationally acclaimed restaurants.
Burj Al Arab
One of the most recognizable city landmarks, the Burj Al Arab is a highlight on all helicopter tours in Dubai.
Shaped like a sail, the Burj Al Arab ranks among the city's most opulent hotels, with 24-carat gold interiors and the world's most expensive cocktail.
It sits on a man-made island, so from up above it looks like a giant sailing ship.
Jumeirah Emirates Towers
These powerful city icons are true symbols of Dubai – they're the third tallest twin towers in the world.
Shooting skyward from the heart of the financial district, the 1,163-foot Jumeirah Emirates Towers are one of the first things you will notice from your lofty perch. Today the buildings are offices and a luxury hotel.
The World Islands
Another sight best enjoyed from a helicopter tour in Dubai is The World Islands. These artificial private islets have been constructed in the shape of a world map and remain mostly undeveloped making for stunning aerial photos.
How long does a helicopter tour last?
Dubai helicopter excursions generally give you between 12 and 45 minutes in the air. It may not sound long, but every second hovering above the city is an adventure.
As the helicopter tours are short, this leaves the rest of your day free to enjoy other Dubai adventures. Flights take place during both mornings and afternoons so you will easily find something that fits in with your schedule.
Some helicopter flights in Dubai can be combined with other activities like hot air ballooning and desert safaris, making for a thrilling day tour.
Where do helicopter tours leave from?
A handful of helicopter tours in Dubai offer private hotel transfers, but most require you to make your own way to the meeting points. Taxis are generally your best bet.
The majority of helicopter excursions depart from the Dubai Police Academy on Sheikh Zayed Road. It's located about halfway between the Mall of the Emirates and Wild Wadi Waterpark.
Some helicopter tours leave from the operator offices at Crescent Road on Palm Jumeirah. Other trips kick off from the Nasimi Beach parking area.
When is the best time for a helicopter tour in Dubai?
Dubai's weather is best from November to March when temperatures are warm but not yet sizzling. This of course coincides with peak season, so it's a good idea to book your Dubai helicopter tour in advance to avoid disappointment.
It gets hazy in the city, but the helicopter flies low enough for this not to be a problem. Visibility is better around noon and early in the morning, but you should avoid tours around sunset as this is when the pollution is at its worst.
The city does sometimes experience storms, in which case your Dubai helicopter flight will be rescheduled.
Which other outdoor activities can be done in Dubai?
Travel tips
Book your Dubai helicopter tour online so you can search for the cheapest deals. Places fill up fast so don't miss out by leaving it until the last minute.
Children under 2 years are not usually allowed to fly, and children 16 years and under must be accompanied by an adult.
Passports are required for check-in, and you will need to sign a disclaimer before take-off.
Photography is permitted – and encouraged – but cameras with large telephoto lenses may not be allowed onboard due to their size and weight.