No trip to Dubai is complete without taking a traditional Dhow cruise! Dubai is an exotic and beautiful international hub of activity, and taking a boat tour in Dubai is a lovely way to to spend the day or cap off your night.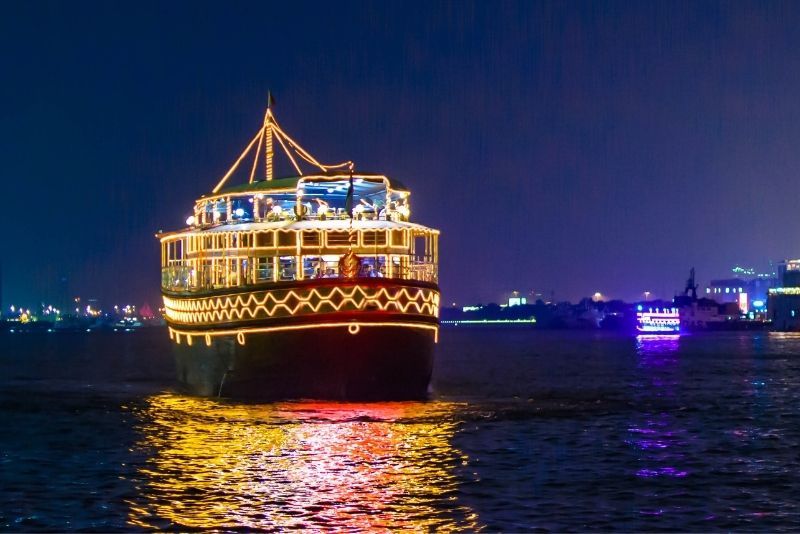 Climb aboard your dhow and enjoy a delicious dhow cruise dinner, while cruising down Dubai Creek.
What are the most famous places to visit during a Dhow cruise in Dubai?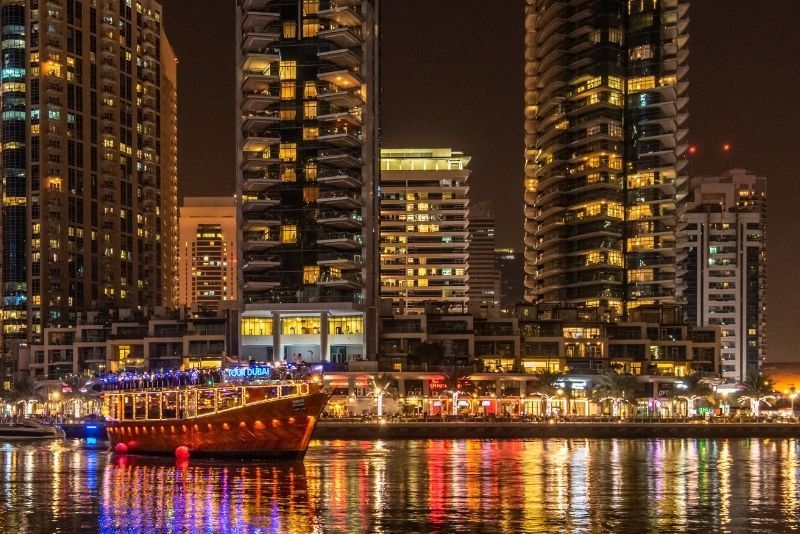 Dubai Dhow cruises are often half-day or shorter excursions that don't make stops to visit particular sights. However, that doesn't mean you won't have the opportunity to take in some spectacular views.
Dhow cruises are a unique way to sightseeing in Dubai. Here are some places you might see:
Dubai Marina – The Dubai Marina is an engineering wonder. It's an artificial canal along a magnificent skyline where you'll see marvelous homes and stunning architecture.
Dubai Creek – The creek is a saltwater channel that will take you on a tour of impressive architecture and scenic views. You may even venture out onto the open sea for a bit while on your cruise.
Deira – Deira is the departure point for some cruises and serves as one of the commercial centers of Dubai.
Yacht sighting – The City of Luxury is home to magnificent yachts, which you're sure to see in the Dubai Marina.
Are there any Dhow cruises outside Dubai?
If you wish to enjoy a full day Dhow cruise, consider going on a full day Dhow cruise to the Fjords of Musandam from Dubai.
Situated in an exclave of Oman, between the UAE and the Persian Gulf, Musandam's northern coast is known as the 'Norway of Arabia.' This is a great day trip if you are looking for some adventure.
What will I enjoy during the Dubai Dhow cruise?
During the cruise, you will enjoy:
Delicious dinner – The most popular Dhow cruises in Dubai are dinner cruises. These typically last 2-3 hours and will include refreshments and a multi-course gourmet meal. Given the skyline of Dubai, a nighttime dinner cruise is a wonderful way to take in the lights of the city.
Live entertainment – Some cruises will feature live entertainment in the form of vocalists and traditional tanoura dancers. Many cruises will combine dinner and live entertainment.
Sightseeing – As an alternative (or sometimes in addition to) dinner, you might want to take a dhow cruise with the purpose of just taking in the sights and sounds of the splendor of Dubai.
How much do Dhow cruises cost?
The cost of Dhow cruises varies based on the package you choose. Some cruises are dinner cruises, so the price will include the cost of a meal, which may include alcohol (many do not include alcohol). Other cruises feature live entertainment.
Count around 20 US$ for a standard Dhow cruise up to 70 US$ for a 5 stars dinner Dhow cruise.
If you wish to go on a full day Dhow cruise to Musandam, count between 100 US$ up to 250 US$ for the most luxurious options.
Are there any combined tickets including other attractions in Dubai?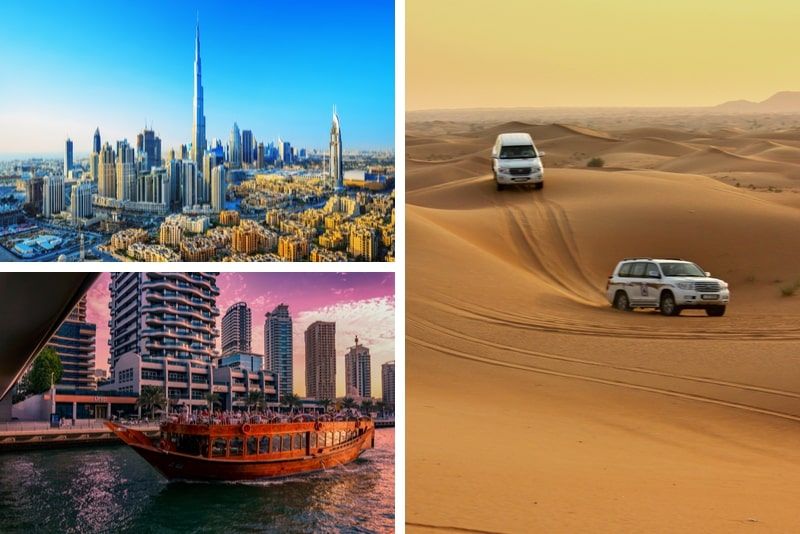 Some Dhow cruise packages also include day excursions in addition to the dhow cruise, which will add to both the adventure and the price. Count between 100 US$ to 200 US$ for those specials combos.
You may find below the two most famous ones:
Dhow Cruise + Burj Khalifa - Visit the stunning Burj Khalifa and finish you day with a relaxing Dhow dinner cruise.
Dhow Cruise + Desert Safari - Enjoy a 2-day trip combining an amazing desert safari and a Dhow cruise.
How do you book online a Dubai Dhow cruise?
There are many travel agencies selling Dubai Dhow cruises such as Viator, Getyourguide, Tiqets, or Headout to name a few.
Prices are very competitive and discounts are offered on a regular basis, so make sure to compare all the available deals and book the one that best matches your requirements and budget.
How long does a Dhow cruise take?
Most of Dhow cruises are evening trips that typically last about two to three hours.
If you wish to have full day's adventure, consider booking a Musandam Dhow cruise or a package combining a dhow cruise in Dubai with another excursion.
Where do boat tours leave from?
Some cruises leave from the Dubai Marina, while other cruises of Dubai Creek depart from Deira.
Many cruise packages offered from online travel agencies include pick-up and drop-off service from your hotel.
When is the best time for a Dhow Cruise in Dubai?
Due to the hot summer weather, the better time to visit Dubai is in the cooler season from November to April.
Travel tips
The dress code for this experience is smart casual.
Photography on the cruises are encouraged, but photography of government buildings is prohibited.
Make sure to bring your ID and voucher.