Standing proud just south of central Dubai, the Miracle Garden is one of the most popular places to visit in the city. The world's largest natural flower park uses a whopping 150 million plants to bring the breathtaking landscaped displays to life.
Miracle Garden tickets include entry to all the floral attractions, including heart-shaped tunnels, colorful fairy castles, and even Mickey Mouse as you have never seen him before.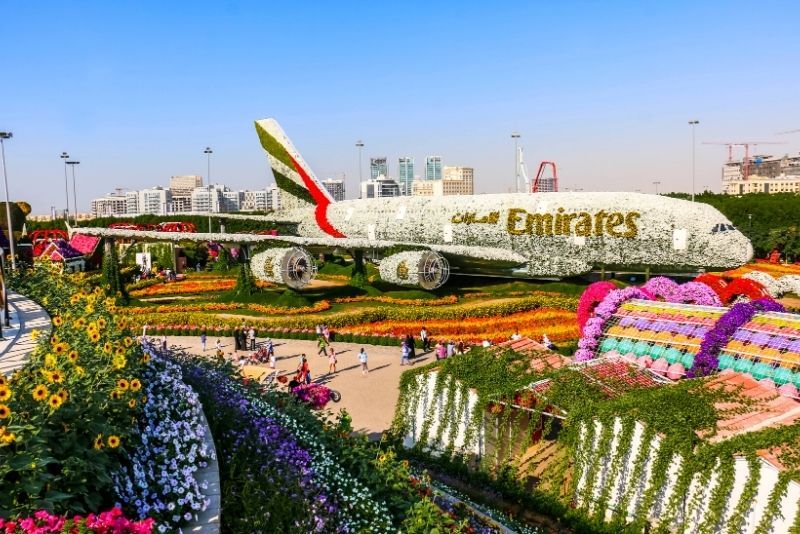 Here's all you need to know about Miracle Garden tickets, one of the most exciting theme parks in Dubai.
How much do Miracle Garden tickets cost?
A visit to the Miracle Garden in Dubai is a fun day out for families, couples, and solo travelers that will not break the bank. Single entry Miracle Garden tickets are as follows:
Adults (12 years and above): 55AED (US$15)
Children (3 – 12 years): 40AED (US$11)
Infants (under 3 years) and disabled visitors: Free
A separate ticket is required for entry to the indoor Dubai Butterfly Park which is in the same complex. Ticket prices are below:
Adults and children (3 years and above): 55AED ($15)
Children under 3 and disabled visitors: Free
What are the best Miracle Garden tours?
The Dubai Miracle Garden is easy to explore by yourself, strolling through the floral landscapes at your own pace. However, if you really want to make the most of your visit, there are some Miracle Garden tours that include an English-speaking guide who will accompany you around the park.
Group tour bookings are available for larger parties. These are available between 9 AM and 6 PM on Sundays through Thursdays and must be arranged with the Miracle Garden sales office in advance.
Combination tours are a fun way of exploring the highlights of Dubai if you are short on time or just want to cram in as many sights as possible during your trip. The different options are detailed below, and each includes a Miracle Garden visit.
Are there any combined tickets or tours including Miracle Garden and other attractions?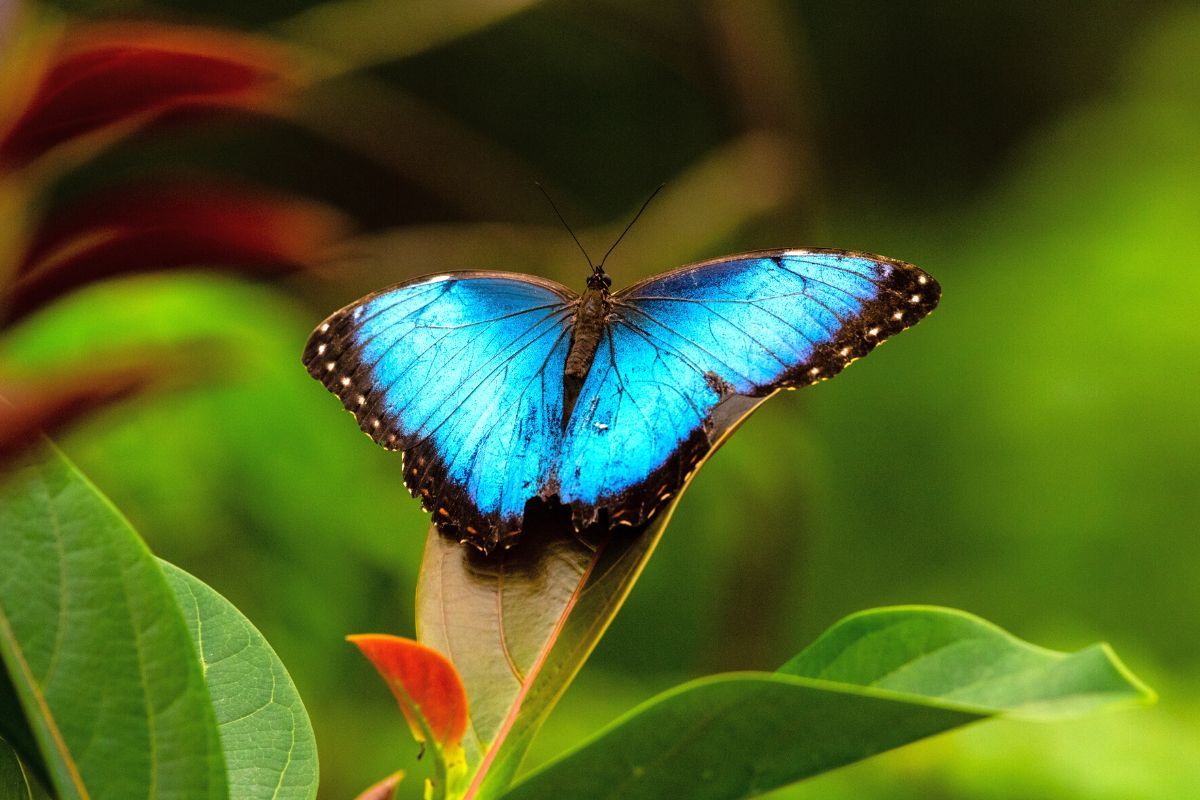 Yes, there are! Combined tickets are a great way to save time and money if you want to visit multiple attractions during your Dubai stay. Here are some of the most popular tours that include Miracle Garden tickets:
Miracle Garden tour and Butterfly Garden tickets: after visiting the floral kingdom head next door to meet thousands of colorful butterflies in vast climate-controlled domes.
Miracle Garden tickets and Global Village shopping tour: explore the flower garden then shop for goods from around the world before tucking into international cuisine at stylish restaurants.
Miracle Garden visit and Islamic Art Museum plus city tour: take in the city highlights, including the Burj Al Arab, the popular arts center, and the vibrant floral gardens.
Should you book Miracle Garden tickets in advance?
It is a good idea to book your Miracle Garden tickets in advance to ensure they are not sold out on your preferred day.
Transport to the park can be a hassle so pre-arranging a Miracle Garden tour that includes transfers is highly recommended to help your visit run smoothly.
What will you see inside the Miracle Garden?
Each year the Miracle Garden features a new concept, and many of the inspiring floral installations have made it into the Guinness Book of Records.
Flower-draped tunnels in the shapes of hearts and butterflies provide colorful photo opportunities, and one is even topped with suspended umbrellas for added effect. Meanwhile, the Floral Castle will transport you to an enchanting world of make-believe, in a land where fairies live in flowery turrets.
Enormous teddy bears, tortoises, and an 18-meter-high Mickey Mouse made from over 100,000 flowers are popular with children. Head over to Disney Avenue to see more iconic characters. In the 3D Floral Designs section, you can walk beside giant toadstools decked out in unique floral colors, and swing by the Emirates A380 to admire the world's largest flower sculpture.
Over in Lost Paradise, a bright cascade of petals sweeps around houses decked out in complementary blooms, while a 15-meter mechanical clock made from flowers is another highlight. Your Miracle Garden tickets also include entry to Lake Park, where a tranquil pond contrasts pleasantly with floral-carpeted hillsides.
There are over 30 food and drink vendors on site, as well as Hawaiian-style cabanas for relaxing and a trampoline park for children.
Where is the Miracle Garden located?
The Miracle Garden is in the Dubailand District and is most conveniently reached by taxi.
Many deals include the tickets and the transfer service from Dubai downtown.
Public transport options are also available. The red metro line stops at the MOE (Mall of the Emirates) station, and the RTA Bus 105 will take you directly to the park from the city center in 15-20 minutes.
When is the best time to visit the Miracle Garden?
Nobody wants to wait in line for their Miracle Garden tickets, so aim to arrive when the park opens in the morning, or come later during the afternoon to avoid the crowds. Weekdays can be slightly less busy than Saturdays.
What are the Miracle Garden opening hours?
The Miracle Garden is open for six months of the year, between the beginning of November and mid-May. Entry is possible every day except Sundays.
Weekdays: 9 AM – 9 PM
Fridays: 9 AM – 11 PM
Saturdays: 9 AM – 10 PM
Which other theme parks can be visited in Dubai?
There are plenty of other fun places to visit in Dubai:
Dubai Aquarium – head to the famous Dubai Mall and explore this exotic underwater zoo, which is home to over 140 species.
Atlantis Aquaventure Waterpark – get the heart pumping as you take on slides and rides at this family-friendly attraction.
IMG Worlds of Adventure – visit the world's largest indoor theme park with five epic themed zones and attractions for all the family.
Motiongate – go behind the scenes of film-making and experience a sprinkle of Hollywood magic at this movie-themed park.
Wild Wadi Water Park – aquatic adventures on thrilling rides await at this Arabian folklore water world.
Garden Glow – stroll through artistic gardens filled with enchanting light installations and sculptures by international artists.
Yas Waterworld – brave the twists and turns of adrenaline-filled rides at this famous water park outside Abu Dhabi.
Ferrari World – break records, race your friends, and even drive a Ferrari at this motoring amusement park.
Ski Dubai – take to the slopes and practice your snowplows while enjoying a respite from the heat outside.
Dubai Dolphinarium – take in an action-packed dolphin and seal performance.
Travel tips
Book ahead: we recommend arranging your visit in advance so you can compare Miracle Garden ticket prices and get the best deal for your preferred date.
Parking: there is a large parking area on site if you are driving.
Wear comfortable shoes: you will be walking a fair distance through the gardens.
Make a day of it: have lunch at one of the restaurants or food kiosks on site. Note that food and drinks from outside are not allowed in the gardens.
Dress modestly: visitors are not expected to cover up completely but keep local culture in mind when dressing.