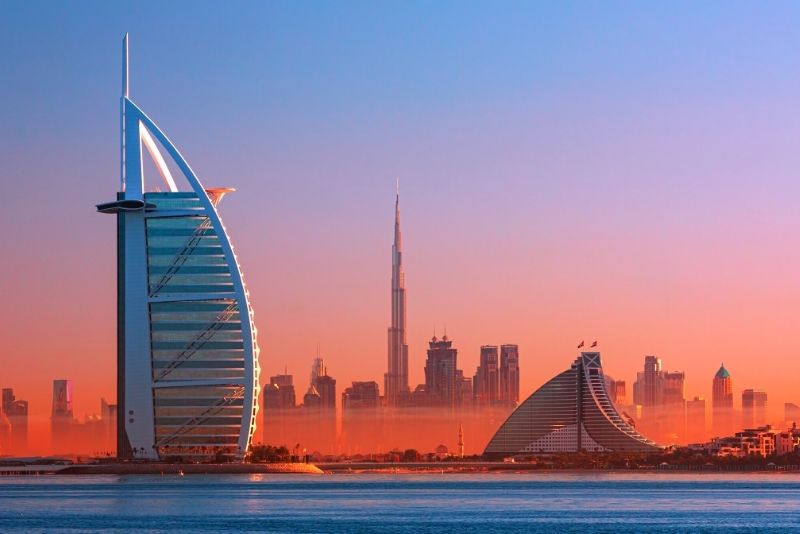 A city of mesmerizing contrasts, Dubai is Old World charm meets modern metropolis – and it blends the two together in ultimate style that few other cities around the world can match. Dubai attractions come in all forms; from traditional pedestrian markets to the world's tallest building, and everything in between.
Having been built up exponentially over the past half-century, the city's skyline is now peppered with towering skyscrapers, while its streets are lined with luxury malls and five-star hotels.
And yet despite all the modernity on display, Dubai has managed to retain much of its traditional Arabic culture and heritage – meaning that whether you're a history buff, architecture lover, adrenaline junkie (make sure to venture out to the desert dunes nearby) or foodie (the souks are a melting pot of flavors that can't be missed), you'll be spoiled for choice for noteworthy attractions in Dubai.
Nowhere is this more evident than in the historic district of Bastakiya, where you can wander through meandering alleyways lined with colorful wind towers and traditional merchant houses before hopping over to the slew of modern attractions at Zabeel Park just 10 minutes away.
So, without further ado, here are our 50 best tourist attractions in Dubai that you simply cannot miss!
1 – Burj Khalifa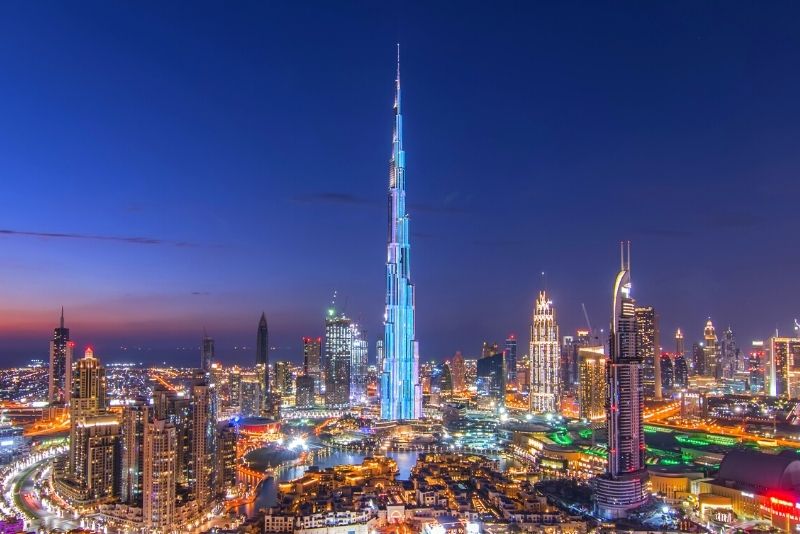 Piercing the clouds at a towering 830 meters (2723 feet) high – almost triple the size of the Eiffel Tower in Paris – the iconic and foreboding Burj Khalifa stands not only as the most famous Dubai landmark, but the tallest building in the world.
And, as you'd expect from a skyscraper of this status, the views from atop its observation deck are nothing short of extraordinary. As the tallest outdoor observation deck, at a whopping 1,820 feet high, visitors are greeted with 360-degree views of Dubai's magnificent skyline and contrasting desert and ocean landscapes.
If you're feeling extra fancy, head to the Atmosphere Grill and Lounge – an upscale 122nd-floor eaterie with floor-to-ceiling windows where you can sip champagne as you soak up the incredible vistas.
There are plenty of other Dubai attractions that offer breathtaking views, but few can match the sheer scale and grandeur of the Burj Khalifa. So if you're looking to tick one thing off your Dubai bucket list, make sure it's this!
See also: Burj Khalifa tickets price – All you Need to Know
2 – Dubai Aquarium & Underwater Zoo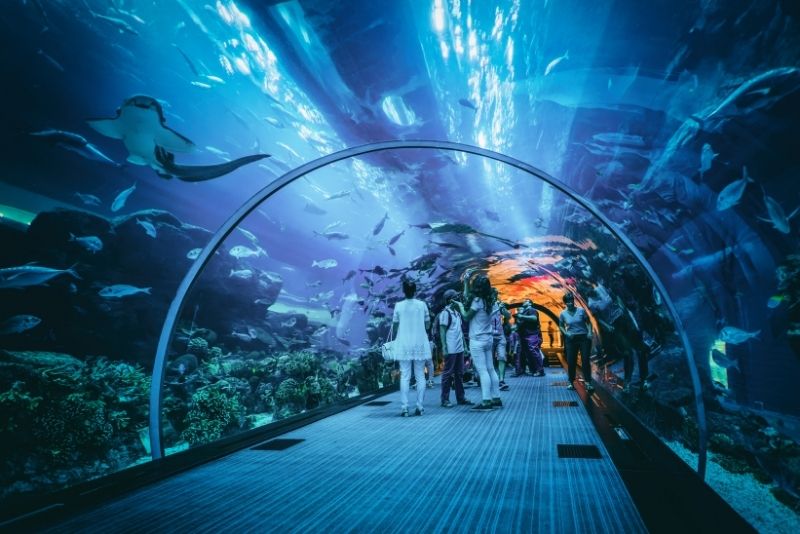 Boasting an enormous underwater viewing tunnel, fascinating glass-bottom boat tours, and over 140 different species of sea life (not to mention the largest collection of Sand Tiger sharks in the world) – the Dubai Aquarium & Underwater Zoo is one of the best things to do in Dubai with kids if you're looking for an immersive and educational experience.
Across the expansive 10-million-liter aquarium, visitors have the rare chance to get up close and personal with some of the most intimidating (yet often misunderstood) predators in the world, including sharks and rays, alongside thousands of bright and vibrant creatures (everything from seahorses to starfish and jellies) in impressively constructed rainforest and deep ocean environments.
If you're feeling brave, you can even get up close with the friendlier creatures at the touch tanks! Located right next to the Burj Khalifa and Dubai Mall, the aquarium is one of the most centrally located attractions in Dubai – perfect for those who want to make the most of their time in the city.
3 – Miracle Garden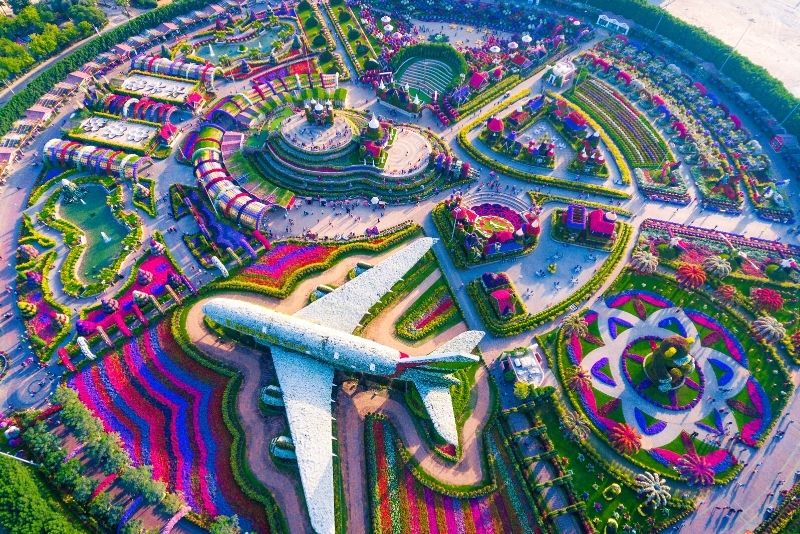 The ideal morning destination for Instagrammers and nature-lovers alike, the Miracle Garden is a vibrant and colorful oasis that sells itself as one of the must-visits for anyone traveling to Dubai.
Set across 72,000 square meters of land, this enchanting garden playground is home to over 50 million flowers arranged into intricate designs and patterns (think hearts, butterflies, castles, ducks, and even a giant Emirates plane!).
About 70% of the garden's displays are constantly changing throughout the year (with different themes for each season), so there's always something new to see and light up that social media feed – no matter how many times you visit.
And if you thought the outside was impressive, just wait until you see the indoor butterfly garden! Here you can walk among thousands (close to 15,000, to be exact) of free-flying butterflies as they flutter around you in a beautiful temperature-controlled environment.
4 – Burj Al Arab Hotel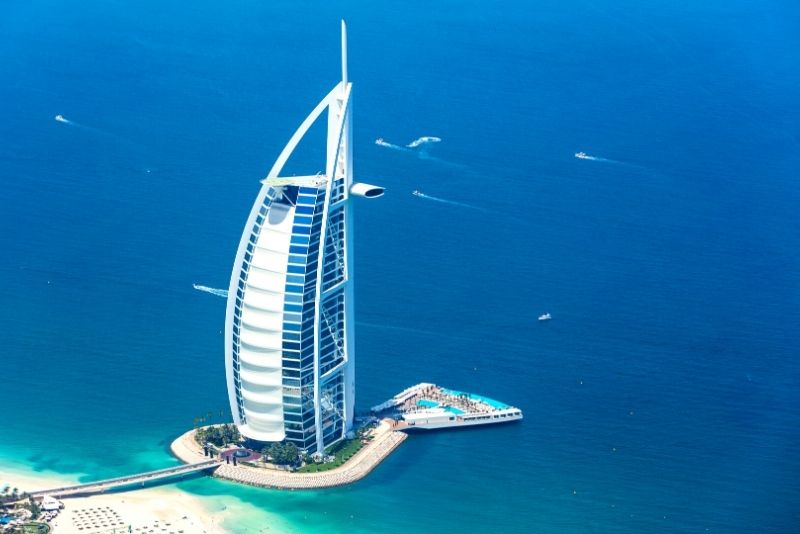 Made famous back in 1999 by being dubbed 'the world's only seven-star hotel', the Burj Al Arab is one of Dubai's most iconic and luxurious landmarks.
Positioned on its own man-made island just offshore from Jumeirah Beach, this sail-shaped hotel is impossible to miss – and it's not just because of its size (at 321 meters tall, it's one of the tallest hotels in the world).
From the moment you step inside, you're greeted with an incredible level of opulence and extravagance with an engulfing atrium that needs to be seen to be believed. From the stunning marble lobby with its grandiose staircases and calming waterfall features, to the lavish suites complete with 24-karat gold iPads and butler service (there's a staff-to-suite ratio of 8:1) – no expense has been spared in making the Burj Al Arab one of the most luxurious hotels on the planet.
Foodies, even if you're not staying at the hotel, be sure to book a time to dine at one of the seven world-renowned restaurants on site. From delectable French cuisine at Al Muntaha, to classic seafood fare at Al Mahara – your taste buds will be in for a treat.
Wish to stay at the Burj Al Arab Hotel? Check price & availability.
5 – Dubai Frame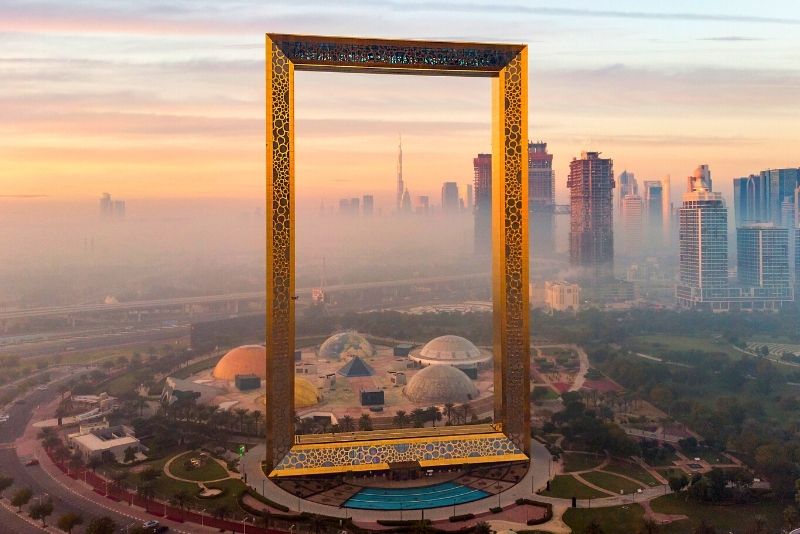 A little off the beaten track in Zabeel Park, the Dubai Frame is one of those hidden gems that's often overlooked by first-time visitors to the city.
And that's a shame, because this 150-meter tall structure offers some of the best views in Dubai. From the top of the frame, you can see old Dubai on one side and new Dubai on the other – making it the perfect place to get your bearings and understand how this city has transformed itself from a small trading port into one of the most futuristic metropolises on earth.
But it's not just about the views from the 93-meter glass skywalk; inside, there's also an informative museum chronicling Dubai's rich history, as well a handful of displays pointing toward the future of the city.
Hot tip: arrive about an hour before sunset and, if possible, avoid weekends as it can get a little crowded.
6 – The View at The Palm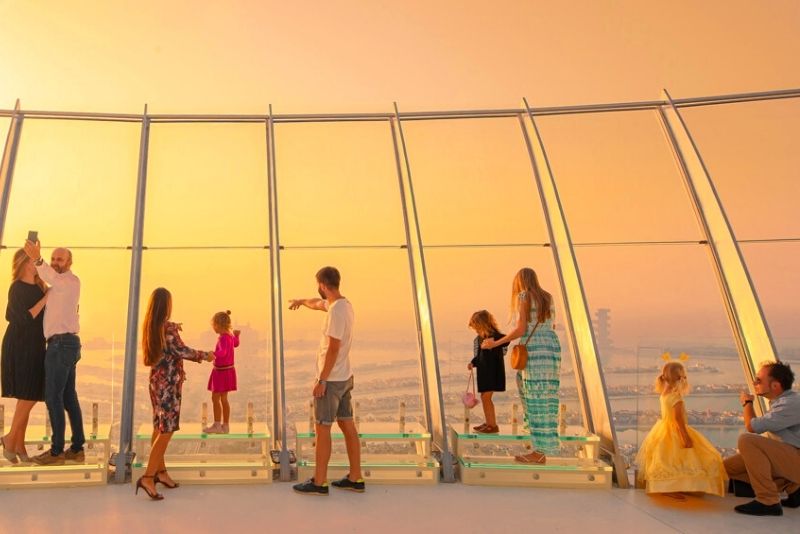 Regularly finding itself on the front of postcards and Instagram stories, the world-famous and manmade Palm Jumeirah archipelago, constructed to resemble the shape of a palm tree, has long been one of Dubai's most renowned landmarks.
While there are plenty of ways to experience the Palm – from taking a leisurely stroll down the boardwalk or going for a swim at one of the many beaches – perhaps the best way to see it is from above at The View at The Palm.
Towering 240 meters above the sands, perched on the 52nd floor of The Palm Tower, this observation deck offers breathtaking panoramic views over the Palm, Jumeirah Beach Residence (JBR), Arabian Gulf, Bluewaters Island.
On a clear day, you can even see all the way to Burj Khalifa and beyond. So make sure you bring your camera, and reserve a few minutes for sipping on cocktails at the elegant View Lounge (the Cheers at The View package oozes VIP luxury, if that's what you're after).
7 – Sharjah Grand Mosque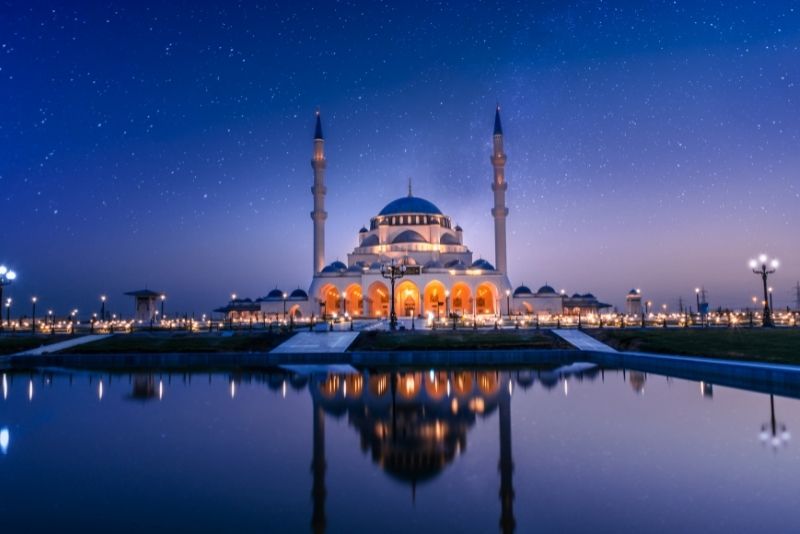 Stepping away from the ultra-luxe and diving into the traditional and cultural side of this Arabian metropolis, the Sharjah Grand Mosque is one of Dubai's most important (not to mention architecturally stunning) historical locales.
This beautiful house of worship was built in 2014 and can accommodate up to 25,000 worshippers at any one time.
With beautiful domes, chandeliers, and windows, as well as towering 60-meter-high minarets, this cherished landmark is brilliant inside and out.
Just be mindful that you dress modestly (think long pants/dresses and tops that cover your shoulders) out of respect for the customs.
And if you really want to get a taste of traditional Emirati culture, sign up for one of the mosque's guided tours which dives into the building, city, and culture.
8 – Dubai Creek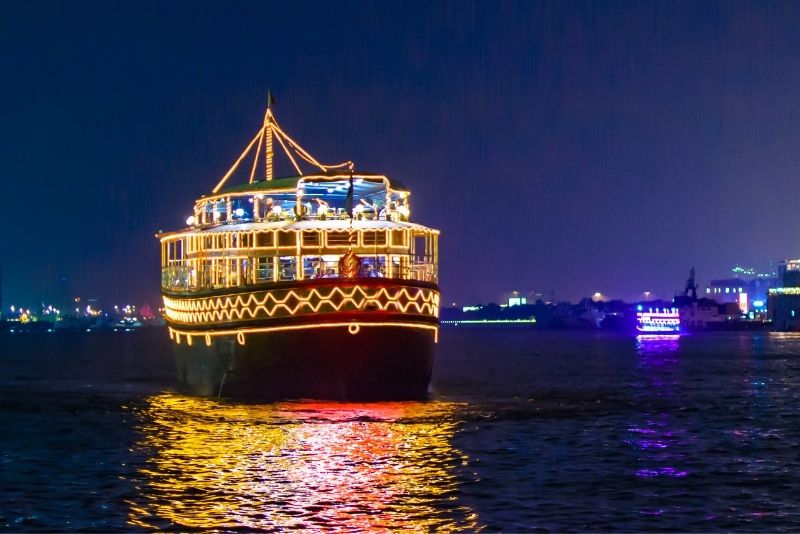 Hop aboard a traditional dhow cruise and you'll feel like you've stepped back in time.
Once the beating heart of Dubai, this saltwater creek acted as an important trading hub for merchants from all over the world and was responsible for much of the city's early growth.
Nowadays, it remains an integral part of local life – many residents still live and work on its shores – and is one of those places that really helps give Dubai its unique character.
You can explore the creek by taking a leisurely stroll along its banks, hopping on an abra (a small wooden water taxi) to get from one side to the other, or taking a dhow cruise at sunset for a truly magical experience as you glide past illuminated souks, modern skyscrapers, and traditional wind towers.
With a range of Dhow cruises to choose from – including combination tours that visit the nearby sand dunes or Burj Khalifa as well – you'll find something intriguing no matter your interest or budget.
9 – IMG Worlds of Adventure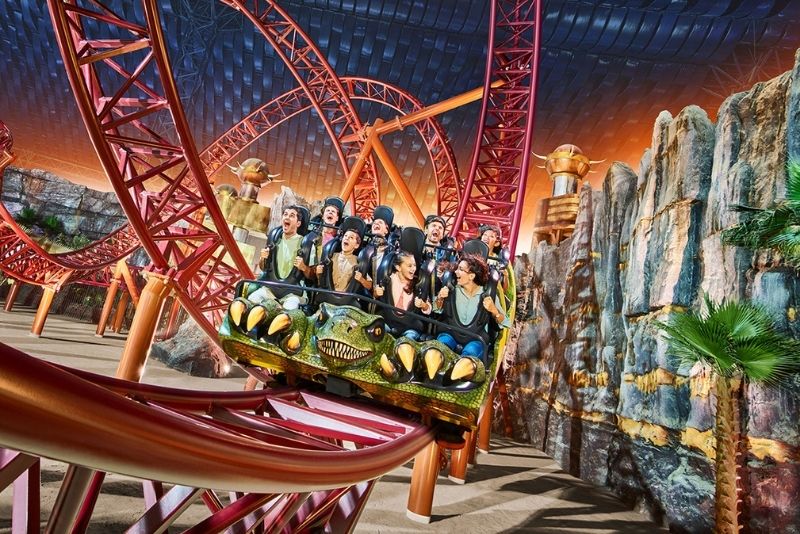 This one's for the thrill-seekers.
A crowd-favorite when it comes to high-energy Dubai attractions, IMG Worlds of Adventure is an indoor amusement park like no other, boasting a total of four epic adventure zones (plus Novo Cinema), each inspired by some of the world's most popular cartoons and comic books – Marvel, Cartoon Network, Lost Valley and IMG Boulevard.
With close to two dozen adrenaline-inducing rides and roller coasters, plus shows, costumed characters, and no shortage of unique eateries (Mama Scano's Of Yancy Street dishes up a killer pizza), and plenty of shopping spots, there really is something here for everyone.
Whether you want to go on a heart-pounding rollercoaster ride or meet your favorite cartoon characters in person, IMG Worlds of Adventure is 1.5 million square feet – making it the largest indoor park in the world – of fun guaranteed to be a day that you'll never forget.
Free parking is available, and the park is open every day until 10pm (11pm on the weekend).
See also: Best indoor activities in Dubai
10 – Palm Jumeirah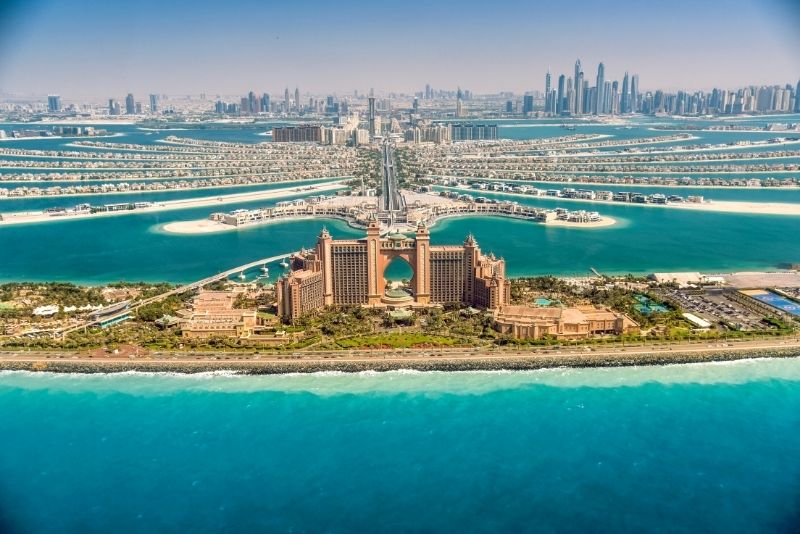 Remarkable both for its size and its distinctive shape, the Palm Jumeirah is one of Dubai's most famous artificial islands and a major tourist attraction in its own right.
Aptly named after its palm tree-shaped outline, this massive manmade island juts out into the Persian Gulf and is home to an array of luxury hotels, shopping malls, restaurants, and top-tier Dubai tourist attractions.
One of the most popular things to do on the Palm is to take a ride on the Palm Jumeirah Monorail, which offers stunning views of not only the island itself but also nearby Burj Al Arab and Atlantis The Palm. Along the way you'll stop at the Golden Mile Galleria, Al Ittihad Park, Nakheel Mall, and Atlant, each destination worth exploring in its own right!
If you're feeling active (and have deep pockets), experience a speedboat tour, or why not try your hand at paddleboarding or flyboarding (sometimes called the 'jetovator').
11 – Dubai Fountain
Dazzling visitors time and time again, the Dubai Fountain is a whimsical water wonder that provides the perfect backdrop for any tourist snap. Located at the base of Burj Khalifa, the world's tallest building, and next to The Dubai Mall, the largest shopping center in the world, this massive musical fountain is truly a sight to behold.
Performing daily at sunset (and sometimes during the day), the Dubai Fountain puts on an impressive display of water, light, and music that is emblematic of Dubai's desire to outperform the rest of the world in style, size, and technology. And it does so every half hour in the evenings from 6pm to 11pm.
Best seen from one of the many nearby cafes or restaurants with outdoor seating, it's also possible to take a ride on an abra for a closer look – just make sure you're prepared to get wet!
12 – Desert Safari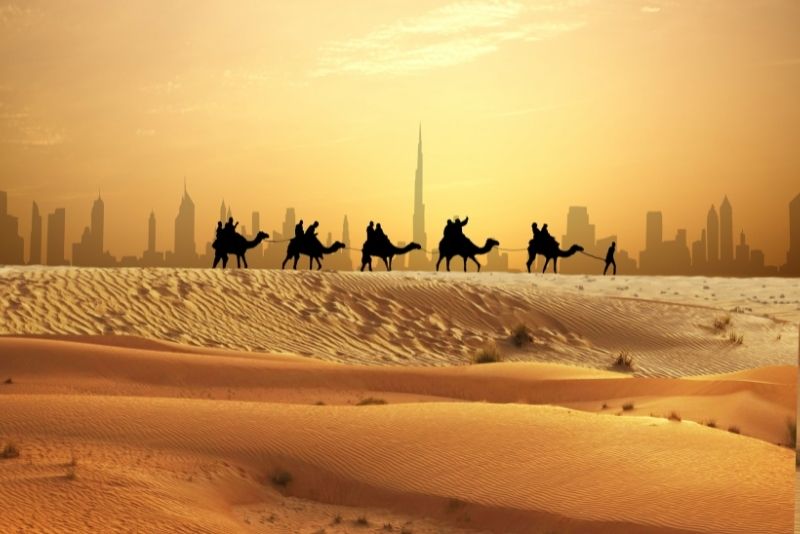 Despite towering skyscrapers and engineering marvels in every direction, Dubai is still very much a desert city.
And what would a visit to the desert be without a safari?
There are plenty of tour operators offering half-day and full-day excursions into the Dubai Desert Conservation Reserve, but if you're looking for something truly special, go for a day trip that hits up a wide range of the reserve's essential activities.
Hurl down at high speed at the sand dunes, enjoy a camel ride or quad bike through the desert, pop into a camel farm to see a more traditional side of the area, and end your day with a homely Arabian dinner under the stars.
The desert is one of the most famous places to visit in Dubai. so just make sure to book in advance as these tours often sell out weeks ahead!
13 – Bur Dubai Souk Market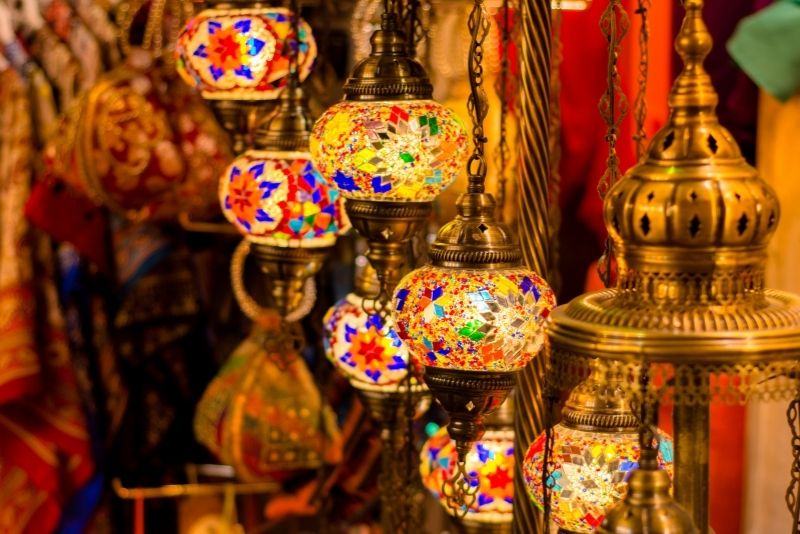 One of the quintessential attractions in Dubai for shoppers and hagglers alike, the Bur Dubai Souk Market is a bustling waterfront labyrinth of narrow covered lanes overflowing with every conceivable type of merchandise.
From embroidered fabrics and hand-woven carpets to spices, gold, perfume, and souvenirs, this is the place to come if you're looking to pick up a few bargains or simply soak up the unique atmosphere.
The market is open daily from 10am to 10.30pm, but the best time to come is in the evening when the heat has died down.
14 – Museum of the Future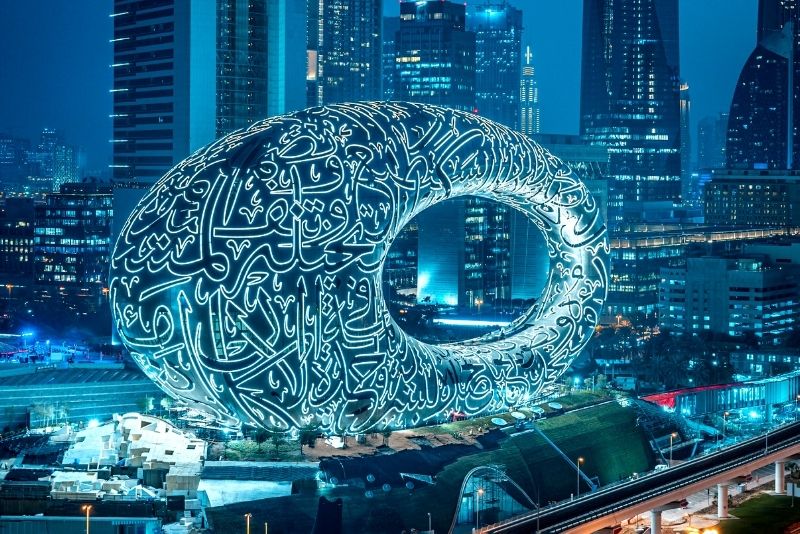 Like stepping into a fascinating world of tomorrow, the Museum of the Future in the city's Financial District is one of Dubai's most unique and futuristic attractions.
Designed to be a platform for innovation and a hub for discussion about the future, the museum is home to a number of interactive exhibits that explore everything from artificial intelligence to biotechnology, the long-term sustainability of food, health, water, energy, transportation (flying cars, anyone?) and more.
There is also an area dedicated to children, where the little ones can solve challenges to become earth's "future heroes"; and with 7 floors spread across the impressive, 77-meter-tall Torus-shaped structure, it's the perfect place to spend an afternoon if you're interested in learning more about the cutting edge technologies that are shaping our next generations.
15 – La Perle By Dragone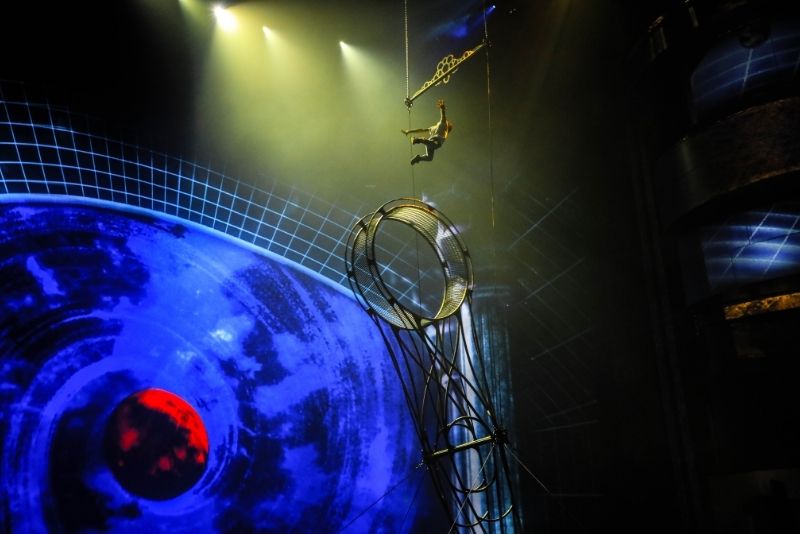 Looking for things to do in Dubai at night? An extravagant live performance of water, acrobatics, and pyrotechnics, La Perle by Dragone promises a night of unforgettable entertainment, holding its own as one of Dubai's most popular evening shows.
With a cast of over 65 international artists (comprising 23 nationalities if you don't mind), the show tells the story of Dubai through the lens of a young girl who stumbles into a dream-like state and wanders through the UAE in search of a lost pearl, uncovering different cultures, ecosystems, and people along the way – all brought to life with stunning special effects, including rainstorms, fireballs, giant drums, and flying motorcycles.
Set inside a purpose-built theatre with state-of-the-art technology and seating for up to 1300 people, La Perle is an immersive experience that will leave you feeling both exhilarated and inspired.
16 – Atlantis Aquaventure Waterpark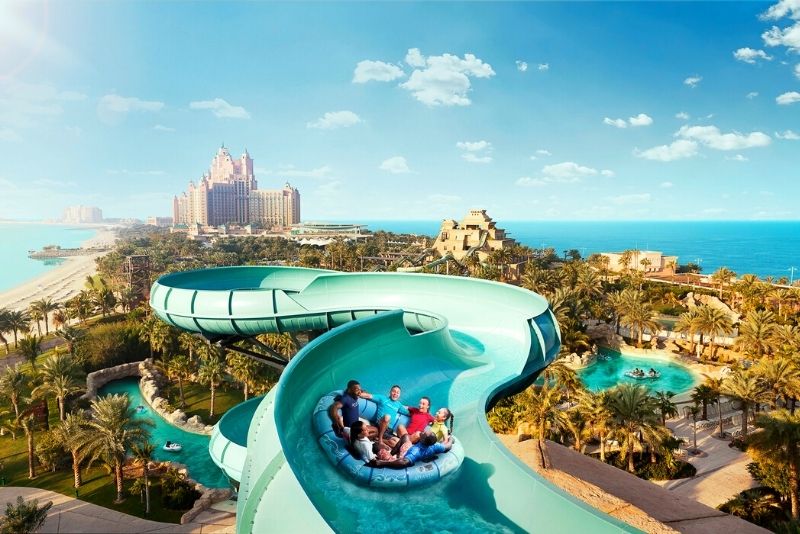 One of the quintessential family tourist attractions in Dubai, especially considering the year-round sizzling heat, Atlantis Aquaventure is a sprawling waterpark located on the man-made Palm Jumeirah island.
With over 30 slides and attractions, including Dubai's longest Lazy River, a zip line that soars 65 feet over the park, slides that plummet through shark-filled lagoons, and plenty of pools and beaches to relax in among a handful of other record-breaking rides, there's something here for everyone – and with a dedicated Splashers Kids' Play Area, little ones are guaranteed to have a splashing good time too.
Don't forget to check out the park's Sea Lion Point where you can get up close and personal with these charismatic creatures, or consider taking a leisurely stroll through The Lost Chambers Aquarium next door, to see over 65,000 marine animals swimming around in their natural habitat.
17 – Ski Dubai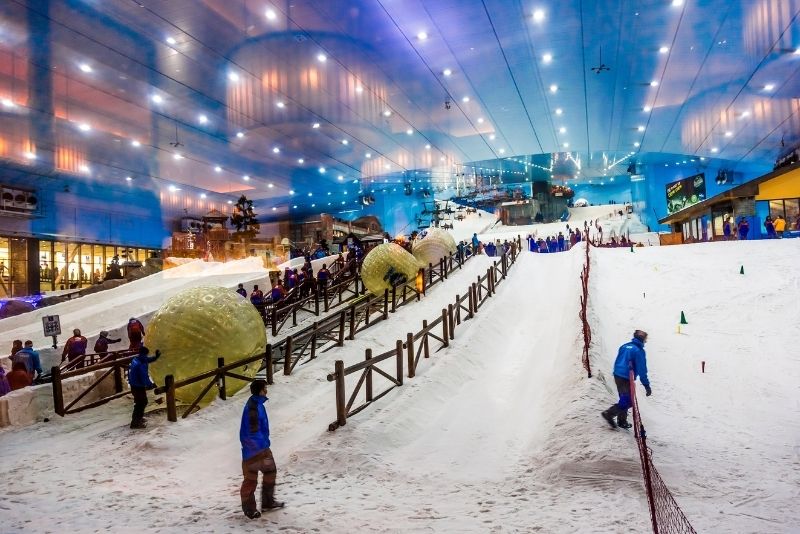 A powdery white ski hill in the middle of the desert? Believe it or not, complete with chairlifts, penguins, and apres-ski alike, Ski Dubai is one of the top tourist attractions in Dubai – and with 22,500 square meters of indoor ski area (one of the top three largest in the world), its easy to see why.
Featuring 5 different slopes of varying difficulties, a dedicated freestyle zone, a range of lessons for beginner skiers and snowboarders alike, and a Penguin Encounter where you can meet and greet a handful of furry friends (you won't find that at your typical ski resort!), this is definitely a one-of-a-kind experience.
You'll find the multiple award-winning ski hill (named world's best indoor ski resort for three years running) at the Mall of Emirates – an attraction in its own right that delivers four floors of shopping, over 900 stores, and a cinema to boot.
18 – Dubai Garden Glow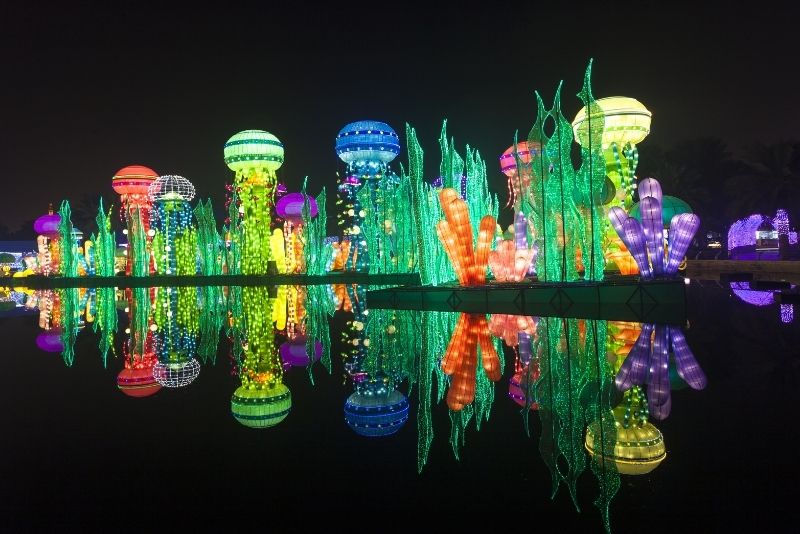 A must-visit during the cooler months, Dubai Garden Glow is a unique attraction that's part sculpture park, part theme park, and glow-in-the-dark wonderland – all rolled into one.
Located at Zabeel Park and featuring millions of LED lights spread across five different zones (the Dinosaur Park, the Glow Park, the Glow Garden, the Ice Park, the Magic Park, and the Art Park), this is one of the most Instagrammable places in Dubai. Doused in neon and whimsically lighting up the night sky, Garden Glow showcases all kinds of quirky illuminated creations – from wildlife animals and marine creatures to flowers, trees, and birds, and a slew of mind-bending optical illusions, there's something to catch your eye in every direction.
Throw in a variety of live entertainment including acrobatic shows, firework displays, and musical performances from local and international artists, and you've got the recipe for a perfect night out.
19 – LEGOLAND® Dubai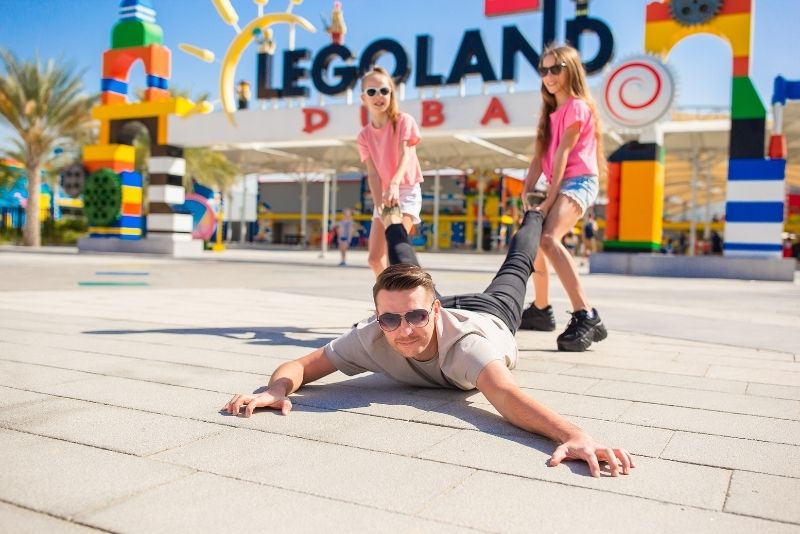 A crowd favorite for galavanting families and builders-to-be, LEGOLAND® Dubai is one of the best tourist attractions in Dubai for kids 2 to 12 years of age (but, let's be honest, Lego-loving parents have a ball here too).
Featuring over 40 rides, shows, and attractions spread across six different themed lands (Miniland, LEGO® City, Adventureland, Imagination Land, Kingdoms Land, and Factory Land), as well as a waterpark next door, there's enough here to keep little ones entertained for hours on end.
And with interactive experiences like LEGO® City Driving School where kids can get behind the wheel of their very own LEGO car and walk away with an official LEGOLAND® Driving Licence or the 4D Studios where next-generation technology is on display, the tots might never want to leave!
Hot tip: make sure to spend some time in Miniland – while not chock-full of rides, it impresses with over 20 million LEGO® bricks built to replicate Dubai's iconic skyline and key landmarks from all over the Middle East.
20 – Dubai Museum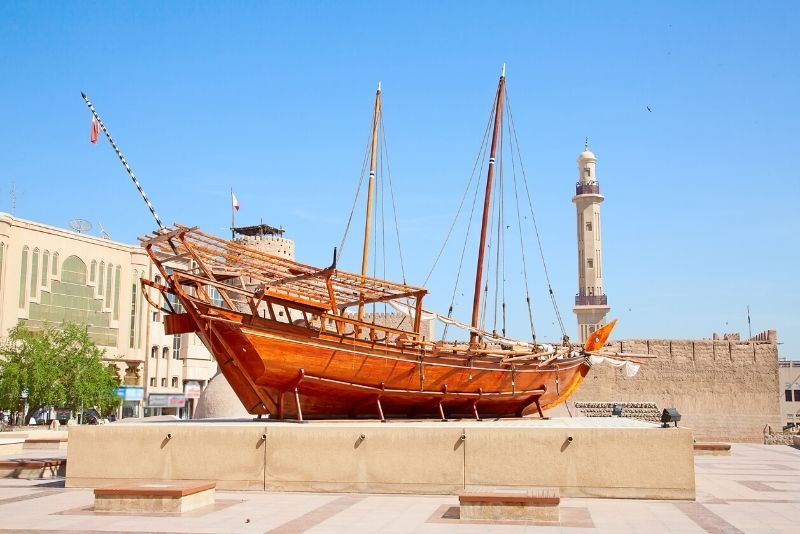 Housed inside the oldest building in the city, the Al Fahidi Fort on the shores of the Dubai Creek which dates back to the late 1700s, Dubai Museum is a must-visit for anyone interested in learning about the Emirate's rich culture and heritage.
Founded in 1971 to preserve Dubai's history and display its traditional way of life (before the discovery of oil and the building up of the now-futuristic city), the museum today is an engaging, interactive space that tells the story of how Dubai has evolved from a small fishing and pearling village to the bustling metropolis it is today.
With exhibits on traditional Arabic houses, mosques, souks, boats, weaponry, musical instruments, and more (with some items dating as far back as 3000BC), as well as a walk-through diorama of old Dubai complete with sounds and smells, this is one attraction that provides insight into what life was like before all the glitz and glamour.
The life-size dioramas are a constant delight, and at only AED three per person (about 80 cents US), it's an absolute bargain of a destination.
21 – Al Marmoom Camel race track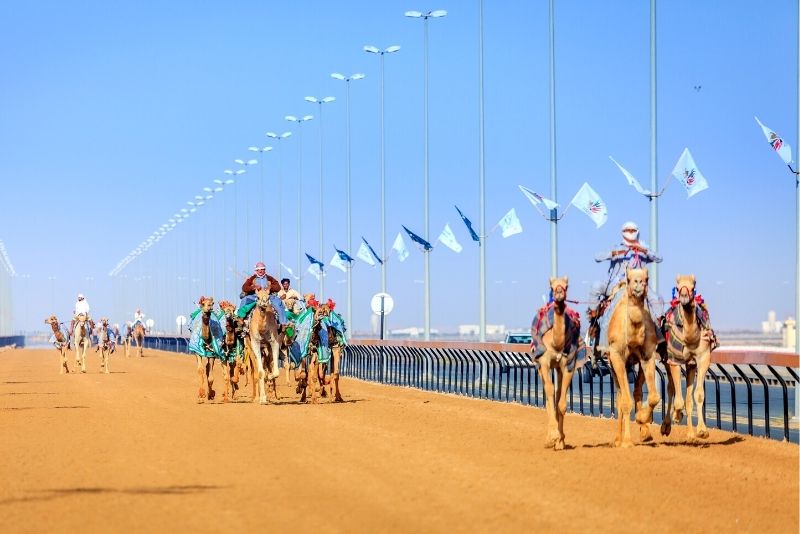 Lesser-known to tourists but one of the more renowned Dubai attractions among locals, the Al Marmoom Camel Race Track is where you catch a glimpse of a sporting tradition that's existed in the Middle East for over 2,500 years – albeit in a more modern environment.
Al Marmoom is the biggest camel race track in Dubai, sits right next to the Al Marmoom Heritage Village in the heart of the desert, and, best of all, is totally free to visit.
Keep in mind: the race season usually runs exclusively from October to April in the winter months, with races happening in the early mornings on Fridays and Saturdays.
22 – Deira Clocktower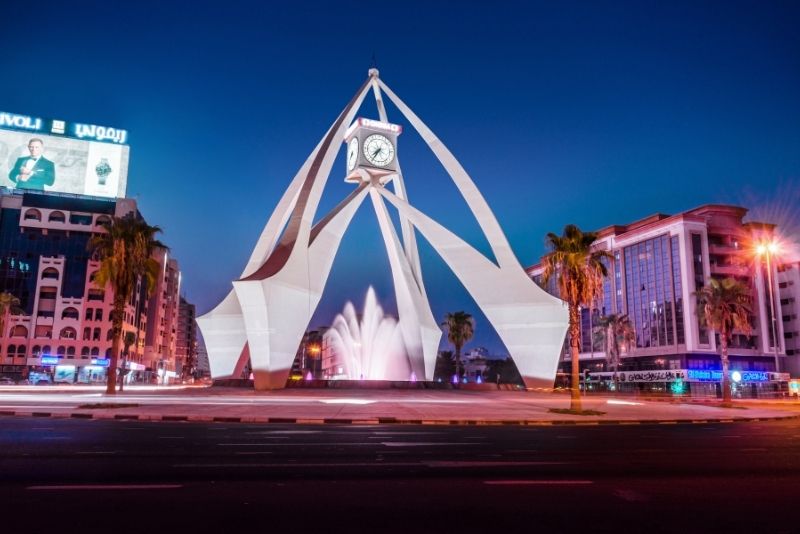 A symbol of the city and one of Dubai's most iconic landmarks, the Deira Clocktower is an impressive sight to behold whether you're seeing it for the first time or the hundredth.
The clocktower was built in 1963 in the heart of Dubai's old trading district to signify the first land-crossing between Deira and Bur Dubai – a nod to the area's industrial development – and has since become one of the most popular photo spots in town (as well as a handy navigation point at the intersection of Umm Hurair Road and D89).
These days, the area has been built up around it, surrounded now by a busy roundabout where a plethora of eateries await – from Illusions Lounge and Yakitate to the Dampa Seafood Grill, the area is a formidable spot for blending history and architecture with a spot of lunch.
23 – Green Planet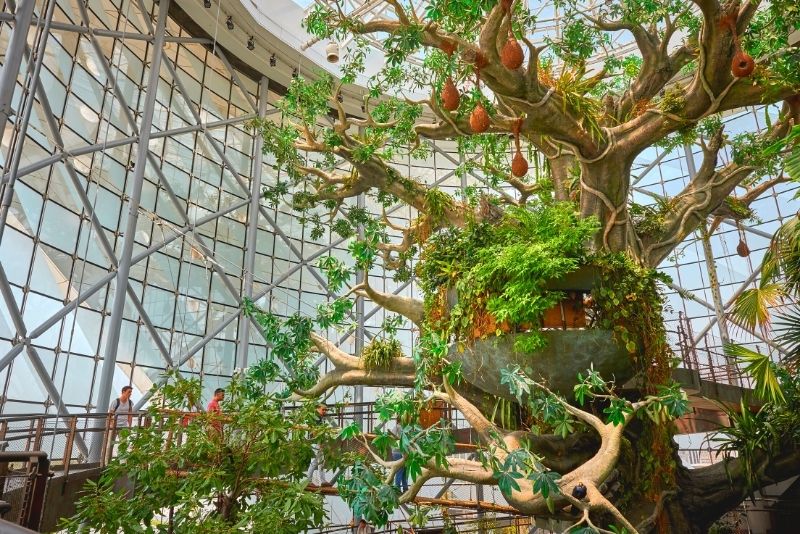 Like taking a journey into your very own tropical rainforest, The Green Planet is one of Dubai's newest attractions and a non-negotiable stop on any UAE itinerary for animal and nature lovers.
Housed inside a massive biodome along one of the city's most popular lifestyle districts, City Walk, the indoor rainforest is home to over 3000 species of animals, plants, and birds – many of which are endangered or on the brink of extinction.
As well as being an incredibly educational experience (there are plenty of informative displays and talks throughout the day across the four levels: the Canopy, the Midstory, the Forest Floor and the Flooded Rainforest), it's also great fun – kids will love getting up close to sloths, sugar gliders, snakes and parrots while adults can appreciate the engineering feat that is this captivating man-made ecosystem.
Looking to make your visit to the next level? For the brave of the brave, the Green Planet offers guests the chance to swim with Piranhas!
24 – Dubai Global Village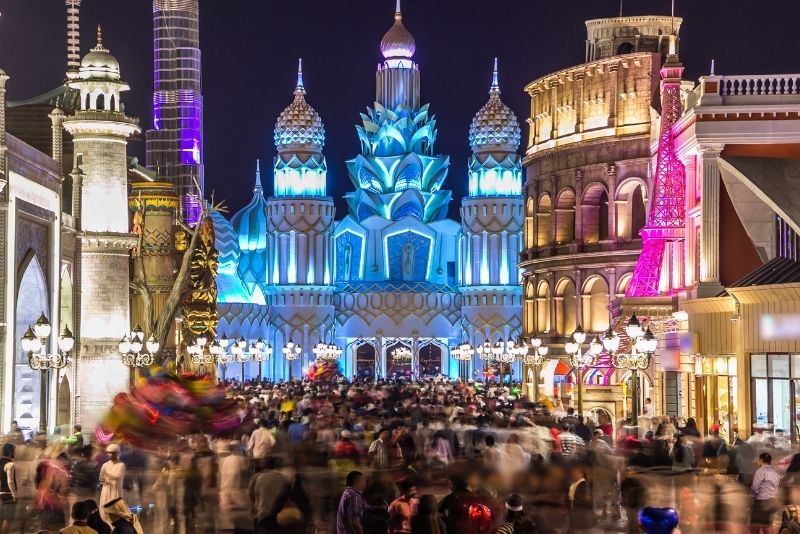 A Dubai institution, the Global Village is a journey through the diverse culture of humankind; showcasing people, traditions, history, and lifestyles of countries as far and wide as Egypt, India, Pakistan, Lebanon, Morocco, Syria, and China, to name but a few of the 90 different cultures depicted.
An unmissable spot for any first-time traveler to the city, the huge open-air themed market and entertainment destination puts the world in perspective; while we are all different and unique, we also have a lot in common – a love for food, language, and art, for starters.
Running typically from October to May, the Global Village is open for five months of the year and welcomes millions of visitors during that time – so if you're in town, make sure to add it your itinerary and enjoy the famous replicas of World Heritage Sites like the Colosseum, Eiffel Tower, and Taj Mahal; the high-paced stage shows, and the family-friendly thrill rides!
25 – 3D World Dubai Trick-Art 'Selfie' Museum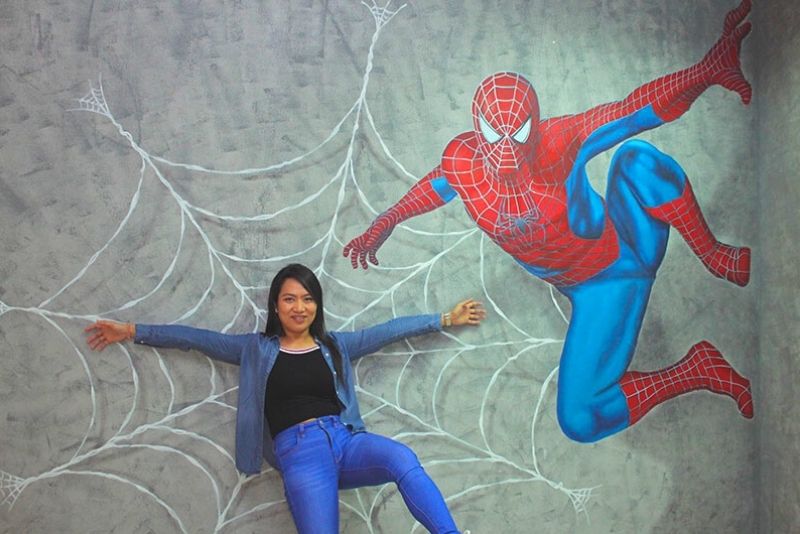 Guaranteed to impress (and confuse) your social media followers, the Dubai Trick-Art Museum is a fun-filled activity for all the family.
With over 185 different optical illusions and 'trick art' paintings, this air-conditioned venue holds its own as the largest 3D trick art museum in the world. Featuring iconic landmarks from near and far, as well as local scenes dedicated to fantasy, humor, or history, it's the perfect place to while away a few hours (and rack up those likes).
Not only is it great fun trying to figure out how the paintings were created, but it's also a unique way to explore some of Dubai's most popular attractions without even leaving the city!
26 – Deira district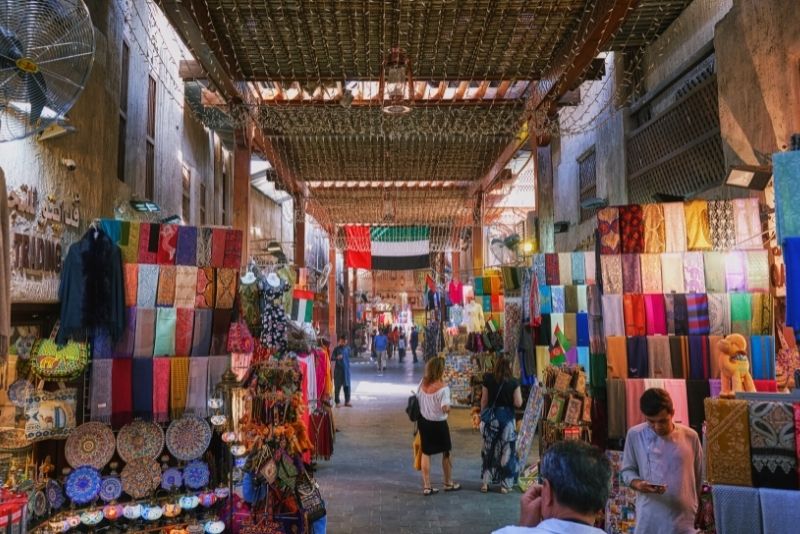 A shopper's paradise, the Deira district is where you'll find everything from traditional Arabic markets and souks to modern malls.
But that's not all this historic area of Dubai has to offer: take a ride on an abra (traditional water taxi) down the creek, visit the Gold Souk to admire – and purchase – some of the finest jewelry in the world, or haggle for spices and souvenirs at the bustling Spice Souk. At the latter, you'll uncover everything from fresh herbs to rare spice blends unique to the Middle East, making it one of the best places in Dubai for foodies and fragrance-lovers alike!
If, after browsing the aromatic Spice Shuk, you want to follow your nose to another level, The Perfume Souk (located next to the Gold Souk,) is a hotbed of smells that will tantalize your senses! Here, thousands of smells range from subtle to potent, and represent a host of the most common scents in Arabian life. And, of course, with hundreds of distributors and vendors, you can practice your negotiating skills all day.
And when you need a break from all that shopping, stop by one of the many cafes and restaurants for a refreshing cup of coffee or some delicious Emirati cuisine.
27 – Al Noor Island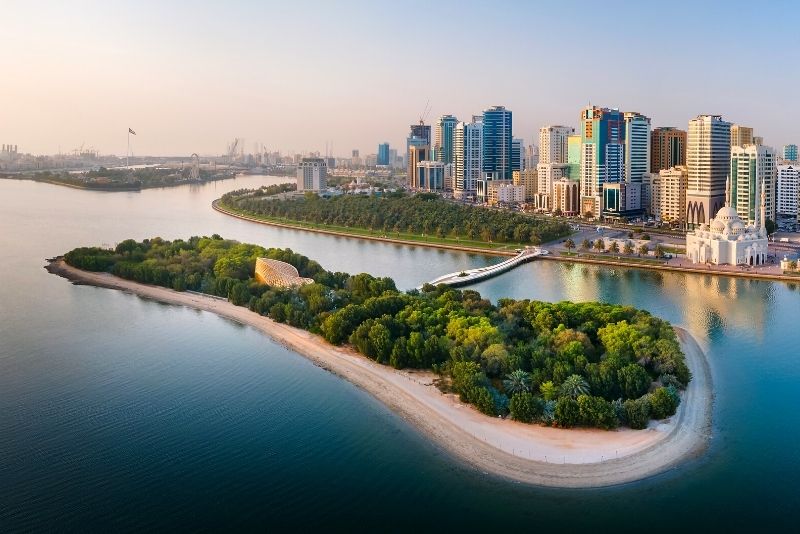 A wonderful escape from the crowded city, Al Noor Island is a man-made oasis located in the heart of Sharjah on Khalid Lake.
A popular spot for picnics and days out, the island is connected to the mainland by a pedestrian bridge and features lush gardens, meandering walkways, charming fountains, and an incredible butterfly house.
The butterfly house is home to over hundreds of brightly colored butterflies which flit freely around the tropical plants; it's truly a magical experience!
If you're looking for a calm and serene spot to relax in nature, not to mention admire the brilliant skylines of both Dubai and Sharjah from afar, the new and still little-known Al Noor Island is the perfect place – just be sure to bring your camera to capture some amazing photos.
28 – The Lost Chambers Aquarium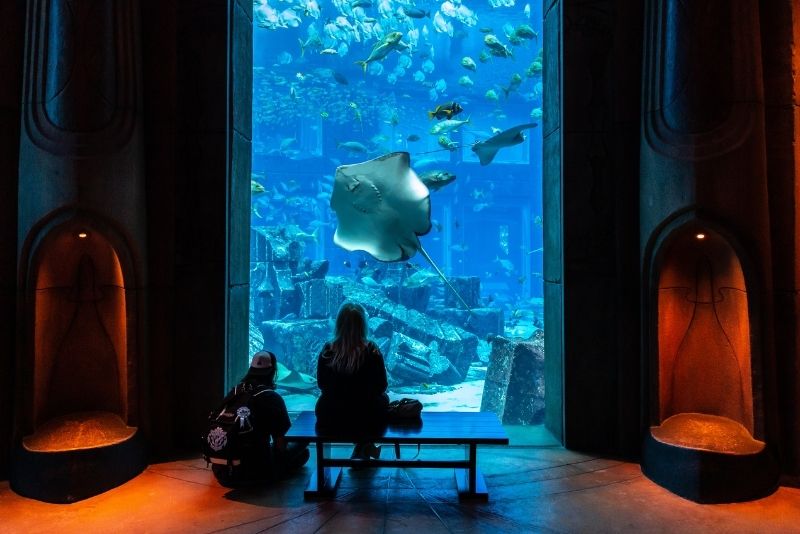 If you're after attractions in Dubai suitable for youngsters, the Lost Chambers Aquarium at Atlantis The Palm is an excellent choice.
Home to over 65,000 marine animals, the aquarium features a series of chambers and tunnels (no less than 21 amazing exhibits) which impress and amaze with shark-filled lagoons, rays gliding overhead, and vibrant coral gardens.
Younger children will love the interactive shows where they can learn all about the different creatures inhabiting the aquarium; while older kids (and adults!) can get up close and personal with some of the residents on a behind-the-scenes tour or by participating in a snorkeling or feeding session.
With so much to see and do, and a handy proximity to the beloved adventureland that is the Atlantis Water Park, it's a justifiably popular choice for vacationers.
29 – Motiongate Dubai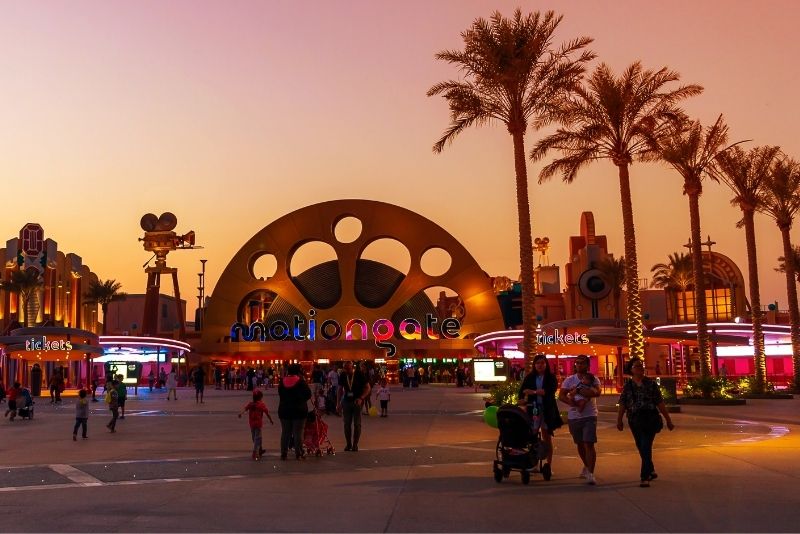 All about Tinseltown, show-biz, and the glitz and glam of Hollywood, Motiongate Dubai is a cinephile's delight, combining all the tropes of classic American cinema into one incredible theme park.
With five themed zones (Studio Central, Dreamworks, Columbia Pictures, Lionsgate, and the kid-friendly Smurfs' Village), attractions include a raft of 30 rides and rollercoasters inspired by some of your favorite films including The Hunger Games (be sure to ride the Capitol Bullet Train!), Shrek, Madagascar, Zombieland, Ghostbusters, and Kung-Fu Panda, and a whole lot more.
The youngest visitors will love the Smurfs Village Playland; while big kids can enjoy the exhilarating adrenaline rush of flying through New York City on The Green Hornet: High-Speed Chase or being plunged 58 meters into the air on Zombieland Blast Off.
Whatever your age or interests, there's something at Motiongate Dubai to get your heart racing and scratch that movie itch!
See also: Best theme parks in Dubai
30 – The Dubai Mall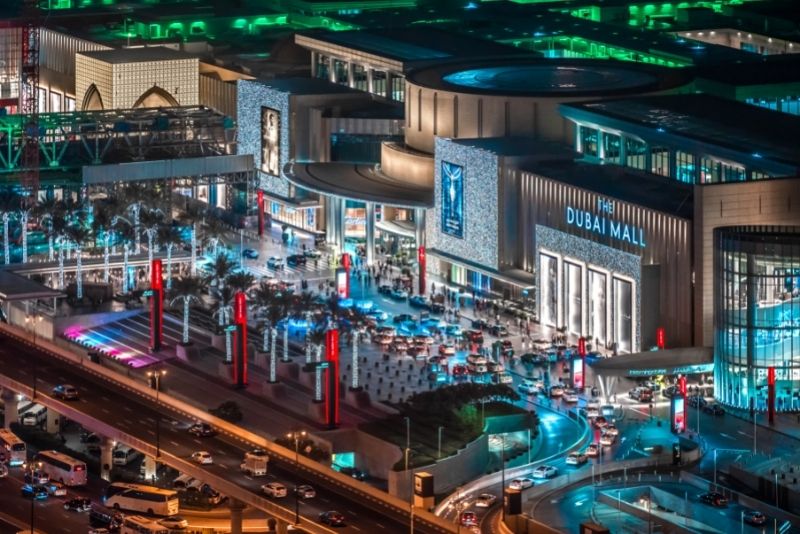 Enormous being an understatement, The Dubai Mall is the world's largest shopping mall by total area, with over 12 million square feet of space (and fittingly located next to the world's tallest building, the Burj Khalifa).
As well as being home to more than 1200 stores, 200 restaurants and cafes, an Olympic-sized ice rink with regular learn-to-skate programs, an indoor aquarium and underwater zoo, a kid's edutainment center (KidZania), and much more, the mall also offers some incredible views of the Burj Khalifa from its outdoor terraces.
In other words? You could easily spend an entire day (or two) here and still not see everything!
Oh, and did we mention there's a 25-meter-long, 155 million-year-old dinosaur skeleton too? Clearly, these guys don't do things by halves.
Hot tip: because Dubai's weather is typically off-the-charts hot, it's best to visit the Mall during the peak heat hours of the day (air conditioning is your friend!) before venturing out in the evening to explore Dubai's incredible nightlife when things have cooled down a bit.
31 – Love Lake – Dubai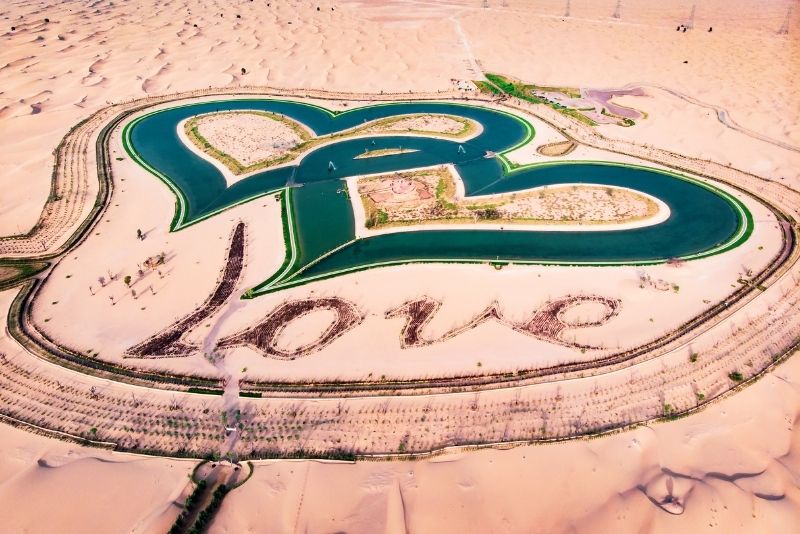 Traveling with your loved one and looking for romantic things to do in Dubai?
Large enough that it can be seen from space (take that, Great Wall of China), Love Lake is quite simply one of the most unique attractions in the greater Dubai region.
A man-made lake located in the otherworldly Al Qudra Oasis, tucked away amidst the Al Salam desert dunes, the lake is shaped – you guessed it – like a heart; two large, interconnected hearts, in fact.
A little cheesy but romantic nonetheless, the area has been built up so that love is all around, with plants and flowers shaped in hearts dotting the leisurely walkway.
The lakes are open 24 hours for both visiting or camping, all up, offering both a pleasant and lovely escape from the hustle and bustle of typical Dubai life, and with more than 175 species of birds (not to mention the ducks and land-based wildlife), it's a hidden gem well-worthy of a visit.
32 – Meydan Racecourse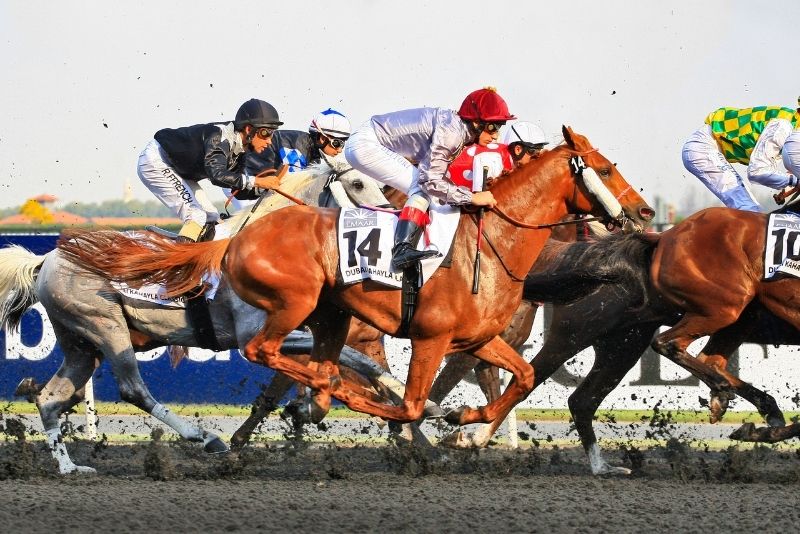 Home to some of the lushest greenery you'll find in the region, the futuristic-looking Meydan Racecourse, with room for more than 60,000 eager spectators, is one of Dubai's most popular local sporting meccas.
As well as being a world-class horse racing venue (most famous for hosting the $30-million Dubai World Cup every March), the racecourse also offers several other activities and amenities, including a golf course, tennis courts, restaurants and cafes (the Winner's Circle restaurant is all class), and – perhaps most impressively – a luxury hotel.
Races run from November through to April most years (avoiding the blaring summer heat), however, the facilities in the area are open year-round, including the opulent and 5-star Meydan Hotel (widely considered one of the best hotels in Dubai, with rooms that offer spectacular views of either the cityscape or racetrack).
33 – Dubai Safari Park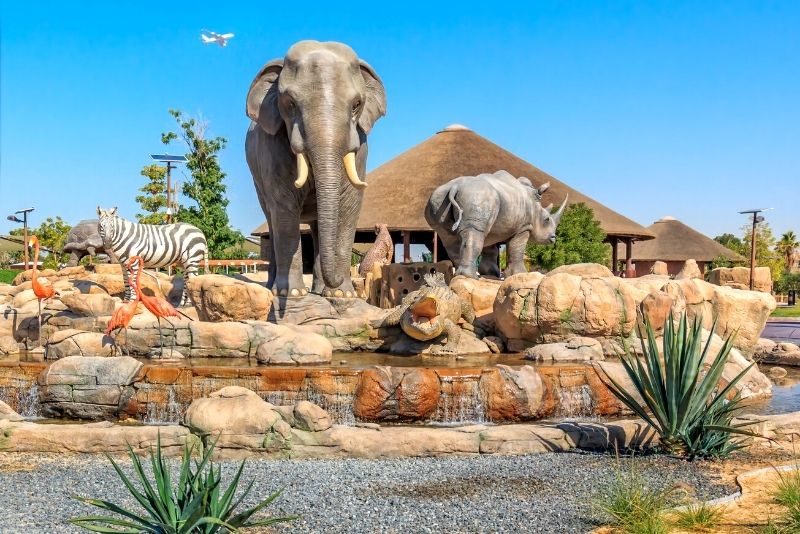 Of all the animal-focused Dubai attractions, Dubai Safari Park is constantly held alongside the best of the best, certainly being one of the most immersive.
A world away from your typical caged zoo environment, Dubai SafariPark is more like an African game reserve, with a huge number of animals (more than 3,000 all up, encompassing more than 250 species) residing in open, natural habitats that are as close to their natural homes as possible.
There are five main animal zones at Dubai Safari Park – the African Village, the Asian Village, the Arabian Desert Safari, Explorer Village, and Adventure Valley – each home to a different array of animals; think lions and tigers and bears (oh my!), giraffes and rhinos, komodo dragons, moon bears, baboons, Nile crocodiles, elephants, orangutans, and flamboyant flamingos (the list really does go on).
Besides the chance to up close and personal with some incredible animals, there are plenty of fun-filled activities for families to enjoy together here too; from the kids farm to the multitude of live wildlife shows!
34 – Jebel Jais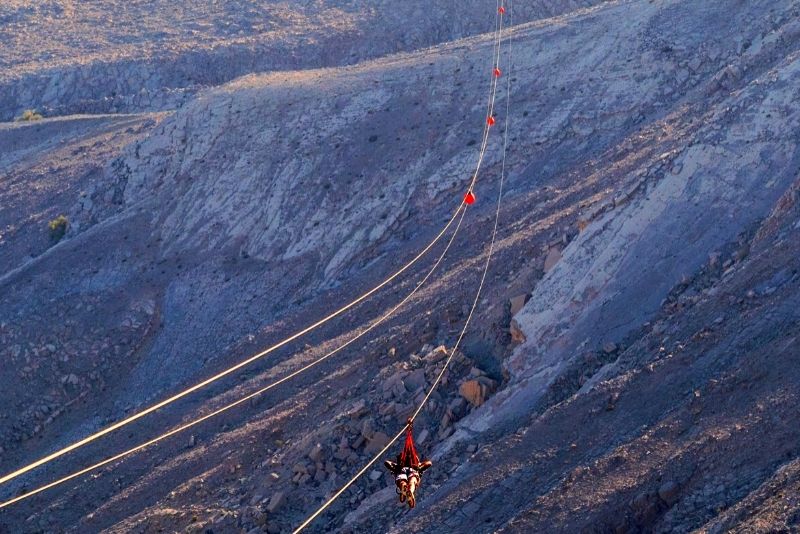 A cruisey two-hour drive from Dubai, straddling the border of the UAE and Oman, Jebel Jais is the tallest mountain in the UAE, measuring in at a whopping 1,934 meters.
A popular spot for both locals and tourists alike, Jebel Jais has become somewhat of an adrenaline junkie's playground over recent years, playing host to a number of exciting activities and attractions.
For starters, there's the world's longest zipline at almost 2800 meters (according to Guinness), which offers breathtaking views of the Hajar Mountains as you speed along at up to 150 kilometers an hour (93 mph); or the Jebel Jais Sky Tour, where the thrills are far more long-lived as you fly over the jagged mountain range on a dramatic five-kilometer-long, six-zip-line course.
35 – Etihad Museum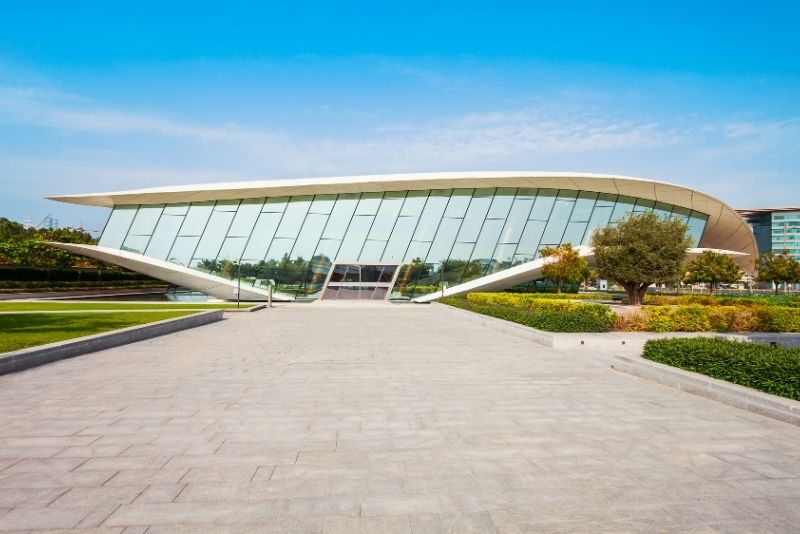 Full of insights into the local culture – both modern and traditional – the Etihad Museum is one of the newest Dubai attractions, having only opened in 2017. Located in Jumeirah, on the site next to the former Union House where the UAE was founded in 1971 (free tours of which, by the way, are available), this excellent museum dives into the history of the UAE through well designed and interactive exhibits that focus on a number of different sections of UAE history and culture.
As you walk in, you can't miss the giant painting by Emirati artist Abdul Qader Al Rais that depicts the geography of the UAE; while other sections explore the Union's founding fathers, showcase 3D documentaries about the founding years, and display artifacts like the signed union agreement itself and Sheikh Rashid's passport.
Not too far away sits the Jumeirah Mosque and the Nikki Beach Resort & Spa Dubai, two very different yet very popular tourist destinations each within walking distance.
36 – Dubai Autodrome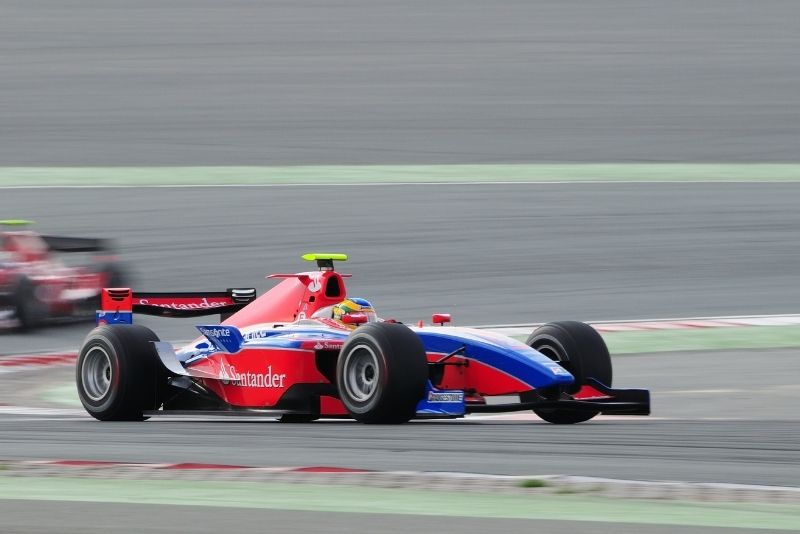 Craving that need for speed? You'll find it in spades (and then some) at the Dubai Autodrome – one of the most popular things to do in Dubai for petrol heads and car enthusiasts.
With a capacity for 15,000 spectators, the 5-kilometer Dubai Autodrome circuit has hosted some of the world's most prestigious racing events over its 15+ year history; think Le Mans Series, MotoGP, the UAE Procar Championship, and a whole lot more.
Besides being a spectacular venue for watching live races (check their website to see what's on during your stay), the Autodrome is also home to Kartdrome – one of the best go-karting tracks in town where both kids and adults can race around like maniacs in electric go-karts. The outdoor 1.2km International Circuit is perfect for speed demons, while the younger ones usually prefer the 620-meter-long indoor circuit.
For the ultimate thrill, however, sign up for a hot lap in one of the supercars! From driving a Ferrari GT to a legitimate Formula DXB, as well as BMWs, Audi TTs, McLarens, Renault Clios, and Prodrift-style single-seaters, high octane is just around the corner!
37 – Dubai Opera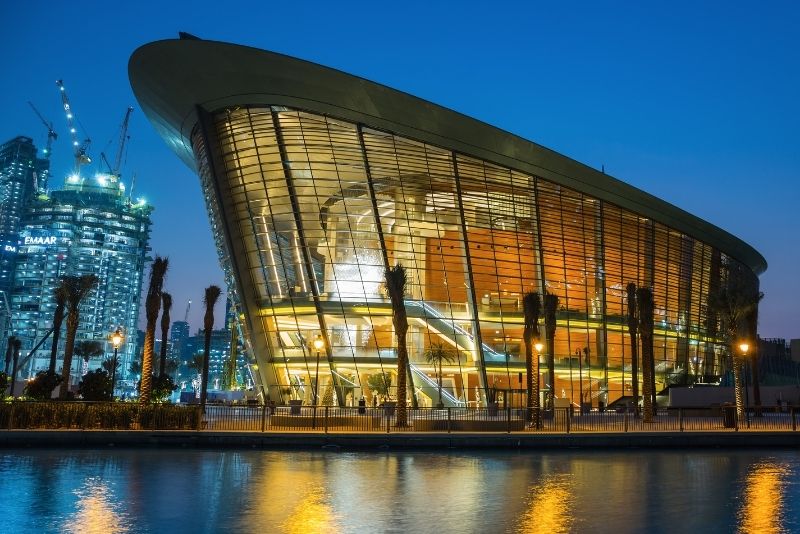 A wonderful way to spend an evening; dressed to the nines and experience the local haut-classe culture, Dubai Opera is a stunningly designed, state-of-the-art performance venue that opened its doors in 2016.
With a capacity for 2000 people, Dubai Opera has already become one of the most popular things to do in the Downtown Dubai area (especially if you consider yourself more of a culture vulture), playing host to a number of excellent shows, operas, ballets, musicals, and more throughout the year.
Considered the shining pearl of The Opera District – it's just one of many entertainment venues in the Dubai Mall area, and worth visiting even if only to admire the modern structure from the outside.
38 – Dubai Marina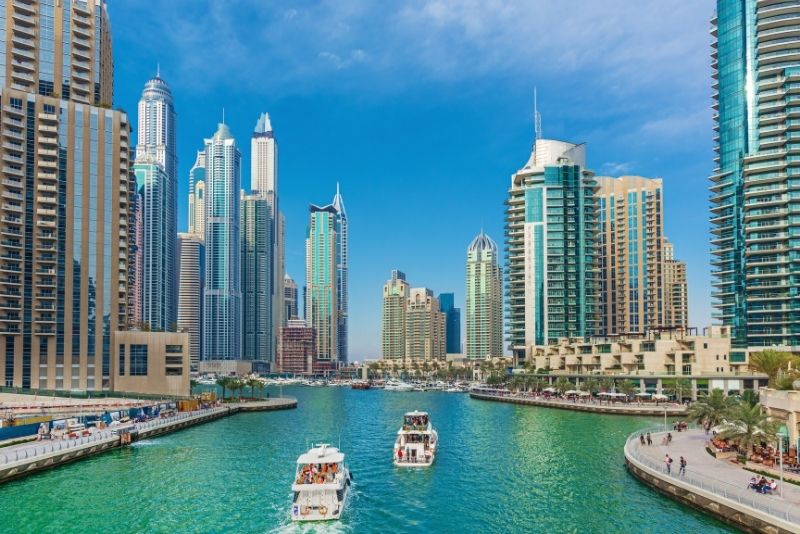 If you're looking to ditch the high-octane thrills of dune buggies, skyscrapers, and water parks for a more low-key way to spend the day, head over to Dubai Marina and stroll along the water's edge, stopping for an ice cream or coffee in one of the many cafes that line the promenade.
Or, if you're feeling active, rent a bicycle or inline skates and make your way down the palm tree-lined Marina Walk; on weekends especially, this is a popular spot for locals and visitors alike to get some fresh air, and with no less than 305 outlets and 69 restaurants along the 7km stretch, you'll be spoiled for choice when it comes to eats and activities.
For those who want to stay afloat, there are plenty of options for renting a yacht or boat – from small dinghies to massive luxury yachts – and taking in the sights from the water.
And when night falls, the party doesn't stop – the luxurious lifestyle transitions from shopping to partying, with a handle of waterfront bars and clubs acting as tourist magnets.
39 – Yas Waterworld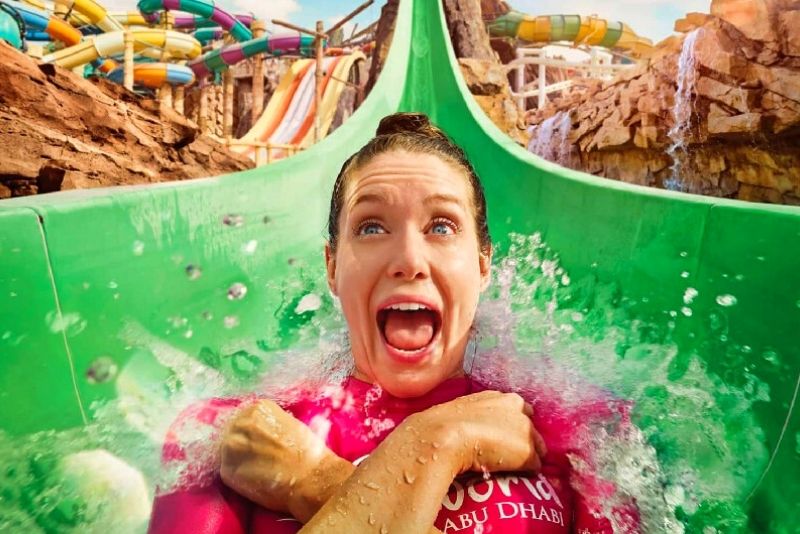 Keen for a day trip?
Situated on Yas Island, Yas Waterworld is one of the best water parks in Abu Dhabi – about an hour's drive from Dubai – and promises a great day out for anyone traveling with young kids (or any theme park lover, in all honesty).
With over 40 diverse rides, slippery slides, and entertaining attractions, there's something for everyone here – from the youngest tots who can splash around in the dedicated children's area (Tot's Playground) to older kids and adults who can feel the adreniline on seriously thrilling waterslides like the Bandit Bomber, Jebel Drop, and Slithers Slides.
A beloved experience for those looking to try something new, Yas also boasts the world's first pearl-diving experience, where brave treasure hunters can plunge to the depths of an underwater tank to uncover oysters and pearls!
40 – Museum of Illusions Dubai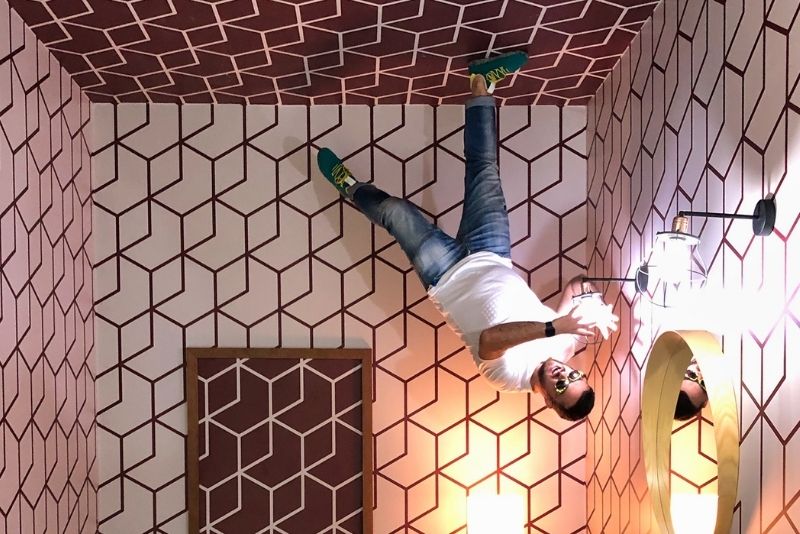 Sure to leave you confused and impressed simultaneously, the Museum of Illusions Dubai is an interactive museum like no other, with over 80 different optical illusions and mind-boggling displays that'll have you scratching your head in disbelief.
From anti-gravity rooms to vortex tunnels, levitation tools, and holograms, the science behind each exhibit is just as fascinating as the visual displays – making this one of the prime spots to visit in Dubai if you're looking for something a little different (and educational) to do with the family.
Located in the Al Seef area near the Dubai Creek, it's the perfect hour-long activity before a pleasant wander down the banks and a spot of lunch.
41 – VR Park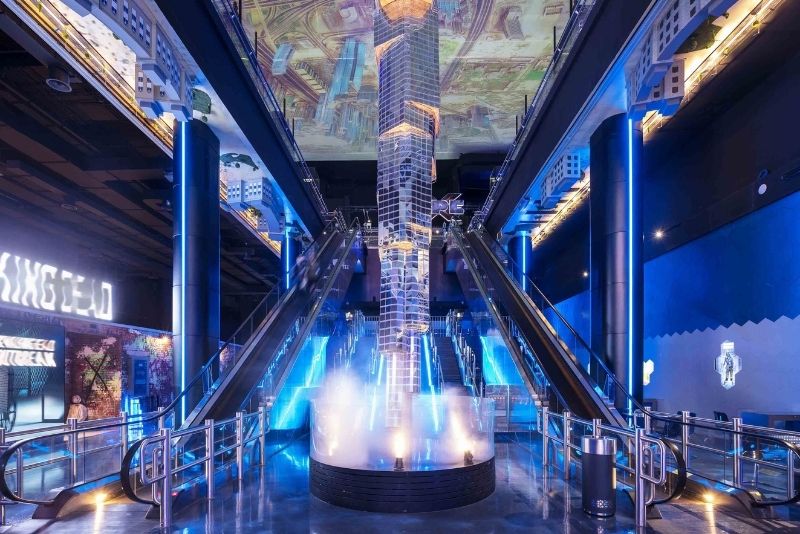 Step into a futuristic world of digitally-created realities at VR Park, the first of its kind in the Middle East.
With over 30 different virtual reality experiences to choose from – including roller coasters, simulated skydives from the Burj Khalifa where you step into the shoes of a window-washer, spaceship blastoffs, and offroading on the UAE's sand dunes – it's one of the best tourist attractions in Dubai to let your imagination run wild and explore new worlds without leaving the city limits.
Plus, with a soft play area, merry-go-rounds, and arcade games targeted at the youngsters, as well as a cafe for the parents, there's something for the whole family at this centrally-located Dubai Mall haunt.
42 – BollywoodParks™ Dubai
One of the Dubai attractions tailor-made for movie buffs and Bollywood fans, Bollywood Parks™ Dubai is a first-of-its-kind theme park that celebrates India's rich film heritage.
From live, glamorous stage shows and interactive rides to street food stalls and movie-themed attractions, the park brings the vibrant colors, sounds, and smells of India to life – giving visitors a taste of the country's rich culture and thriving movie industry.
With five different zones (Bollywood Boulevard, Bollywood Film Studios, Royal Plaza, Rustic Ravine, and Mumbai Chowk) dedicated to some of Bollywood's most iconic films and blockbusters – including Sholay, Dabangg, Lagaan, Mughal-E-Azam, and more – this one-of-a-kind amusement park delivers a bounty of cinematic entertainment.
43 – Warner Bros World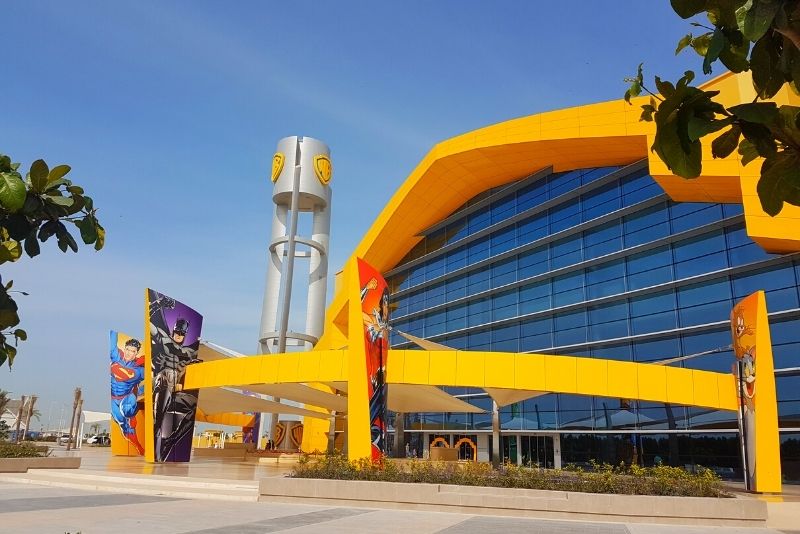 Found over in Abu Dhabi – the UAE's capital city about an hour away from Dubai's main haunts – Warner Bros World is a must-visit for anyone traveling with young kids (or any diehard DC Comics fans, in all honesty).
With over six different themed areas – including Cartoon Junction, Gotham City, Bedrock, Dynamite Gulch, Metropolis, and Warner Bros Plaza – each adorned with larger-than-life statues of iconic characters like Bugs Bunny and Superman, the park is straight out of a comic book come to life.
Kickstart your day with a wakeup call on adrenaline-pumping rides like Batman: Knight Flight (for a wild flight over Gotham) and Justice League: Warworld Attacks (where you'll join Wonder Woman and the gang in an epic enemy battle), and then take it easy on the more gentle attractions perfect for little ones like Scooby-Doo's Jeeps Adventure and Tom & Jerry: Swiss Cheese Slides.
Scattered all over the park are whimsically themed eateries, costumed characters, and marvelous and meticulous details and decorations, all combining into a brilliant day out for the whole family.
Hot tip: for the best bang for your buck (and to see the most of the neighboring city) consider booking a tour that includes transport as well as entry to Ferrari World and stops at iconic landmarks like Emirates Place and the Sheikh Zayed Grand Mosque.
And, while you're at it, make sure to check out our comprehensive list of exciting things to do in Abu Dhabi!
44 – Al Fahidi Historical District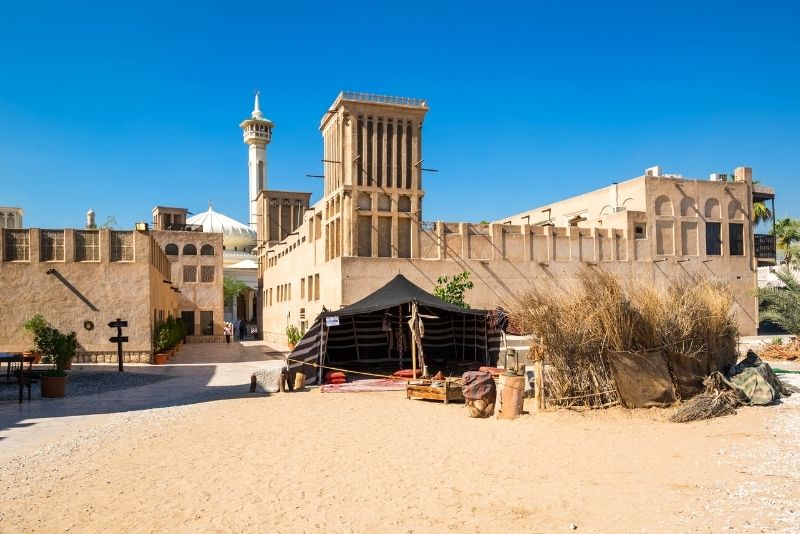 Head to Al Fahidi Historical District for a step back in time – this is where old Dubai comes to life.
Wander the narrow, meandering streets and alleyways and you'll find traditional Arabian houses, art galleries, quaint cafes, and boutique hotels housed in beautifully restored heritage buildings.
The area is also home to the Dubai Museum, which offers an insightful look into the city's past with its exhibits on archaeology, Emirati culture and traditions, the evolution of the city in recent decades, and more.
Spend an afternoon exploring this atmospheric district along the Dubai Creek; pop into one of the oldest markets in the region, the Textile Souq; check out the Al Fahidi Fort, the oldest existing building in the city; browse the charming Arabian Tea House for a deserved refreshment, and you'll quickly see why this area is considered one of the best tourist attractions in Dubai.
45 – Mall of the Emirates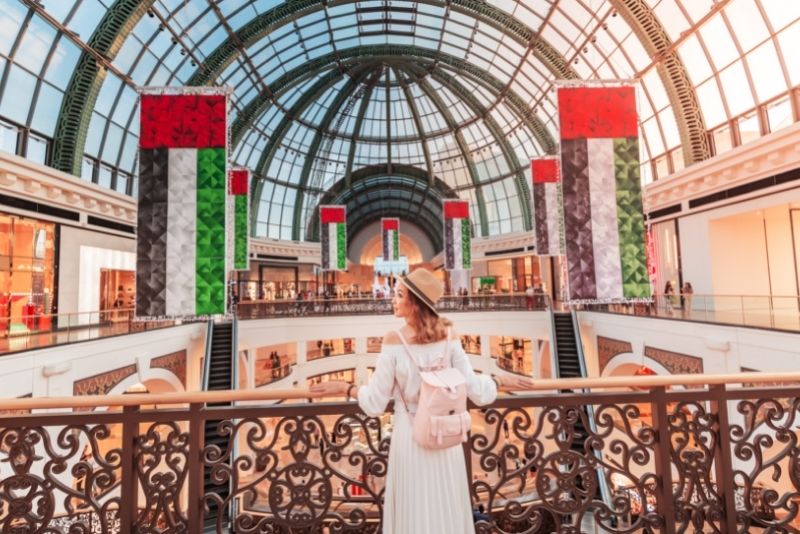 Shopaholics, take note!
Mall of the Emirates is one of Dubai's most popular shopping malls, and it's easy to see why.
With over 630 stores to suit luxury fashionistas, bargain hunters, and everyone in between; as well as 100 restaurants, you'll be maxing out your credit card in no time.
Whether you're looking to indulge in some retail therapy at high-end stores like Harvey Nichols and Bloomingdale's, pick up souvenirs at one of the many traditional Arabian shops selling spices, textiles, and handicrafts, or simply take a break from sightseeing with a spot of lunch or coffee – Mall of the Emirates has got you covered.
But wait, there's more. Far from your typical shopping center, this sprawling indoor mall also houses an indoor ski slope, a theatre complex, bowling alley, VR center, and kid-friendly Magic Planet.
46 – Jumeirah Mosque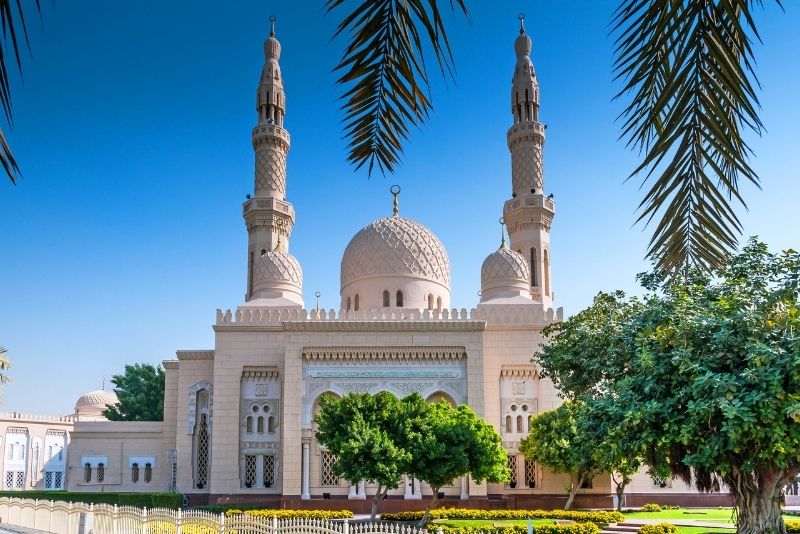 A stone's throw from both the Etihad Museum and La Mer Beach – sandwiched in between the two, about 10 minutes walk in either direction – is one of the most beautiful mosques in Dubai: the Jumeirah Mosque.
Fitting for a postcard, this stunning building is made entirely from white stone in the style of medieval Fatimid design, and can accommodate over 1000 worshippers in its peaceful and beautiful prayer room.
Despite the religious significance, the mosque is open to people from all religions and walks of life, with daily guided visits for all at 10am and 2pm (except Fridays). Besides the chance to learn about the architecture and spirituality of the building from the friendly guide, you'll also be treated to some light Emirati refreshments.
Keep in mind: registration for the tours opens 30 minutes beforehand.
47 – Al Khor Wildlife Sanctuary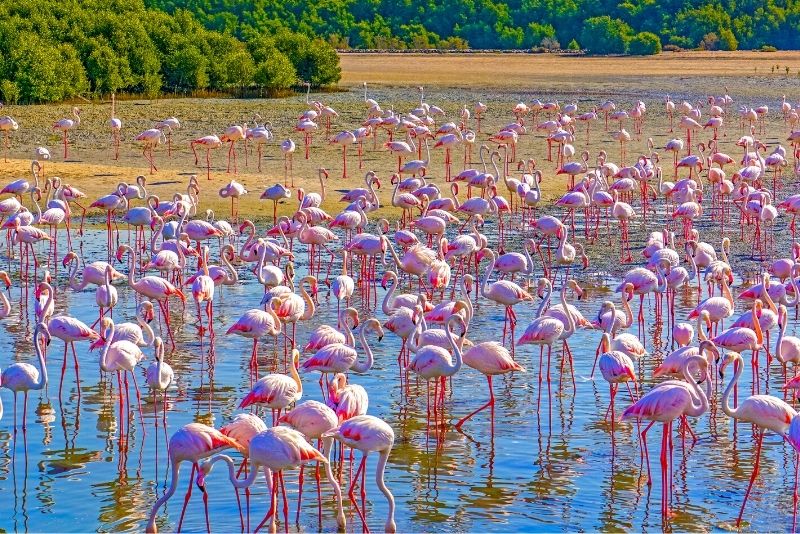 Looking for attractions in Dubai that will please both the little kids and the kids at heart? Then look no further: Al Khor Wildlife Sanctuary is the perfect place for a day of family fun.
Situated just a 10-minute drive inland from Downtown Dubai, this urban and protected nature reserve is home to an abundance of bird species, as well as all kinds of crustaceans, mammals, and fish (especially during the migratory months).
There are plenty of activities on offer here: go birdwatched from strategic locations; take a slow and peaceful walk through the relaxing gardens and explore the scenic trails; enjoy a picnic lunch under the shady trees; or join a guided tour for an expert view on the local wildlife!
48 – Dubai Butterfly Garden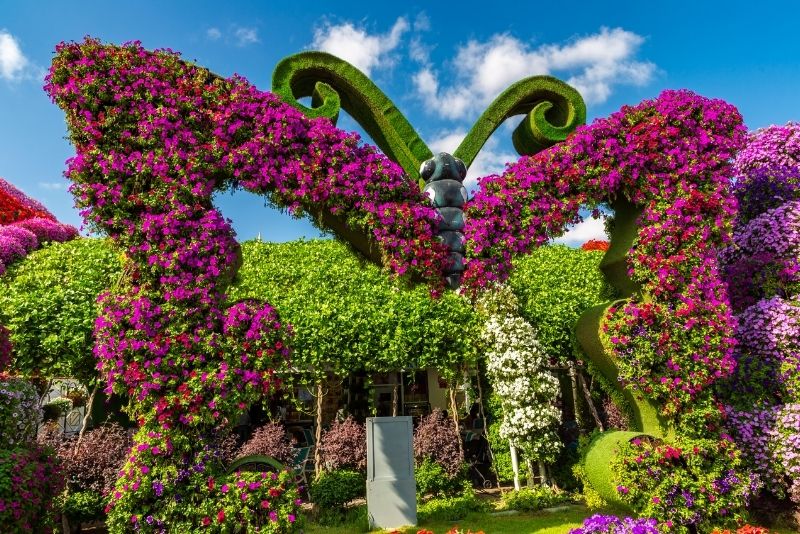 A colorful oasis right next to the Miracle Garden (see #3; where more than 150 million flowers are in full bloom), the vibrant and wonderful Dubai Butterfly Garden is a must-see for all ages.
As the world's largest indoor butterfly park, this paradise is made up of a temperature-controlled greenhouse filled with over 15,000 butterflies from over 50 different species, spread elegantly across 10 custom-designed domes.
Wander through the lush gardens and take in the beauty of these winged creatures as they flit about; learn about their life cycles at the informative exhibit, or simply relax on one of the many benches and enjoy the peaceful atmosphere.
49 – Wild Wadi Water Park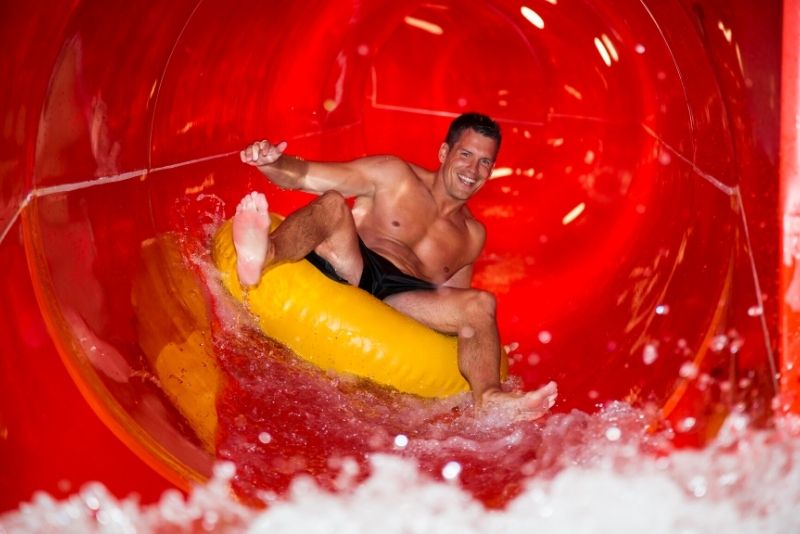 A wonderful reprieve on those toasty Dubai days, the Wild Wadi Water Park is located in the shadow of the iconic Burj Al Arab and offers 30 different rides and attractions for visitors of all ages, all surrounding the theme of the tale of Juha, a well-known character from Arabian folklore.
One of the most popular water parks in Dubai, it features a huge wave pool, numerous slides and flumes, as well as two artificial surfing machines (Wipeout and Riptide); not to mention an entire area dedicated to little ones, with smaller slides and a heated pool.
Thrillseekers, don't miss the Master Blaster, a dramatic ride that takes you up to 15 meters above ground level the; take a spin on Thunder Rapids, and tackle the ominous Tunnel of Doom! And if you're really feeling brave, head to the 32-meter-tall Jumeirah Sceirah slide; overlooking the entire park from above, it'll have you cannoning down at a top speed of 80 km/h!
Whether you're looking to cool off or just have some fun in the sun, Wild Wadi is definitely worth a visit!
50 – Jumeirah Beach Residence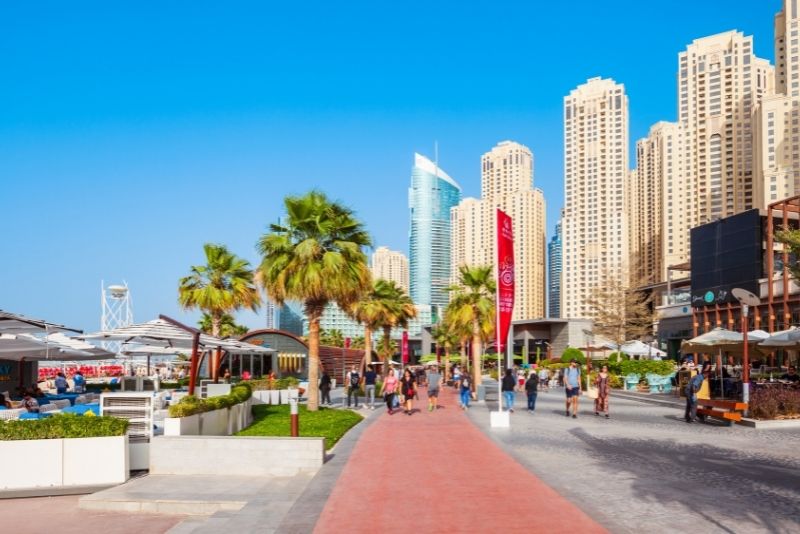 An undeniable symbol of luxury, Jumeirah Beach Residence (JBR) is one of the most popular tourist attractions in Dubai, offering the perfect blend of relaxing waterfront, high-energy nightlife, and endless shopping.
This iconic development stretches for almost two kilometers along the coastline of Dubai Marina, and is home to a number of world-class hotels (you'll find no less than 40 towers spread across the shoreline), restaurants, cafes, malls, and more.
Whether you're looking to sunbathe on one of the many beaches, take a dip in the azure waters of the Arabian Gulf, stroll along The Walk (a promenade lined with shops and eateries), take a dip at the cosmopolitan JBR Beach, or enjoy some retail therapy at one of the many stores – as you can tell, despite coming across as residential because of its moniker, JBR has a little splash of something for every kind of traveler.
Hot tip: if you're after something indulgent and romantic, The MAINE Oyster Bar & Grill is a top choice for many a date night!
Final thoughts:
So there you have it – 50 of the best tourist attractions in Dubai! We hope this list has inspired you to start planning your next trip to this amazing city.
Recently, the government put forward an ambitious tourism strategy to attract 25 million annual visitors by 2025 – and thanks to all of the Dubai attractions we've mentioned throughout this article, it's closing in on the finish line quicker than expected!
Whether you're looking for luxury and relaxation, excitement and adventure, or a little bit from column A and a little bit from column B, you will find plenty of fun things to do in Dubai. So what are you waiting for? Start packing your bags today!
Have you been to Dubai? What was your favorite attraction? Let us know in the comments below!
Happy travels!