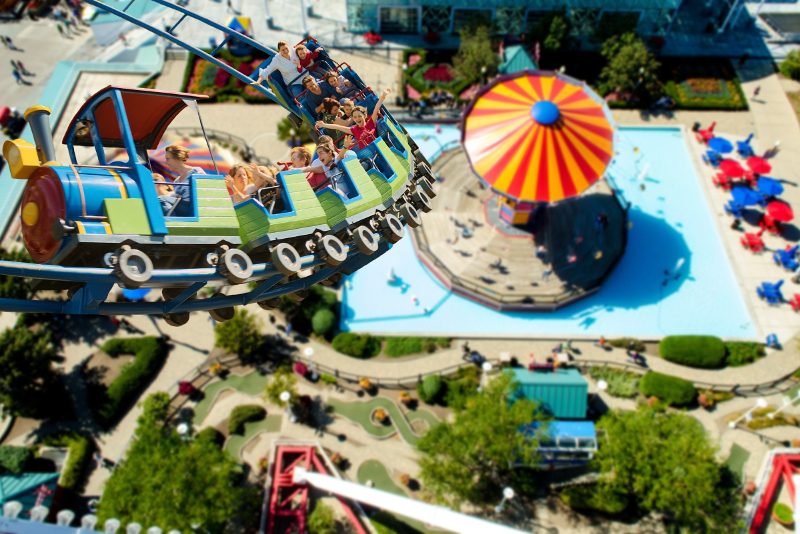 Dubai is brimming with unique and grandiose theme parks. Whether you are looking for the perfect family outing destination or adrenaline-pumping rides (or both), this exhaustive list of the best theme parks in Dubai has something for you.
Skip the queues by getting your tickets right after you chose your favorite theme park in Dubai. Enjoy your day! 🙂
1 – Dubai Aquarium & Underwater Zoo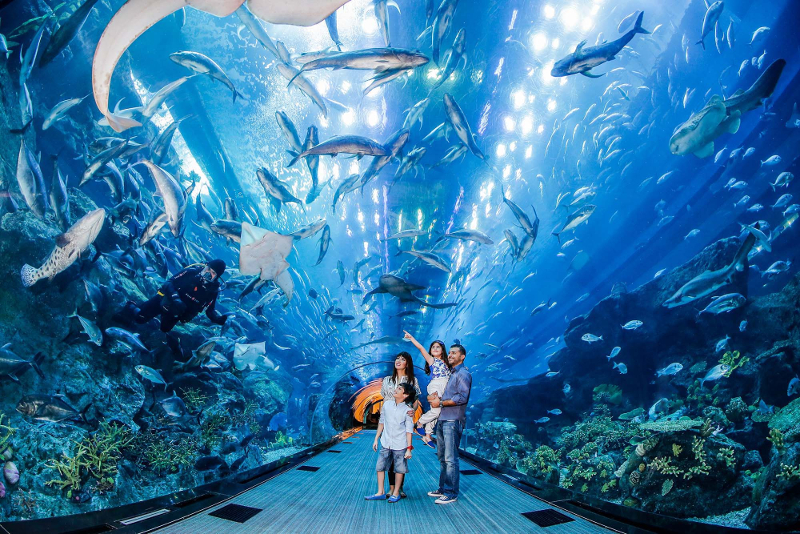 Considered as one of the best tourist attractions in Dubai, The Dubai Aquarium & Underwater Zoo is a must-visit for any animal lovers.
Right inside of the Dubai Mall, you will be able to see over 140 species including 300 sharks. The 48-meters long tunnel makes for an awe-inspiring view of the species inhabiting the aquarium.
Walk along the Rainforest, Rocky Shore and Living Ocean environments at the Underwater Zoo, and you'll find yourself face to face with dangerous Piranhas, playful Otters, a Humboldt Penguin colony and more.
Opening hours: 10:00 am – 00:00 pm
2 – IMG Worlds of Adventure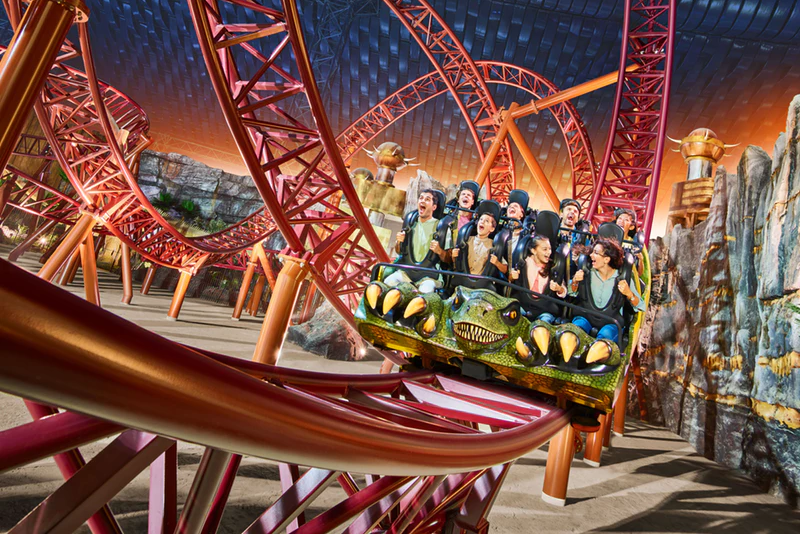 IMG Worlds of Adventure is the world's largest indoor theme park. Explore the 4 adventure zones and 22 rides, spread across 1.5 million square feet.
See dinosaurs roam the Earth, transform into Ironman, or experience the mind-blowing thrill of a raptor's flight. IMG Worlds of Adventure is the perfect place to unlock your imagination and have fun like never before.
From the Thor Thunder Spin to LazyTown, you will have different levels of thrills to choose from for a day packed full of wholesome fun for the whole family!
Opening hours: Sunday – Wednesday 11:00 am – 8:00 pm; Thursday – Saturday  11:00 am – 10:00 pm
See also: Best indoor activities in Dubai
3 – Dubai Garden Glow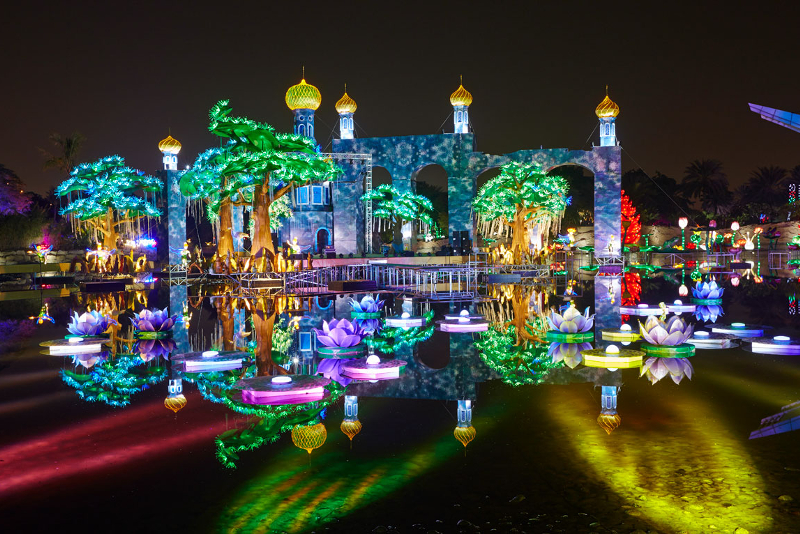 The Dubai Garden Glow is a family-oriented destination and the largest themed garden in the world.
Watch glow projects, along with Live performances by international and local artists. Younger children have a dedicated area where they can play and learn about the environment.
Skilled artisans from around the globe have lovingly created the four main installations :
Glow Park: The largest glow-in-dark garden made of millions of energy-saving bulbs and yards of recycled luminous fabric.
Dinosaur Park: The biggest dinosaur park displays over 120 animatronic Dinosaurs.
Ice Park: Get to see spectacular ice sculptures in the middle of the desert at Ice Park.
Art Park: The brand-new eco-friendly Art Park is made up of thousands of recyclable Small Bottles, Ceramic Dishes, and CDs.
Opening hours: Saturdays – Thursdays 4:00 pm – 11:00 pm, Friday 4:00 pm – 00:00 pm
4 – Laguna Waterpark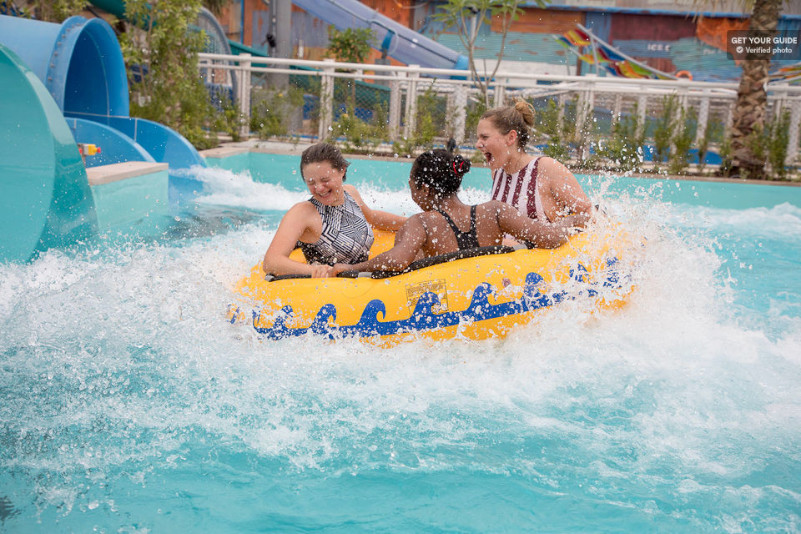 Discover one of the most adrenaline-pumping water parks in the world, as you slide and free fall on the numerous rides in Laguna Waterpark.
Experience a wide range of attractions, from zero-gravity rides in the tubular waterslides and optical illusions of going over the edge to a steady drift along the aptly named Lazy River around the water park. Laguna Waterpark is nothing short of a journey into the land of adrenaline.
Opening hours: 10:00 am – 6 pm
5 – Atlantis Aquaventure Waterpark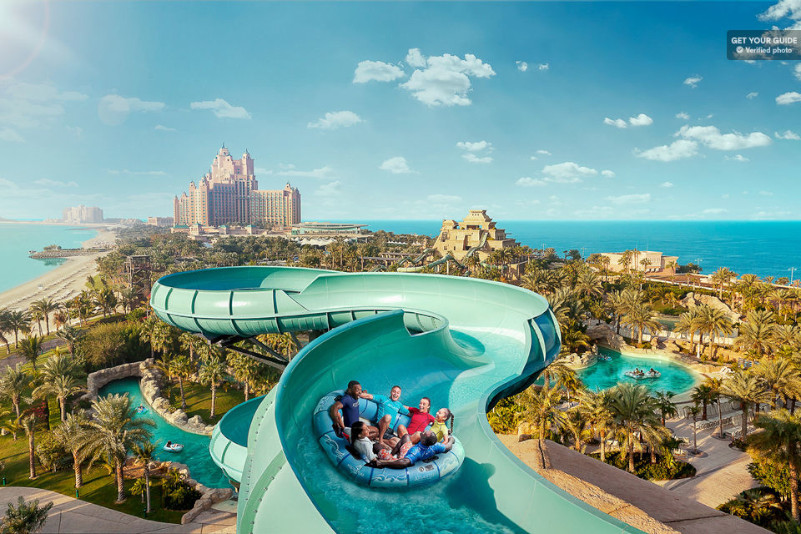 Enjoy a day filled with exotic marine creatures and some of the best, galvanizing rides and slides in this award-winning waterpark. Overflowing with 17 hectares (42 acres) of exhilarating rides and slides, the Aquaventure Waterpark has something the whole family can enjoy.
Kids can join in on the adrenaline-fueled fun on smaller waterslides and pools in Splashers Children's Play Area. You can also kick back between rides and enjoy some peaceful downtime on the park's private beach.
Opening hours: 10:00 am – 5:30 pm
6 – Ferrari World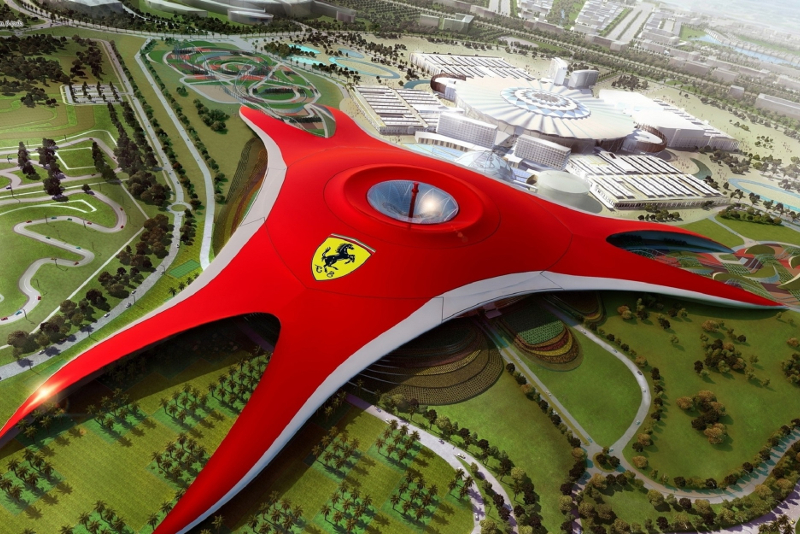 From record-breaking rides that travel at speeds known only to Formula-1 drivers to family-friendly rides and authentic Italian food, there is something for everyone at Ferrari World. Situated on Yas Island in Abu Dhabi, Ferrari World is an hour's drive from Dubai.
Pay a visit to the park's museum to gaze at the impressive collection of both the classic and latest Ferrari race cars.
Some tickets include transfer from Dubai.
Opening hours: 11:00am – 8:00pm
7 – Yas Waterworld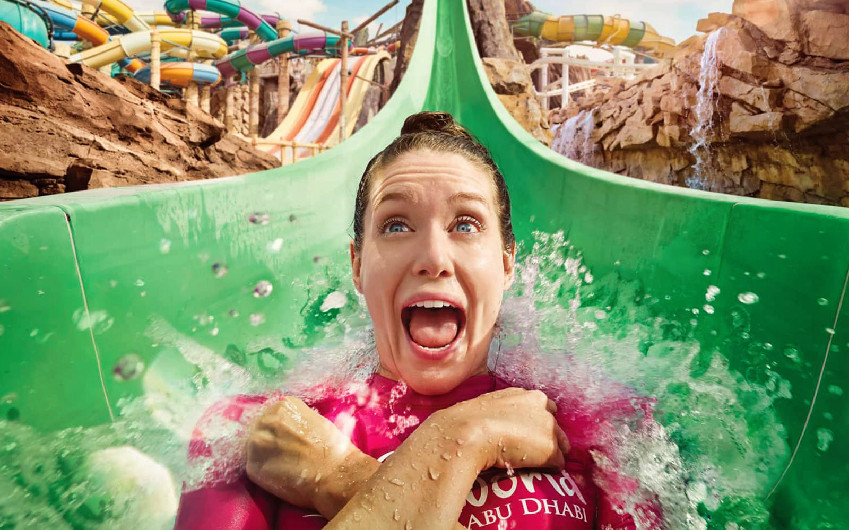 Have a fun-filled day at the famed Yas Waterworld outside Abu Dhabi and enjoy the thrill of 43 rides and slides. Yas Waterworld offers a welcome respite from the desert heat and hosts various events all year-round.
Don't miss the five one-of-a-kind rides that cannot be found anywhere else in the world. Attractions range from heart-stopping to suitable for young ones. Have fun!
Opening hours – From 6 January 2019 to 28 February 2019: 10:00 am – 5:00 pm (may vary)
8 – Bollywood Parks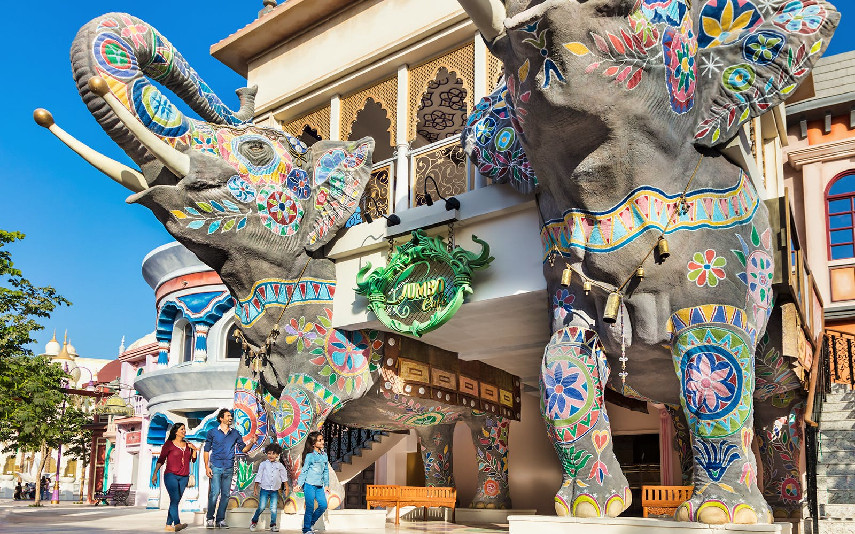 Spend an awesome day in the first Bollywood-themed park — a celebration of Mumbai's iconic film industry in 5 zones inspired by Bollywood blockbusters. Live entertainment, stage performances and flamboyant cinematic rides make up the unique experience of Bollywood Parks.
Be greeted by a vibrant display of cafés and live entertainment at Bollywood Boulevard. Experience the region's first Broadway-style Bollywood musical Rajmahal Theatre.
Opening hours: weekdays 1:00 pm – 10:00 pm; weekends 1:00 pm – 11:00 pm
9 – Motiongate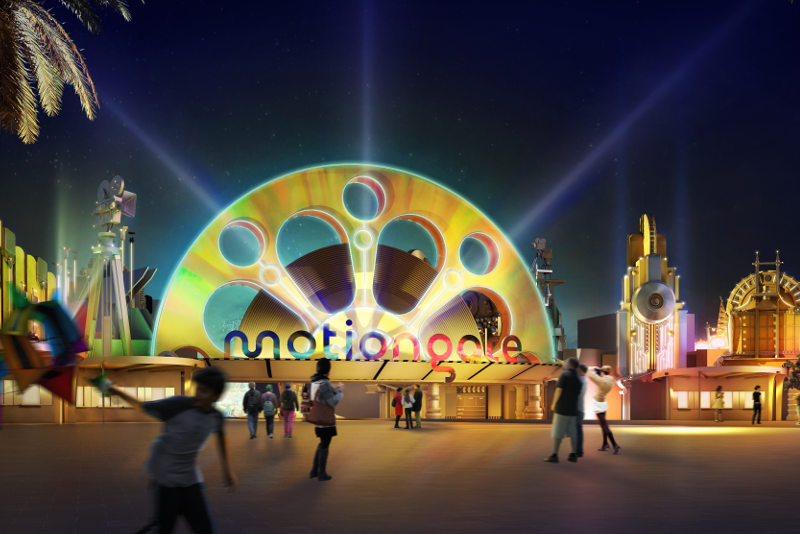 Motiongate Dubai hosts 27 themed rides from Lionsgate, Sony Pictures, and Dreamworks. Get a sneak peek at how films come to life at Sony Pictures Studios, see the four delightful sectors that make up the Dreamworks Zone and enjoy the immersive activities at the Smurfs Village.
Make memories on the roller coasters, thrilling family rides, multimedia theater shows, and interactive play zones. Adventure, fantasy, magic, and thrill await in one of the largest theme parks in Dubai!
Opening hours: Saturday – Wednesday 12:00 am – 09:00 pm; Thursday – Friday 12:00 am – 10:00 pm

10 – LEGOLAND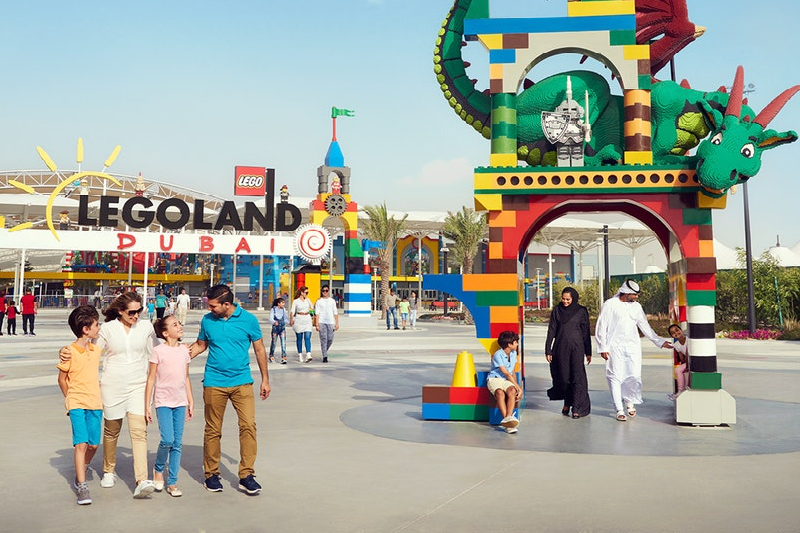 LEGOLAND hosts over 40 rides, shows, and attractions.  The park is also home to Miniland, where you can find a miniature version of Dubai's iconic skyline and key landmarks from around the Middle East.
You will get to use your hands at an interactive workshop and watch your kids drive a car or boat. Wholesome family fun guaranteed!
Opening hours: 10:00 am – 6:00 pm
11 – Ski Dubai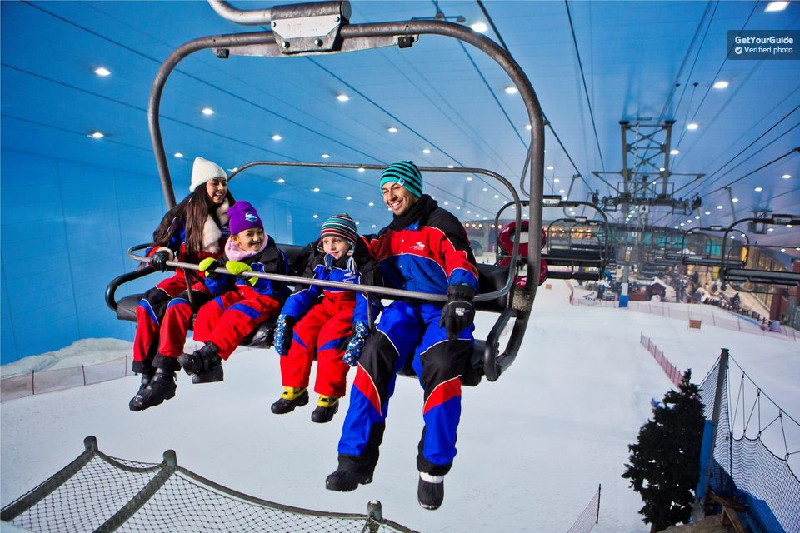 Ski Dubai is a winter wonderland in the middle of the desert. Aside from skiing and snowboarding slopes for all ages and abilities, the Snow Park offers a wide range of wintry entertainment options, including bobsledding, tubing, tobogganing, wall climbing, zorbing and snow bumpers.
Don't forget to visit the colony of King and Gentoo Snow Penguins, either by watching the daily Penguin march or during an unforgettable encounter experience.
Don't worry about packing for colder weather since winter gear will be provided to you at the park itself so you can brave the low temperature in the park.
Opening hours: Sunday – Thursday 10.00 am – 00:00 pm; Friday – Saturday 09.00 am – 00:00 pm
12 – VR park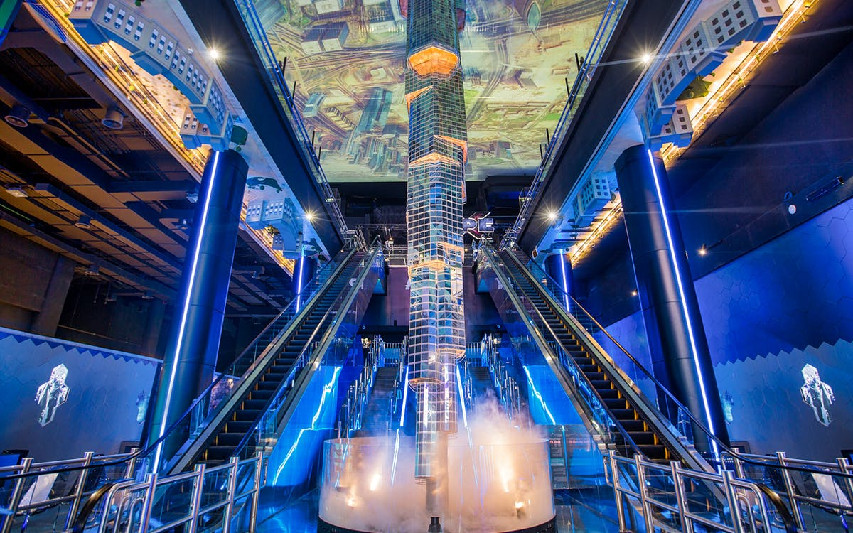 Strap on your Terminator-style headsets and get ready to blur the lines of reality at the ultimate virtual reality theme park. Discover other worlds through a range of multi-player and individual rides, interactive games, and immersive experiences.
Experience a free fall from the top of the Burj Khalifa in the Burj Drop before relaxing at the PVRK Café. It's virtually impossible to resist!
Opening hours: Sunday – Wednesday 10:00 am – 11:00 pm; Thursday – Saturday 10:00 am – 00:00 pm
13 – Dubai Miracle Garden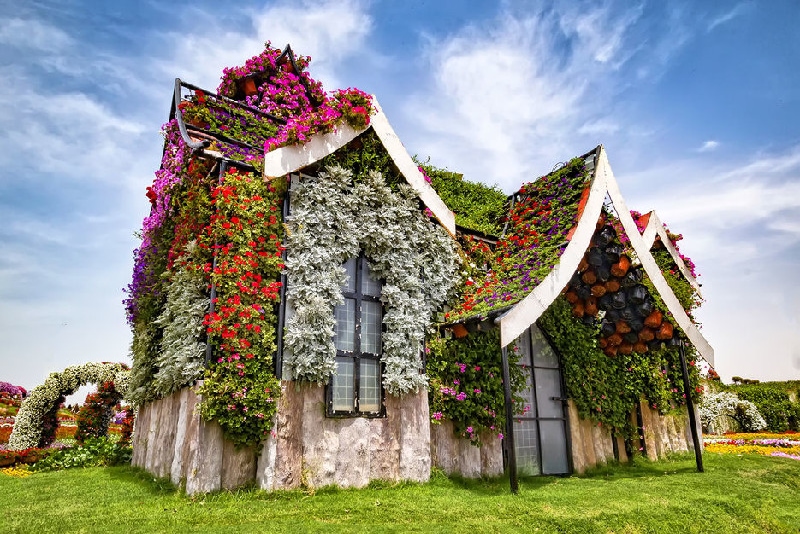 Every year from mid-November to mid-May, a 72,000 sqm space full of scents and colors comes to life in the heart of Dubailand.
This impressive floral display is made out of 45 million carefully-arranged flowers in the world's largest natural flower garden. A trampoline park and weekly live entertainment are also available on site to further lighten up your day in Dubai Miracle Garden.
Opening hours: Sunday – Thursday 9:00 am – 9:00 pm, Friday – Saturday 9:00 am – 11:00 pm
14 – Hub Zero Park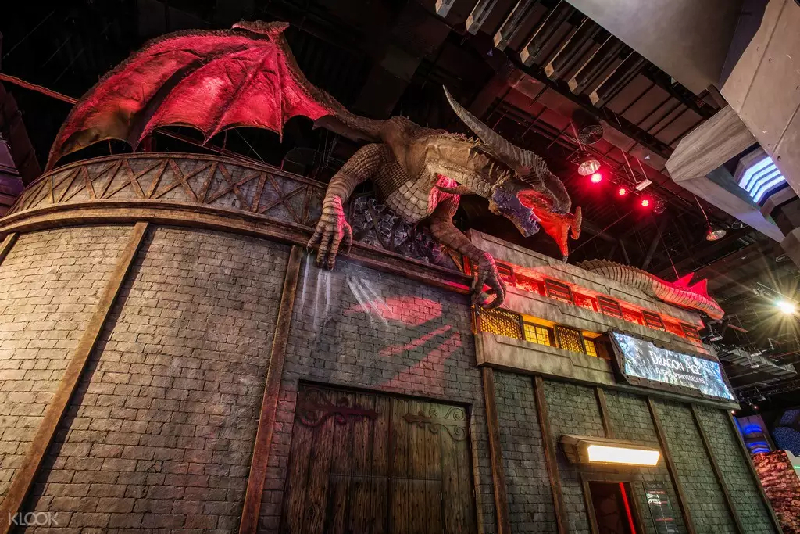 Hub Zero is a gaming-inspired theme park with 18 different attractions for both experienced and casual gamers.
The park hosts immersive attractions like spider-shooting, zombie battling, and racecar driving, as well as a ropes course, laser tag, a 4D cinema, and softball cannons.
Hit the Hero Zone, with its high-swinging rope courses, climbing walls, and the fear-inducing Leap of Faith. Brace yourselves, fun ahead!
Opening hours: Saturday – Wednesday 2:00 pm – 10:00 pm, Thursday – Friday 2:00 pm – 00:00 pm
15 – Mattel Play! Town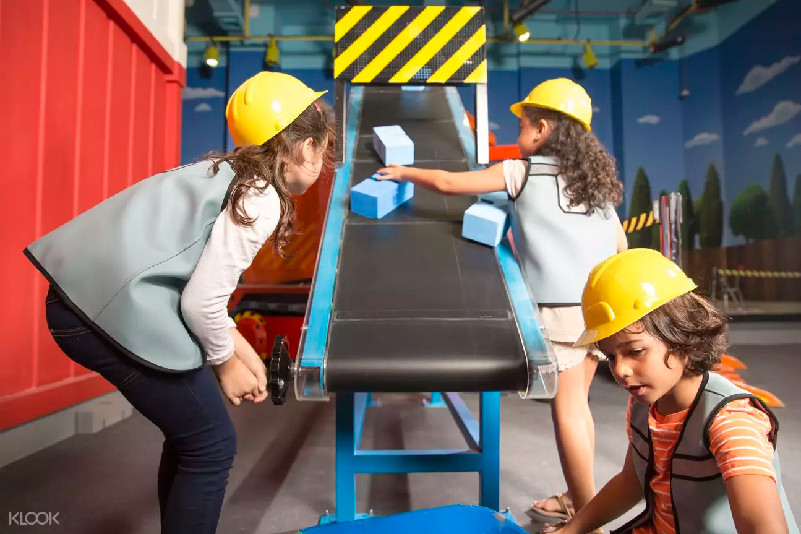 The best way to spark a child's creativity is through play, and it's always better when the little ones don't even realize they're learning!
At Mattel Play! Town, your kids can engage in a safe play space made exclusively for kids from 2-10 years old. With fun activities and experiences spread across 5 different themed zones such as Fireman Sam, and Barney the Dinosaur, this Dubai theme park helps kids develop essential social skills such as teamwork, discipline and much more!
Mattel Play! Town also offers a wide variety of healthy food to help promote good eating habits.
Opening hours: Saturday – Wednesday 9:00 am  – 6:00 pm, Thursday 10:00 am – 8:00 pm, Friday 11:00 am – 8:00 pm
16 – Kidzania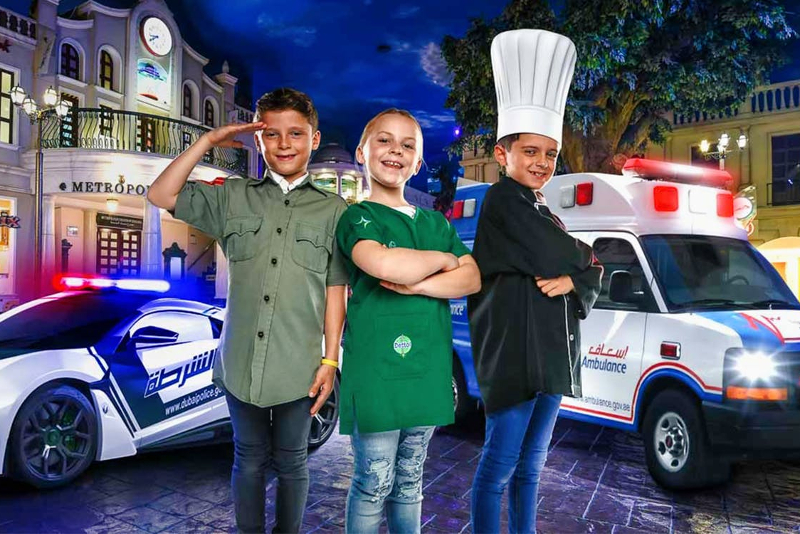 Kidzania is a kid-sized city where children get to experience adult life through role play.
Children get to choose from 80 professions including dentistry, aviation, fashion, and construction and experience what it is like to work and spend money they have earned.
KidZania helps kids express their creativity, and hone their decision-making skills as they have tons of fun!
Meanwhile, you will be enjoying food, beverages and free WiFi in the Adults Lounge, or spending real money in the Dubai Mall.
Opening hours: Sunday – Wednesday 10:00 am – 7:00 pm, Thursday – Saturday 10:00 am – 11:00 pm
17 – Wild Wadi Water Park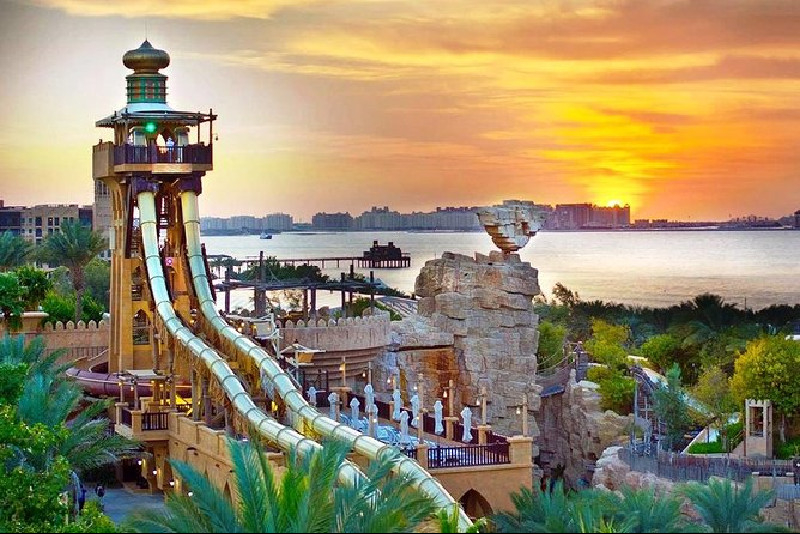 Spend a thrilling day at the Wild Wadi Water Park! Situated in front of the stunning Burj Al Arab in Jumeirah, Wild Wadi offers 30 rides and attractions for the whole family. The park's theme is based on the tale of Juha, a known character from the Arabian folklore.
Amazingly, many of the rides and slides are interconnected, with pools and water roller coasters leading you where you want to go next as you forget all about stairs and long queues.
You will find surf simulators, single and double ring rides, and giant tubes which can be ridden in groups.
Opening hours: January – February 10:00 am – 6:00 pm, March-May 10:00 am – 7:00 pm, June – August 10:00 am – 8:00 pm, September – October 10:00 am – 6:00 pm, November  10:00 am – 5:30 pm, December 10:00 am – 5:00 pm
18 – Jebel Jais zip line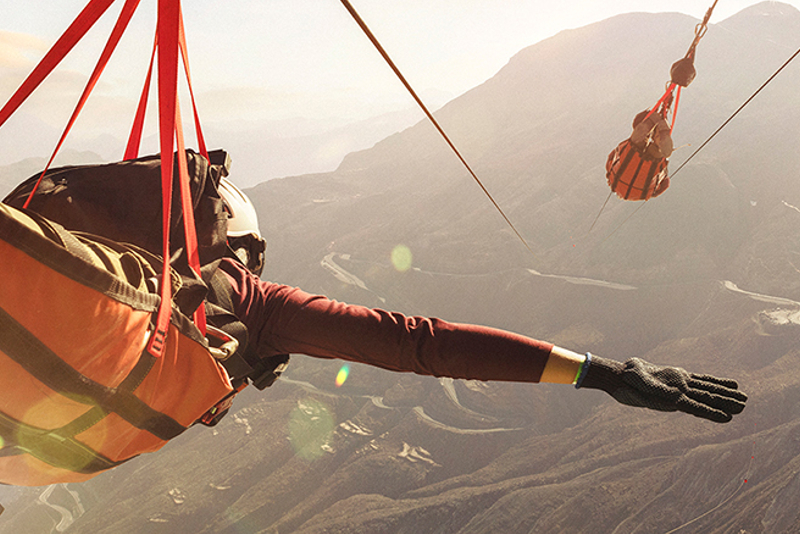 Glide down the world's longest zip line!
Just 45 minutes from the busy streets of Dubai, the Jebel Jais zip line is the longest of its kind at a whopping 2832-meters-long (9291 ft) glide. It will take you from the top of the magnificent Jebel Jais Mountain, the highest point in the Emirates, to the ground at speeds which can go up to 150 kilometers per hour ( 93 mph).
This bucket list experience is a ride you won't forget.
Opening hours: Wednesday – Sunday 9:00 am – 5:00 pm
19 – Dubai Ice Rink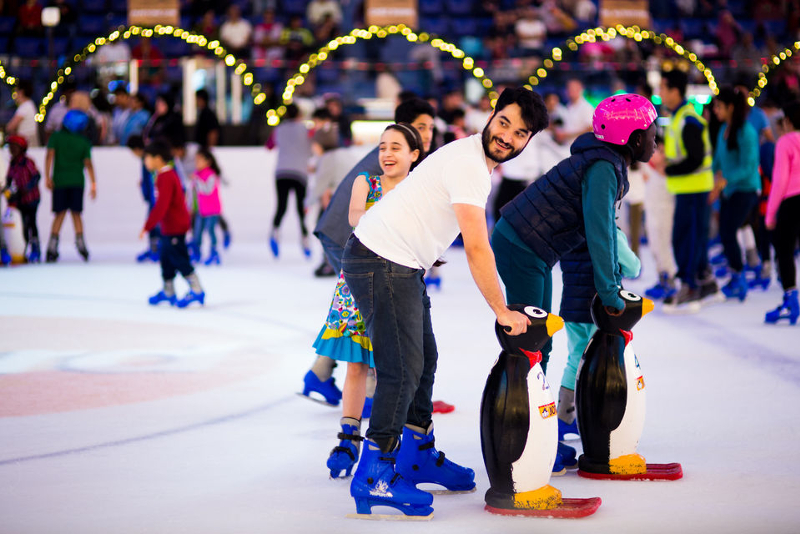 Situated in the heart of Dubai Mall, the Olympic-sized Ice Rink is the perfect place to beat the heat for both beginner and advanced skaters!
You can take courses, ride IceBykes in a dedicated area of the rink or watch a snowfall in the middle of the desert during a Dubai snowfall and grab a bite at the cafés around the Ice Rink to relax when you're done. This Ice Rink is definitely one of a kind, Dubai style.
Opening hours: 10:00 am – 10:45 pm
20 – Dubai Dolphinarium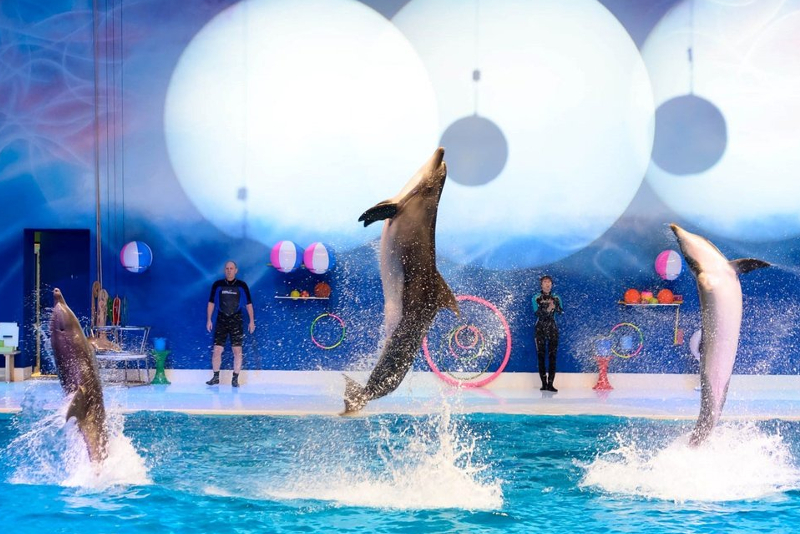 The dolphinarium is known to be one of the most fun family entertainment in Dubai. Witness bottlenose dolphins and seals dancing, singing, juggling, painting and more!
Enjoy the company of dolphins under the supervision of expert trainers the exotic bird show, a trampoline session, and the mirror maze in Creek Park.
The Dolphinarium is just behind Dubai Healthcare City.
Opening hours: Dolphin shows and seal shows 11:00 am, 2 pm & 6:00 pm, Exotic bird shows: 12:15 pm, 4:15pm & 7:15pm, Mirror Maze & 5D & 7D cinemas: 10:00 am – 7:30 pm.
21 – The Green planet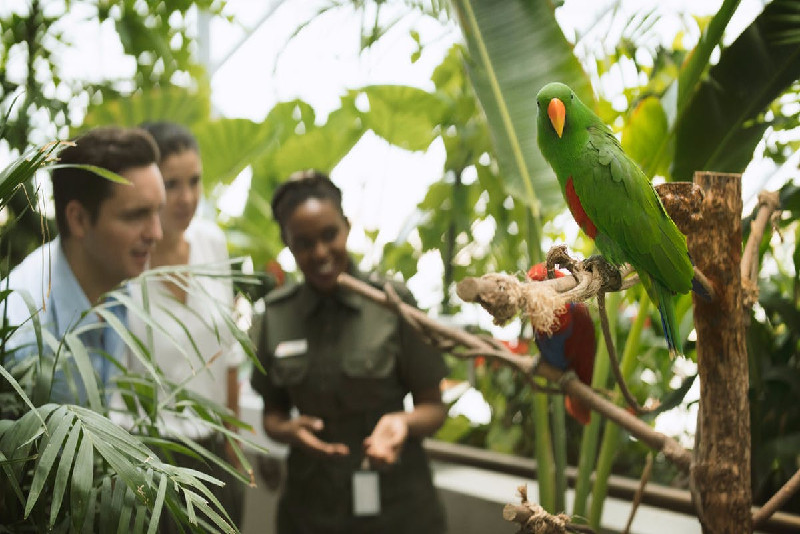 Visit Dubai's only biodome, an indoor tropical rainforest with over 3,000 plants and animals. Meet peaceful sloths and adorable sugar gliders and discover the many different layers of the rainforest as you follow the walkways from the forest floor to the canopy.
The facility raises awareness for the delicate balance of nature and the preciousness of one of our world's oldest living ecosystems making it the ideal educational destination for the entire family!
Opening hours: Saturday – Wednesday 10:00 am – 6:00 pm, Thursdays – Fridays 10:00 am – 8:00 pm
22 – The Lost Chambers Aquarium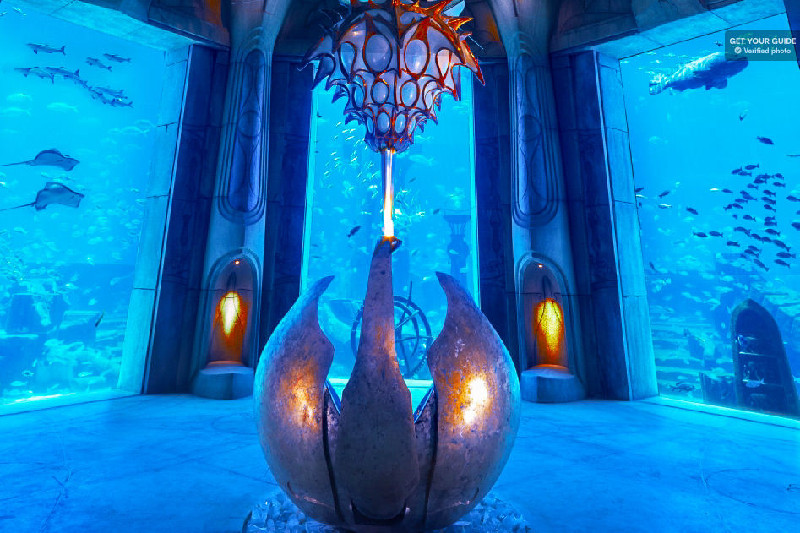 Home to 65,000 marine animals, the Lost Chambers Aquarium lets you explore the remains of the mythical city of Atlantis.
The aquarium is laid out as a series of tunnels and mazes, making everyone feel like an adventurer as they explore the deep. You can see two extremely rare white baby alligators in their natural habitat here. There are also hourly Myth Tours that focus on the legendary lost city.
Opening hours: 10:00 am – 10:00 pm
So what's your favorite theme park in Dubai? 🙂
What to do next? If you are traveling with kids, check out the best family things to do in Dubai.
If you are looking for more activities to do in Dubai, check out our guide about the top 100 things to do in Dubai!