The innovative Dubai Frame offers spectacular views out across the city, taking you on a visual journey through past and present. Looking north, you'll gaze upon the historic neighborhoods of Dubai, while to the south you'll be dazzled by the glamor of the modern-day metropolis.
Your Dubai Frame tickets are passports to one of the world's most unique observation towers. Check out the multimedia exhibitions and soak up those 360-degree views.
How much do Dubai Frame tickets cost?
Visiting the Dubai Frame is a great way to view the city from a different perspective, without breaking the bank.
Dubai Frame entry fees are as follows:
Adults: 52.50 AED ($14)
Children (3 – 12 years): 21 AED ($6)
Children (under 3 years): Free
Prices include VAT and booking fees.
Your Dubai Frame tickets are for a single visit and give you access to the exhibition galleries, and the Sky Deck for those phenomenal panoramas.
Skip the line entry is often included in the Dubai Frame entrance fee if you book through an online provider like the ones listed above.
If you want to enjoy the sunrise breakfast experience it costs 100 AED ($27) for adults, and 50 AED ($15) for children. Places are limited to just 100 so book ahead to avoid missing out.
Who is eligible for discounts?
Free Dubai Frame tickets are available for people with disabilities or special needs. Two companion passes can be issued at the ticketing counter – these are also free of charge.
Are there any combined tickets or tours including Dubai Frame and other attractions?
Combine your Dubai Frame ticket with entrance to other attractions for a great way to save time and money during your vacation. You'll be able to visit multiple sights during a single day, with minimal logistical hassle.
Dubai Frame and Dubai city tour combination visit: Check out major attractions like the Dubai Museum, Palm Jumeirah, and the Burj Khalifa, before ascending the Dubai Frame to soak up those views.
Dubai Frame and Aquaventure Waterpark tickets: Admire the city from up high on the Dubai Frame, then shoot down flumes at Aquaventure - the city's favorite waterpark.
Dubai Frame entrance with city tour and cruise: Enjoy a sightseeing excursion in the old city and a marina cruise before heading up the Dubai Frame for some selfies.
Dubai Frame tickets with afternoon tea at Burj Al Arab: Take your vacation to the next level with bird's-eye panoramas at Dubai Frame and sweet treats at the iconic Burj Al Arab.
Dubai Frame plus tickets to Laguna Aquapark and Dubai Aquarium: combine city vistas, tropical fish, and thrilling water rides on this fun combo tour.
Should you book Dubai Frame tickets in advance?
Absolutely! It's always a good idea to book your Dubai Frame tickets ahead of your trip to ensure you bag your preferred time and date. As one of the city's newest attractions, the Dubai Frame is very popular.
Reserving tickets ahead also means you'll be able to find the cheapest Dubai Frame rate too!
What will you see inside the Dubai Frame?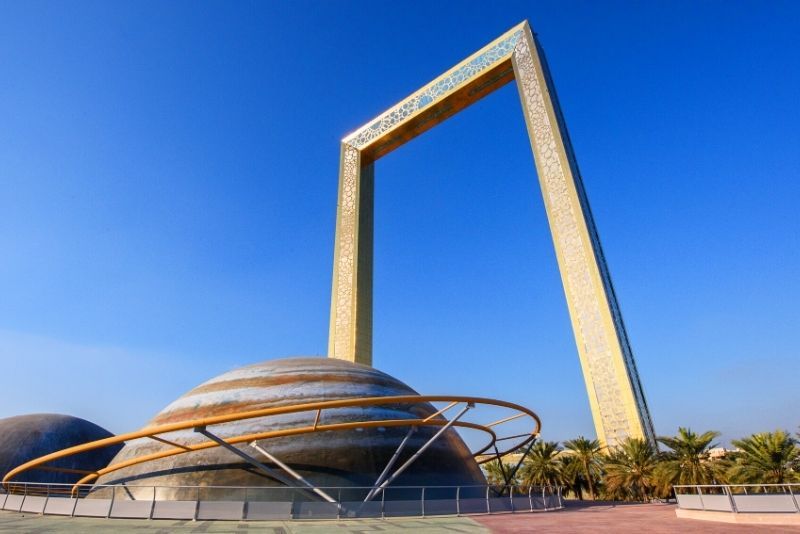 Charting the history of the city from its humble beginnings to the opulence of today, Dubai Frame is a celebration of development. Constructed from glass, steel, concrete, and aluminum, this gigantic landmark stands at 492 feet high, serving as an observation tower with some of the best aerial panoramas over Dubai.
The Dubai Frame tickets price includes an elevator ride up one side of the attraction. You'll start at the mezzanine and explore a multimedia exhibition that charts the city's transformation from fishing village to global economic powerhouse.
Continue your Dubai Frame tour through a swirl tunnel that boasts special visual and audio effects, telling the story of Dubai's future.
Finally, you will emerge on the Sky Deck to admire the city from all sides. You can watch spectacular sunsets from the top of the bridge, and stroll along the luminous glass walkway for an otherworldly experience.
For something extra special, you can enjoy breakfast during your Dubai Frame visit. Watching the sunrise behind the city's most famous landmarks while sipping coffee and tucking into delicious pastries is sure to be a favorite vacation moment.
Where is the Dubai Frame located?
You will find the Dubai Frame in Zabeel Park, sandwiched between the new and old parts of the city. The attraction is right beside entrance gate four – you can't miss it!
The easiest way to get to the Dubai Frame is on the metro – you will need to alight at Al Jafiliya station.
When is the best time to visit the Dubai Frame?
The Dubai Frame is open from 9 AM – 9 PM throughout the year. Times can vary on public holidays and during Ramadan.
Sunrise and sunset are the most magical times to visit when you'll see the city illuminated in spectacular fashion.
It does get busy at weekends, so come during the week to escape the crowds.
Which other attractions can be visited in Dubai?
Travel tips
Book your Dubai Frame tickets online to find the cheapest deals – advance reservations are advised as it's a popular attraction and the top slots do fill up fast.
Dress respectfully according to the local custom, keeping bare skin to a minimum. Avoid shorts, sleeveless tops, and short skirts.
Children under 12 years of age must be accompanied by an adult at all times during the visit.
Food and drink are not allowed inside the attraction, and large bags can be stored at the Gate four counter.
Most people like to allow around an hour for their visit.