Straddling the warm waters of the Arabian Gulf and flanked by hot, seemingly endless, red desert sands beyond the city limits, metropolitan Abu Dhabi is quickly climbing the ranks when it comes to United Arab Emirates tourism.
Full of striking contrasts, the Manhattan of the Middle East is known for its modern skyscrapers and ancient forts, century-steeped culture and vibrant cosmopolitan rooftop bars, selling itself as a fusion of tradition and innovation.
With so many things to do in Abu Dhabi for all kinds of travelers — young and old, history buffs, thrill-seekers, and culture vultures — it's an exciting, surprising destination to visit. One which, compared to its more famous neighbor, Dubai, is often overlooked by tourists (purely to the detriment of those who do so, of course).
Try authentic Gulf cuisine at Besbas Yemeni Mandi; knock back a cold one at Porters English Pub; hop around the rooftop bars; ride the world's fastest roller coasters, and plenty more! As you're about to see, Abu Dhabi has plenty to offer for anyone looking for an unforgettable getaway.
1 – See cultures combine at the Louvre Abu Dhabi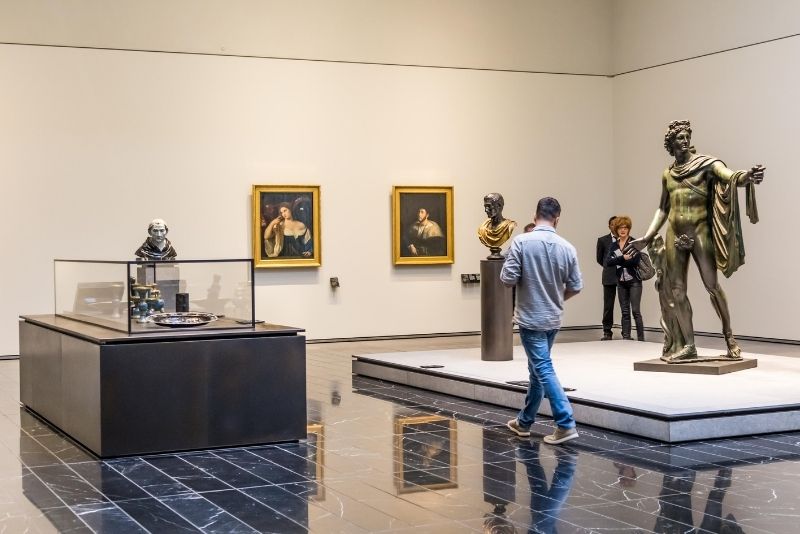 A sister institution to the famed Louvre in Paris, the Louvre Abu Dhabi aims to bridge the gap between Eastern and Western art by showcasing artwork from all over the globe. With a huge collection of works spanning 8,000 square feet of galleries, it is also the largest museum on the Arabian peninsula.
While there's nothing wrong with arranging your own trip, plenty of travelers prefer the pre-organized tours of the museum that include pick up and drop off, and also make a stop at the famed Sheik Zayed Grand Mosque.
Read more about Louvre Abu Dhabi tickets price.
2 – Ride the world's fastest roller coaster at Ferrari World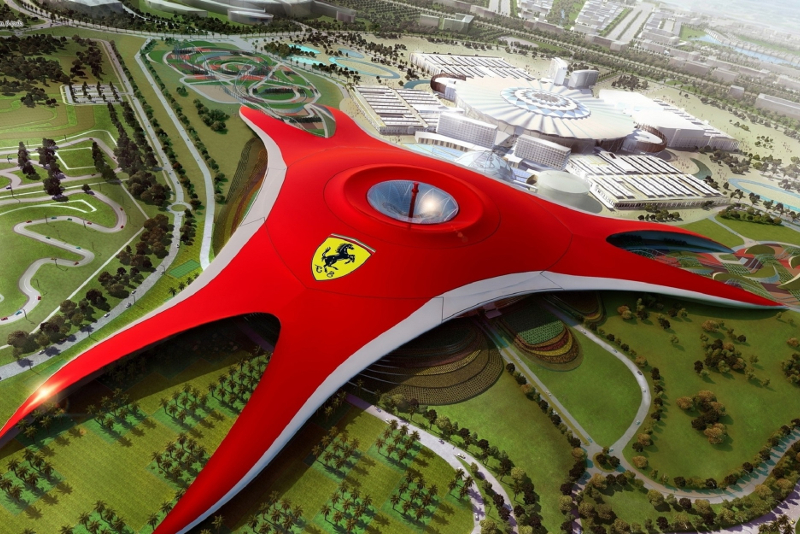 Now everyone can feel the thrill of luxury sports cars at Ferrari World, the world's first Ferrari-themed amusement park!
Besides strutting around its luxury cars, it's also one of the world's largest indoor theme parks in the world, boasting a wide variety of rides and attractions for visitors of all ages spread out across a whopping 925,000 square feet!
The park's pride and joy? None other than Formula Rossa, the world's fastest roller coaster, clocking in at speeds of just under 150 miles per hour!
3 – Tour the Sheikh Zayed Grand Mosque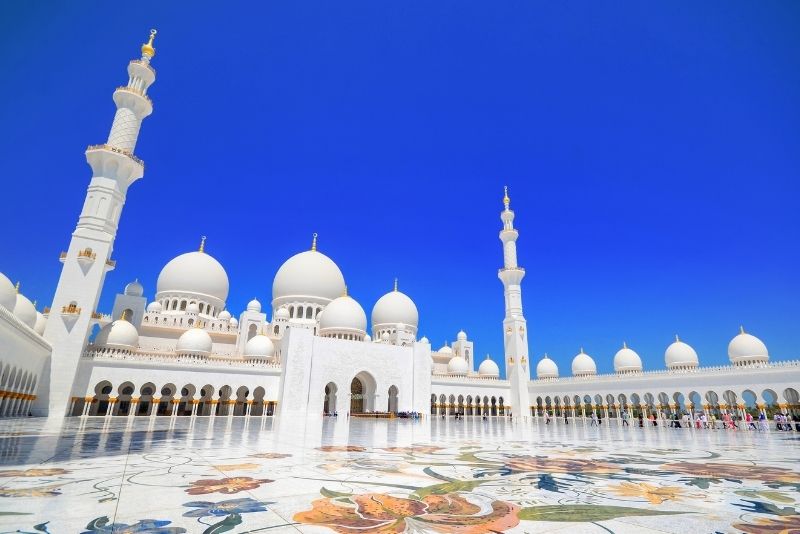 The Sheik Zayed Grand Mosque, with its welcoming majestic architecture, is the largest mosque in all of the UAE, with a capacity of a jaw-dropping 50,000.
While seeing it from afar is impressive, the best way to get an in-depth look at this stunning place of worship is with a private guided tour, where you'll be able to catch breathtaking details otherwise overlooked.
Also coming highly recommended is the equally impressive Grand Mosque South Gate Abu Dhabi, which is conveniently only a short walk away.
4 – Emulate royalty by touring the Emirates Palace hotel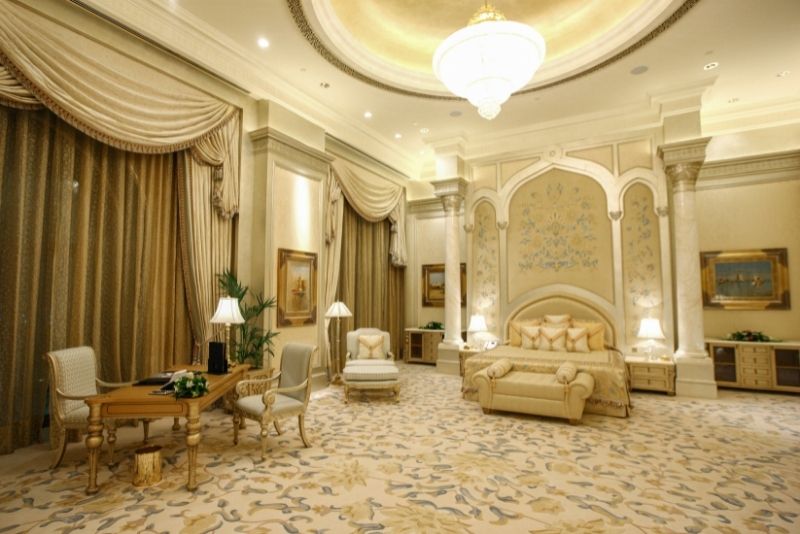 Widely regarded as one of the essential things to do in Abu Dhabi, the Emirates Palace hotel is an awe-inspiring symbol of Arabian hospitality.
A guided tour takes you through signature spaces such as the main lobby dome, the Etihad Ballroom, and the regal Palace Suite — along the way, you'll see grand marble architecture, stunning mosaics, brilliant chandeliers, and plenty more!
5 – Make a splash at Yas Waterworld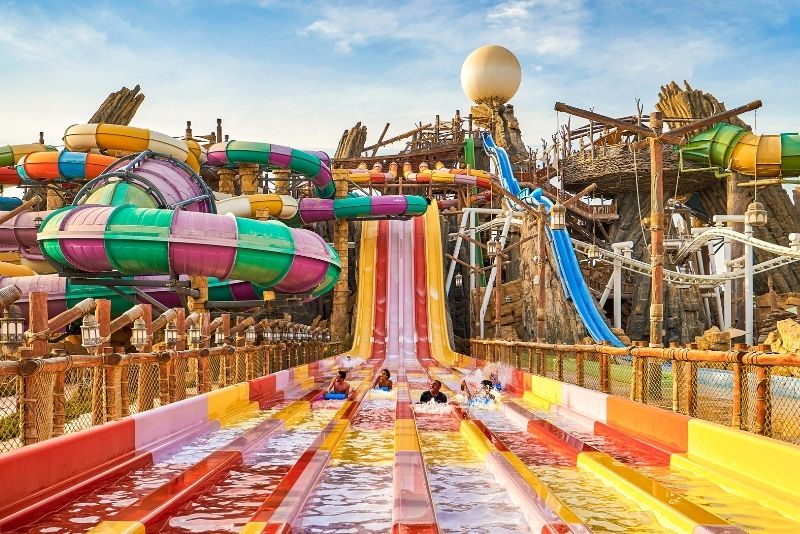 Spread out over 37 wet and wild acres, Yas Waterworld is the UAE's premier water park adventure (although a few in Dubai might argue their case).
Perfect for kids and adults alike, visitors can enjoy a refreshing day in the sun with over 40 rides, slides, and experiences — get in line for the Bandit Bomber, an 1,800-foot long water roller coaster; Bubble's Barrel, the "world's gnarliest surfable sheet wave," the Al Rava River raft ride, and plenty more.
Or, if you're feeling lazy, simply lounge around on a sunbed and work on the tan or let the currents of the wave pool whisk you away!
6 – Get a little looney-tooney at Warner Bros World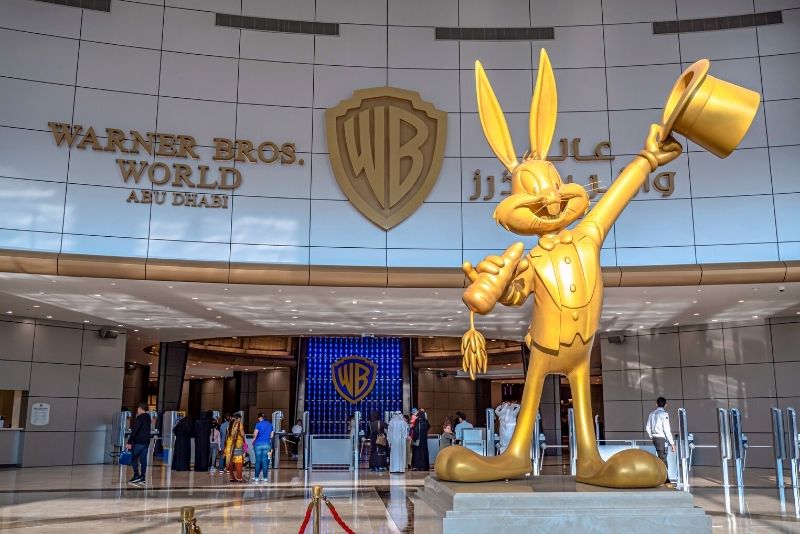 Whether you're a kid of age or a kid at heart, this giant indoor theme park, which features rides and attractions based on all of your favorite Warner Bros cartoon characters, is an absolute delight.
Not only are there 29 rides and plenty of other attractions, but you can pal around with Bugs Bunny, Fred Flintstone, Scooby-Doo, Batman, and more!
After tackling a few of the thrill (or kiddie) rides, grab a bite at one of the many themed restaurants — you may very well be eating in Bedrock, Metropolis, or Gotham City!
7 – Feel presidential at the Qasr Al Watan Palace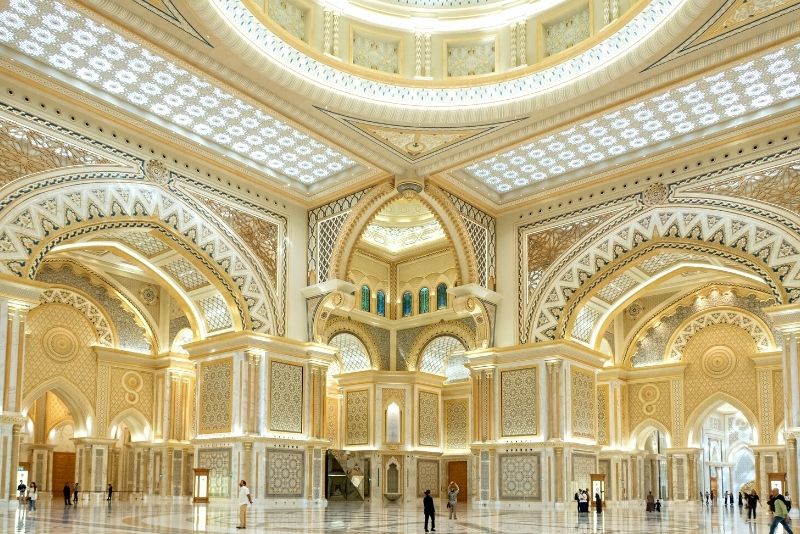 Once reserved only for private meetings with World Leaders, the Qasr Al Watan presidential palace was recently opened to the public, to the delight of many a tourist.
These days, you can tour the official residence of the UAE's head of state, admiring not only the decorated walls and ornate architecture but lush gardens and exhibitions that pay tribute to Arabian culture as well.
8 – Explore the landscape with a desert safari day trip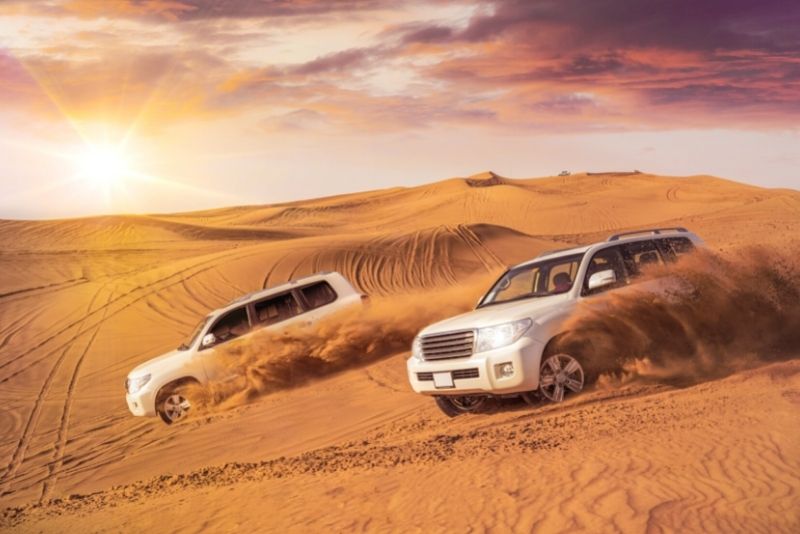 One for the adventurous souls out there, Abu Dhabi offers several guided desert safari trips each with its own unique style.
You can ride along the sand dunes atop a camel, soar down them at breakneck speeds on a sandboard, or enjoy the ride in the luxury of a Jeep 4×4 — and, for the best bang for your buck, some tours even include more than one of these activities.
For the more adventurous, overnight tours are available that include dinner, sleeping in a desert camp, and a hearty breakfast.
9 – Do it all in half a day with a city tour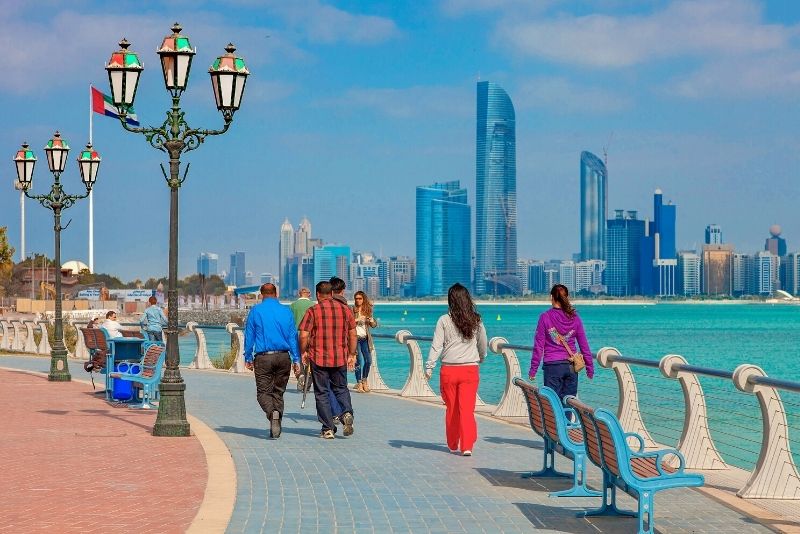 One of the fantastic things to do in Abu Dhabi if you're a total newbie to the city or if you're pressed for time, city tours allow you to visit all of the area's highlights in just a few hours with the help of a licensed, always-friendly tour guide.
While the itineraries can change a little depending on which tour you book, typically you'll see the amazing Sheikh Zayed Grand Mosque, the stately Qasr Al Watan Palace, the elegant waterfront City Corniche, several luxury hotels, grand residential buildings, and more.
10 – Get wild at Emirates Park Zoo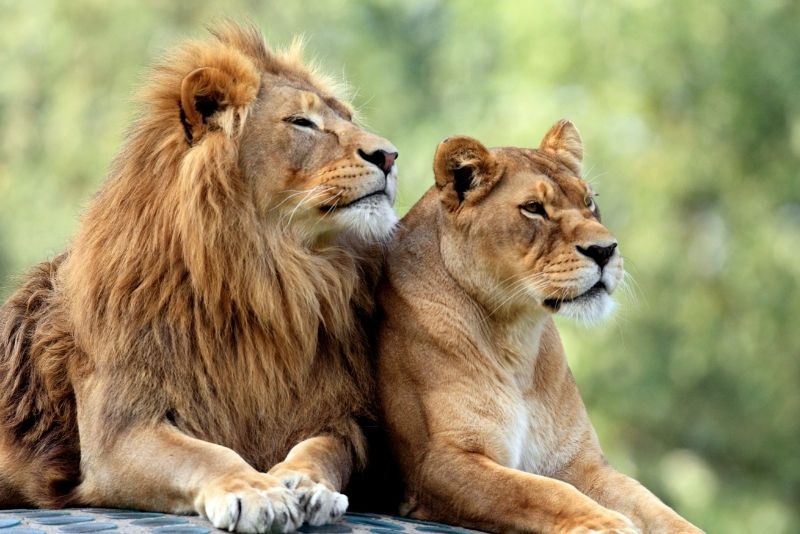 Ready to meet meerkats? Laugh with lemurs or mingle with monkeys? Then you're sure to get your fill of furry friends with Emirates Park Zoo's impressive 1,700+ animals.
Throughout the sprawling grounds, visitors can wander around at their own pace and see rare and majestic white tigers, Siberian bears, lions, cheetahs, and zebras, just to name a few.
Make sure to check out the modern giants of the Hippo House, the smiling reptiles at the Crocodile Pool, and the indigenous camels feeding at the Cattle Farm. Of course, there's also plenty of family-oriented activities like sea lion and elephant shows, and even a rope climbing park to boot.
11 – Support the economy at the local shopping malls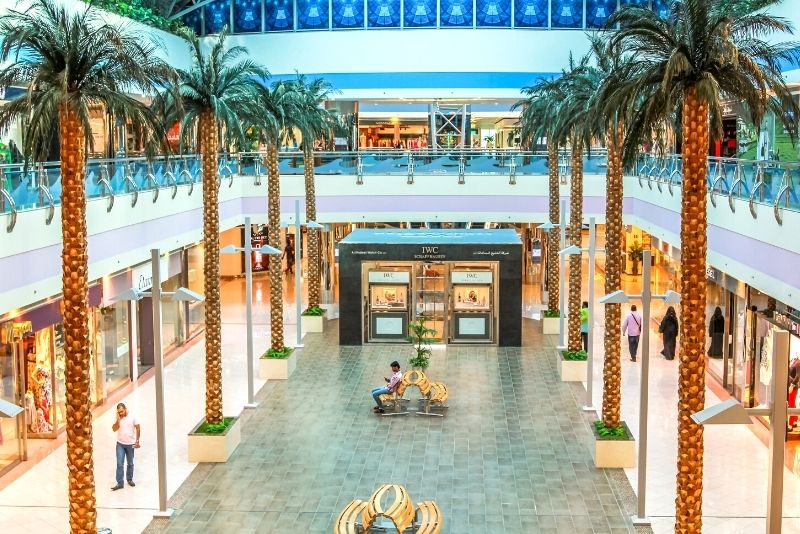 Any shopaholics out there? Well, it's your lucky day…
The Yas Mall on Yas island offers 2.5 million square feet of retail, dining, and entertainment. If that isn't enough to quench your thirst for bargains and high fashion, just over half an hour away by car is the Marina Mall, overlooking the Persian Gulf and offering five floors of fashion, leisure, and entertainment brands.
Last but not least, there's the landmark Al Wahnda Mall, which welcomes over 20 million visitors annually and offers over 350 brands covering both local and internationally famous names.
12 – Enjoy the view from Etihad Towers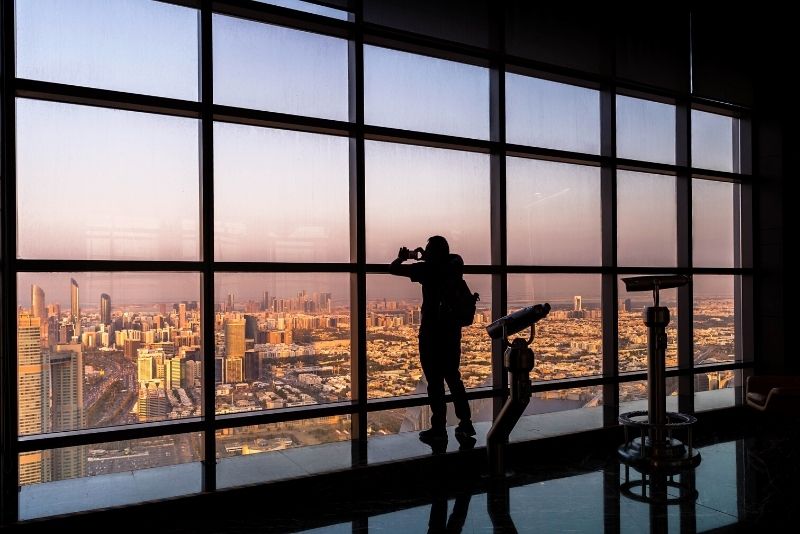 One of the more modern, often-postcarded buildings in Abu Dhabi, the luxurious Etihad Towers is a complex of five colossal, ultra-modern buildings made up of a combination of offices, apartments, and hotels.
Famous for costing nearly $800 million to build, its premiere tourist draw is the 'Observation Deck at 300' located on the 75th floor of Tower 2 — with breathtaking panoramic views at over 1,000 feet, it's up there (pun intended) with the best viewpoints in the city.
Take note: Packaged tours of Abu Dhabi often include a visit to the iconic Etihad Towers.
13 – See the bigger picture at the Abu Dhabi History Museum and Aquarium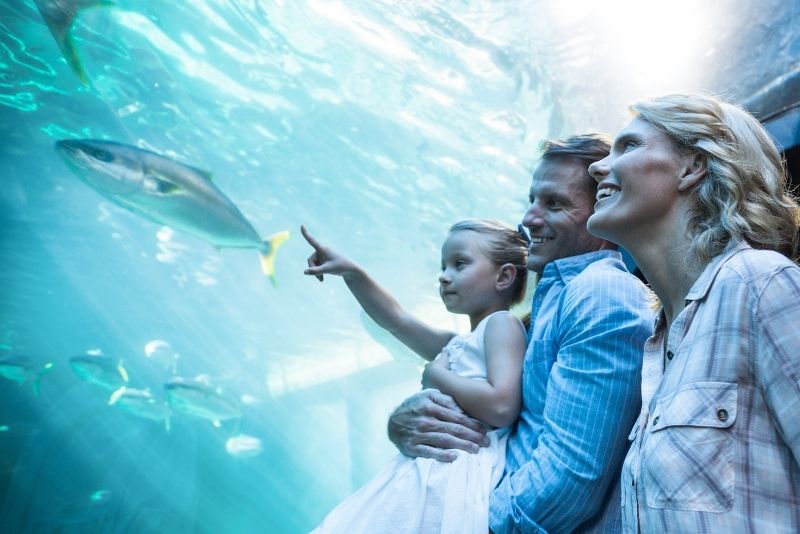 This wholly unique museum experience is much more than just reading boring old placards, as the Abu Dhabi History Museum and Aquarium uses grand diorama-style exhibits to present the rich history of the capital city from its origins in traditional desert life to the sprawling ultra-modern metropolis that is today.
Once you've navigated the history of the land, the Aquarium portion offers a look at the region's other great ecosystem.
The experience is affordable and doesn't take too long to complete (about 30 to 40 minutes), so it's perfect for families.
14 – Make a pit stop at the Yas Marina Circuit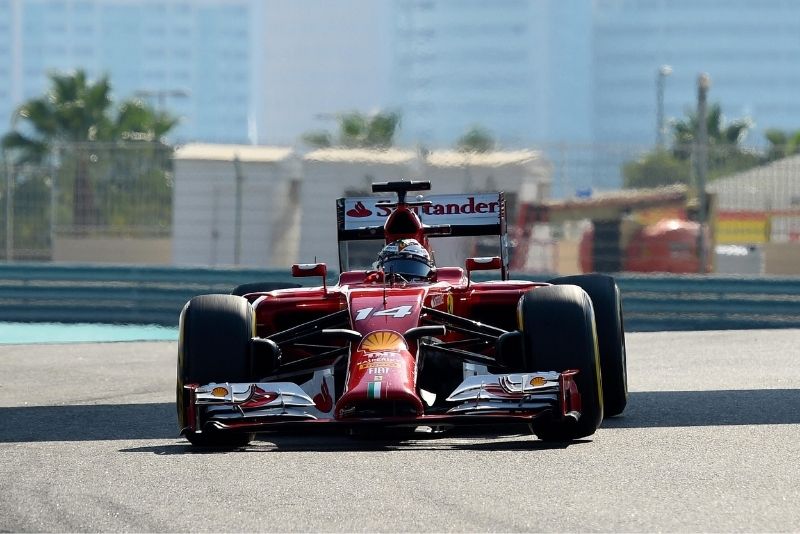 Petrolheads, listen up!
If you love racing then you can't go wrong with a tour of the Yas Marina Circuit, one of the world's most advanced Formula 1 race tracks.
The high-octane tour includes a cruise around the track in a minivan, making stops at the state-of-the-art control room, the pit garages, the Grandstand, and more. After admiring the track, the guided excursion typically ends at the exclusive Paddock Club, a high-class club where the racing elite socialize on race days.
15 – Connect with history at the Founder's Memorial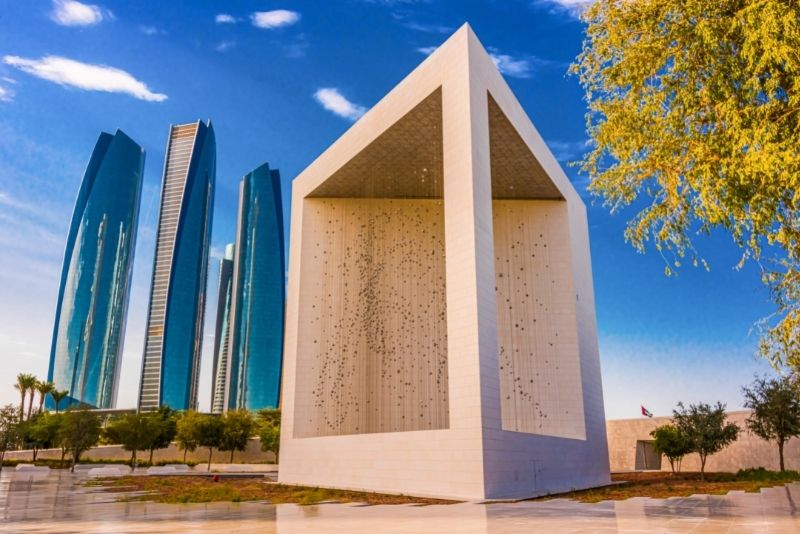 An important landmark from a cultural perspective, the Founder's Memorial monument and visitor center is dedicated to the celebration of Sheikh Zayed bin Sultan Al Nahyan, one of the founding fathers of the United Arab Emirates and its first president.
Contained within the area you'll find beautiful gardens perfect for a quiet stroll; frequent multimedia presentations if you want to learn a thing or two (guided tours are available too); and the spectacular Constellation, a dynamic three-dimensional portrait of the late Sheikh Zayed.
16 – Take a hop-on hop-off bus tour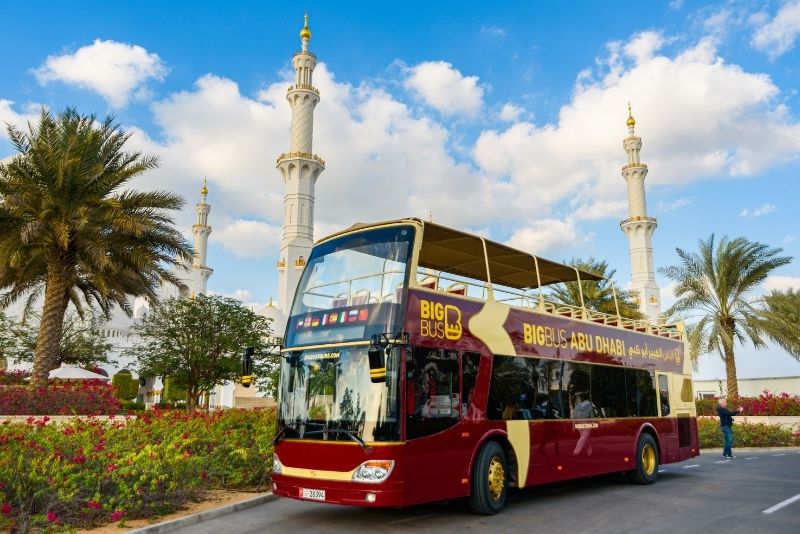 Short on time? Can't be bothered planning out an itinerary? Then say hello to your solution: tour the entire city at your own pace by hopping on or off a double-decker bus that brings you to every major tourist hot spot in the city!
With tour bus passes that last one, two, or even five days, you can let someone else do the driving and spend as much time as you want at the Grand Mosque, the seafront Corniche, the Founder's Memorial, Emirates Palace, and many of the other notable landmarks at which the air-conditioned bus stops.
17 – Soak up the sun at Corniche Beach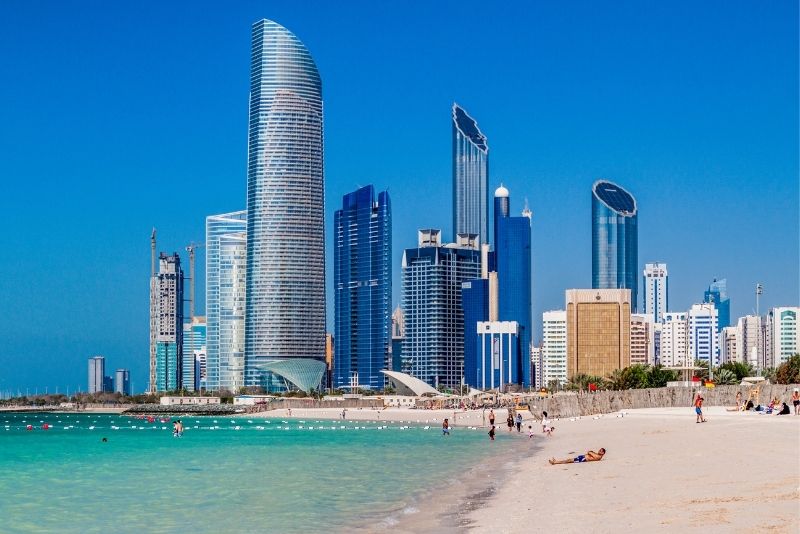 Found at the vibrant beachfront community of A'l Bahar, Corniche beach is home to swaying palm trees, soft white sands, and immaculate turquoise waters.
After a couple of days of exploring, it's the ideal spot to relax on the beach with a book in hand, stroll along the boardwalk, enjoy the well-manicured gardens, or make use of the free public sports facilities with a pick-up volleyball game.
Looking for some adventure? There are also speed boat rentals, snorkeling, and several nearby cafes and restaurants.
18 – Relax outdoors at Umm AlEmarat Park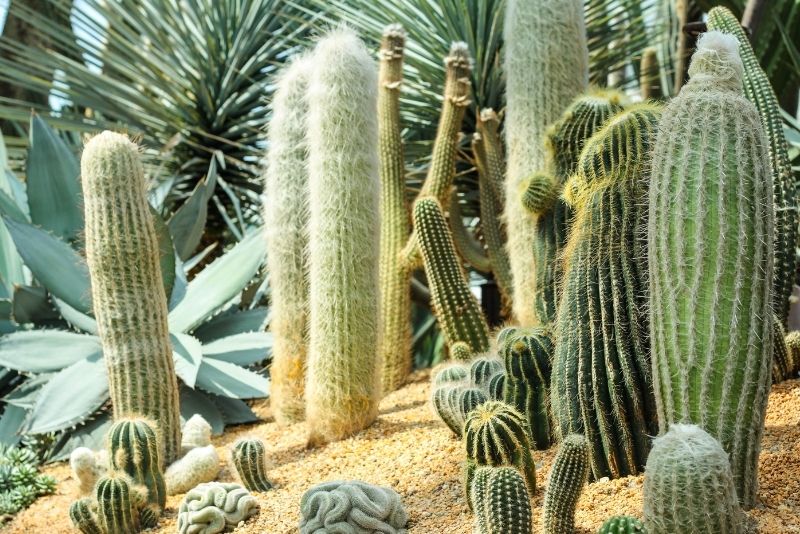 When you're looking for things to do in Abu Dhabi and you've had enough art, culture, and architecture, why not spend the day outdoors in the park?
Umm Alemarat Park features beautiful botanic gardens, an outdoor gym and running track, playgrounds, jumping fountains, a grand amphitheater that hosts music and other performances, and even a petting zoo full of native animals like camels and emus (a crowd favorite amongst youngsters).
19 – Take a sightseeing boat tour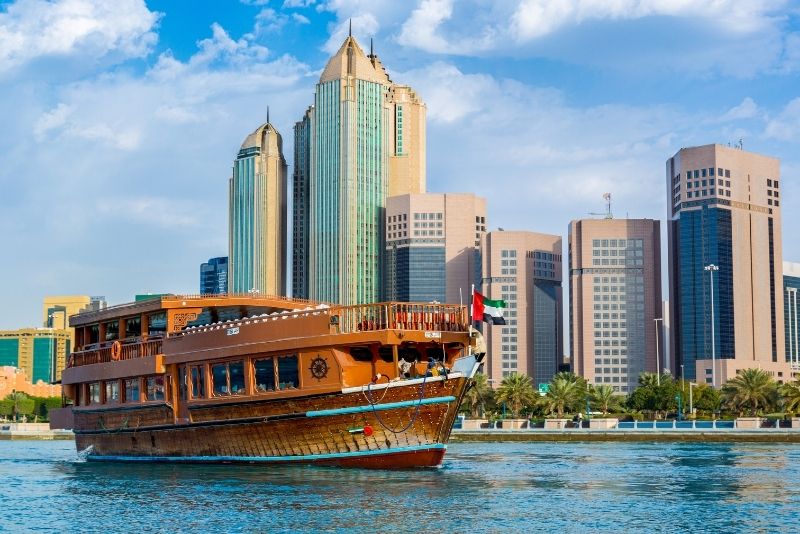 There are plenty of options to choose from, including cruises and speedboats – an absolute must for any thrillseekers out there. Take off from Abu Dhabi Marina with a refreshing sea breeze perfectly cooling off the ever-hot UAE days!
Led by a friendly captain and English-speaking instructor, you'll speed along the coast, stopping for photo ops at major tourist attractions along the way.
As the breeze hits your face, expect your skipper to fill you in on all the details of the brilliant 21st-century skyline, and dish out facts about Heritage Village, Lulu Island, and spectacular Emirates Palace. If you're lucky, you may even spot a pod of dolphins!
20 – Take an ice skating lesson Zayed Sports City Ice Rink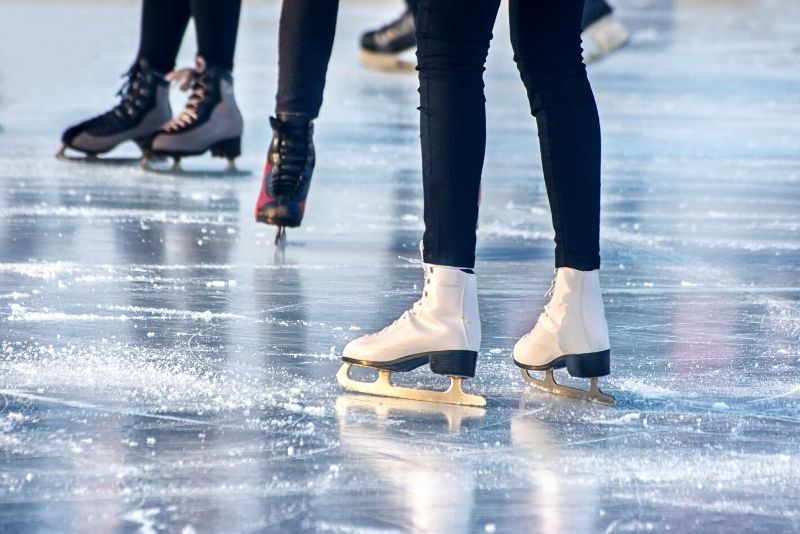 Searching for a bit of romance? Or perhaps just something nice and cold to give yourself a break from the toasty desert sun? Either way, Zayed Sports City Ice Rink offers public ice skating sessions through the Zayed Sports Academy.
Other sports offered include figure skating, ice hockey, and ringette, an ice hockey game created for women and young girls.
Depending on what you prefer, can book a spot in a public skating session or book a private ice skating lesson with a seasoned coach — you'll be pirouetting in no time!
21 – Kick up some sand on a quad tour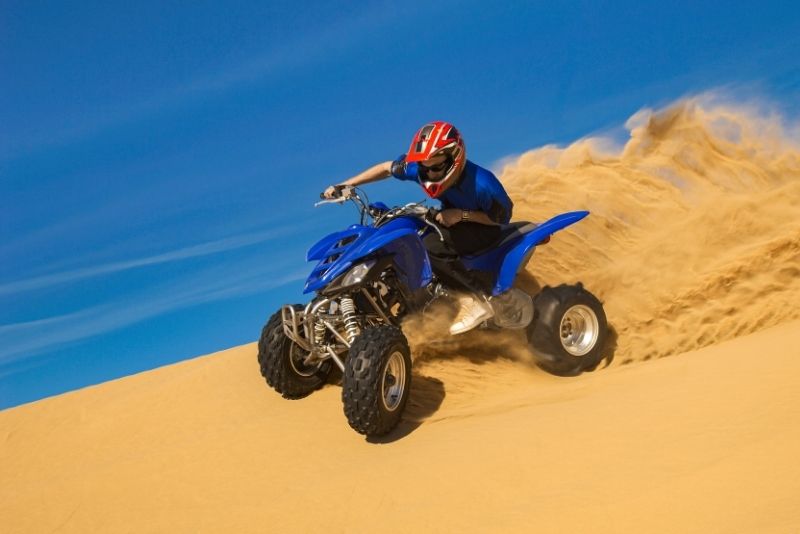 A great way to explore the real UAE, beyond the modern skyscrapers, quad bike tours give travelers the chance to feel the adrenaline rush as you explore the wonders of the Al Khatim Desert!
While there are a few different options, some adventures begin with a stop at a camel farm where your safari marshal shares the role these gentle creatures play in local life. From there, you'll hop into a 4×4 and experience the thrill of dune bashing! Then it's time to hop on your quad and take a thrilling ride through the slopes of the sandy dunes.
22 – Marvel at the Aldar HQ Building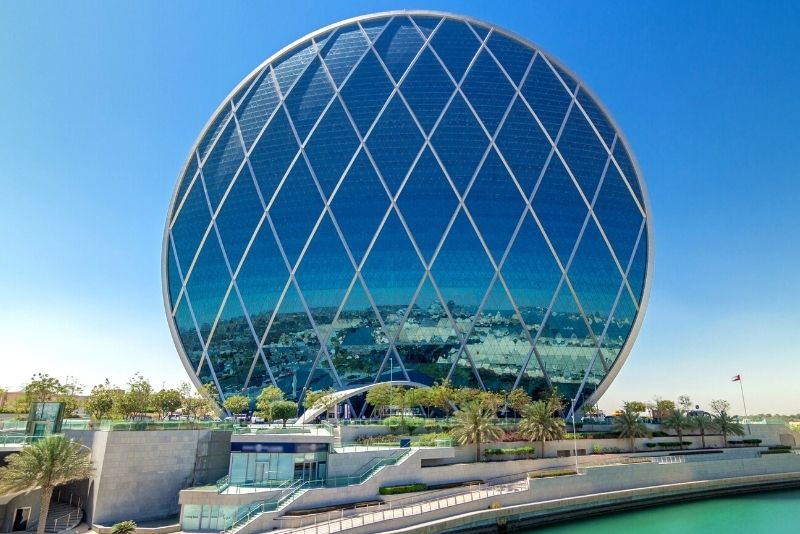 A bizarre landmark yet certainly worthy visit, Arabia's first circular building, Aldar HQ is a 23-story, 360-foot-high structure that has been named One of the World's Most Dazzling Corporate Offices.
The brilliant architectural wonder stands proudly like a giant, shiny coin. As you'll see, it's even more spectacular when lit up at night.
Though you have to work there to get inside, the exterior attracts millions of visitors annually.
23 – Zoom into Emirates National Auto Museum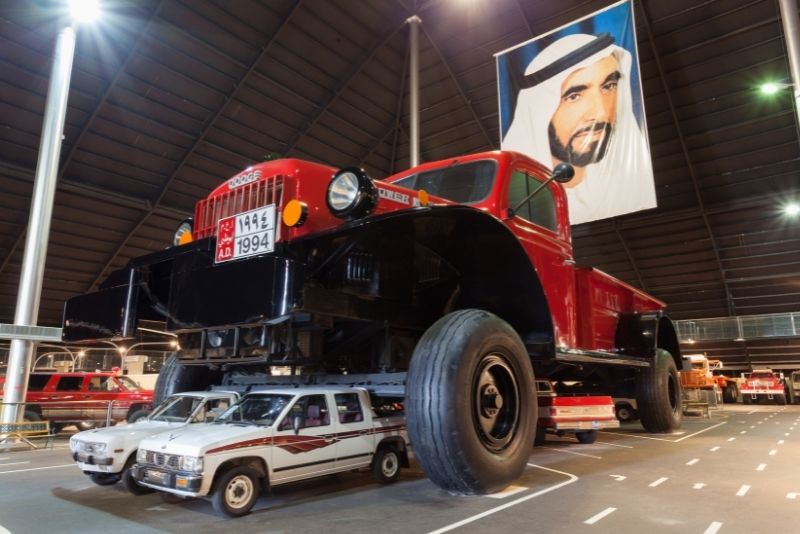 A sweet little gem outside the city proper that even casual auto fans will appreciate, this uniquely pyramid-shaped museum houses 200 cars belonging to His Highness Sheikh Hamad Bin Hamdan Al Nahyan.
The impressive collection at Emirates National Auto Museum, some of which have been featured on the BBC show Top Gear, features off-road vehicles, classic American cars, the Sheikh's Mercedes rainbow collection, and the world's largest truck.
Traveling with kids? Lucky you! Children under 10 get in free!
24 – Soar over the city in an airplane tour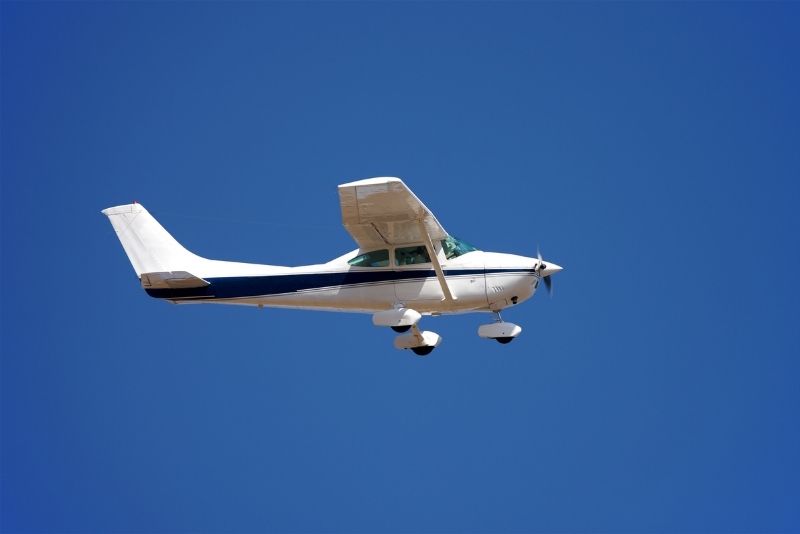 Experience a thrilling bird's eye view of one of the world's most spectacular cities, where golden beaches flank turquoise waters, with red desert sands in the distance — an incredible contrast of colors.
Board a seaplane, take off from the water and soar over beautiful landmarks like the Etihad Towers, Emirates Palace, the Grand Mosque, and Ferrari World.
If your pilot takes you down to Dubai, you'll even take in spectacular views of the man-man islands like Palm Jumeriah, designed to resemble a palm tree.
25 – Jump around at BOUNCE Abu Dhabi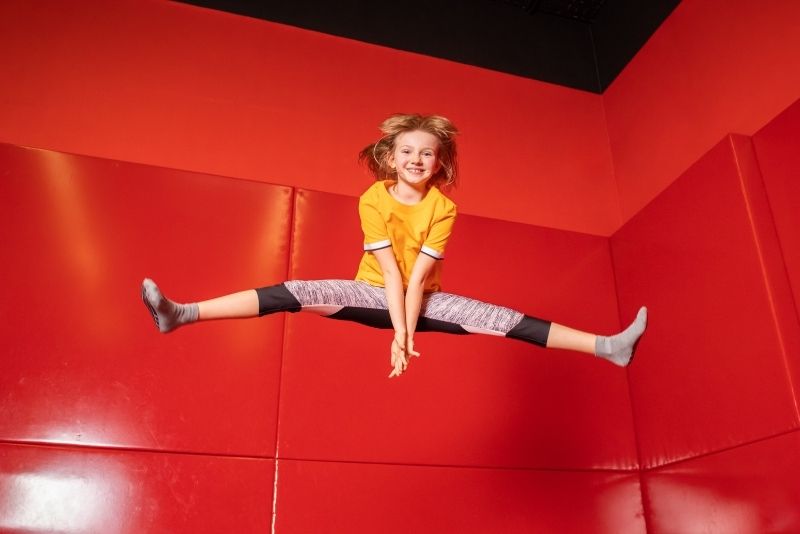 If you're looking for things to do in Abu Dhabi with your family, you can't go wrong with BOUNCE Abu Dhabi, a vast Freestyle Playground! Play, jump, and bounce on seemingly endless trampolines, slides, airbags, padded obstacle courses, zip lines, and exciting parkour elements!
The BOUNCE mission is to 'inspire movement, creative expression and human connection' and this is all done in a giant, 30,000-square-foot completely safe arena of fun.
26 – Ride the Marina Eye Ferris wheel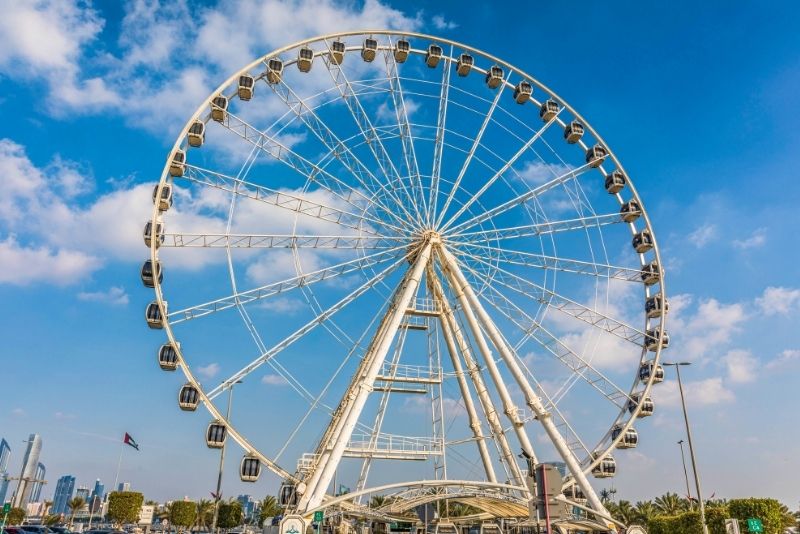 Soaring a whopping 820 feet in the air, the Marina Eye boasts the claim to fame of being the world's tallest Ferris wheel (take that, London Eye)!
As you'd expect, the giant, record-breaking structure, located on Bluewaters Island, offers visitors unparalleled aerial views of the city's majestic landmarks.
The observation wheel is open seven days a week and features 42 standard capsules and several luxurious VIP capsules for the real "high roller".
27 – Feel the freefall while indoor skydiving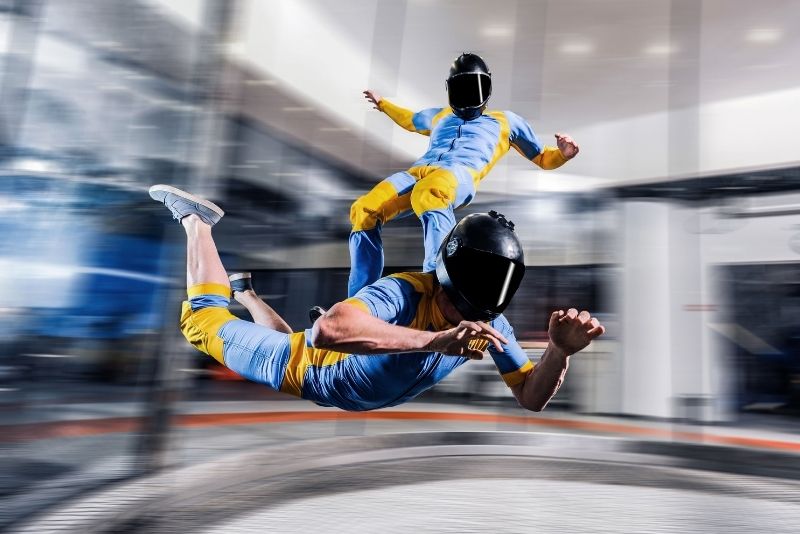 Ideal for thrill-seekers who aren't quite ready to take the leap of faith from a plane and skydive in the open air, Clymb Abu Dhabi is the world's biggest indoor skydiving flight chamber, with a record-breaking width and height of 32 and 104 feet respectively.
So gear up and enjoy an exhilarating skydiving experience under the guidance of an expert instructor. That said, If you'd rather climb than fly, then no worries at all — also in the facility is the world's tallest climbing wall, measuring a whopping 114 feet.
28 – Check out AlMaqta'a Fort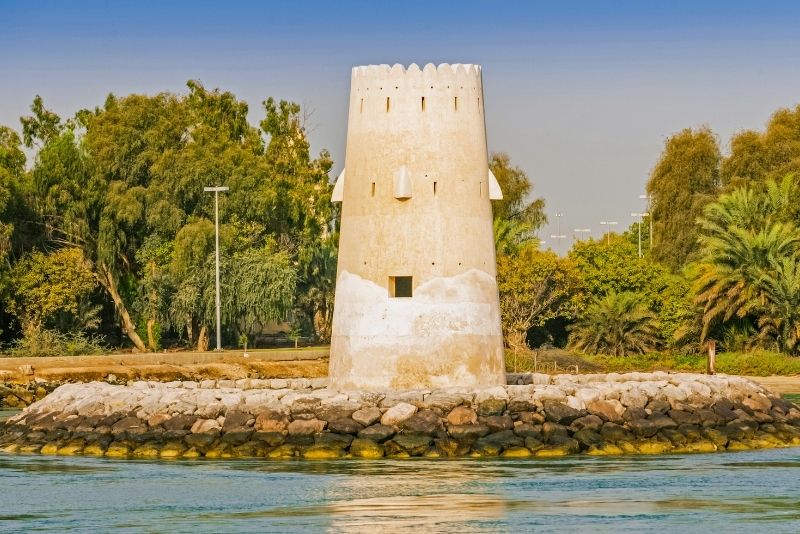 Hidden amongst the glitzy, futuristic landscape of Abu Dhabi is one of its oldest structures, the postcard-worthy AlMaqta'a Fort.
Built over two hundred years ago when the city was little more than a fishing and trading port, the fort was used as a defense against bandits and has stood the test of time since.
Hot tip: Consider asking a guide or taxi driver to take you there, as the intricately designed structure can be a little difficult to find.
29 – Set sail on a dinner cruise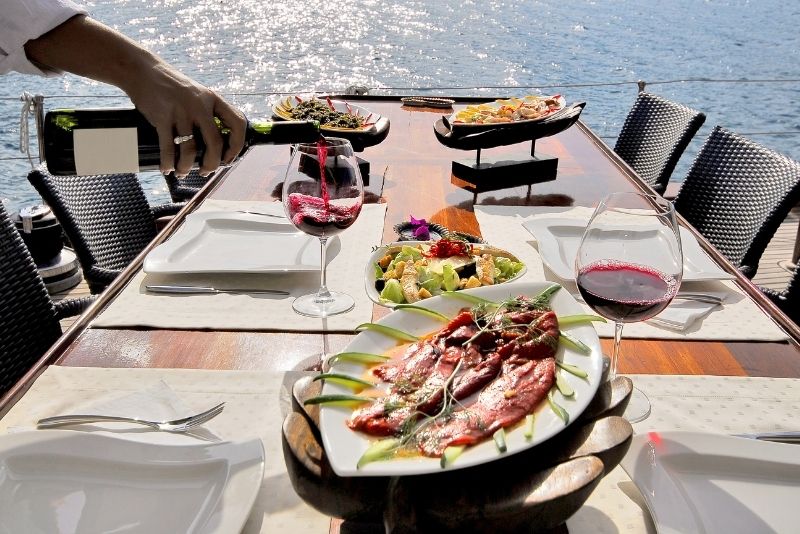 Looking for a romantic evening? Then grab your better half and jump aboard a Dhow dinner cruise!
These traditional Arabic sailboats have been updated with massive windows, buffets, and fully stocked bars onboard, offering you a wonderful chance to gaze at the stunning skyline of Abu Dhabi as it reflects off the sparkling Abu Dhabi Creek.
With authentic local cuisine (meat, fish, veggies, and more) and unobstructed views from every angle, why not spend an evening soaking up the warm, open air?
30 – Experience nearby Dubai on a day trip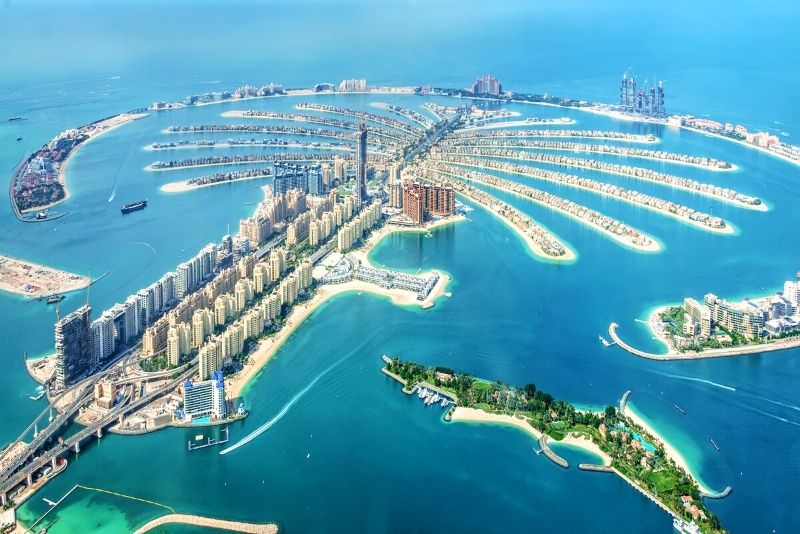 If you've already ticked off most of the main things to do in Abu Dhabi, there's an infamous neighboring city just begging for a quick visit: the City of Gold — none other than Dubai!
While there's nothing wrong with organizing your own adventure, most travelers prefer to take the stress out of planning and book a pre-arranged, all-inclusive local tour instead.
Most offer hotel pick-up and drop-off and include visits to the city's most popular sites, like the Dubai Museum, the Sheikh Zayed Mosque, and the Qasr Al Watan Palace — and, of course, the towering Burj Khalifa.
31 – See the animals at the Arabian Wildlife Park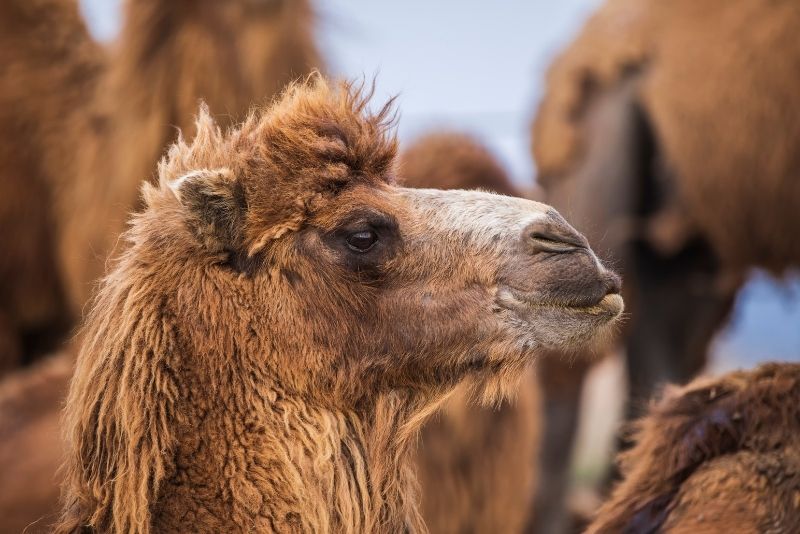 If you're hoping to escape the city crowds for a few hours and take a moment to get up close and personal with nature's most beautiful creates, look no further than the Arabian Wildlife Park — a fantastic, albeit surprising attraction located on Sir Bani Yas Island.
With over 17,000 free-roaming animals taking over half of the island, this is a perfect place for animal-loving visitors of all ages.
A popular pastime, be sure to stand on one of the many platforms to see the variety of residents as they roam their natural habitat — at that height, you may even get lucky enough to see a giraffe eye to eye!
32 – Spend a day at the Abu Dhabi National Exhibition Centre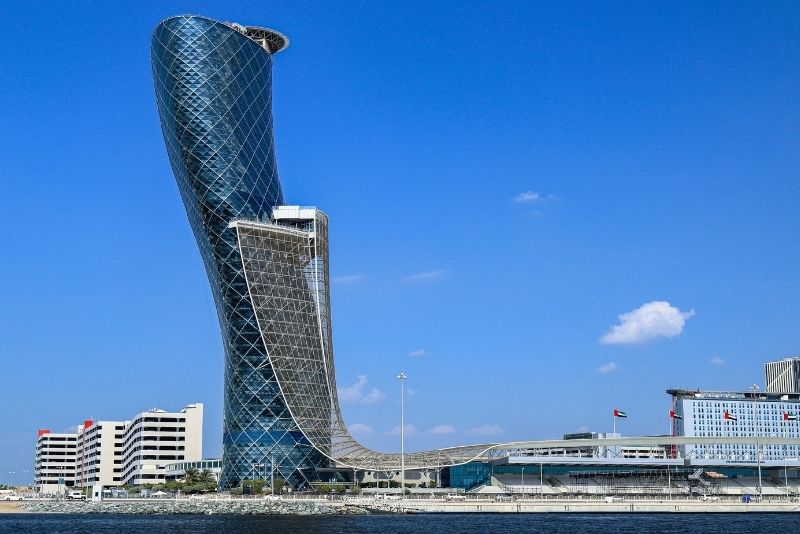 As one of the world's best international venues, the Abu Dhabi National Exhibition Centre almost always has an exciting event (or sometimes multiple events) going on.
A magnet for locals and tourists alike, the complex hosts sought-after affair the International Motor Show Abu Dhabi, the International Hunting and Equestrian Exhibition, and everything in between.
Even if you aren't there for a specific show, you can grab a bite to eat at one of the delicious restaurants inside or simply take a peek inside to admire the modern layout and beautiful marina.
33 – Step back in time at the Al Ain oasis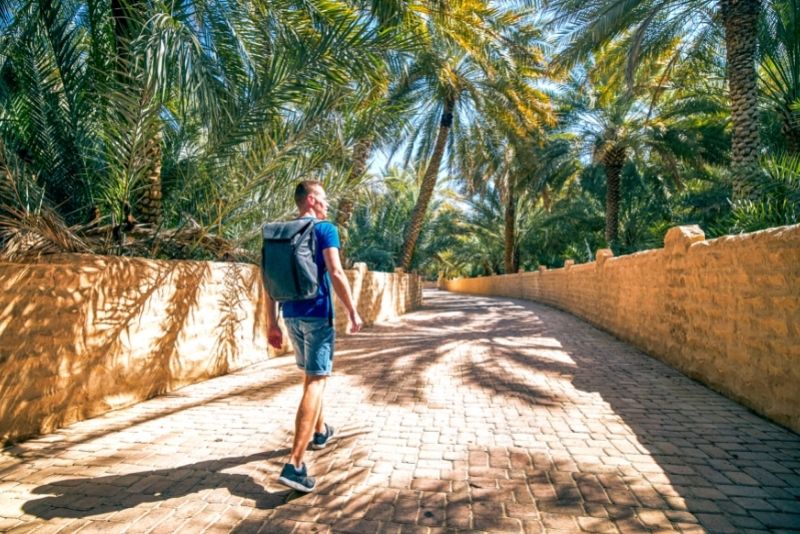 Straddling the eastern border with Oman, the getaway city of Ai Ain is teeming with activities, is rarely crowded, and boasts a reputation of utmost historic significance.
More specifically, ask any past traveler and they'll attest: The Al Ain Palace Museum (also known as Sheikh Zayed Palace Museum) is one of the most interesting historical attractions in the greater Abu Dhabi area.
Built from clay, plaster, and palm trees in a traditional regional style, this site provides a glimpse into what life was like for the ruling family and community after the discovery of petroleum; the iconic building was once home to the late Sheikh Zayed and his nearest and dearest.
While the Museum is great on its own, no doubt, why not take a tour of the entire oasis to get the most out of your visit?
34 – See the flamingos at Al Wathba Wetland Reserve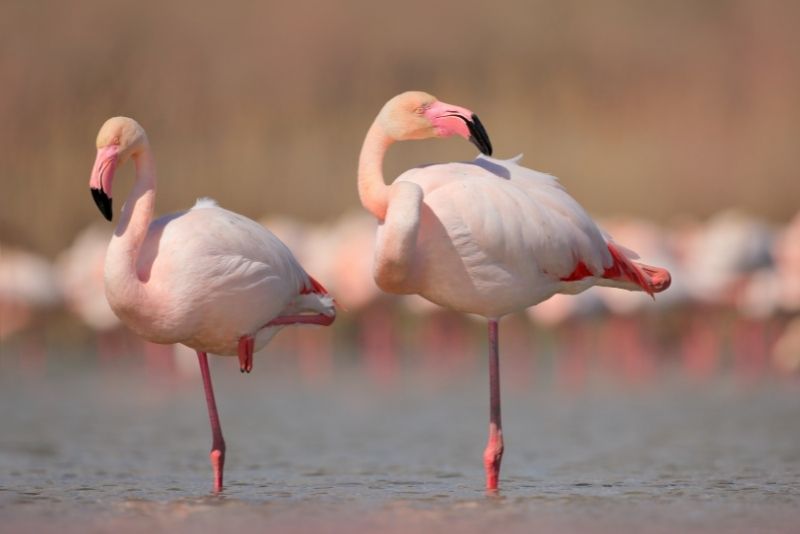 The Middle East may have a lot of desert land, but you may be surprised to learn it has quite a diverse marine ecosystem too!
While we usually associate Abu Dhabi with modern architecture and city living, it's a different story at the Al Wathba Wetland Reserve: here, you can find some of the rarest wildlife on the planet.
The biggest draw? The 4,000 bright and beautiful flamingos that call this reserve home during the (still toasty) autumn and spring!
35 – Relax at Saadiyat Beach Club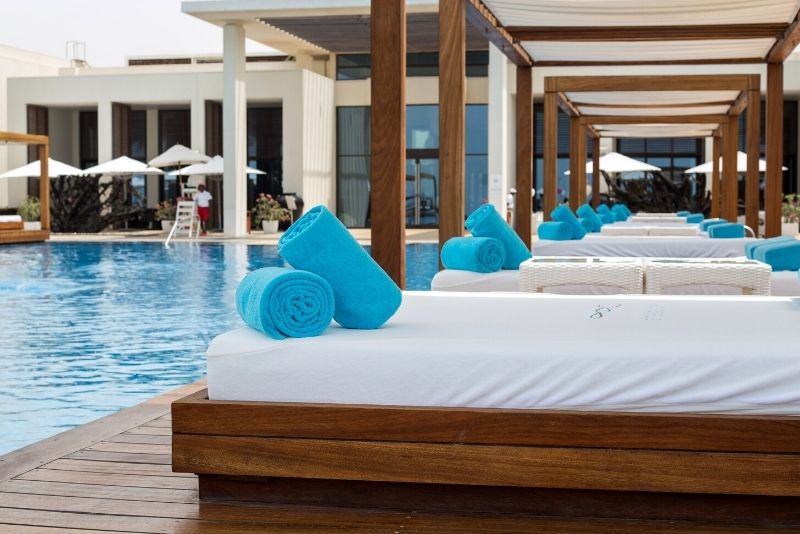 Dreaming of luxury? Then take note: Book a day pass at the Saadiyat Beach Club.
Located in one of the most exclusive destinations in the world, VIP guests can enjoy all the undisturbed nature and high-quality services the club has to offer, whether that be the infinity pool, top-notch fitness center, upscale barbershop, or pampering suites.
With stunning white sand and turquoise water, this is the perfect spot for some well-deserved R&R.
36 – Speed through the water on a jet ski!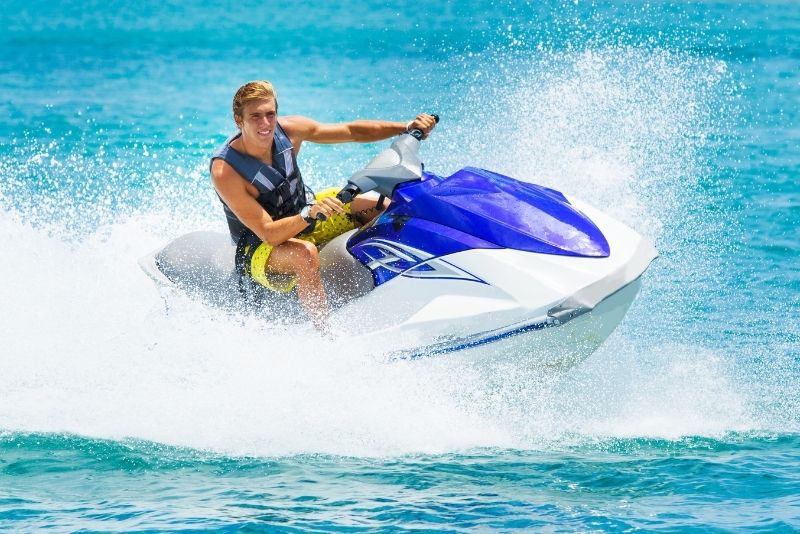 Thrill-seekers, this one is for you. The ideal blend of outdoor adventure and relaxing time in the sun (depending on how hard you twist the throttle), even if you've never been on one before, there's no better time to rent a jet ski and feel that rush of adrenaline that comes with zooming through the Persian Gulf.
Whether on your own or in a pair (with vessels capable of solo or tandem rides), pick a time and enjoy this water adventure!
37 – Admire the art at the Miraj Museum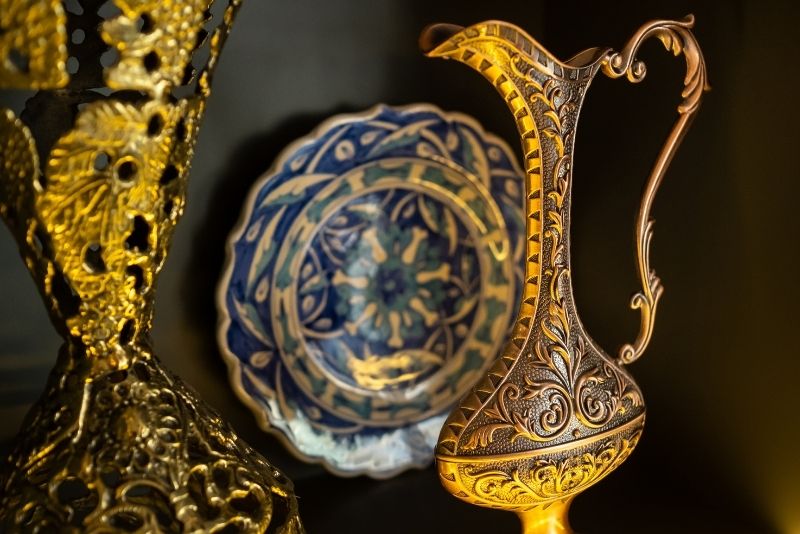 Beloved by art aficionados all over the city, anyone interested in history or Islamic art will find the Miraj Museum to be an absolute treasure.
With an extensive and exclusive collection of numerous colorful exhibits showcasing the diverse influences that have created Islamic culture today — showcasing everything from jewelry stuffed with diamonds and shimmering gold to calligraphy and Persian carpets, this is a great place to learn about centuries gone by and also pick up a unique souvenir!
38 – Check out The Art Gallery at NYU Abu Dhabi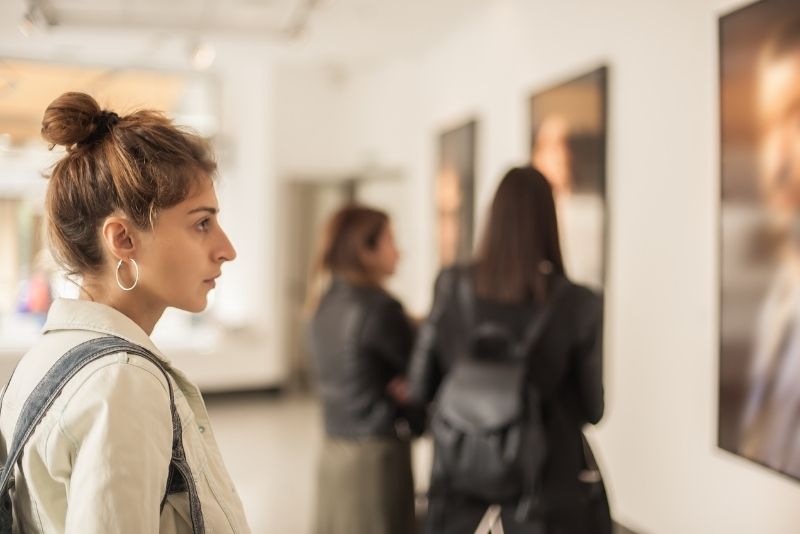 A wonderful example of collaborating across cultures, NYU's (New York University) International Art Gallery houses a range of rotating exhibits that dive into fascinating and often obscure works of art.
From painting collections to thought-provoking sculptures, immersive installations, and more, there's always something new and exciting in this Saadiyat Island attraction.
Note: As of October 2021, the Gallery is closed until further notice. So make sure to check the website before you visit to avoid disappointment.
39 – Kayak through marvelous Mangrove National Park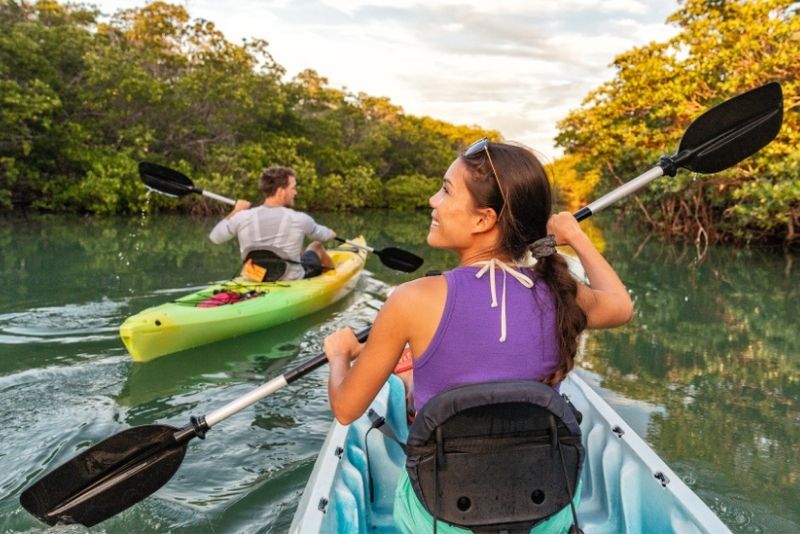 With all the potential chaos and stress of travel (especially in a land of alternative customs and language), sometimes you just need a peaceful escape into nature — and when that time strikes, nothing tops a gentle kayaking adventure through undisturbed mangrove lagoons, spotting unique marine life along the way.
The Mangrove National Park has plenty of calm waters to explore due to the natural protection of the trees. So no matter the weather, a kayaking tour is always a great option!
40 – Shop till you drop at World Trade Center Abu Dhabi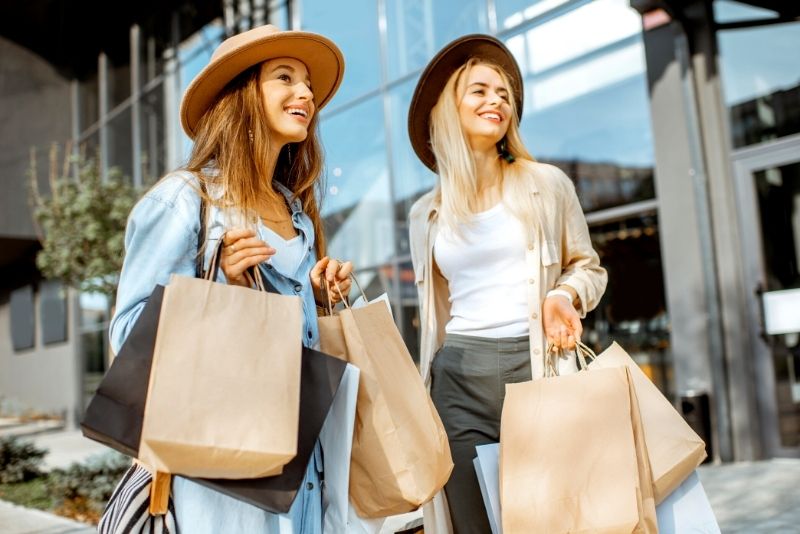 Need a little retail therapy? Don't we all!
From the basic essentials to luxury goods that will drain your bank balance, the World Trade Center Abu Dhabi is a one-stop-shop for anything and everything retail.
At this sprawling mall, you can find tasty local cuisine (plenty of snacks are up for grabs at Lulu hypermart upstairs), go to the cinema to catch a movie, or shop at one of the hundreds of stores.
With 92 floors in total (not all accessible, unfortunately, as most as designated for business) and a Courtyard by Marriott Hotel attached, it's also a prime viewing spot.
Hot tip: if you're on the hunt for something more traditional, across the road sits the souk, another worthy attraction.
41 – Roll out the picnic rug at Khalifa Park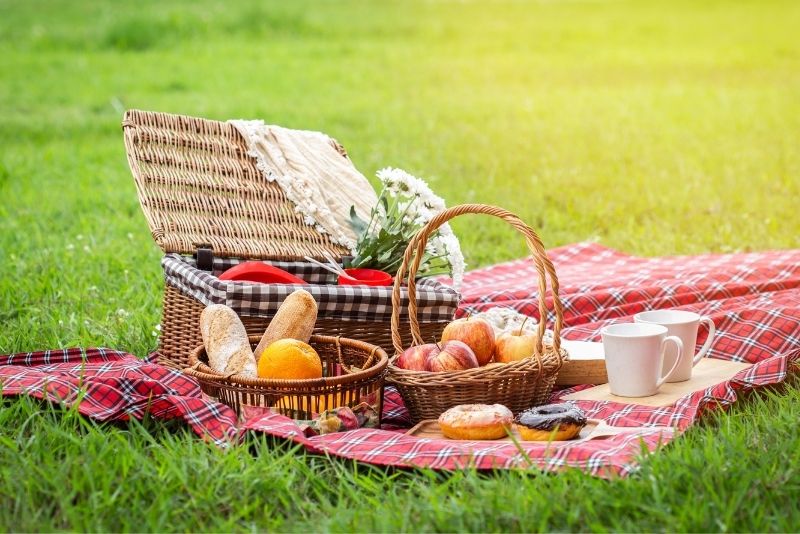 A welcomed slice of greenery, Khalifa Park is the perfect spot for any age group to take a break from the hustle and bustle of city life.
With loads of beautiful garden spaces, a Cultural Library, a Maritime Museum, and the Murjan Splash Park (perfect for those sizzling summer days, especially when you're floating along the Lazy River), there really is something for everyone.
42 – Dig into local delights on a food tour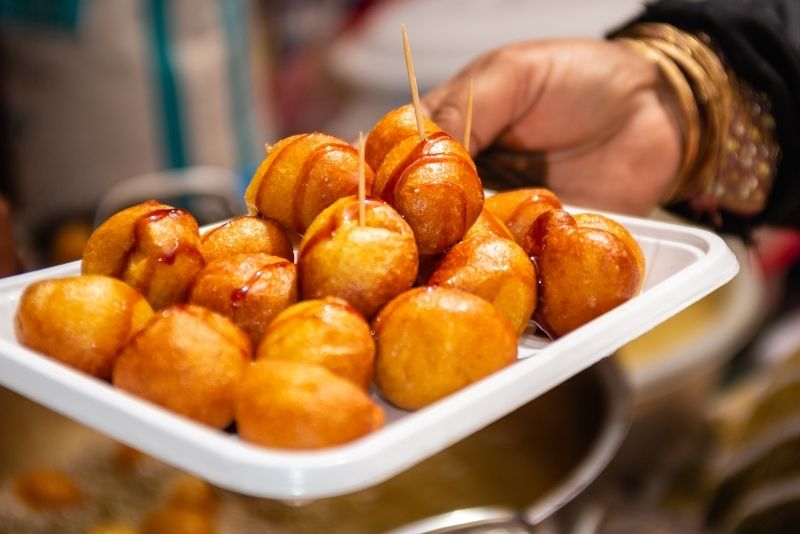 Foodies, listen up!
The best way to explore a country is by food (at least we think so!). However, it can be a little tricky to choose where to go to find the most authentic options — especially when all of the tourists are drawn to the same overhyped eateries.
That's where a food tour can come in handy! Led by friendly, food-obsessed locals, these walking (usually) tours take out the stress of planning and offer you the chance to enjoy authentic cuisine off the beaten track.
From Al Machboos (a one-pot dish of rice, meat, veggies, and spices) to the classic Shawarma, stuffed camel (yep, we're not kidding), or the ​​sweet dumpling-like Luqaimat, you'll be trying all the local delicacies in no time!
43 – Stuff your piggy bank at the UAE Currency Museum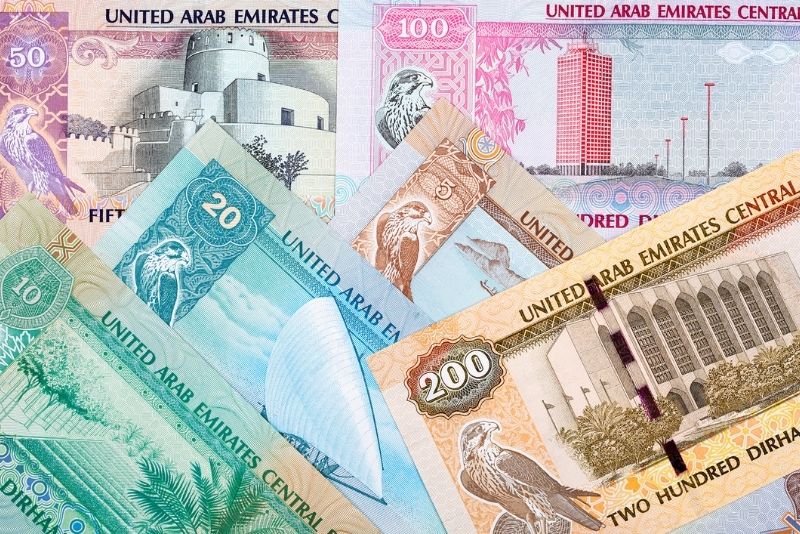 Rather unique in terms of museums, the UAE Currency Museum inside the UAE Central Bank dishes up an impressive collection of coins, notes, and bills, and provides visitors the chance to admire the intricate details that make the currency authentic (and learn about fraud and fake notes too).
This is a perfect spot for any coin collectors or history buffs, and best of all, despite the cash inside, admission to the UAE Currency Museum is totally free!
44 – Enjoy the lights at The Fountains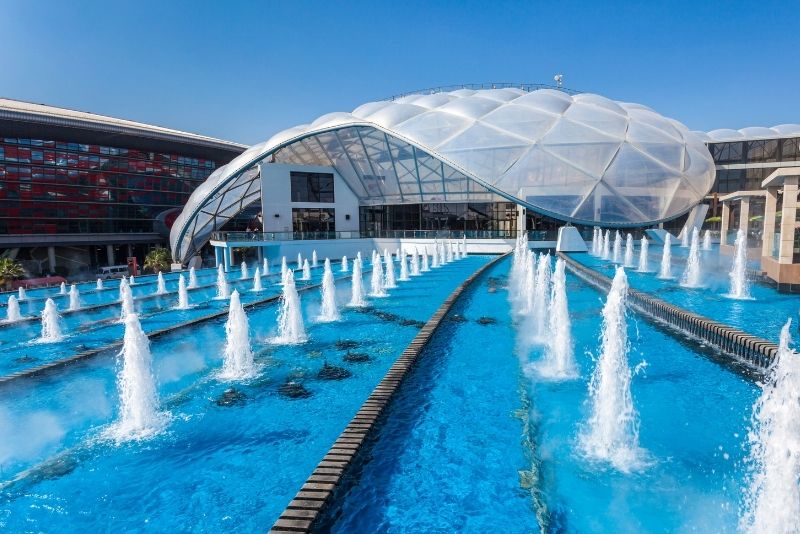 If it's a visual experience you're after, The Fountains regularly stand out on travelers' lists of noteworthy things to do in Abu Dhabi.
A magical spectacle, this fantastic water and light show mesmerizes viewers with its 30-minute shows running throughout the day. While the waters do their thing, grab a bite to eat at one of the many nearby restaurants to enjoy this popular attraction in full force!
45 – Find serenity along the Jubail Mangrove Walk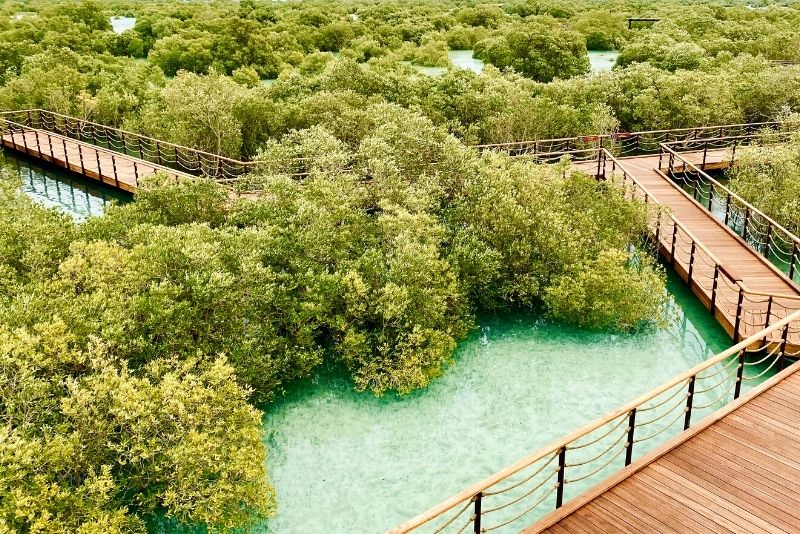 A peaceful change of pace from Al Zahiyah (the tourist club area) and Al Markaziyah, this self-contained nature destination is an amazing spot to see diverse wildlife.
Due to the mangroves, the Jubail Mangrove Walk area is protected and therefore holds extremely calm water, making it a natural sanctuary for birds and fish to call home.
46 – Explore the Al Jahili Fort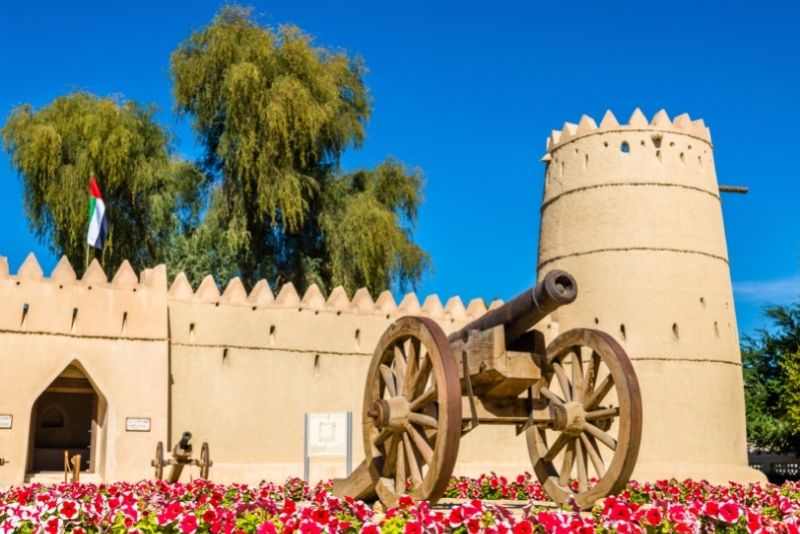 With so many things to do in Abu Dhabi, you still need to include at least one iconic landmark on your list. Acting as the cultural core for the region, there's no better spot than the Al Jahili Fort.
As one of the largest and most foreboding forts in the UAE, set in the breathtaking lush garden city of Al Ain (about 90 minutes from Abu Dhabi by car), the traditional mudbrick structure offers art and history exhibits, and fascinating architecture to boot.
Hot tip: For the best bang for your buck and to avoid the hassle of arranging transport or driving yourself, consider a pre-arranged day tour to Al Ain that includes Al Jahili Fort among a host of other noteworthy spots.
47 – See a show at the Abu Dhabi National Theatre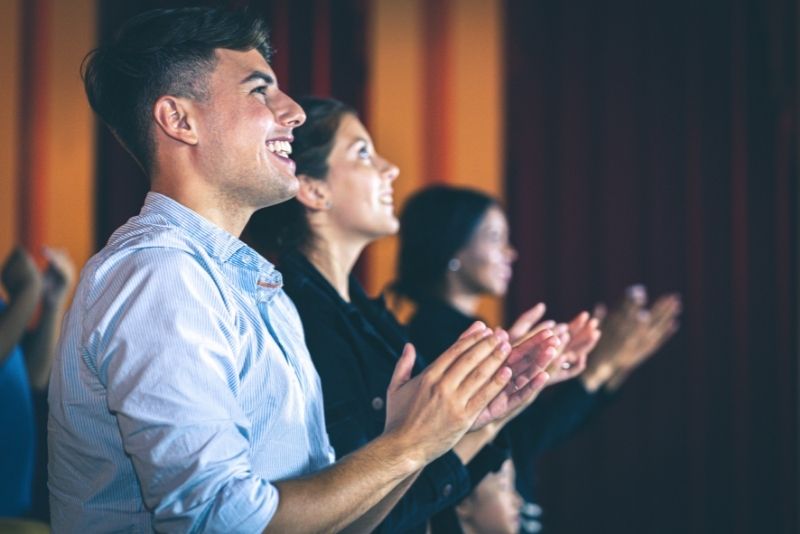 One for the culture vultures and theater lovers; with plays, movies, and exhibits, you can always find something to spark your interest at the art and performance mecca that is the Abu Dhabi National Theatre.
Beautiful from the outside and massive on the inside (with over 2,000 seats), the ambiance can't be beat — you can even opt to take an art class or workshop hosted by professional artists!
Check the website to see what's on during your trip and be sure to grab your tickets in advance.
48 – Wander around Heritage Village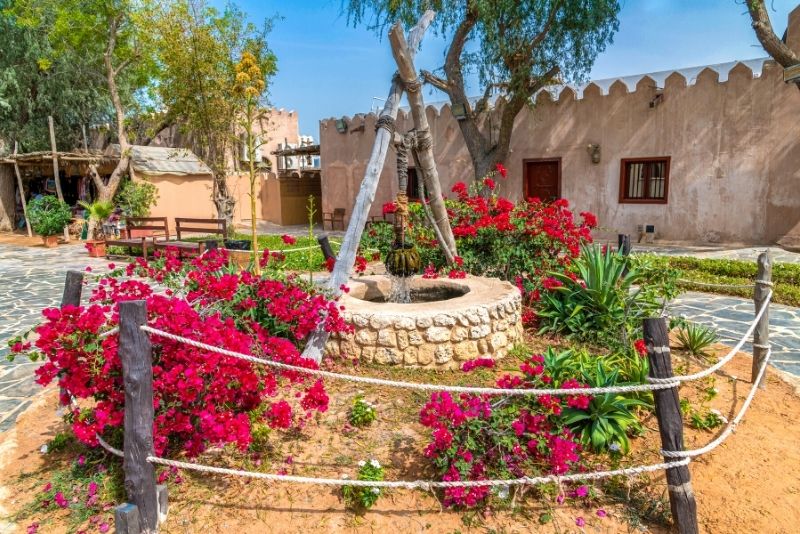 A wonderful way to learn about Arabian traditions and longstanding (and more modern) culture, the Heritage Village old-world camp showcases the ways of desert living, providing insight into decades and centuries went by through public workshops where artisans are eager to show their skills, interactive displays, museum-style elements, and authentic reconstructions.
Located near Marina Mall on Al Kasir and run by The Emirates Heritage Club, it's an easy addition to any day of exploring the main seafront areas.
49 – Get inspired at Warehouse 421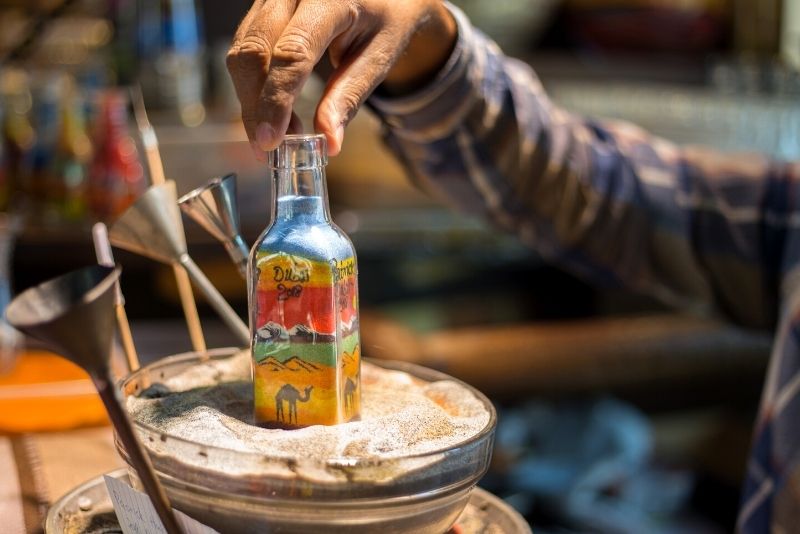 Calling all creatives!
This arts and design center shows off and supports growing talent throughout the UAE, Middle East, and South Asia — with a range of exhibits, public programs, and collaborative learning experiences, this is the perfect place to get those creative juices flowing.
The best part? Many of the creative workshops offered at Warehouse 421 are totally free! There's no better souvenir to take home than a new skill to show off to your friends, right?
50 – Do it all at The Galleria Al Maryah Island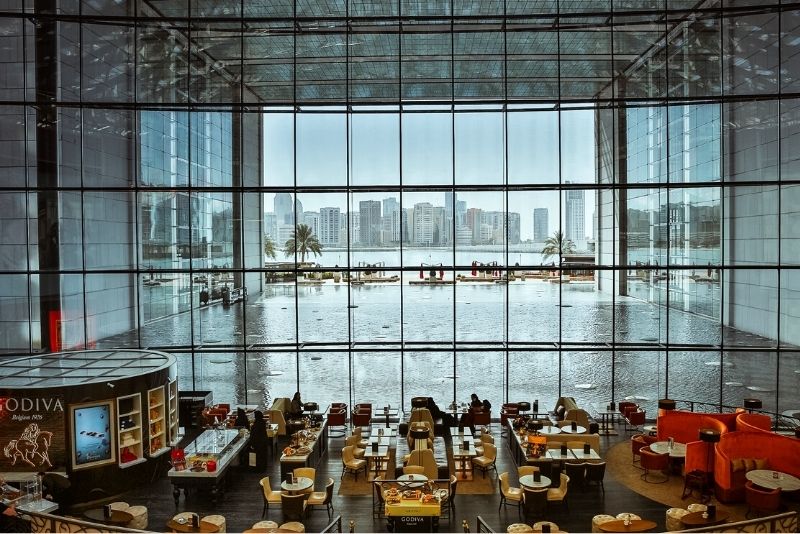 Offering high fashion boutiques and fine dining restaurants to street clothes sellers and casual bites to grab on the fly, visitors can find everything and anything at The Galleria on Al Maryah Island.
This upscale mall isn't just for shopping. It also holds tons of fun indoor activities for the whole family. Most notably, play around with virtual reality or take the youngsters to Mirage Amusement to burn some energy!
51 – Experience local culture at Qasr Al Hosn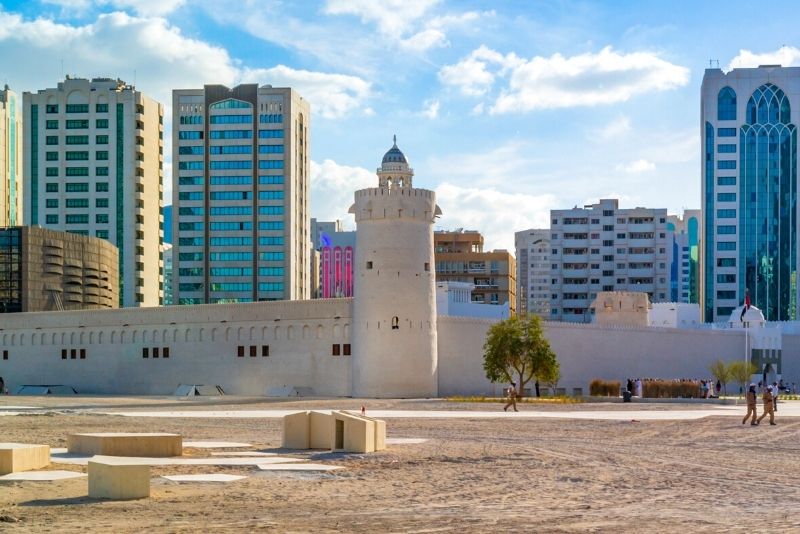 Surrounded by modern skyscrapers, the Qasr Al Hosn truly feels like a mirage — as the oldest stone building in the city, it sticks out like a sore thumb.
Still, not to be dismissed, at this popular (but not overcrowded) tourist attraction, you can find artifacts dating back to 6,000 BC, witness demonstrations of traditional crafts and performances, and embrace a fully immersive experience into the fascinating local culture.
Hot tip: Snag your ticket in advance to avoid the lines!
52 – Go to the cinema at Al Qana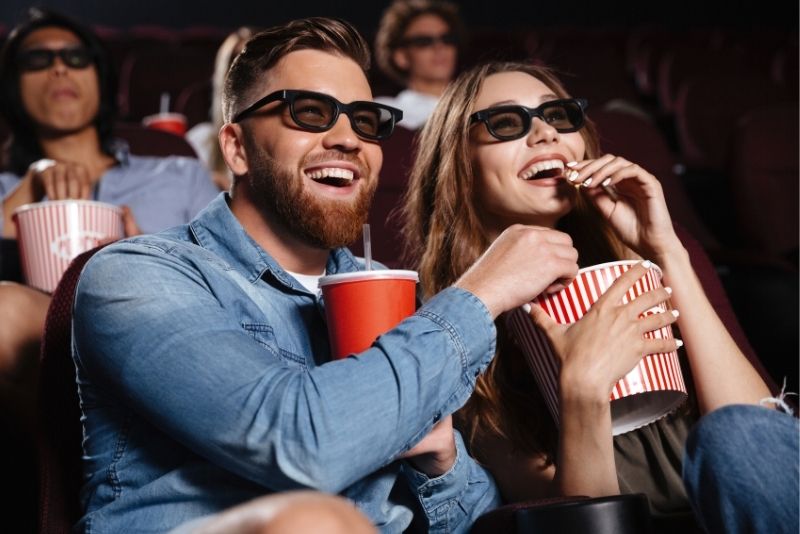 If you're dreaming of water in the desert, you've come to the right place.
Al Qana, smack-bang in the heart of Abu Dhabi is a gorgeous waterfront entertainment center, with walking routes, phenomenal food, a lifestyle and wellness hub called The Bridge, the enormous Al Qana Cinema, VR experiences, and an e-sports lounge around each and every corner.
With so much to see and do, all while surrounded by breathtaking views, this iconic destination is a prime spot to relax and enjoy.
53 – Relax and unwind on Zaya Nurai Island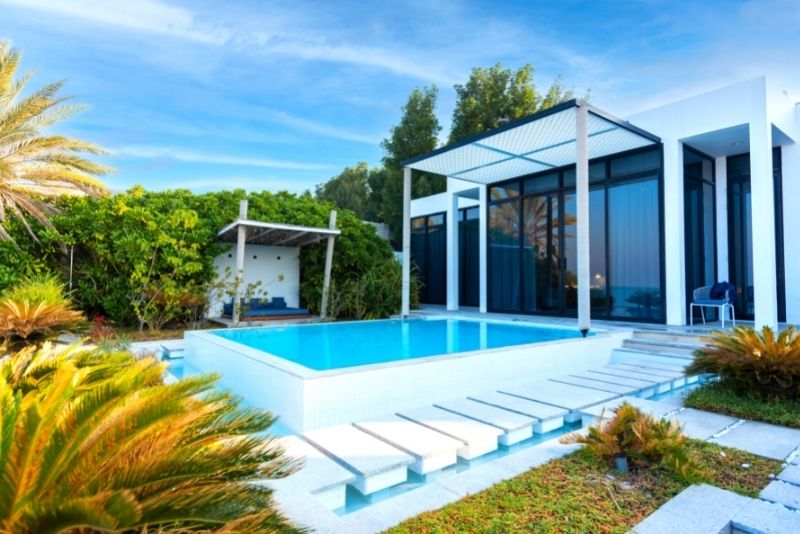 Need a little seclusion during your stay? Then do as zen-seeking travelers have done before you and hope on a boat out to the peaceful Zaya Nurai Island.
This picture-perfect paradise is home to a luxurious resort with amenities for everyone, including an oceanside spa, many food options, a beach club, and a host of land- and water-based excursions.
So whether you're looking for adventure or a relaxing vacation, this island is the perfect escape!
54 – Admire the work of local artists at the Etihad Modern Art Gallery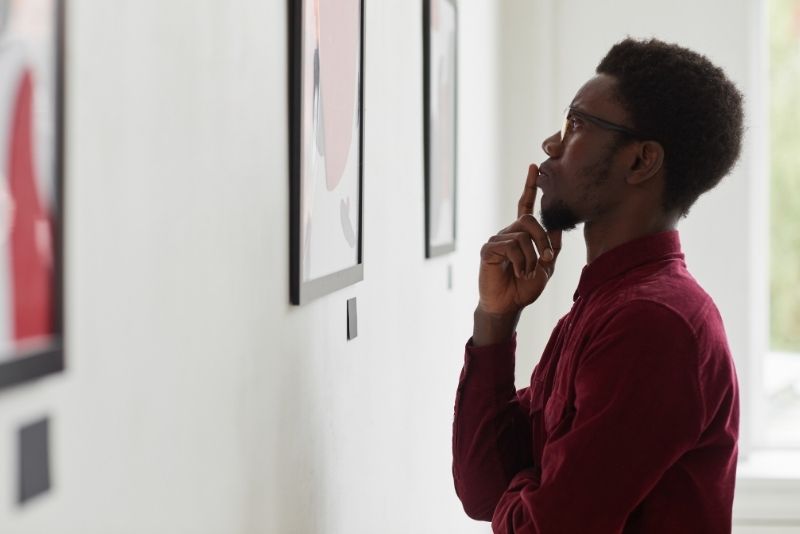 Filled with thoughtfully curated collections of paintings and photography by Emirati up-and-comers, as well as wonderful works by international artists — including a remarkable showcase of some 150+ Japanese artists — the Etihad Modern Art Gallery, a quirky hybrid of cafe and art space, truly is an impressive place.
With a quaint courtyard, on-site cafe, and a central location, it's a quick pitstop worth including in any itinerary.
55 – Learn about high-fliers at the Falcon Hospital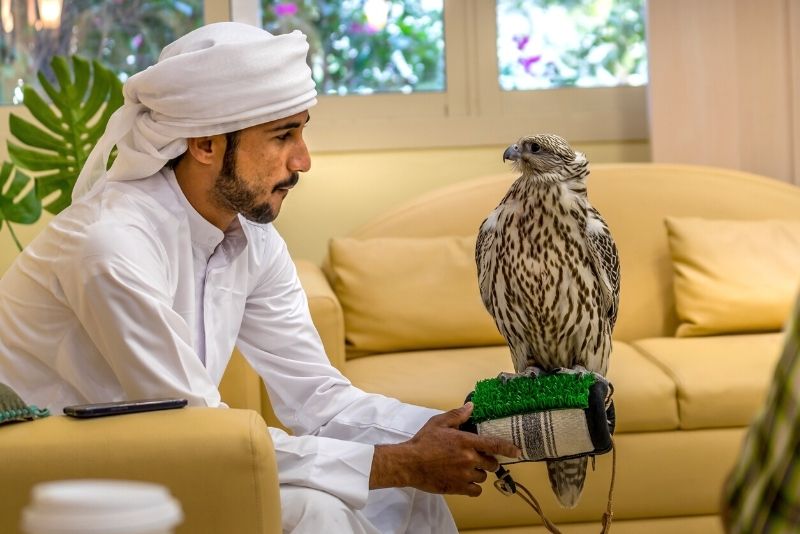 Ever wondered what it's like to live as a falcon? Well, at the Falcon Hospital Abu Dhabi you can experience first-hand how these majestic birds soar through the sky.
This incredible center provides comprehensive care and rehabilitation for injured or orphaned wild falcons, helping over 11,000 creatures annually brought in from all corners of the Arabian Gulf.
On the site, the Hospital has its own lab, a pet hotel, and a hospital to treat other small animals too — join a guided tour to see how it all works and learn about these misunderstood, majestic birds.
56 – Tee off at the Abu Dhabi Golf Club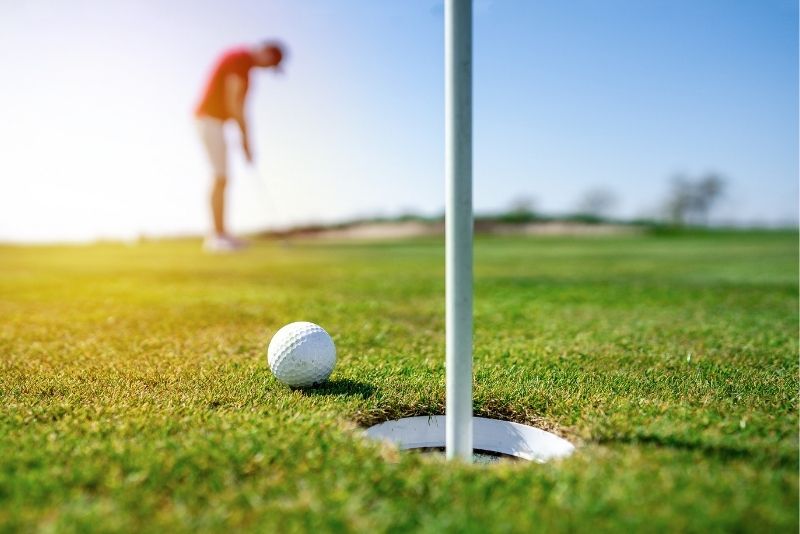 The home of the Abu Dhabi HSBC Championship on the European Tour, this spectacular golf course about 10 km east of downtown Abu Dhabi is not only an epic place to play, but a majestic oasis of lush greenery in the otherwise dry desert.
With a stunning clubhouse, incredible dining options, and meticulously manicured fairways, the 27-hole course at Abu Dhabi Golf Club is one of the region's most popular spots to enjoy a round on the fairways.
57 – Admire the art at the Folklore Gallery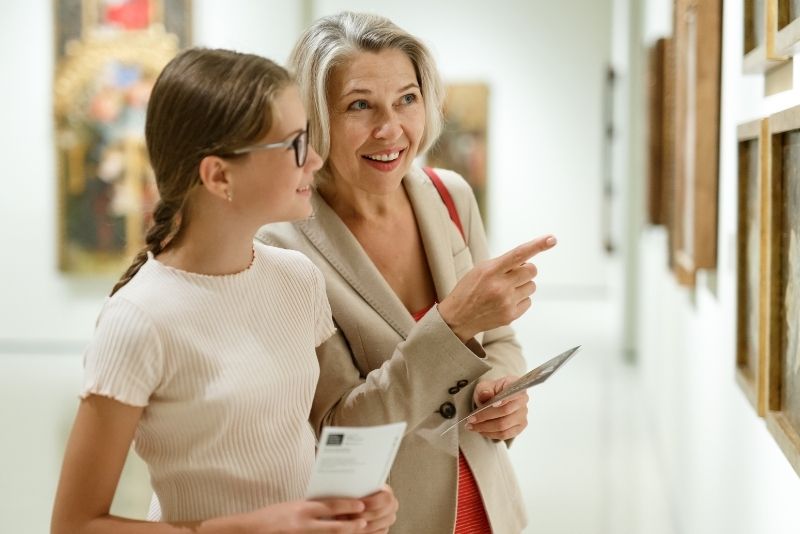 A stone's throw from the charming Khalidiyah Garden, Folklore Gallery is one of the city's hidden (well, not anymore) gems, with an interior that feels like a cozy library and an impressive collection of traditional art.
In what started as a simple framing service back in 1995, the gallery has grown and developed over the years to now house rotating exhibitions throughout the year that focus on Emirati crafts, customs, beliefs, jewelry, and more.
58 – See the sunset at Albateen Public Beach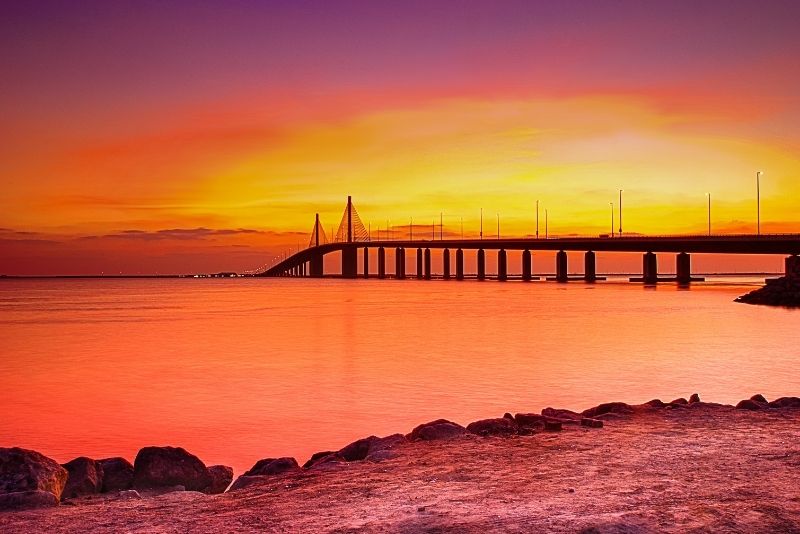 Sitting on the eastern stretch of the Corniche, this public beach is one of Abu Dhabi's best-kept secrets.
Popular with families and solo travelers, It's a great place to swim, relax in the sun and sand, play volleyball with friends, or try your hand at jet-skiing, paddle boarding, or kayaking as you soak in the views of Hudariyat Island and Hudariyat Bridge!
59 – Dine in affordable style at Mosaic Restaurant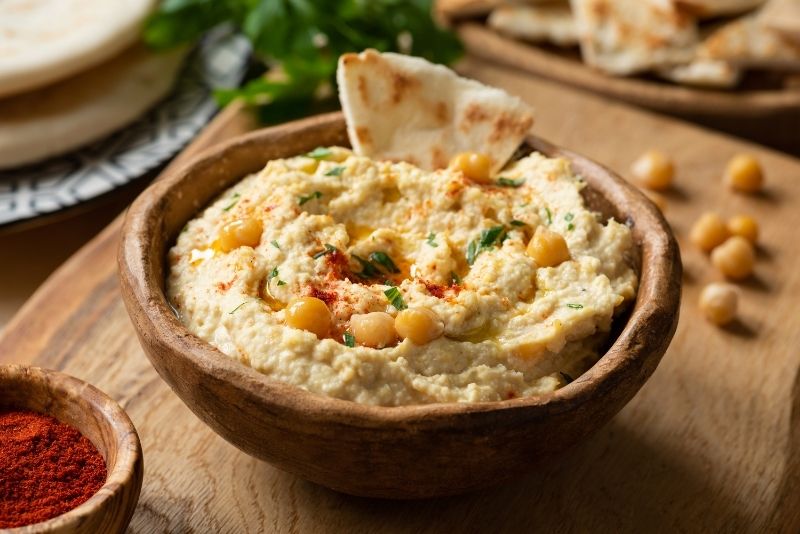 Whether you're after a bite to eat for breakfast, lunch or dinner, Mosaic Restaurant, the magically colorful eaterie is widely spoken of as one of the best Middle Eastern restaurants (Lebanese, specifically) in Abu Dhabi, known for its delicious food (try the mixed grill), reasonable price and professional and friendly service.
The main event, however, true to its name, is the array of wonderful mosaic tiles which line the restaurant's walls.
60 – Go whitewater rafting at the Wadi Adventure aqua park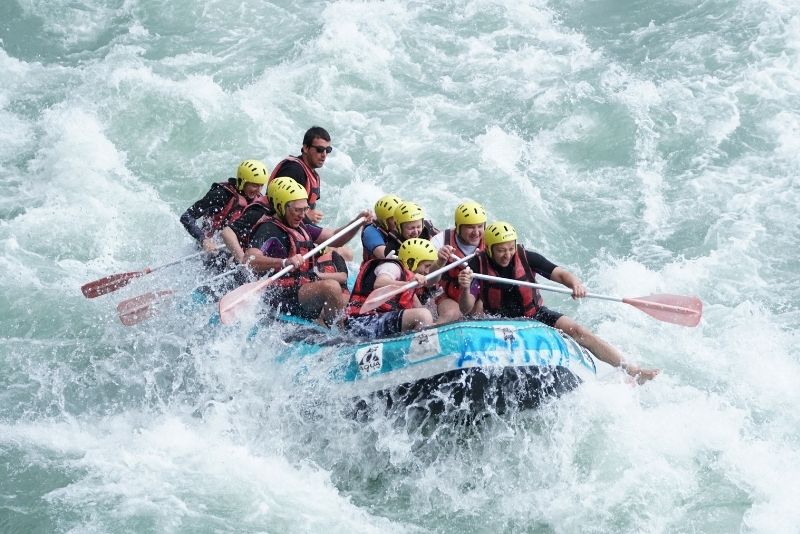 Found over in Al Ain, Wadi Adventure is a fun, full-day adventure park with activities for kids of all ages that are sure to get the heart racing: whitewater rafting, kayaking, and surfing, just to name a few.
Plus, thanks to its location in the shadows of Jabel Hafeet Mountain, whether you're tackling the man-made waves, abseiling across the water, or trying to keep your balance on the high-ropes course, you'll have great views at every step along the way.
61 – Get behind the wheel of a luxury supercar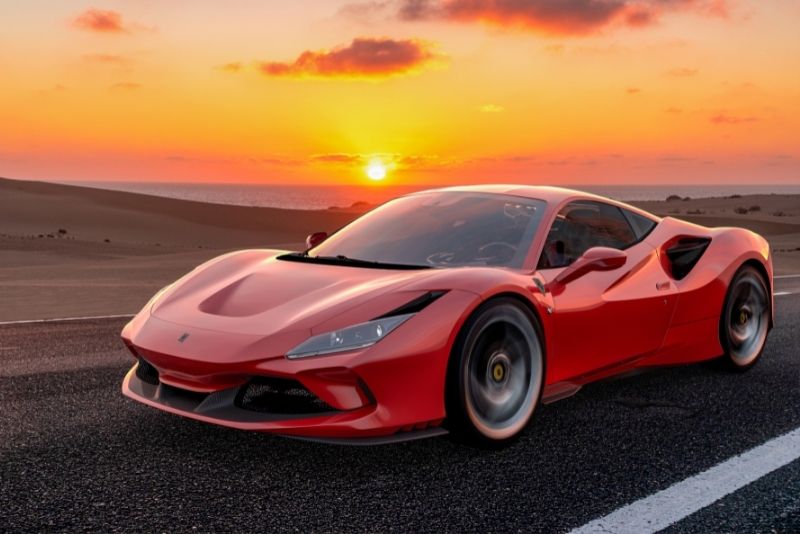 Move over, Formula Rossa! (scroll up to #2 if that reference went over your head) Why not get behind the wheel of a REAL supercar instead?
The most adrenaline-pumping drive in the Middle East, this high-octane activity sees you take to Abu Dhabi's Yas Marina circuit as a passenger (or even driver) inside one of a handful of luxury cars: Ferrari, Chevvy Camero, Aston Martins, or even an old-school lotus.
62 – Let the youngsters loose at KidZania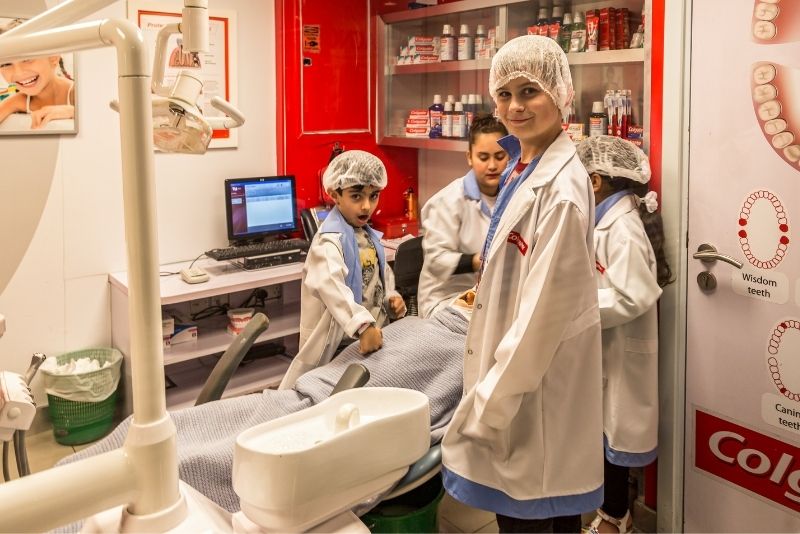 For kids (and all kidlike adults) looking to unleash their imagination and get stuck into some seriously fun, KidZania offers literally dozens of hands-on adventures in a safe environment.
The largest of its kind in the Middle East region, KidZania Abu Dhabi is an indoor village where children can explore over 40 professions while taking on mini-challenges and learning about 'adult life'.
63 – Pamper yourself at a spa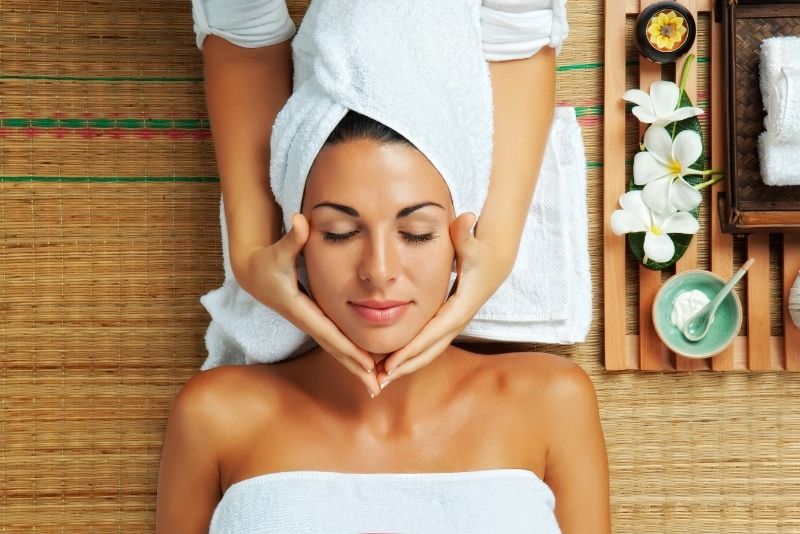 As the saying goes, 'you can't buy happiness but you can treat yourself to it'. And Abu Dhabi has some of the best spas in the world.
The Moroccan-inspired spa at Emirates Palace is worth a visit for its unparalleled luxury alone (hello, gold leaf treatments), while The Dahlia Spa at The Four Seasons offers hydro pools, hammams, and the only quartz sand therapy in the emirate.
But wait, there's more. Overlooking Cornish Beach, Remède Spa at The St Regis provides traditional Balinese massage, and the Anantara Spa at Qasr al Sarab Desert Resort dishes up remarkable views of the endless red desert.
64 – Try authentic Gulf cuisine at Besbas Yemeni Mandi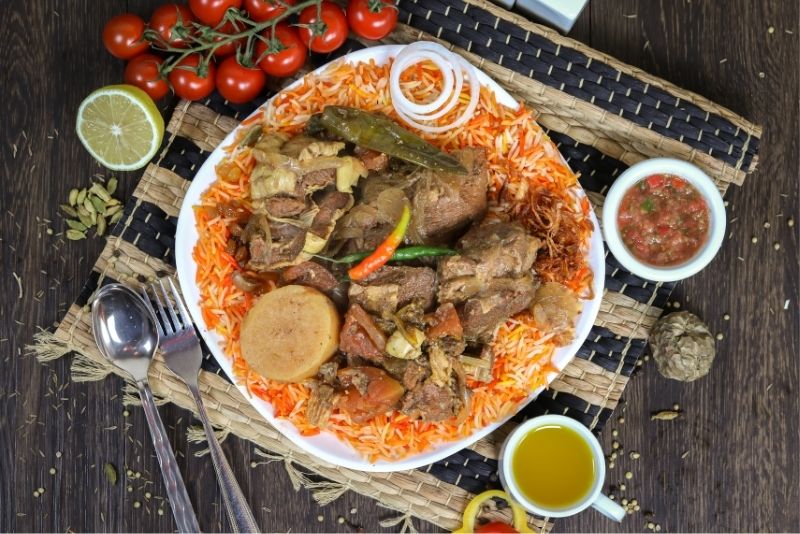 Located in the heart of Abu Dhabi, tucked away behind the Shining Towers, Besbas is a Yemeni restaurant with a variety of traditional dishes on offer sure to tantalize the tastebuds.
The Mandi (traditional Yemen dish) and Madfoon are two highlights from their menu that any self-proclaimed foodie needs to add to the bucket list, while the famous kunafa dessert is a must for sweet tooths.
65 – Knock back a cold one at Porters English Pub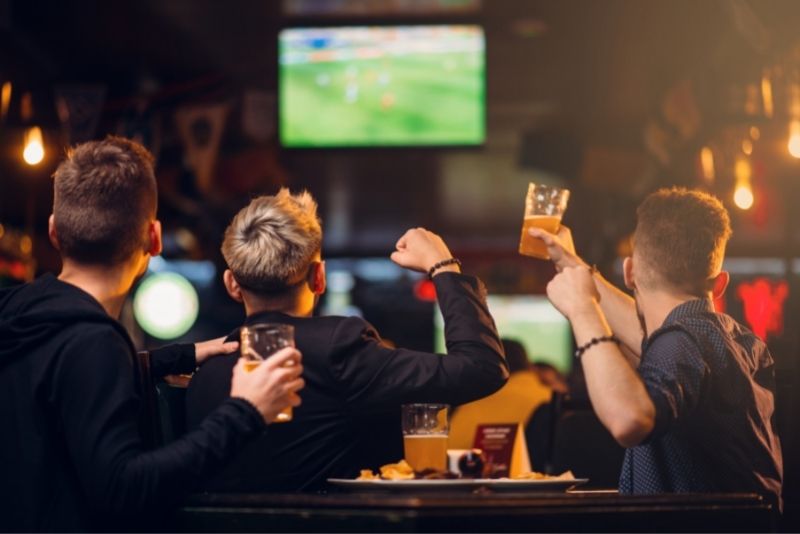 Sitting inside the Grand Millennium Al Wahda, Porters English Pub has been a popular watering hole for expats and tourists alike for its huge selection of draught beer, finger-licking nibblies, and classic British pub atmosphere.
Located close to the Al-Nahyan Stadium (therefore the ideal spot for a pre-game beverage), this bar offers a range of drinks from both local brewers and international favorites all served up by friendly staff who can also recommend some great dishes from their menu.
Check out their live entertainment too, from sports screenings to trivia nights and more!
66 – Hop around the rooftop bars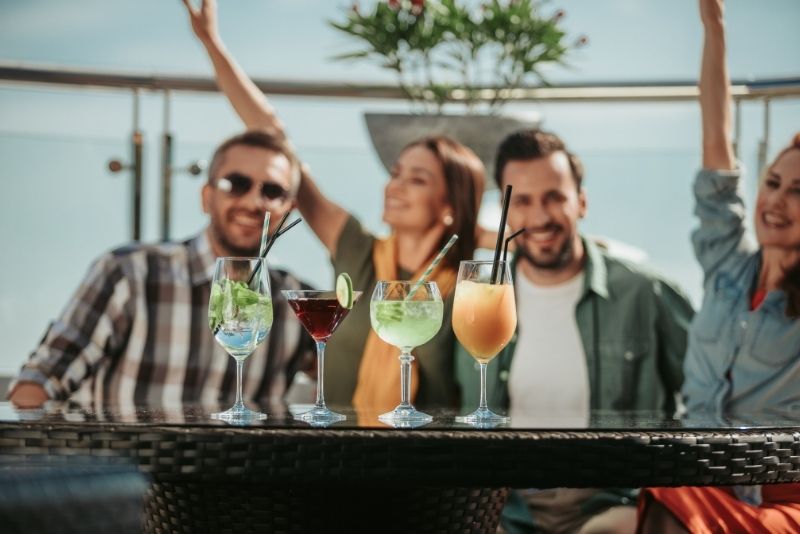 It's time to get a little crazy! What better way to take in the views and vibes of Abu Dhabi than from one of its rooftop bars? Radiating electricity in the warm air, with funky beats and strong drinks to boot, the city's range of enviable rooftop bars are open-air havens with some of the best views in town.
From the panoramic views over the Arabian Sea at Beach House Rooftop on Saadiyat Island, to the poolside crafted cocktails at Up & Below on the 12th floor of the Courtyard by Marriott, or the live DJ and stunning sunsets at [email protected] at the Capital Center, there's plenty to choose from.
Throw in the Eclipse Terrace Lounge, Helipad Sunset Supper, and Skylite at the Yas Viceroy, and we truly are spoiled for choice when it comes to fancy watering holes!
Save time and hassle. Book an airport transfer
After just hopping off an international flight, red-eyed and sore from that cramped middle seat, there's nothing worse than trying to negotiate with taxi drivers or try to decipher the complex transport system of an entirely new city. So, if you want to kickstart your trip without stress or hassle, take advantage of express airport transfers by booking a chauffeur before you arrive.
They're convenient, they're cheap (especially when traveling as a small group), and the friendly drivers will be happy to give you plenty of fun tips and tricks en route to your hotel.
Where to stay in Abu Dhabi
When looking for places to stay, you've got a lot of options depending on your taste. Stick along the Corniche waterfront if you want to be near the arts district or business and shopping hubs.
You'll find many luxury options in this area as well, including the Emirates Palace and Le Royal Meridien Abu Dhabi (we're talking about 360-degree rooftop views).
Looking for a beach stay? The Hilton Abu Dhabi has its own beach club along with great views of the city.
Or, if you're seeking something a bit more budget-friendly, the Majilis Grand Mercure Residence is a perfect choice or even the Al Diar Dana Hotel, which is right in the center of the city.
Regardless of your budget or appetite for luxury, the best deals are always found on comparison sites like Booking. Check it out and save up to 40%.
We hope you've enjoyed our selection of exciting things to do in Abu Dhabi, UAE, the desert oasis steeped in ancient forts, modern skyscrapers, and everything in between. If you have any other must-see suggestions, feel free to let us know in the comments!
Want to extend your trip? Take a look at the most fun things to do Dubai and discover all the amazing experiences that the city has to offer.
As always, happy travels!