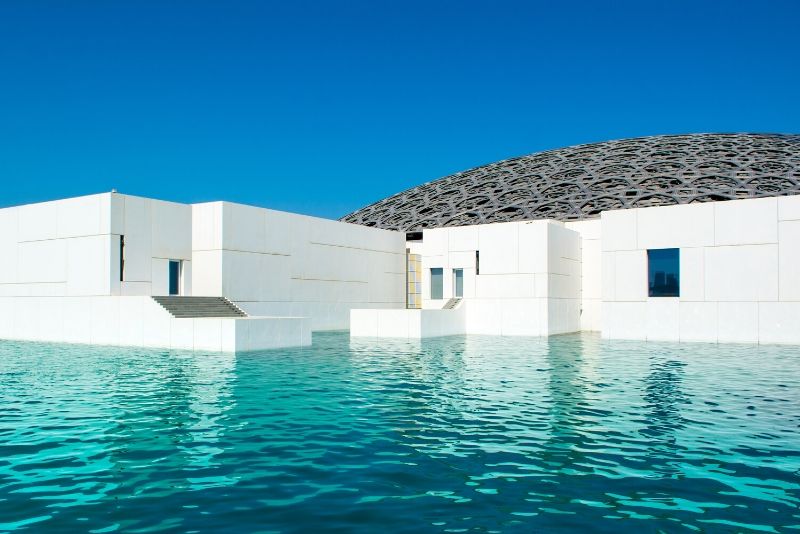 Planning to visit the United Arab Emirates? Looking to visit the Louvre Abu Dhabi? On this post, you will learn how much Louvre Abu Dhabi tickets cost, how to book your tickets online and skip the line at the entrance, which guided tours are best and some other useful travel tips.
Since its opening in 2017, the iconic Louvre Abu Dhabi has already welcomed more than 10 millions visitors. Located on Saadiyat Island, it became a major bucket-list item during a trip to the UAE.
Don't feel like reading ahead? Click here to book Louvre Abu Dhabi tickets right now.
How much do Louvre Abu Dhabi tickets cost?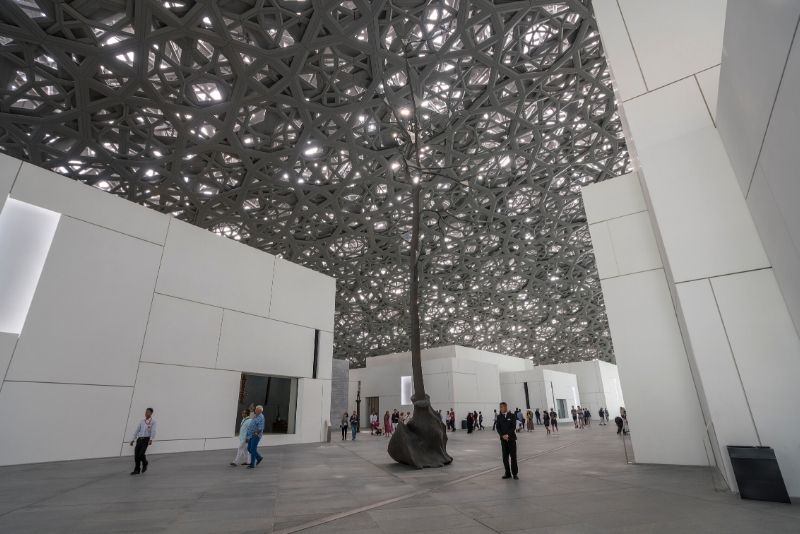 Standard Louvre Abu Dhabi tickets cost AED 63 (US$ 17) for adults, AED 31,5 (US$ 9) for young adults aged from 13 to 22 years old and seniors aged over 65 years old. Children aged under 13 years old may enter the museum for free.
Who are eligible for discounts?
The following visitors may benefit from a discounted entrance fee:
Teachers in the United Arab Emirates
Members of the EAU military
Young adults and children (aged between 13 and 22)
Seniors (65 and older)
Visitors with disabilities and their caretaker, members of the media and children under 13 are allowed to enter the museum for free.
How do you book Louvre Abu Dhabi tickets online?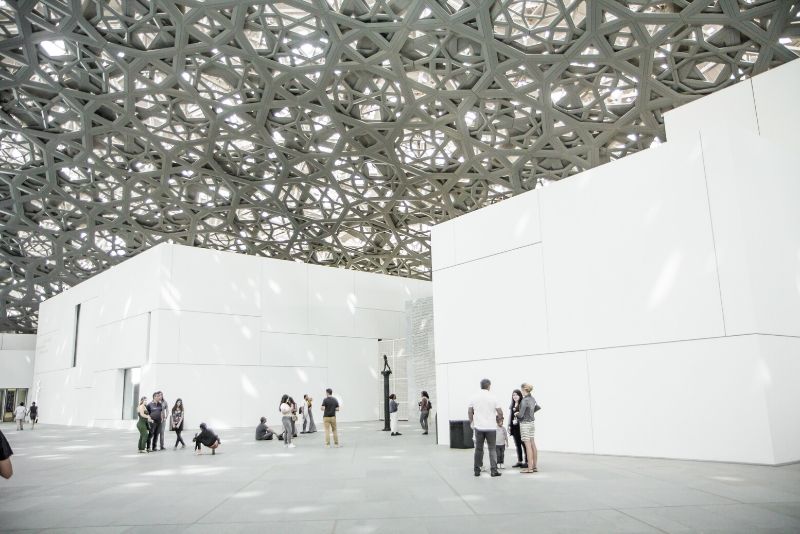 You can purchase tickets to the Louvre Abu Dhabi online using the official site, or choose to book it through an online travel agency such as Musement, Viator or Getyourguide. These travel websites often provide discounts on ticket prices which is an useful way to save money.
Use TourScanner search tool to compare all the different offers.
Are there any Louvre Abu Dhabi guided tours? Are they worth it?
Absolutely, guided tours of the Louvre Abu Dhabi are available and offer many advantages. What better way to visit the museum than with a tour guide?
Skip the line : Guided tours allow you to ignore the queue at the entrance. Your tickets are pre-booked and your guide will simply be waiting for you to begin the tour.
Learn more about collections and the history of the museum : Having a knowledgeable guide by your side during the visit offers you a great opportunity to learn about the place and its history, as well as the exhibitions and its spectacular artworks.
Choose the tour that fits you best : Various types of guided tours are available, so you you are free to pick the one that suits best your needs and your budget. Also, don't miss the combined guided tours if you wish to visit several attractions during the same day.
Are there any Louvre Abu Dhabi tours from Dubai?
If you are staying in Dubai and wish to visit the Louvre Abu Dhabi, many travel companies offer guided tours including transportation from Dubai, for all needs and budgets.
Use our search engine and pick the tour that suits you best.
What will I see?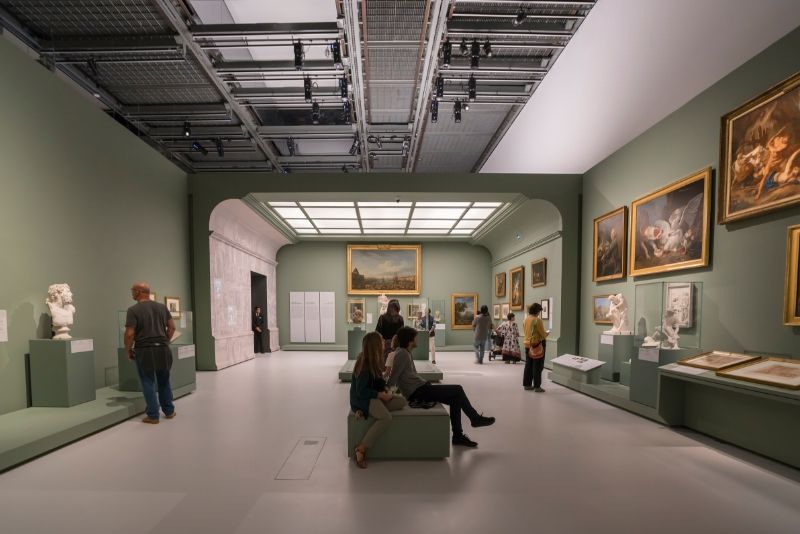 Along with the Sheikh Zayed Mosque and the presidential palace, Qasr Al-Watan, the Louvre Abu Dhabi is one of the major touristic attractions in Abu Dhabi. A first-class destination for arts and culture, the museum provides a vast area dedicated to exhibtions welcoming around 8,000 square metres of galleries. This unconventional museum has created one of the world's great gatherings of artworks in the span of a decade.
Designed by Jean Nouvel, the Louvre Abu Dhabi revolves under 12 chapters hosted in 12 different galleries, each one focusing on a particular theme and idea connecting different parts of humanity. This is the first museum to bear the Louvre name outside France, and displays around 600 pieces in permanent collections and 300 more, loaned by France, in a modern, light-filled structure of stunning design and architecture, echoing the desert-island setting.
The multi-million project of the Louvre Abu Dhabi intended to offer a bridge between Eastern and Western art forms and cultures. Religious and historical art and items from around the world are united in a single place, which is seen as "a bridge between civilizations". The Louvre Abu Dhabi is often reffered to as one of the most intriguing places in the Gulf Region.
What are the Louvre Abu Dhabi opening hours?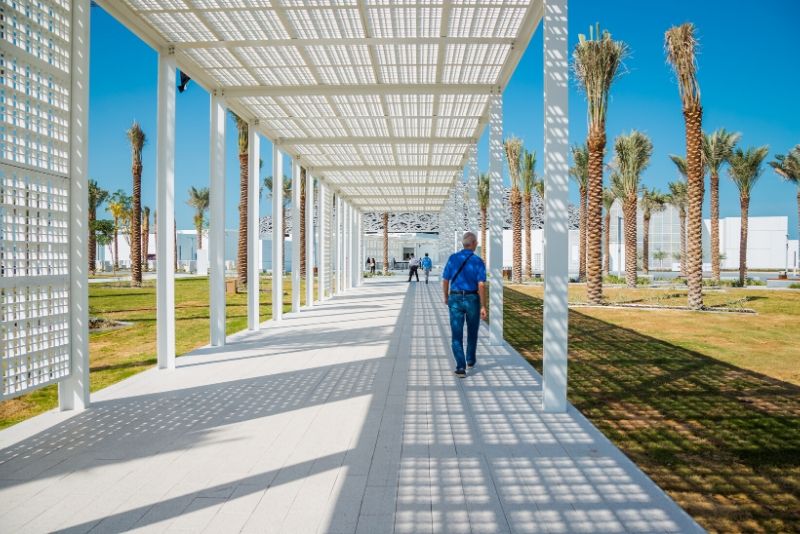 Louvre Abu Dhabi is open from 10 am to 8 pm. On Thursdays and Fridays, it closes at 10 pm.  The Museum is closed on Mondays.
The museum café is open from Saturday to Wednesday between 10 am and 8 pm, and from Thursday to Friday between 10 am and 10 pm. The same hours apply to the art lounge and museum boutique.
What is the best time to visit the Louvre Abu Dhabi?
The Louvre Abu Dhabi is often busier during Fridays and weekends. If you want to avoid the crowds and you plan on visiting independently without a tour guide, early mornings or late afternoon are the ideal time to visit. Just make sure that you allow enough time to see everything before closing time.
Travel tips
 During high season tickets may be sold out, so make sure to book your tickets in advance to enjoy guaranteed access to the museum.
The museum provides lockers to store lugages and suitcases.
If you visit the galleries with kids, don't miss the Children Museum. This part of the museum is specially dedicated to the wonderment of the youngest visitors.
Strollers and wheelchairs are available for free at the entrance.