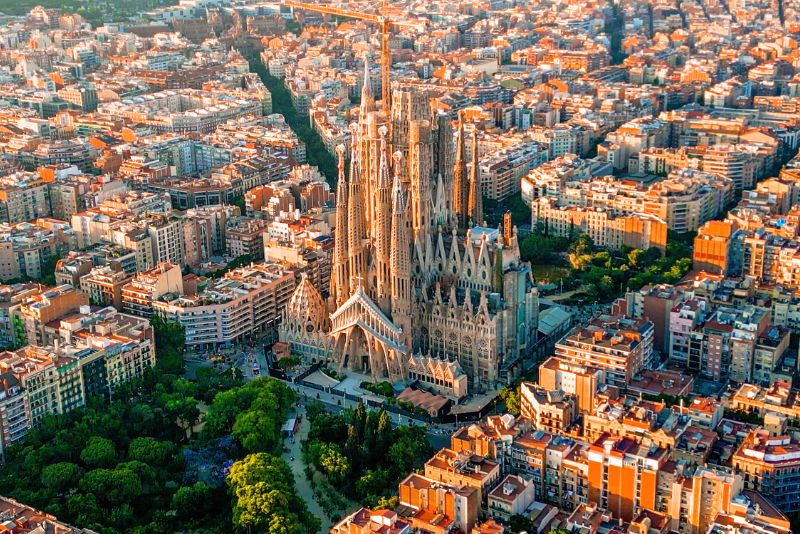 Are you wondering which of the many Sagrada Familia tours is right for you? On this page, you will find a comprehensive guide to Sagrada Família tours, including private tours, group tours, audioguide tours, combos and more!
One of the best ways of visiting Sagrada Família is on a tour, which is sure to enhance your knowledge and appreciation for this feat of architecture and symbol of Barcelona.
Don't you feel like reading ahead? Click here to book your Sagrada Familia tour.
Sagrada Família tours — Is it worth taking a tour?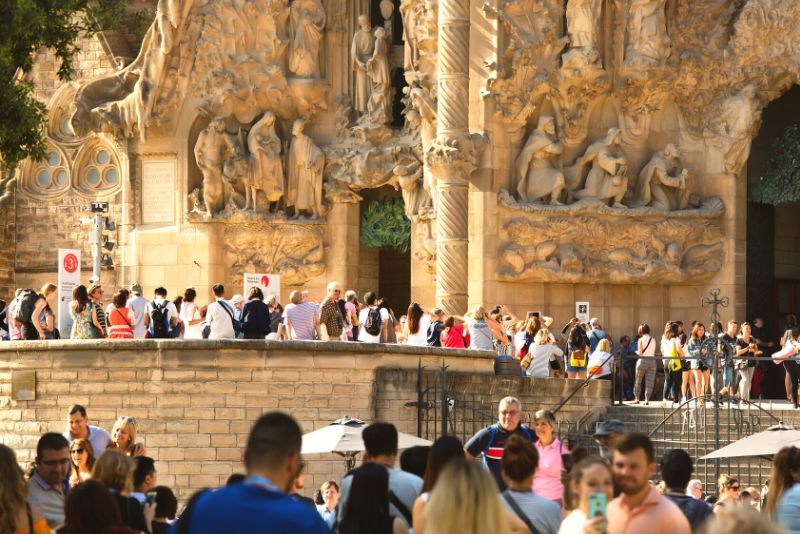 When it comes to the Sagrada Família, there is nothing that speaks as loud as its history, which is full of culture and religion. The Sagrada Família is actually a basilica in which people do attend mass every Sunday, but it is also one of the greatest architectural monuments in Barcelona, and even the world.
Construction on Sagrada Família first began in 1882, and has become a foremost example of Catalan Modernism. Antoni Gaudí was the leading architect of the basilica, and his unique style has created one of the most singular architectural buildings that is imbued with storytelling, symbolism and reverence. While he did not live to see the completion of Sagrada Família as construction continues today, Gaudí's mark on Barcelona lives on.
There is actually a great deal to learn about the Sagrada Família, and it is well worth spending time in its hallowed walls. If you are planning to visit the Sagrada Família, you have two main options:
The first option is that you take your time to visit the basilica at your own pace with an audioguide directing you along. You will need to book an entrance ticket which includes the audioguided tour.
The second one, which we highly recommend, is the use of a knowledgeable tour guide who will ensure that you understand in detail every aspect of the basilica during an in-depth tour.
So let's get back to the main question — is booking a tour for Sagrada Família worth it?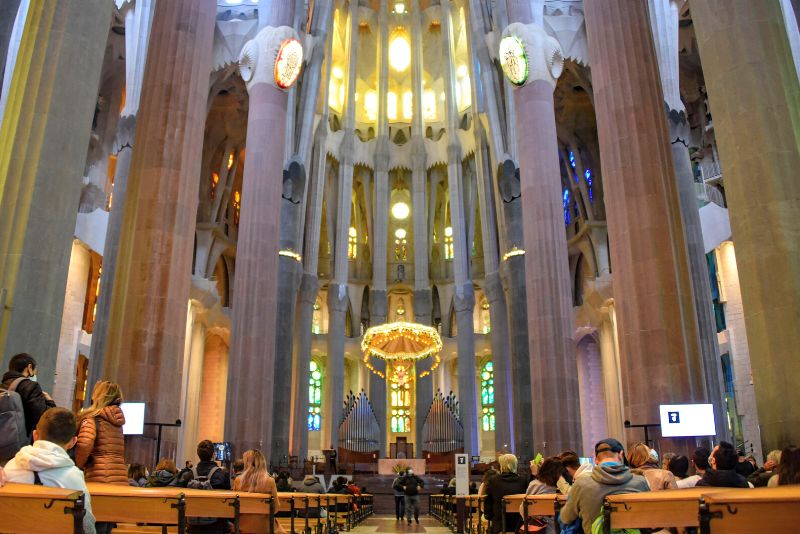 The benefits of having a tour guide for your visit to Sagrada Família supersede the pros of going to the basilica by yourself, because you may actually miss many of the most important aspects of Sagrada Família on your own.
Here are some of the major advantages of booking a guided tour:
Easy: Once you book your tour guide, they will be responsible for buying your tickets according to your visit of choice, and you will not have to do anything apart from being ready and showing up on time.
Answer your questions: One thing we love about having tour guides is having our questions answered. Tour guides are well conversant with the history of Sagrada Família and have in-depth knowledge of the basilica. You wouldn't have to Google any of the things you see in order to understand them. It is also far more meaningful to have that human interaction with your guide, and it brings a greater level of connection on your travels.
Never miss anything: You can rest assured that you will not miss an important highlight of the Sagrada Família when you have a guided tour. With so many intricate details outside and inside the basilica, your guide will be able to point all of them out. Some things you tend to overlook are actually the real deal!
Sagrada Família tours — Which one is right for you?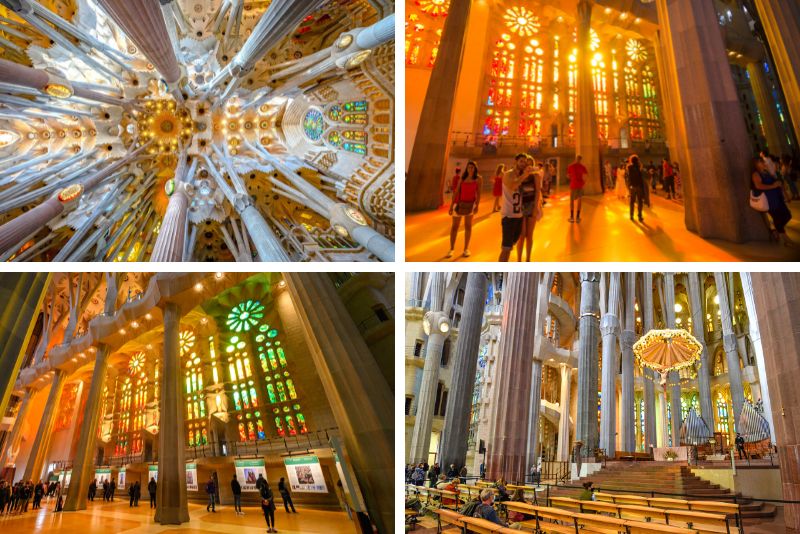 This definitely tops the list of the most frequent questions we get — which tour is ideal for visiting the Sagrada Família? Well, we wouldn't pinpoint what exactly is the right tour, because that solely depends on two basic things: what you are looking forward to seeing and your budget for your travels.
When it comes to the things you want to see, there are two fundamental ways of viewing the Sagrada Família:
Sagrada Família only
Sagrada Família including the towers
There are tours that cover only the main exterior and interior areas of the Sagrada Família, but there are other tours that include access to one of the towers on either the Nativity facade or the Passion facade. The towers can only be accessed with a specific ticket, but you will find several offers for each tour type.
For all Sagrada Família guided tours, you will have a skip-the-line ticket, as well as a licensed tour guide with you through all the stages of the tour. The tour guides are very well-versed in the history of the basilica and will also give great recommendations for places to visit in Barcelona during the tour!
There is a variety of different options for tours with the Sagrada Família, including:
Audioguided tours
Guided group tours
Tours including tower access
Private tours
Express tours
Kids and family tours
Early morning tours
Combo guided tours including other attractions
1. Sagrada Familia audioguided tours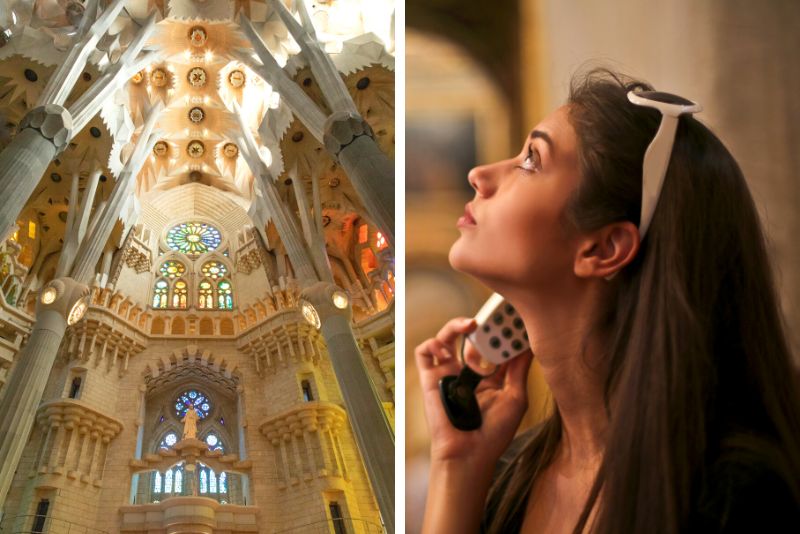 The cheapest tour option for visiting Sagrada Família is with the standard ticket that includes an audioguide. This ticket costs €26 and can be purchased on the Sagrada Família website or app. You can download the audioguide through the app, and can choose whether you want an express 25-minute audio tour or a 45-minute audio tour. The audioguide is also available in 17 different languages, appealing to a variety of nationalities.
This is a considerable choice if you opt out of a guided tour, because you will still get better information than you could from printed pamphlets or googling. A benefit of a self-guided tour is that you will be able to enjoy the basilica at your own pace, taking as much time as you like between different points of interest.
However, we would still recommend the guided tour option. This personal experience always brings life to your tour and makes it so much more engaging. The tour guide's rich knowledge of the monument's history is invaluable.
If you would still prefer to go for the Sagrada Família audioguided tour, you need to book for this option when you pre-order your ticket online. You can also opt to buy a ticket that includes tower access along with an audioguided tour.
2. Sagrada Família guided group tours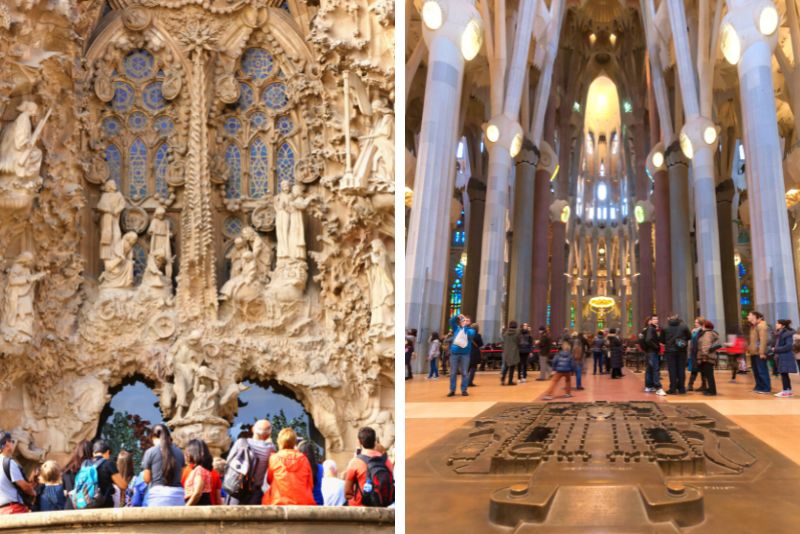 This is usually one of the most popular Sagrada Família tours that cater to travelers that intend to visit the basilica as a group. For this package, you get skip-the-line entry as well as a very experienced and knowledgeable guide who will show your group specific areas of where to go, what to see and what not to miss sight of.
The groups are usually around 30 people where you will be given "whisper" headphones, where the guides will speak in a normal tone and you will easily hear them, instead of them having to shout to the whole group of 30 people and disturbing other visitors.
Many people would often refer to themselves as a small group and opt for the small-group tours when actually there are approximately 20-30 people. This is different to when you take a private tour, because you will know in advance how many people will be with you.
Of course, group tours are affordable and you will get the benefit of having a guided visit without spending much more than with an audioguide. Guided tours run by Sagrada Família typically last around 50 minutes, but some guided tour options can last from 1.5 to 2 hours. Some guided tour tickets will also grant you access to one of the towers.
3. Sagrada Família tours including tower access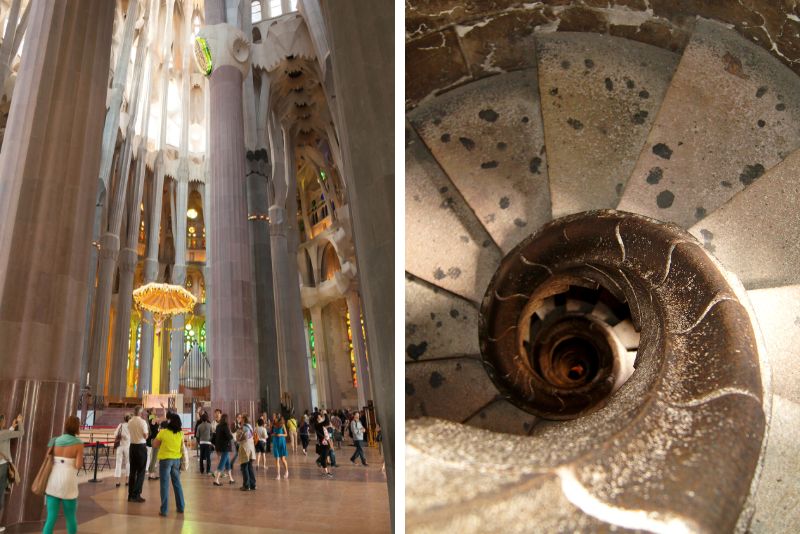 Whether you opt for a guided tour or self-guided audio tour, you can get tickets for tours that specifically include access to one of the towers of Sagrada Família.
The towers are a defining element of Sagrada Família, as they extend above the Barcelona skyline and give it its characteristic edge. With your ticket, you will be able to access one of the towers of Sagrada Família on either the Passion facade or the Nativity facade.
You can reach the top of the towers using a lift, but you will have to take stairs back down to the bottom. At the top, you will not only have exceptional views of the city, but you'll be able to see the continuing construction of the basilica from this vantage point.
However, given the height of the towers and the narrow staircase, a visit to the Sagrada Família towers is not recommended for people who are afraid of heights or are claustrophobic.
4. Sagrada Família private tours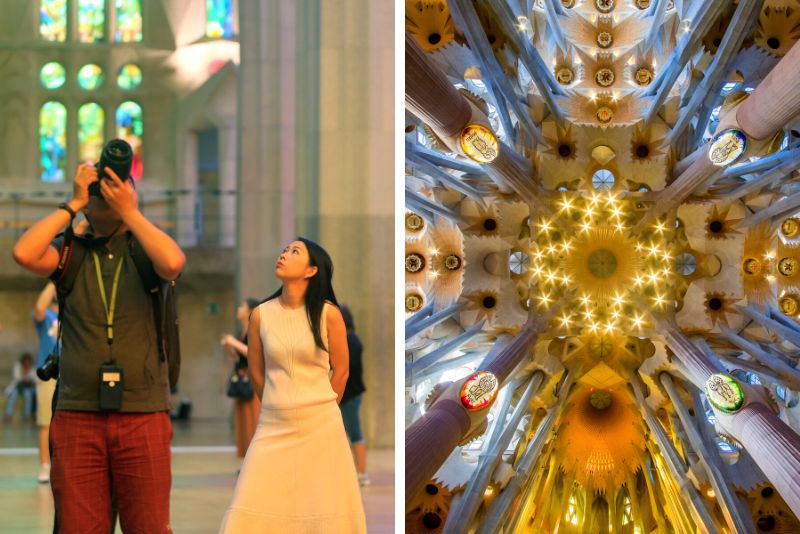 Going for the private tour is such an amazing thing that we would highly recommend for the Sagrada Família. It accrues many benefits that you wouldn't have on your own or even on a guided group tour. Private tours do often cost higher than standard group tours, but come with many advantages including perks, privacy and flexibility.
Most private tour guides are very much conversant with the history of the monument, so it would be easy for them to assess for you what to see. Within your own speed and level of understanding, you could ask them as many questions as possible until you have a comprehensive knowledge of Sagrada Família. You will also have the benefit of being with your own select group, creating a more intimate and personal experience.
Another great aspect we love about private tours is that many of them can come to pick you up in a comfortable vehicle from your hotel and even drop you back off at the end. Some private tours also give you increased flexibility to add different stops around Barcelona that you may wish to visit.
Depending on your private tour option, you may also get to enjoy perks such as an included glass of cava, coffee at Picasso's favorite restaurant or a hearty tapas meal!
Numerous ticket websites sell the Sagrada Família tickets that have the private tours available, and the prices vary. Check out TourScanner to compare the best possible prices before you book your ticket.
5. Sagrada Familia express tours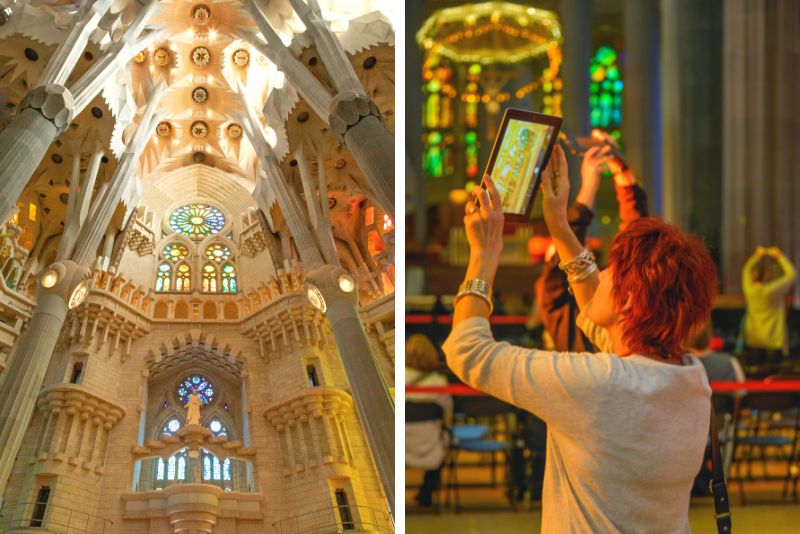 The Sagrada Família express tours are tours for people that have a limited and short time frame to visit the basilica. Within one and half hours, you will be done with your guided tour. Priority access will also save you on time, providing you with fast-track entry that skips all the major queues.
If you really want to visit the Sagrada Família and have a very short time frame to visit it because of personal commitments or time just wouldn't allow you, we highly suggest you go for one of the express packages. You can be done within the morning and still have a whole day ahead of you to continue exploring Barcelona!
6. Kids and family Sagrada Família tours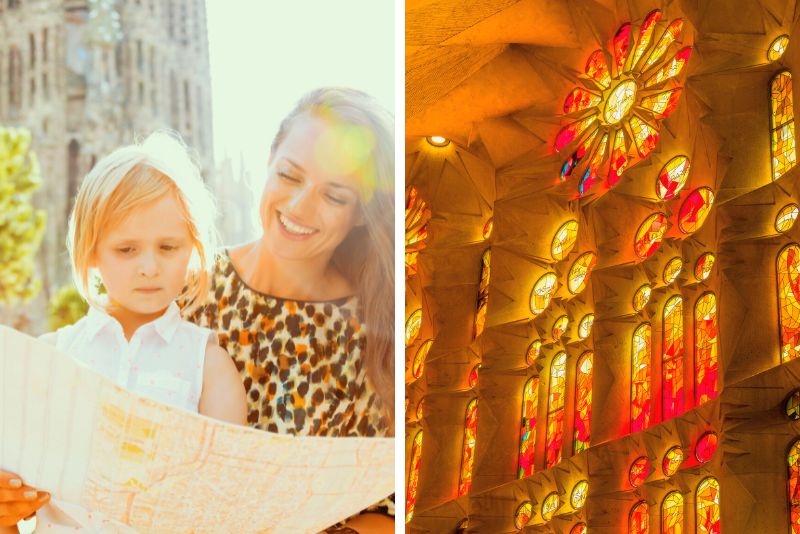 If you are going to the Sagrada Família with your kids or family members, we highly recommend that you check out the available family packages. With kids' interests at heart, the kids and family tours are designed in such a way that many of them are private tours giving you and your family full rein to explore and have fun.
This is a great way to bond as a family, and private tour guides make it easier for kids to quench their curiosity when it comes to the numerous questions they generally have. These guides are certified and know exactly how to tailor a tour for children.
Not only that, kids and family tours are filled with games and other activities, ensuring the little ones are always engaged and having fun. Many family tours go beyond Sagrada Família to visit other exciting locations such as Park Güell and the Gothic Quarter.
This package is also great when you are considering combo activities that you would do when you have kids with you. The guides will offer valuable advice on where to visit and what best works for the entire family.
7. Avoid the crowd — Early morning Sagrada Família tours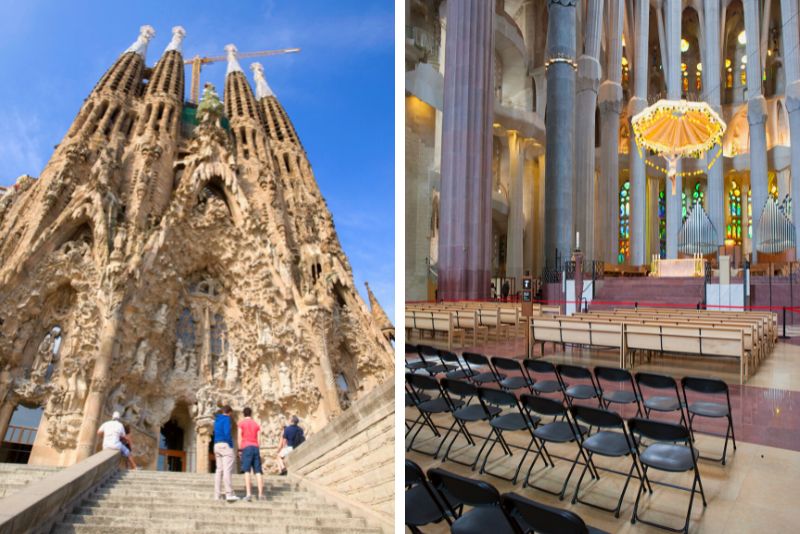 One thing that the Sagrada Família never runs out of is a crowd. During the peak hours of midday, it can be filled with people. A great way to avoid the large crowd is by opting for the early morning Sagrada Família tours that will ensure you are within the basilica at the first possible hour.
By getting in the Sagrada Família in the morning when it opens, you will beat the crowd of the midday and afternoon. You'll also benefit from a quieter space, helping you to better listen to your audioguide or guide as they speak. What a great way to avoid the congestion and commotion!
Combos — Tips for booking guided tours of the Sagrada Família and other attractions in Barcelona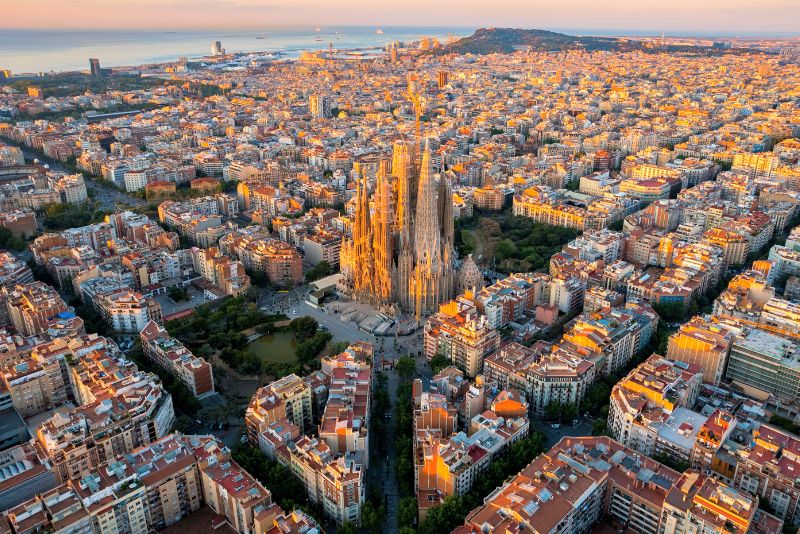 When it comes to finally choosing your guided tour option for Sagrada Família, you could also check out combos to add to your tickets and other things to do in Barcelona.
On a combo ticket, you will definitely get the tickets to enter the basilica, but you could also take advantage of other sites and attractions around Barcelona and explore them.
There are various options that you could choose from and you can compare the prices to land on your best pick. For example, you could book a Sagrada Família tour that will include Casa Batlló, La Pedrera, the Park Güell, Montserrat or many combined in one.
One thing we like about the combos is that you will have the prices reduced as compared to how you would visit each of the monuments and sites separately. Another good thing is that having the same guide makes it easy when it comes to having direct conversations, and you can comfortably ask questions.
You will never miss a sight, and they will offer great advice in matters of where to have pictures and the best shots of the different attraction sites you will be visiting.
We highly advise that you compare the prices before you book anything on different websites that offer the same kind of service for discounts or group charges.
Here are some more details about the combo tour options and what you will see.
Sagrada Família and Casa Batlló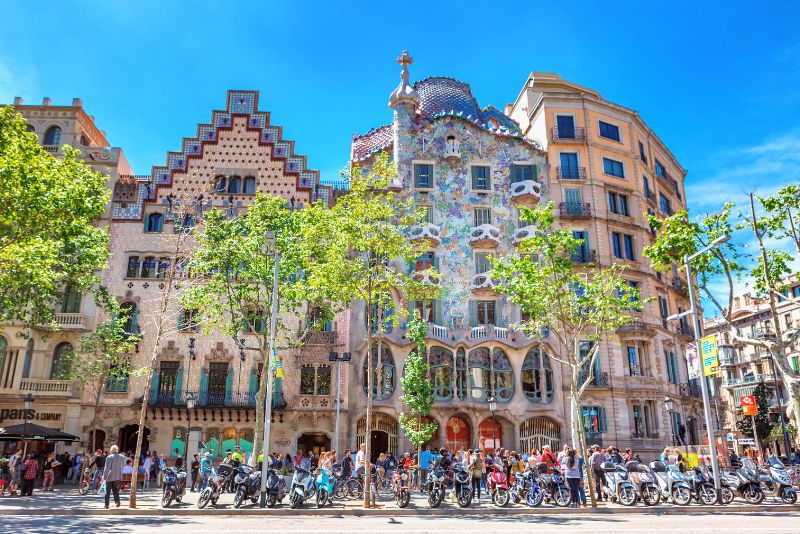 Add to your experience of Sagrada Família by visiting another of Gaudí's famous works, the Casa Batlló. Gaudí was commissioned by the owner of Casa Batlló, Josep Batlló, to oversee its demolition and reconstruction. However, Gaudí advised against demolishing, instead turning it into a work of art.
With its colorful mosaic facades and undulating roof, Casa Batlló reflects an ocean brought to life. While the true intention of Gaudí's work is unknown, many have interpreted it as being inspired by the marine world or by the tale of Saint George, who slayed a dragon.
Subsequently, Casa Batlló became known as the house of the dragon or house of bones. Casa Batlló is also most commonly referred to as the house of masks. This is due to the shape of the balconies at the front of the house, which seemingly reflect carnival masks.
The interiors of Casa Batlló are equally fantastical and breathtaking. The influence of nature can be seen throughout, from the entrance hall to the loft and patio of light.
During a guided tour, you will discover more about what made Casa Batlló not just a stunning complex, but a groundbreaking piece of architecture.
Sagrada Família and Park Güell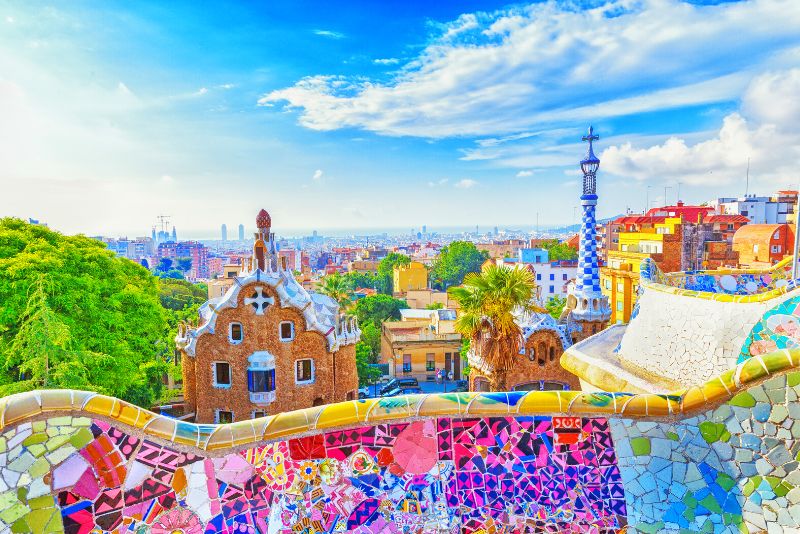 Park Güell is arguably Gaudí's most famous creation after Sagrada Família, and makes for the ideal combo tour. Park Güell truly reflects Gaudí's reverence for nature and how it influenced his art and design. Spanning approximately 18 hectares, Park Güell consists of a forest zone and a monumental zone, where you may find Gaudí's iconic work.
Originally designed to be an estate, Park Güell was eventually transformed into a public park. Here, you can discover Gaudí's famed Dragon Stairway, marked by the unique salamander sculpture decorated in an innovative mosaic design.
A guided tour will provide you with further historical context into the development and creation of Park Güell, and bring your attention to many details hidden around the park that you may otherwise miss!
Sagrada Família and La Pedrera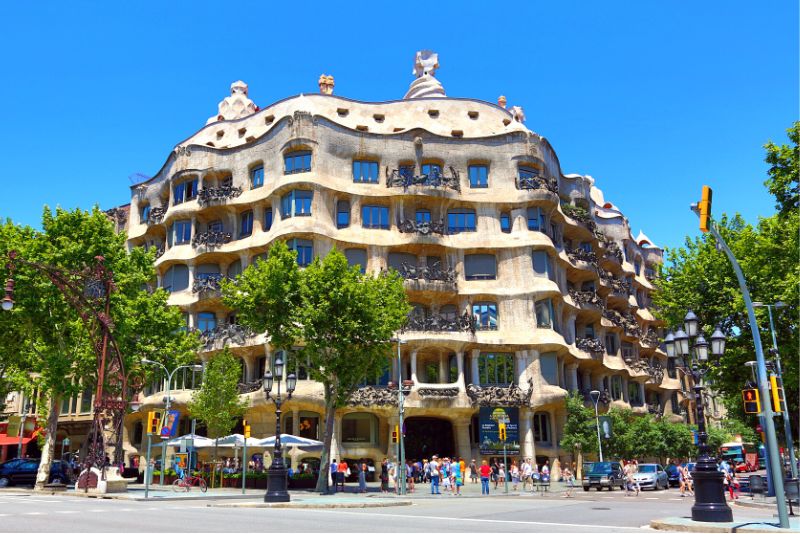 La Pedrera, also known as Casa Milà, is in fact located on the same street as Casa Batlló and are within walking distance of each other. However, they are somewhat different in style. While Casa Batlló is vivid and brightly colored, La Pedrera is monotone in color while still retaining that classic undulating and organic style of Gaudí's.
La Pedrera is in fact known as the "stone quarry" for its likeness to a quarry but is a feat of architecture and design. This was also the last civil architectural project Gaudí committed to. In the last years of his life, he wholly dedicated himself to the building of Sagrada Família. Originally a residential apartment complex, there are some families who still live in La Pedrera, and have done so for more than 70 years!
A guided tour of La Pedrera may give you a fascinating insight into the history of the building, some of the controversy it caused and why it is today considered a major accomplishment and an integral part of Barcelona.
Sagrada Família and Montserrat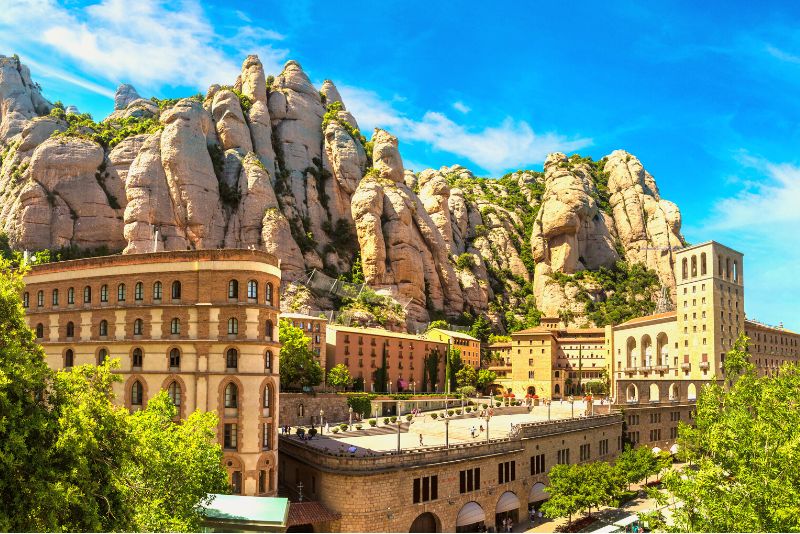 You can embark on a fascinating combo tour to both Sagrada Família and Montserrat in a single day. Montserrat is located about 1 hour outside of Barcelona, and is home to an ancient and legendary monastery. Combining Sagrada Família and Montserrat will give you a deeply fulfilling experience exploring two notable places of worship in Barcelona.
Monsterrat in fact inspired Gaudi in his design of Sagrada Família. Today you can take an exciting cable car ride up the mountains for incredible views of the scenery.
Here, you can then visit the Santa Maria de Montserrat Abbey, which dates back as far as the 11th century and continues to serve as a residence for monks. It is also home to the famous Virgin of Montserrat statue, a rare Black Madonna that originates from the 12th century.
You can also roam among the mountain paths, and even visit the Holy Cave, said to be the site where shepherds witnessed visions of the Virgin Mary in 880.
What will you see on a tour of Sagrada Família?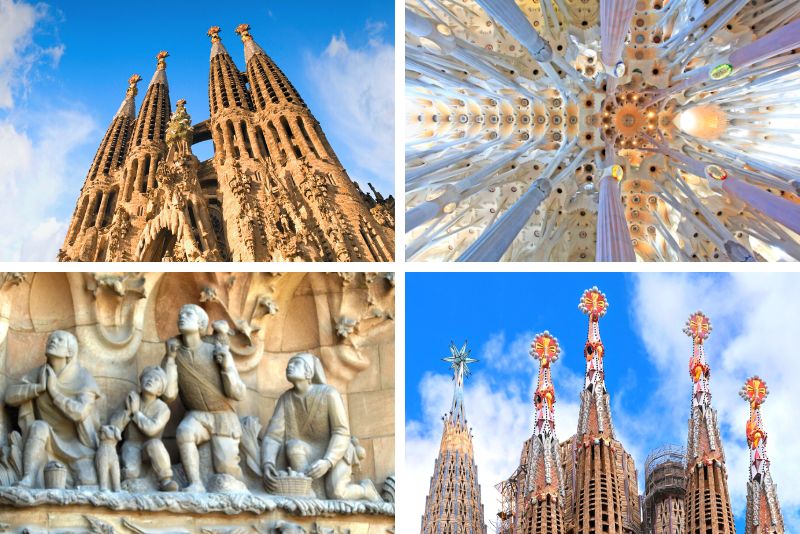 From the detailed facades to the breathtaking interiors, there is so much to see and learn about on a tour of Sagrada Família. Given the magnitude of the basilica, its over 100-year-long construction history and its layers of symbolism, we highly recommend a guided tour to uncover the full depth of Sagrada Família.
While viewing Sagrada Família, you will also uncover a great deal about the life of Gaudí, the visionary architect behind the basilica. Gaudí did not live to see the completion of Sagrada Família, but two sections he oversaw the creation of, the crypt and the Nativity facade, are recognized as part of the UNESCO World Heritage Site dedicated to his work.
Here are some of the notable sights you will see at Sagrada Família.
Sagrada Família towers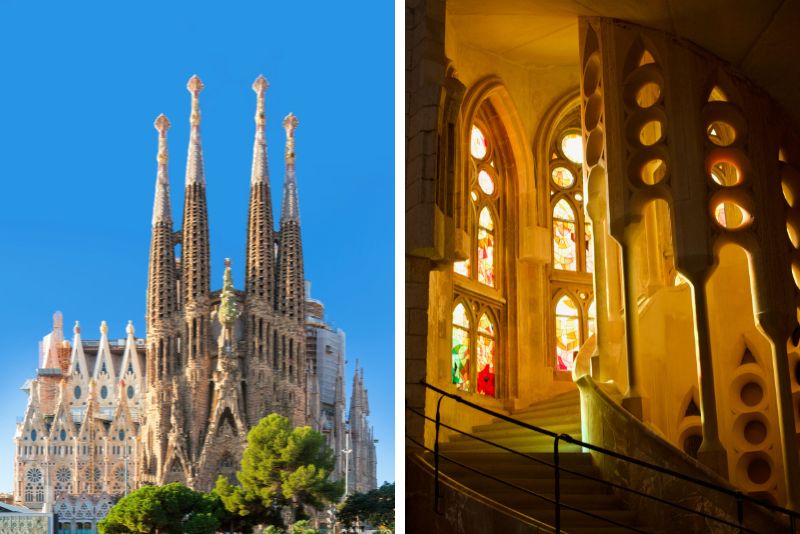 A defining aspect of the Barcelona skyline, the Sagrada Família towers are the first thing you will notice about the grand basilica. In the final construction, there are expected to be 18 towers in total — furthermore, the highest tower will mean Sagrada Família will be the tallest church building in the world!
The 18 towers all possess specific symbolism. Twelve of the towers represent the apostles, while a further four towers represent the evangelists — Matthew, Mark, Luke and John.
Towering above these is the tower of the Virgin Mary which was recently completed and includes a magnificent shining star at the top. The final tower will be the tower of Jesus Christ, which will stand above them all at an impressive height of 172 meters.
Currently, you access one tower per visit on either the Nativity facade or the Passion facade. From this vantage point you will be able to observe the continuing construction and the stunning city of Barcelona.
Nativity facade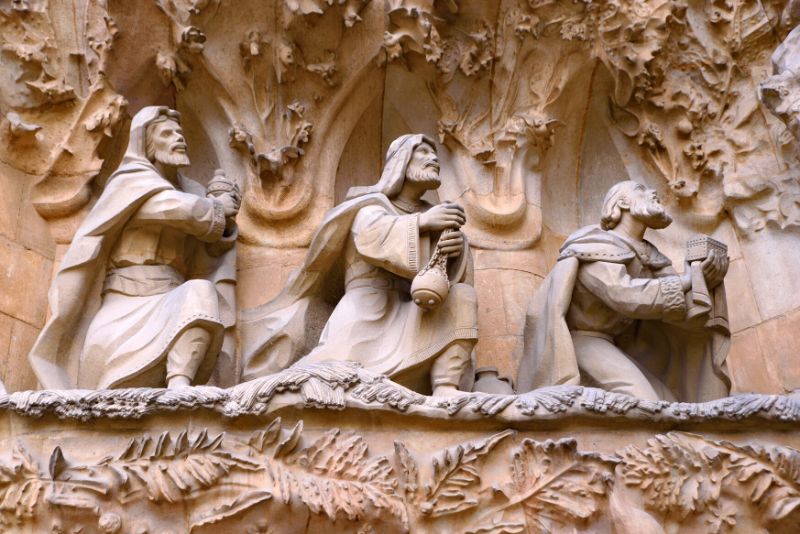 Breathtaking in its detail and fluid sculptural forms, the Nativity facade depicts the early life of Jesus with incredible symbolism. Gaudi was heavily influenced by nature in life and in his architecture, and nowhere is this clearer to see than the Nativity facade.
Ducks, flowers, bees and dragonflies among others decorate the facade among scenes from Jesus's life. You may find yourself gazing in awe at the details. A guide will be able to assist in picking out minutiae you may miss, and will be able to describe what each sculpture represents.
Passion facade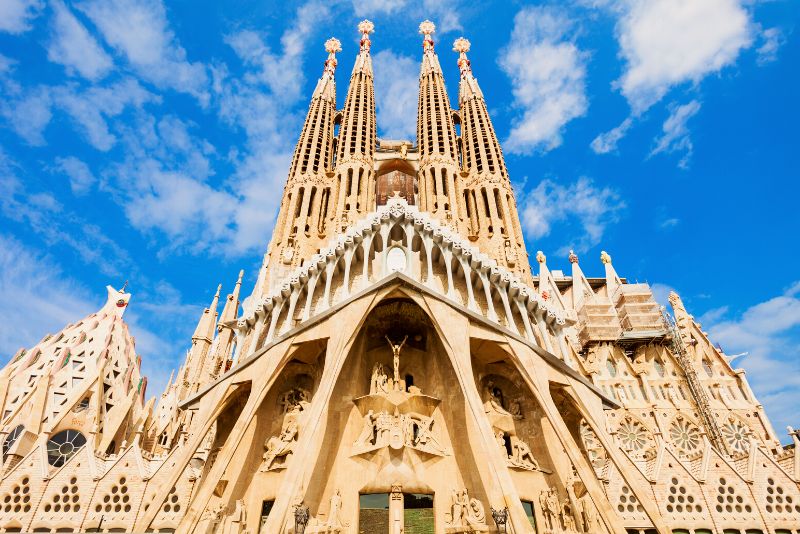 The Passion facade stands in direct contrast to the Nativity facade. The sculptures here are austere and angular in form, and are designed to be almost frightening. This is because the Passion facade depicts the death of Jesus.
While construction began on the Passion facade in 1954, it was recently completed in 2018. The final facade to make up the Sagrada Família is the Glory facade, which will portray the glory of Jesus. Construction is still continuing on the Glory facade, but on completion, it will bring the story of Jesus and the Sagrada Família full circle.
Sagrada Família interiors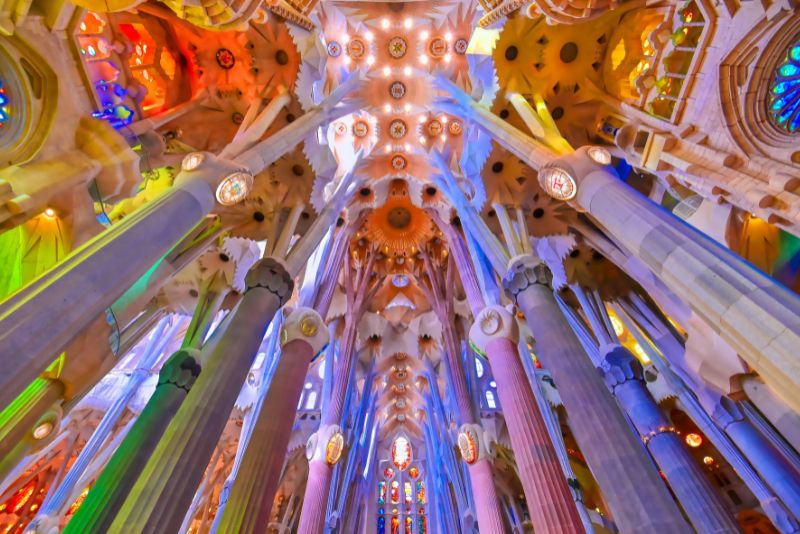 The Sagrada Família interiors are utterly awe-inspiring, and it would be well worth your time to spend a few hours here soaking up the atmosphere.
Gaudí designed the interior of Sagrada Família to be reflective of a great forest, with double-twist columns jutting into the ceiling and creating the illusion of towering trees. Gaudí specifically designed this entirely new type of column for the Sagrada Família.
Stained-glass windows decorate the basilica, with each color of glass corresponding with and representing different periods in the life of Jesus, from passionate reds to natural greens.
Feel free to take the time to reflect in this sacred space! If you wish, you can even attend a free mass at Sagrada Família, which we detail below.
Sagrada Família museum and Gaudí's tomb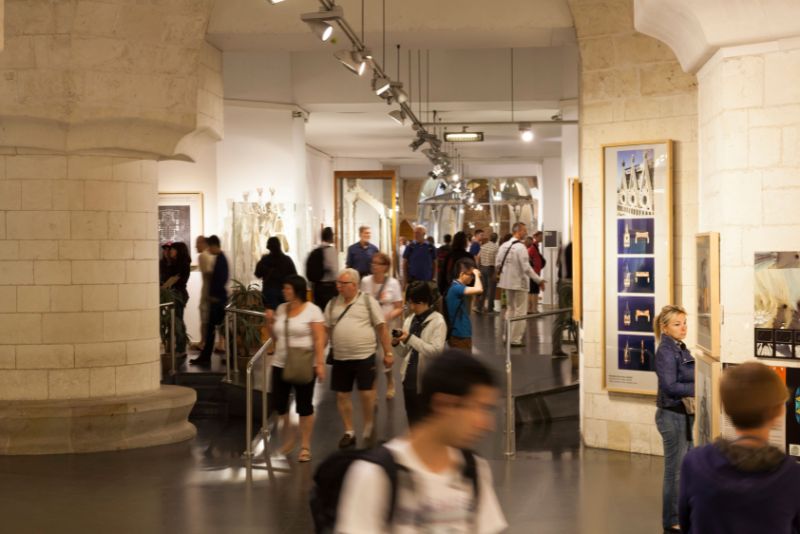 To add to your understanding of the history of Sagrada Família, you can visit a museum that is situated within the basilica. Here, you will find models, pages and other documents that detail the construction of the basilica over the decades.
Near to the museum is also the tomb of Sagrada Família's architect, Gaudí. In the last years of his life, Gaudí became increasingly solitary and pious as he dedicated all of his time, energy and focus to the construction of Sagrada Família.
In fact, he was known as "God's architect" who intended for the basilica to be a bible written in stone. Tragically, in 1926 Gaudí was struck by a tram and died a few days later. He had become so modest he was initially mistaken for a beggar due to the clothes he was wearing.
However, he was laid to rest within Sagrada Família, an honor to the architect who came to define Catalan Modernism and contribute so greatly to the image of Barcelona.
Are there any free Sagrada Família tours?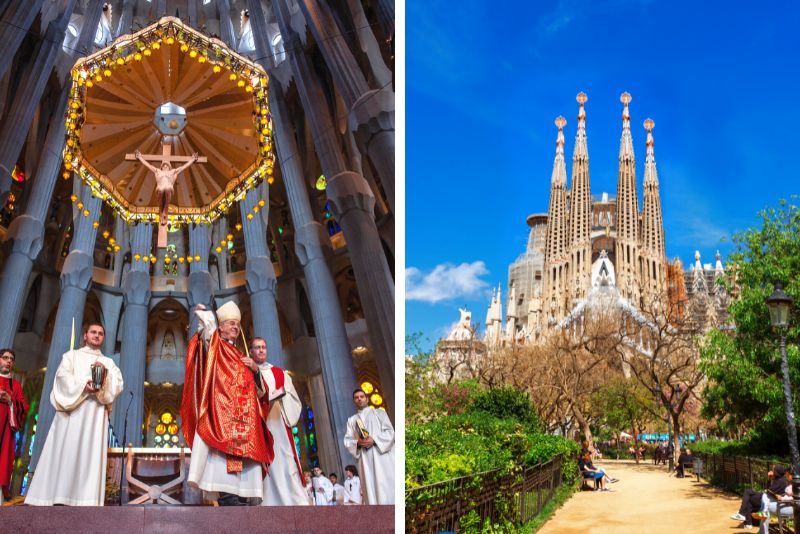 Unfortunately, there are no available free guided tours of Sagrada Família. The lowest ticket price that is available is the audioguided tour.
However, there are two other options where you can see Sagrada Família for free:
Free walking tour
Attend mass at Sagrada Família
Free walking tour
There are multiple free walking tour options available where you have the opportunity to learn a great deal about Sagrada Família. The only downside is that you won't be able to enter the basilica. However, this is a good tour option for learning more about Gaudi, his life and his other works on a budget.
Some walking tours will go to a few of his other buildings, and give you a comprehensive understanding of his architectural style and his historical context. Keep in mind that it is standard to tip guides after your tour at the rate you wish. Make sure you wear comfortable shoes, bring a bottle of water and dress appropriately for the weather.
Mass at Sagrada Família
It is possible to enter Sagrada Família for free without joining a guided tour. Every Sunday, mass is held at 9 AM and anyone is free to join. We recommend arriving quite a bit earlier in order to get your seats, as capacity is limited. This is an excellent way of experiencing the Sagrada Família as it is intended to be used, and you may find this to be a profound experience.
It is very important to note that because Sagrada Família is a place of worship you need to behave respectfully and dress appropriately. The basilica has a clear dress code that does not allow the wearing of swimwear, see-through clothing or pants that are shorter than mid-thigh. You may not enter barefoot.
You are also not allowed to wear any clothing for specific festive celebrations or dress in a way to bring attention to a specific purpose. If you do not adhere to the dress code you may be asked to leave the basilica.
You can check out the official Sagrada Familia website for the Sunday mass schedules and for any special mass events that are invitation only.
Can you cancel or modify your Sagrada Família tour?
When it comes to the cancelation and modification of the tour, this entirely depends on the terms and conditions of the tour operator you will be using.
Most tour operators accept cancelations or modifications for free 24 hours ahead of your tour. However, cancelations are not always possible. Some tours are entirely non-refundable or cannot be modified. We highly recommend that you know the terms and conditions of your tour before booking them.
Are any Sagrada Família tours included in the Barcelona Pass?
Unfortunately, guided tours are not included in the Barcelona Pass. A Barcelona Pass will get you entry into Sagrada Família and include the audioguided tour. You can also opt to get Barcelona Pass that includes access to one of the tours as well as the audioguide.
Travel tips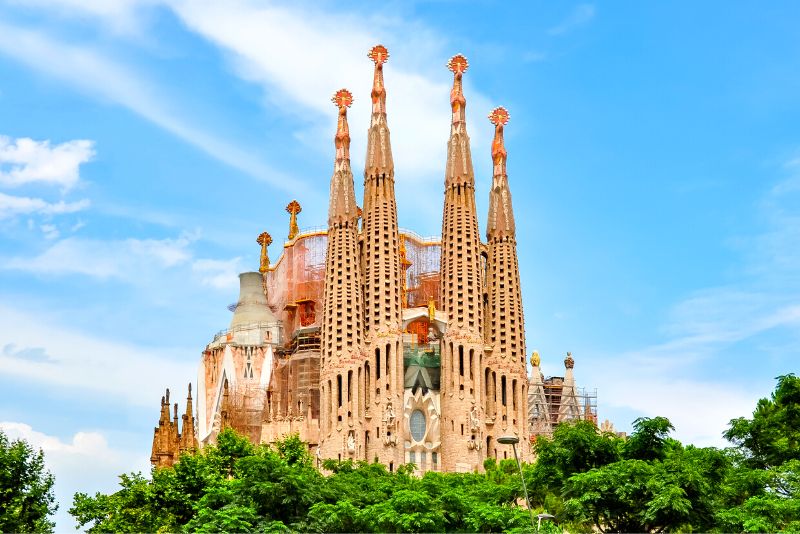 Book your tour in advance
Sagrada Família receives nearly 4 million visitors every year, meaning tickets and tours sell out quickly! The best way to secure your visit to Sagrada Família is by booking your ticket in advance.
On the official Sagrada Família website, you can book your tickets up to two months in advance. Check out other tour sites and ticket resellers for other options, especially if you are booking last minute. TourScanner aggregates all of these deals for you, making it easy to find the best tour options in a short amount of time!
The benefits of booking in advance are that you can be more selective in what type of tour you choose and the times of your tour. It also means you will have priority access to the basilica and will miss any major queues.
Time your visit carefully
Sagrada Família is so expansive we recommend exploring its grounds for between 2 to 3 hours. Try to find a lengthier guided tour that will delve deep into the details, and also give you free time to savor this sacred space.
It would also be worth considering trying to visit the basilica in the late afternoon. This is when sunlight streams through the stained-glass windows, creating an otherworldly atmosphere and the ideal photo opportunity.
Keep in mind it's also very important to arrive on time. Tickets have timed slots for entry into Sagrada Família, and if you're late, you'll miss your slot!
Dress well
Because the Sagrada Família is a basilica and an important place of worship, there is a strict dress code. Make sure you adhere to the rules and dress accordingly, otherwise you may be asked to leave.
We also recommend wearing comfortable shoes for your visit. You will likely be on your feet for the entirety of your tour of the expansive basilica, and don't want to risk being in any discomfort. This will also be essential for walking down the tower stairs if you opt to include that in your visit!
If you liked the article, share it! 🙂