Talking a walking tour of Barcelona is always great fun but take it up a level by combining a city tour with a Montjuic Magic Fountain show, exclusive castle visit, cable car ride and tapas tasting.
These tours take you past the city's most notable sights and end on a literal high note, with hilltop views and a splendid dancing fountain show.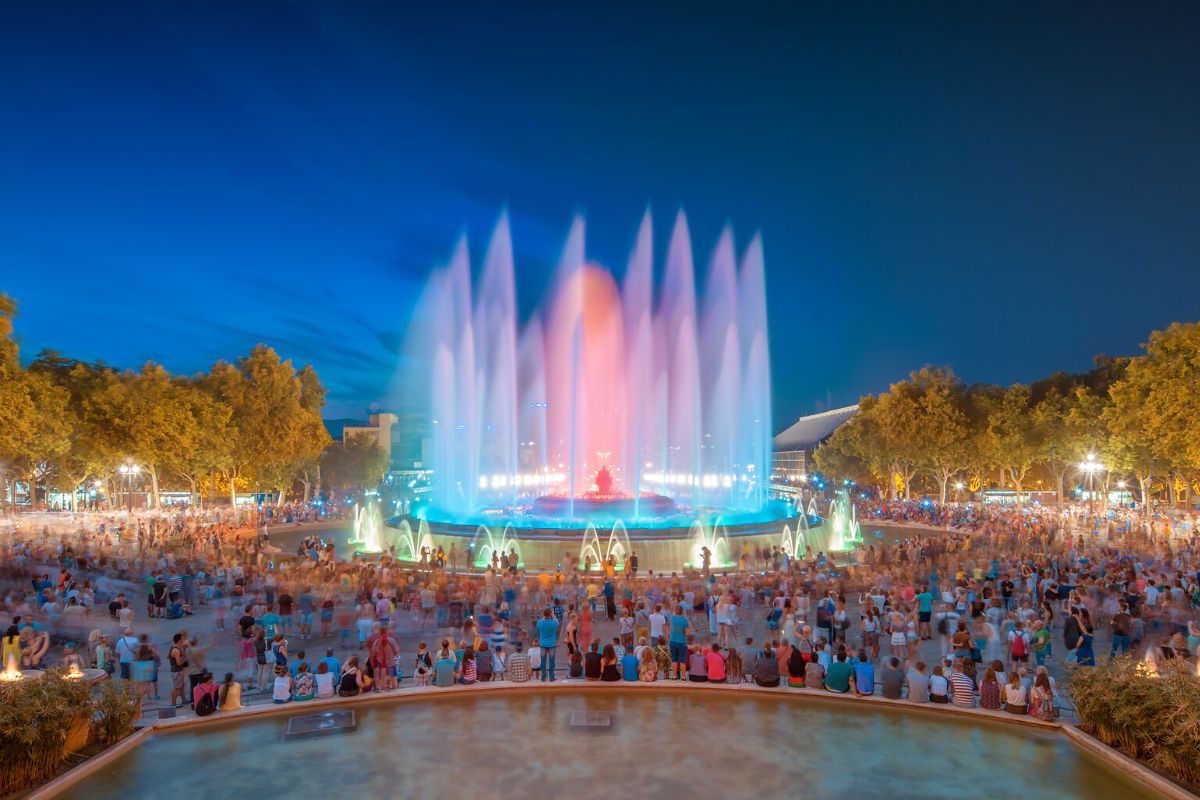 Here's all you need to know about Montjuic Castle & Magic Fountain, one of the most exciting options for shows in Barcelona.
How much do Montjuic Castle tickets cost?
Montjuic Castle entry tickets cost €9 per person. This tour also includes a return cable car ticket which costs €14.20 per person. The magic fountain show is free to attend.
A Montjuic Castle tour that includes a tapas tasting, a cable car ticket, the fountain show and a walking tour lasts over 5 hours and tickets start from €70 per person in a small group or €100 per person as part of a private tour.
Who is eligible for discounts?
There are discounts available on Montjuic Castle tickets for children between 8 and 12 years and unemployed people. Children under 8 can enter for free.
Is it possible to visit for free?
Montjuic Castle has several open days throughout the year. Entry after 3 pm on Sundays is free and every first Sunday of the month is free all day. There are also three public holidays on which you can enter for free: 12/02, 18/05, and 24/09.
Should you book it in advance?
You should book your Montjuic Castle tickets in advance. You get a 10% discount if you book your tickets online and you need to reserve your entry time.
You also need to book tours in advance as tour operators must prepare tapas tastings for the right number of people.
What are the best Montjuic Castle and Magic Fountain tours?
Exclusive Montjuic Castle and Magic Fountain tour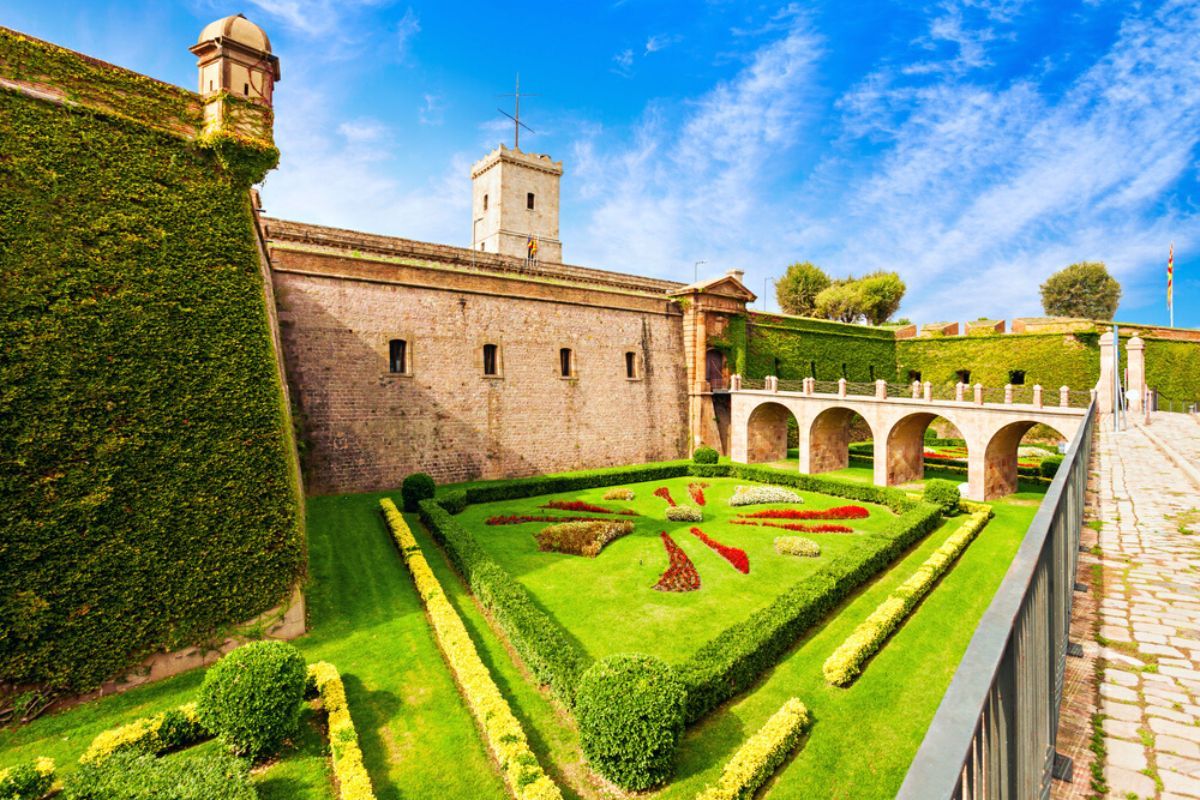 This exclusive tour combo offers a unique opportunity to see Montjuic Castle's areas that aren't open to the public. You will also get the best seat in the house for the magic fountain show and end the day off with a delectable tapas tasting.
The tour kicks off at the Ramblas, the iconic old town of Barcelona, where you will enjoy a walking tour past the most famous sights. You will pay a visit to the Boqueria Market and admire its impressive architecture. Next awaits a scenic ride on the Montjuic funicular to the castle.
This tour takes its small group on an exclusive visit to the dungeons, a space that is otherwise off-limits to the public. From the castle, you can soak in breathtaking 360-degree views of Barcelona down below.
Stop at some lovely terraces to enjoy traditional tapas, wine and beer before the magic fountain show commences. The 20-minute water fountain show is one of the most popular activities in Barcelona and ends your tour on a high note.
What will you see inside?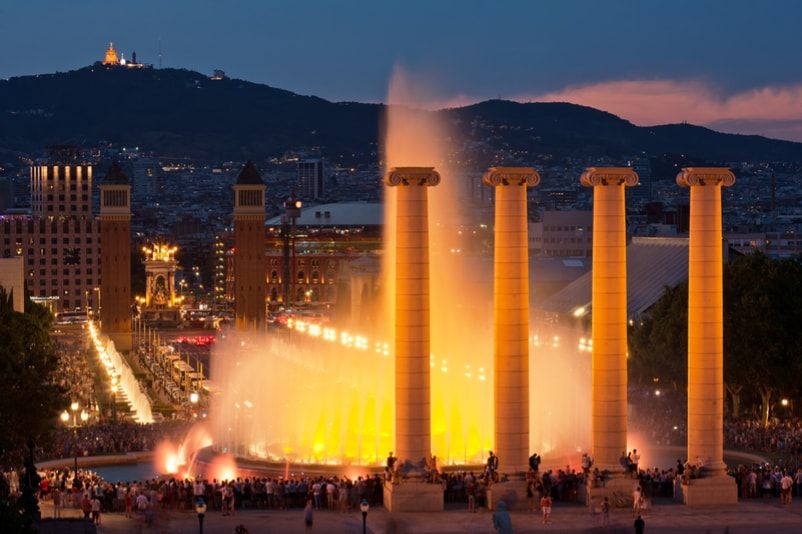 Montjuic Castle is an impressive 17th-century structure that served as a military fort to protect the city. From the castle's hilltop viewpoints, you can experience unbeatable 360-degree views over the city.
The castle's dungeons are usually closed to the public but these exclusive small group and private tours let you gain access to these eerie depths.
Montjuic mountain has several fascinating places to visit. Below the castle, you can see the Olympic Ring and the National Art Museum (MNAC) and the showstopping magic fountain.
The fountain has a showstopping display each night, with a 20-minute light, water and music show.
How to get there?
You can reach Montjuic Castel on foot or by bus, cable car and car. It is a steep 25-minute walk through beautiful gardens. The cable car is the easiest way to reach the castle and you will get off in front of the castle.
The cable car starts at begins at Avinguda Miramar. Bus 150 also drops you in front of the castle but it takes longer than the cable car as it drives up the back of the hill.
What are the opening times?
The castle's opening times differ during the year:
March 1 to October 31: 10 AM to 8 PM
November 1 to February 28: 10 AM to 6 PM
The magic fountain shows are at:
April 1 - May 31: Thursday, Friday and Saturday: 9 PM to 10 PM
June 1 - August 30: Wednesday to Sunday: 9:30 PM to 10:30 PM
September 1 - October 31: Thursday, Friday and Saturday: 9 PM to 10 PM
November 1 - March 31: Thursday, Friday and Saturday: 8 PM to 9 PM
January 6 - February 16: Closed
Travel tips
Wear comfortable shoes. There is a lot of walking involved.
Let your guide know ahead of time if you have any dietary restrictions for the tapas tasting.
Book your ticket well in advance as group numbers are small and likely to sell out.