Head up north of Barcelona to unveil one of Europe's most well-kept secrets! Costa Brava, which translates to 'wild coast', promises to entice you with its largely- undiscovered, pristine beaches away from the hustle and bustle of the urban development.
From spectacular seascapes and wind-battered headlands to coast-clasping hiking paths and fascinating seaside towns, spend a day discovering this wonderfully scenic region to take home memories that last for a lifetime.
Sunbathe or swim in an unspoiled cove, or simply choose to take a serene stroll through the cliff-edge Marimurtra Botanical Gardens. Even better; challenge the adrenaline junkie inside you and take a plunge into the shallow waters at the famous diving sites around the protected Illes Medes!
After savoring a typical Spanish brunch at one of the outstanding restaurants, bring your Costa Brava day trip from Barcelona to an end by enjoying free time to explore, shop, or relax at your own pace!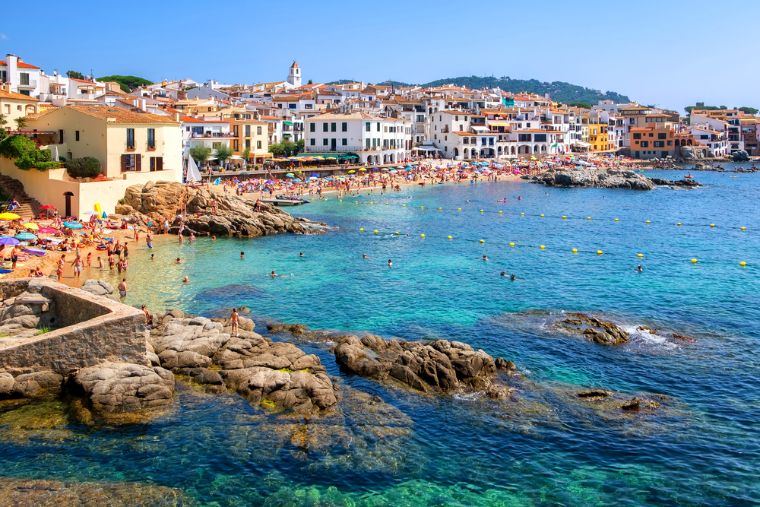 Here's everything you need to know about Costa Brava, one of the most scenic day trips from Barcelona.
How to get to Costa Brava from Barcelona?
There are a few ways to plan your Costa Brava day trip from Barcelona depending on what you all want to see in the region. Assuming you want to stop in the downtown area as well as explore the coast, here are your best solutions:
By Car
It takes about two hours to reach Costa Brava from Barcelona. The trip is adequate in a rental car if you don't mind getting behind the wheel. The drive is nothing close to spectacular.
By Bus
An even better solution is to board a shuttle bus from Barcelona to Costa Brava. You don't have to worry about directions. Book a tour and make sure you are at the pickup destination in plenty of time on the day of the departure.
By Train
Train rides are affordable and also reduce the time between the two places. Since your time is limited on a day trip, it's a great idea to maximize time by considering a train ride to Costa Brava.
How long does it take to get from Barcelona to the Costa Brava?
It takes approximately two hours in one direction to reach Costa Brava from Barcelona. Plan on at least four hours for a round-trip in a day. Consequently, you'll want to get an early start to make the day worthwhile. Scheduling a bus tour allows you to relax or even nap on the way back after the sun falls over the horizon for the day.
How much does a Costa Brava tour from Barcelona cost?
The cost of a Costa Brava day trip from Barcelona depends on a few factors. First, you need to settle on a type of tour. Secondly, you need to compare tour packages on TourScanner.com to find the best value:
Guided tours
A straightforward Costa Brava day trip from Barcelona takes you to the heart of Catalonia. Experience all the best the region has to offer from Ampurias to Pals, Estartit to Calella de Palafrugell. Day trips range in cost depending on the number of stops but expect to pay at least 60€ for a half-day excursion and 80€ for a full day of fun.
Kayak and Snorkeling Tours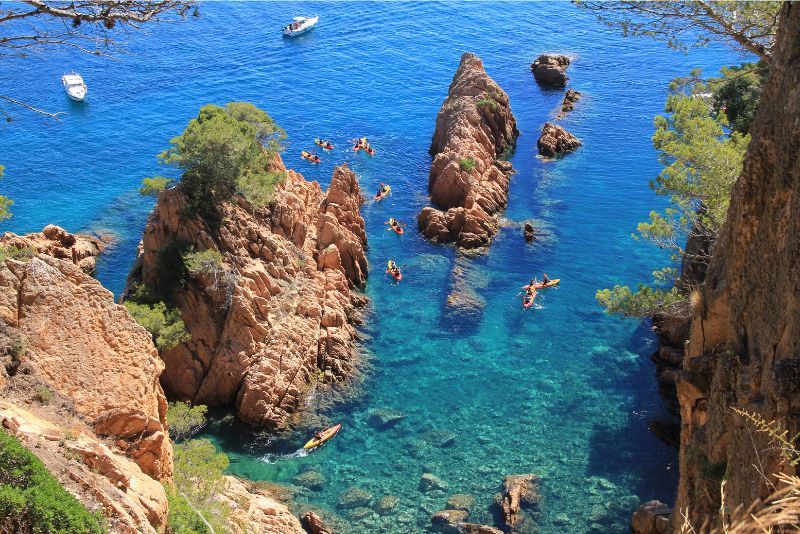 Costa Brava is along the Gulf of Roses and the Balearic Sea. There are countless opportunities along the northeast coast of Spain to soak in the water and sun. Kayak and snorkeling adventures offer the best of both worlds as you cruise above the water before dipping in to get a perspective from below the water surface. Water adventures start at 70€ per person.
Hiking Tours
Hiking tours of the Costa Brava coastline deliver unparalleled experiences. As you explore the coast, you'll get treated to many photo-ops while you also share the present moment with your fellow travel members. Hiking trips are also available around many of the surrounding natural areas. Hiking tours average about 100€.
Private Tours
A Costa Brava day trip from Barcelona that includes stops at Figureres and Salvador Dali tours can get scheduled in private settings. Therefore, you can limit the number of people on tour to family and friends. It is a more comfortable and enjoyable experience but does cost quite a bit more (average private tour costs 200€).
When is the best time to visit the Costa Brava?
Costa Brava is breathtaking from June to September. July and August get hot and crowded but its prime time for being on the beaches. If you can afford to wait and schedule a trip in late-August or September, you'll enjoy fewer crowds at all the tourist hotspots for a more romantic setting.
What are the best things to see and do in Costa Brava?
There are several things to consider doing on your Costa Brava day trip from Barcelona:
Sightseeing
It doesn't take long to begin feeling relaxed once you reach Costa Brava. The resort towns along the sea and nature of the area immediately put you at ease. There are countless photo opportunities along the way.
Beaches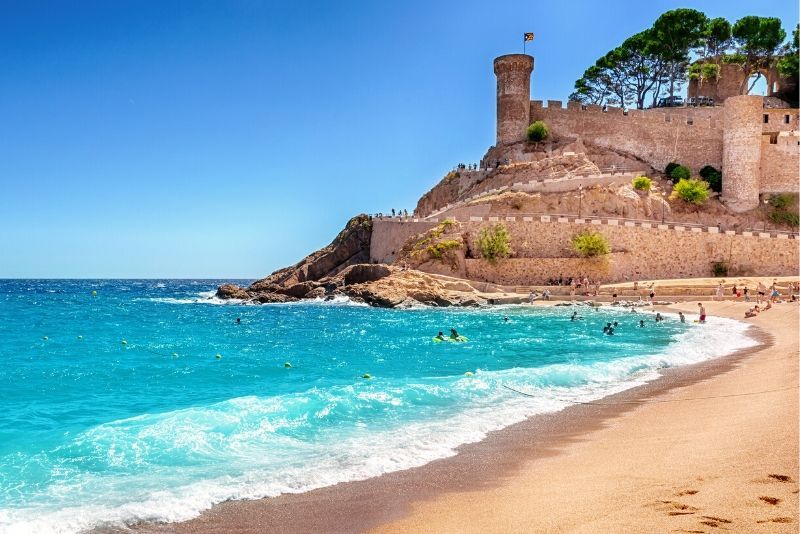 Costa Brava is not just limited to its beaches though it is one of the highlights of the region. The amazing beaches offer paradise in every regard whether you hit the sea, lounge in a chair, or play games on its sandy surface. Kayaking and snorkeling are available from several different outfitters on TourScanner.com.
Nature Exploring
Costa Brava has a million things to offer after you get away from the beaches. The territory in Catalonia offers three natural parks and several more reserved nature areas. Hiking and other outdoor recreation opportunities exist depending on how much time you have in Costa Brava.
Art & Culture
Costa Brava offers its style of art and culture, which is different from what you'll find in Barcelona. In fact, several well-known artists like Pablo Picasso, Joan Miro, and Salvador Dali have spent time in the area seeking inspiration. Costa Brava is also home to several prominent museums like the Dali Theatre and Museum.
Are there any other places to visit on the way from Barcelona to Costa Brava?
There are several places to visit in Catalonia. Scheduling a Costa Brava day trip from Barcelona is an exciting way to see many of these sights in a single adventure:
Girona
Girona is a scenic city that exists at the confluence of several different rivers. The area is rich in natural resources and serves as a gateway to numerous opportunities for fun in Catalonia. Spend some time pursuing its ancient cathedral and other old fortifications. The great thing about Girona is it's on the direct route to Costa Brava from Barcelona, so you have no excuse not to make a pitstop.
Natural Parks
Costa Brava is home to three important and designated natural parks: these include the Natural Park of Cap de Creus, Aiguamolls de l'Emporda, and Montseny Natural Park. Many other reserved natural areas are protected in Costa Brava and available for your enjoyment.
Dali Theatre and Museum
The Dali Theatre and Museum represents the largest collection of works by Salvador Dali in the world. The museum exists in Dali's hometown of Figueres, and the legendary artist is buried below the theatre. It is arguably the most important and influential museum in Catalonia.
Gardens of Catalonia
Costa Brava offers four beautiful gardens. These include Cap Roig Gardens, Santa Clotilde Gardens, Pinya de Rosa Tropical Botanical Garden, and Marimurtra Botanical Garden. The gardens incorporate much of what makes Costa Brava such a special place and are worth seeing if you have the time.
Travel Tips
Protect yourself from the sun. Costa Brava has glorious beaches; however, the same rules apply. Make sure you bring plenty of sunscreen. Also, protect your face with a hat and sunglasses.
Get a diverse experience through a tour. Costa Brava has a ton of variety from beautiful beaches to outdoor preserves and famed museums. For the best variety, try to find a day trip that caters to all three.
Take a bus or train for convenience. It's a fairly long commute from Barcelona to Costa Brava on a day trip. Let someone else handle the driving. Bus tours and train rides produce a more relaxing day trip to Costa Brava.