Barcelona is famed for its host of architectural jewels, built by Antoni Gaudí in the 19th and 20th centuries. However, the city is also home to a thriving gastronomic scene, which can be explored through your taste buds.
Food tours in Barcelona enable you to immerse yourself in the city's traditions, exploring recipes that have been perfected over several centuries and learning about the ingredients used in each dish.
Suitable for all the family, these excursions are a fun (and filling) way to spend a few hours in the Spanish capital.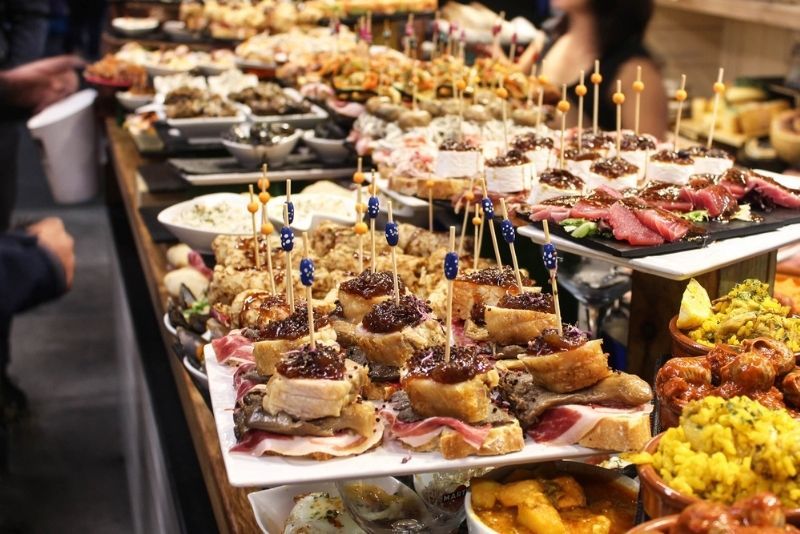 Here's all you need to know about food tours, one of the most captivating gastronomic experiences in Barcelona.
What are the best food tours in Barcelona?
Barcelona tapas tour
Discover the history of Spain's culture on this tapas tour filled with mouthwatering dishes.
Starting at the El Molino theater — famed for its performances of "Moulin Rouge" — in the early evening, you'll take off on an adventure through the streets of both the Pueblo Seco and San Antonio districts.
Following your food-loving guide, you'll stop off at a handful of the city's most esteemed food outlets to sample Spanish favorites.
As you hop between bars, you'll try a range of dishes, which include patatas bravas — a dish formed of potatoes simmered in a spicy tomato sauce — as well as bechamel-filled croquetas and cured meats.
You'll also have the opportunity to try Catalan bread, which is traditionally topped with olive oil, garlic and tomatoes.
Barcelona walking tasting tour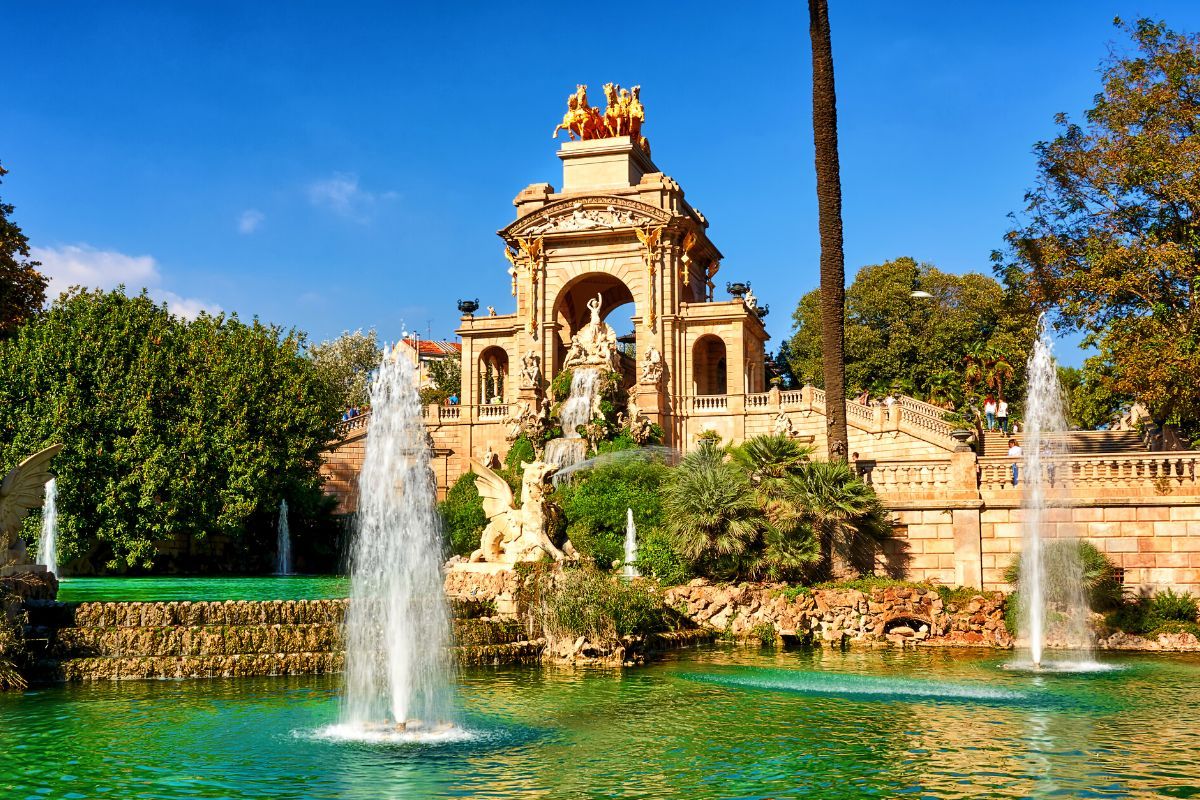 If you love to be surprised by delicious food, opt for this culinary tour in Barcelona, which features a secret dish, only revealed on the day.
On this walking tasting tour in Barcelona, you'll have the opportunity to catch a glimpse of some of the city's most renowned architectural gems as you make your way between several bars to try traditional regional cuisine.
These include the 14th-century Basilica de Santa Maria del Mar, as well as the tranquil Ciutadella Park, which features ornate sculptures and the Gothic Barcelona Cathedral, dedicated to Saint Eulalia of Barcelona.
While the dishes on offer vary day to day, you can expect to try Spanish staples, such as paella — a rice dish that originated in Valencia. You may also try Iberian ham, as well as decadent churros, all washed down with local wine.
Before wrapping up your food tour, you'll try a secret dish, selected by your guide.
Tapas tour in La Boquería and Santa Caterina markets in Barcelona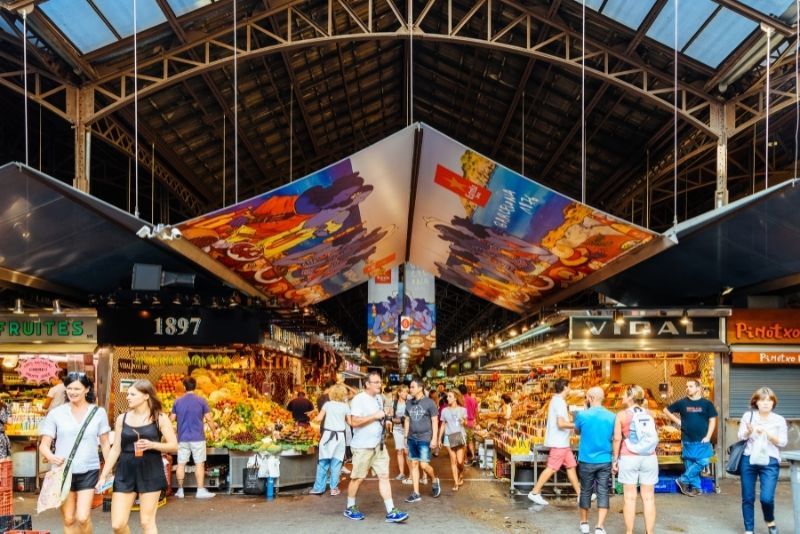 Alternatively, see how the locals live as you watch the hustle and bustle of two of the city's most notable markets.
Starting on your Barcelona tapas tour, you'll saunter along the city's streets to reach La Boquería, the oldest marketplace in Spain, which dates back to the 13th century when it was originally set up for the sale of meat.
Here, you'll see a myriad of produce stalls, featuring vibrant vegetables, juicy fruits, fragrant cured meats and freshly-caught fish. Your knowledgeable guide will fill you in on the produce you see and how it is used in traditional recipes to form some of the dishes you know, and love.
Once you've bonded with your group over the complex flavors used in Catalan cuisine at a tapas bar, you'll move on to Santa Caterina, a marketplace constructed on a former convent.
This site is famed for its unique architecture, as well as its produce, and once you've explored both, you'll relax at a restaurant with Iberian ham, as well as patatas bravas, and fried squid rings.
Are there any combos available with food tours in Barcelona?
El Born walking tour with tapas dinner and flamenco show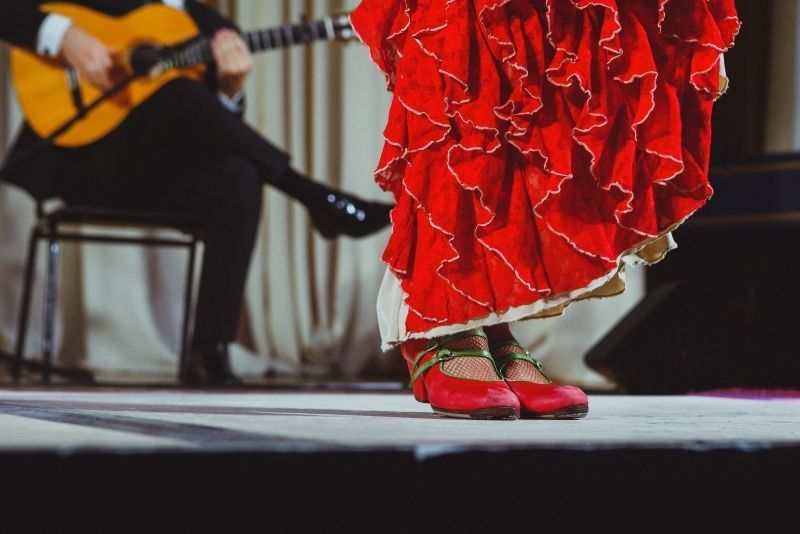 During this combination tour, you'll explore the gastronomic center of the city, El Born, while admiring Barcelona's most iconic landmarks, such as the Basilica of Santa Maria del Mar, which is the last remaining church in Catalan Gothic design.
You'll visit two different bars within the city's most historic quarter where you'll sample Spanish delights before moving on to your final venue where you'll be entranced by folkloric music as you watch skilled dancers performing traditional flamenco — a custom that has been listed by UNESCO as a Masterpiece of the Oral and Intangible Heritage of Humanity.
Montserrat half-day tour with tapas and wine
On this half-day excursion, you'll visit the mountainside Monastery Santa Maria de Montserrat, originally founded in the 11th century.
Here, you can discover the "Black Madonna" sculpture, thought to have been crafted in Jerusalem and moved to Montserrat in the 8th century.
Sample traditional dishes, made lovingly by the monks here before moving on to a local award-winning winery, where you can have a wine tasting experience, from grape to bottle, and try variations of the fruity tipple.
Which places are visited?
Barcelona is formed of many districts, including San Antonio, Pueblo Seco and El Born. While each of these neighborhoods varies slightly, they all have one thing in common — their cuisine.
No matter which corner of the city you journey on your food tour in Barcelona, you'll find a wealth of creamy ham croquetas, as well as saffron-infused paella, topped with meaty shrimp and deep-fried churros, which are usually served alongside hot chocolate.
There are plenty of restaurants, cafes and bars to be found in the city, serving traditional fare, as well as small plates, referred to as "tapas."
How much do food tours in Barcelona cost?
A basic tapas tour in Barcelona costs between €60 and €70 per adult, while children between the ages of 2, and 16 can participate for between €40 and €50 each. Those under 2 can join in for free.
A day tour of Montserrat costs approximately €80 per adult with children between the ages of 4 and 12 qualifying for a discounted rate of around €70 each. Those under 4 travel for free and tours take place in groups of up to 20.
Those that select a combination Barcelona flamenco show and food tour will pay between €80, and €90 per adult. A discount of €10 is applied to tickets for children between the ages of 4 and 8.
If you wish your food tour to take place in the La Boquería and Santa Caterina markets, you can expect to pay €90 per person aged 4, and over. Children under 4 can join in for free.
Walking tastings tours operate in groups limited to 10 participants and cost just under €100 per adult. Youths aged 13 to 17 will pay approximately €90 each while children aged 12 and under will be charged a discounted rate between €80, and €90 each.
What is included?
Food tours in Barcelona always include the services of a local foodie who will guide you through the city to some of the most outstanding restaurants and bars.
Each excursion differs in the number of food tastings they provide, with some offering three tapas dishes for you to try, while others provide you with up to 12. These experiences often also include several drinks, both alcoholic and non-alcoholic.
Where does it start?
Food tours in Barcelona begin at a myriad of easy-to-reach destinations across the city, such as Plaza Real and Plaza de Ramon Berenguer el Gran.
Your guide will typically be waiting for you in front of a recognizable landmark and may also be holding an item to identify themselves.
You can consult the booking page of each excursion to find out its meeting place and arrange any necessary transportation ahead of time.
How long does it last?
Barcelona food excursions generally last around 3 hours, which gives you plenty of time to explore part of the city, dipping in and out of food outlets as you go.
If you're looking to extend your adventure, you can do so by booking a combination tour that travels out to Montserrat, which lasts 7 hours.
Is it wheelchair friendly?
The majority of food tours in Barcelona are not suitable for wheelchair users.
When is the best time for a food tour in Barcelona?
The best time for a food tour in Barcelona is during the afternoon or evening when the city comes alive with its culinary offerings.
The bustling atmosphere and vibrant energy of the city enhance the experience of sampling delicious food and immersing yourself in Barcelona's food culture.
Travel tips
Ensure you wear comfortable shoes to navigate the streets and neighborhoods with ease, allowing you to fully enjoy the tour.
Immerse in local culture and embrace Catalan traditions and try regional specialties.
Venture beyond tourist areas to discover authentic eateries and explore neighborhoods.
Tapas exploration indulge in a variety of tapas dishes, both classic and innovative.
Pace Yourself adn savor each bite and enjoy the experience without rushing.