While the city of Barcelona is ancient in its own right, dating back to the 1st century B.C., wine production in the area is even older and was introduced by the Phoenecians more than 2,500 years ago.
Wine tours and tastings in Barcelona come in all shapes and sizes, from intimate sessions with a sommelier in a luxurious wine bar to day trips across the mountains to tour prestigious vineyards. Whether you're a wine expert or simply enjoy relaxing with a glass of bubbly at the end of a long day, you're bound to enjoy this type of excursion.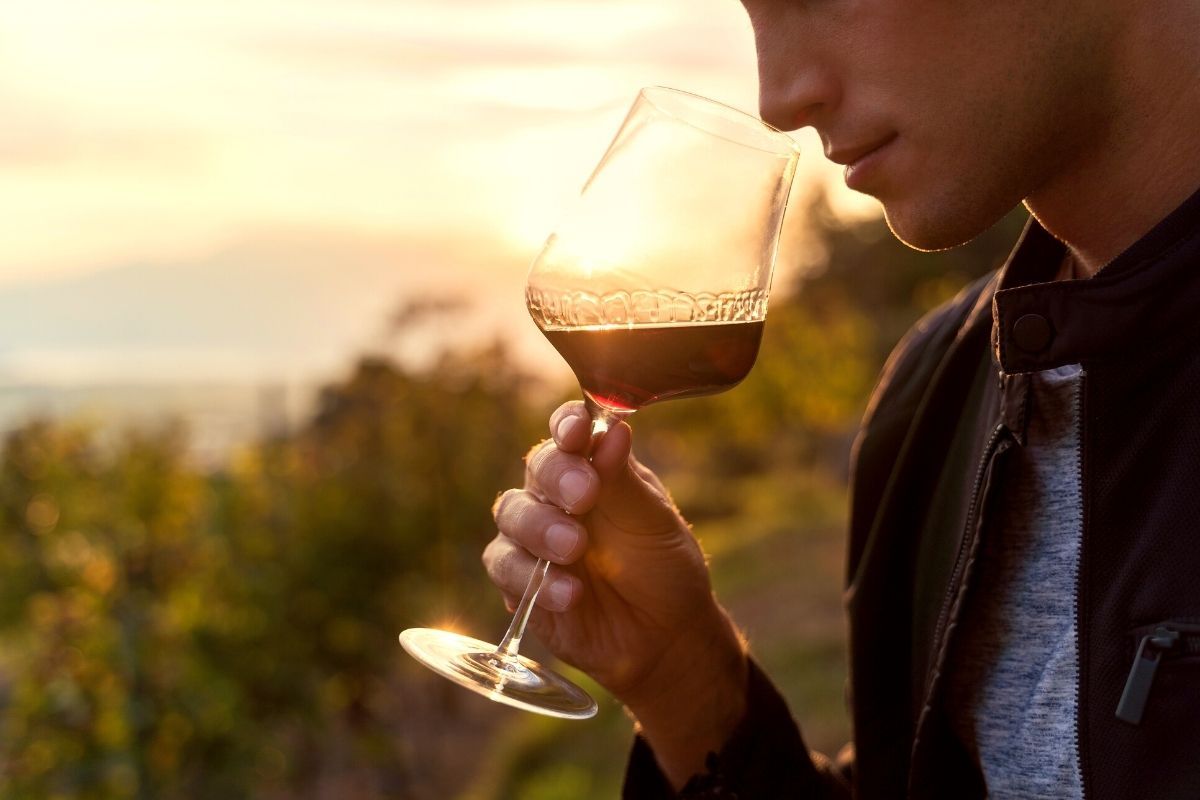 Here's all you need to know about wine tours and tastings, one of the most aromatic gastronomic experiences in Barcelona.
What are the best wine tours and tastings in Barcelona?
Barcelona wine tasting tour
Discover the entire Catalan wine region without leaving the city on this wine tasting excursion in Barcelona.
At an elegant wine bar in the heart of the old town, you'll take a seat and relax as you embark on a whirlwind exploration of Spanish wines. You'll be in the hands of an expert sommelier who will educate you on the contrast in flavors between wines produced in different parts of the country, with a special emphasis on Catalan wines. You'll also learn the technique behind wine tasting and before the end of the excursion, you'll be a pro at understanding how to pick out the notes in each glass.
Penedès wineries day trip from Barcelona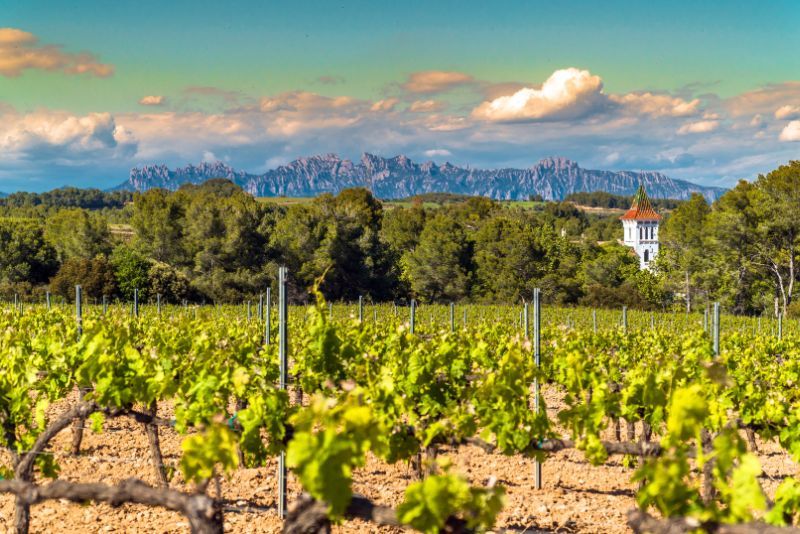 Explore the different ways wine makers have crafted their wine over the centuries on a wine tasting in the celebrated Penedès region.
Leaving Barcelona behind, you'll travel deep into the rolling hills of the Penedès region. Here, you'll discover a unique winery, located inside a cave, and taste local delicacies alongside Catalan wines.
Moving on, you'll visit a second winery, which is renowned for producing Corpinnat – an organic form of Cava, which is harvested by hand and aged for at least one and a half years. Wander the thriving vineyards and admire the endless greenery and mountain views that surround you before participating in another wine tasting session.
Alella wine tastings E-Bike tour from Barcelona
Alternatively, be charmed by mesmerizing vineyards on a visit to the village of Alella.
Hopping on your convenient E-Bike, you'll head out of the city and travel down the coast toward the Natural Park of Serralada de Marina, where there are more than 50 trails to hike or cycle. Inside this green haven, you'll find the traditional village of Alella, which features an ancient Roman road running through its center.
Alongside its fascinating historic remains, this townlet is famed for its wines, most of which are created from Pansa Blanca grapes. Here, you'll stop at a winery to amble through its vineyards and explore its winemaking facilities.
Once you're thoroughly educated on the process behind winemaking, you'll enjoy a tasting session led by a professional sommelier during which you'll sample some of the most popular wines in this corner of Spain.
Lastly, you'll enjoy a gourmet meal surrounded by fragrant grapes as you lay down for a picnic in the vineyards before returning to Barcelona on a train.
Are there any combos available with wine tours and tastings in Barcelona?
Montserrat day tour with lunch and wine tasting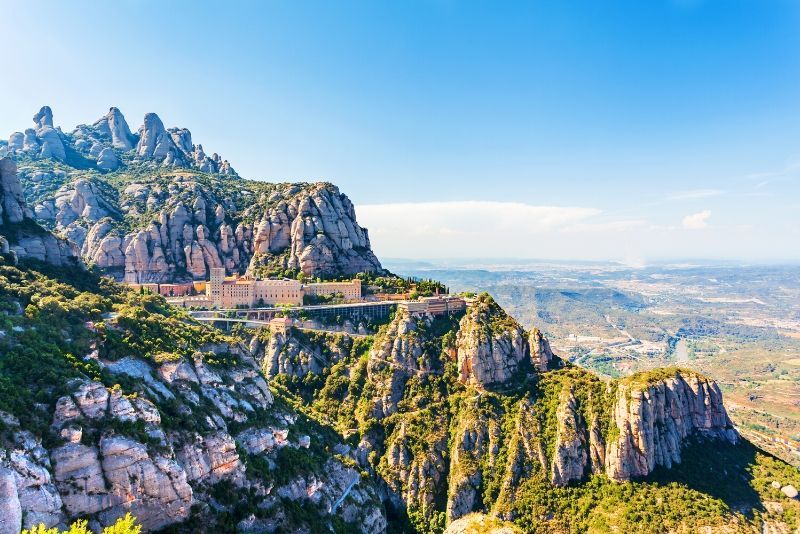 On this combination day trip, you'll drive north of Barcelona to reach the spectacular Montserrat mountain range. Here, you'll explore the grounds of the Benedictine Monastery Santa Maria de Montserrat. This abbey sits on the mountainside and has provided a home for monks since the 11th century.
From there, you'll enjoy free time, discovering the religious monument's surroundings before participating in a cellar tour and wine tasting session at a nearby winery, accompanied by a mouthwatering local feast, which includes crema catalana — a lemon and cinnamon-infused burnt custard dessert.
Which places are visited?
The city of Barcelona is situated in Catalonia, a region famed for its wine production. This area covers an expanse of more than 30,000 square kilometers and is the second-largest producer of wine in Spain, after the Meseta. Among the 8,000 winemakers in Catalonia, the province typically supplies 5.5 million hectares of the alcoholic beverage to wine lovers around the globe each year.
Catalonia grows both red and white grapes, and some of its most popular white wines include Chardonnay, Muscat and Cava. Red varieties include Pinot Noir, as well as Cabernet Sauvignon and Merlot.
Penedès is one of the major wine regions in Catalonia and there is evidence to suggest that grape cultivation began here as early as the 6th century B.C. when the Phoenicians inhabited these lands.
During the 19th century, Penedès, along with the rest of Catalonia, saw a large shift in grape variety and began producing only Cava after the majority of vines were destroyed by the Phylloxera plague. Since that time, there has been some reintroduction of red and other types of white grapes. However, Cava still dominates wine production in the area.
How much do wine tours and tastings in Barcelona cost?
Wine tours and tastings in Barcelona that operate at a wine bar in the center of the city cost approximately €30 per person.
If you journey to Alella for a wine tasting, you'll pay approximately €90 each, and excursions of this nature operate in small groups limited to 10 guests.
You can expect to pay between €90 and €100 per adult for an excursion to the Penedés region. Children between the ages of 4 and 12 can participate for just over €70 each, while those under 4 can join in for free.
Alternatively, you can opt for a combination wine tasting and tour of Montserrat for between €100 and €110 per adult. Children aged between 4 and 12 benefit from a reduced fee of between €90 and €100 while those under 4 travel for free. You can expect to participate in this day trip in a group with a maximum of 20 participants.
What is included?
Wine tours and tastings in Barcelona typically include between three and five samples of wine. Alongside these tastings, you'll also be provided with Spanish tapas, such as Iberian ham, to accompany your drinks. In some cases, you'll be presented with a full meal instead of nibbles, and you can expect all excursions to cover round-trip transportation, as well as any entrance fees.
Where does it start?
Wine tours and tastings in Barcelona begin at a variety of destinations in the city. You may meet your guide at the operator's office or alternatively at another easy-to-reach landmark, such as a well-known street or an esteemed wine bar. Your guide will generally be wearing or holding an item that makes them easily distinguishable.
You can view the meeting point of each excursion before booking so that you can plan your route and arrange any necessary transportation ahead of time. Fortunately, Barcelona is home to a wide public transportation network, which includes an abundance of buses and metro lines, to help you navigate its streets.
How long does it last?
Barcelona wine tours vary in duration, depending on whether you stay in the city or venture to another destination. Typically, you can expect these excursions to last between 5 and 8 hours. However, if you wish to extend your adventure, you can opt for a day trip to Montserrat, which lasts around 10 hours in total.
Is it wheelchair friendly?
Wine tours and tastings in Barcelona are usually unsuitable for wheelchair users. However, you can see whether each individual excursion accommodates wheelchairs by navigating to the booking page.
Are children allowed?
Yes, children are generally allowed to participate in wine tours, although they are excluded from the wine tasting portion. Even a wine tasting that takes place at a bar wouldn't generally mind if your kids are with you to nibble on some tapas.
When is the best time for wine tours and tastings in Barcelona?
The best time for wine tours and tastings in Barcelona is typically in the fall (September to November) and spring (April to June).
During the fall, the grape harvest (known as "la vendimia" in Spanish) takes place, making it an exciting time to visit wineries. The weather is also typically pleasant, with mild temperatures and lower chances of rain.
Spring is another great time for wine tours. The weather starts warming up, the vineyards are lush and green, and the first wines of the year are being bottled. The tourism crowds are also generally lighter in the spring compared to the summer months, which could make for a more relaxed and enjoyable wine tour experience.
Travel tips
Consider a wine and food tour. Some tours offer the opportunity to pair local wines with regional specialties.
Don't be shy to spit. If you're trying many wines, remember it's completely acceptable to use the spit buckets provided.
Don't wear strong perfumes. It could interfere with the wine's aroma for yourself and others.
Learn some Spanish wine vocabulary. Words like tinto (red), blanco (white), rosado (rose), seco (dry), or dulce (sweet) can be helpful.