Discover the rich Catalan culture, history and nature as you mark your presence at one of Spain's most revered icons! Montserrat, 50km northwest of Barcelona, proffers an enriching experience in the laps of alpine spirit whilst you explore the alleyways, caves, and hermitages scattered all over the mountain.
Ride the cogwheel train or take a comforting stroll atop the hill as you make your way to the beautiful Benedictine Monastery of Santa Maria de Montserrat and its stunning Royal Basilica.
After marveling at the breathtaking views and landscapes, get ready to laugh, chatter and rejoice by the delight of discovering the delicious tapas brunch or local treats such as coca de Montserrat and Montserrat liquor.
With a glass of Spanish wine in your hand, enjoy a free stroll through the woods to the Escolanía, one of the oldest musical choirs in Europe or simply marvel the magnificent views of this beautiful enclave.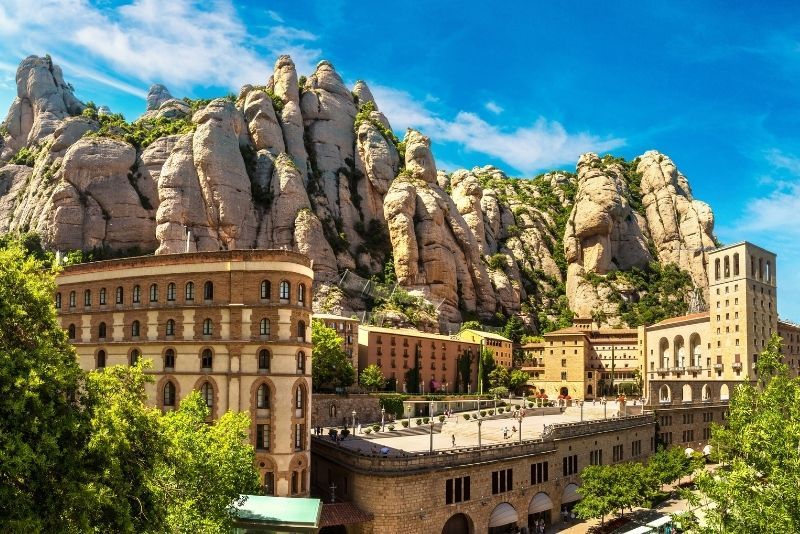 Here's all you need to know about Montserrat, one of the best destinations for day trips in Barcelona.
How to get to Montserrat from Barcelona?
There are a few ways to plan travel arrangements for your Montserrat day trip from Barcelona:
By Car: There are a couple of different ways to reach Montserrat from Barcelona. Both are about equal in distance and time of travel. You are traveling to a more remote part of Spain, so it comes down to personal preference if you feel comfortable making the drive.
By Bus: A Montserrat day trip from Barcelona is popular through a shuttle service which takes you directly to the landmark. You have options for travel from there, including a cogwheel train or cable car. Bus tours are affordable for every budget.
By Train: Taking a train to Montserrat is a sensational way to make time while you also get to enjoy the countryside. The cogwheel train to the specific location is especially memorable and worth the added cost.
How long does it take to get from Barcelona to Montserrat?
It takes approximately one hour to reach Montserrat from Barcelona. Plan on at least two hours for a round-trip. Two different routes present you with options whether you choose to leave Barcelona from the east or west. Both routes offer advantages and disadvantages.
How much does a Montserrat tour from Barcelona cost?
The cost of your Montserrat day trip from Barcelona depends on a few factors. Here are the different types of tours with average costs to get you a good idea of how much you need to budget:
Guided Tours
Guided tours are recommended for travelers to learn more about the iconic monastery. Learn why locals consider Santa Maria de Montserrat the most important religious retreat in the country. Guided tours range from 40€ to 100€ depending on the length of tour and what all you'll see.
Wine Tours
Wine tastings are a popular way to pair with a tour of the monastery. Wine has an equally important cultural significance as the religious site. You also don't need to worry about driving back to your lodging after enjoying a glass. Wine tours range in cost anywhere from 50€ to 100€.
Hiking Tours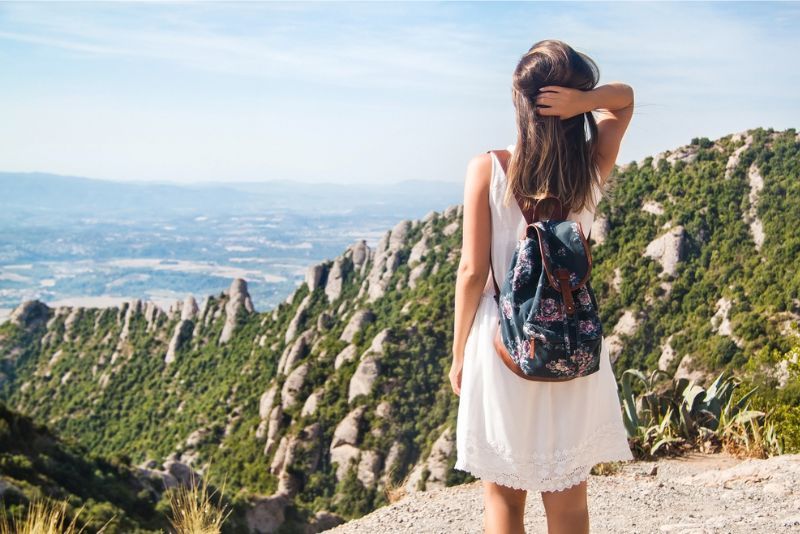 Montserrat is first and foremost a mountain in addition to its famed monastery. If you want a true outdoor experience, you can take a hiking tour of Montserrat Natural Park which presents spectacular views that most visitors miss out seeing. Hiking tours average 70€.
When is the best time to visit Montserrat?
The monastery gets the most crowded during peak travel season in the summer. While the weather is nice if you can avoid June-August, you'll deal with fewer people. The late-spring (April and May) and early fall (September and October) can be gorgeous with fewer people.
What are the most popular things to see and do in Montserrat?
Montserrat is considered a mountain community or monastery. The monastery is still active and serves as a very important religious retreat for groups of young people that make the overnight hike to the destination at least once in their lives.
Sightseeing
Montserrat is a mountain with a ton of history and beauty. The iconic monastery is the highlight, but there are several other features of the religious retreat. The Virgin of Montserrat provides one of the more photogenic moments.
Santa Maria de Montserrat is popular for guided tours because there is a ton to learn about the place. A guided tour puts you in the good hands of a knowledgable guide that can teach you a lot more about the landmark compared to venturing through it on your own.
Museum
The monastery features a museum that is divided into three different sections. The museum contains several important works of art including modern paintings from local artists of Catalonia as well as ancient masterpieces. There is also archaeology of the biblical East.
Wine Tastings
The Spanish love their wine, so even at a religious site, you are never too far away from a refreshing winery. Wine cellars offer rare and classic wines for every palate.
A popular way to pair your Montserrat day trip from Barcelona is with a wine tasting. There are several old wine cellars in the region offering amazing wine. Of course, this leisure activity is for adults, but it works great if you are traveling with a significant other or other people that like to drink.
Tapas Dining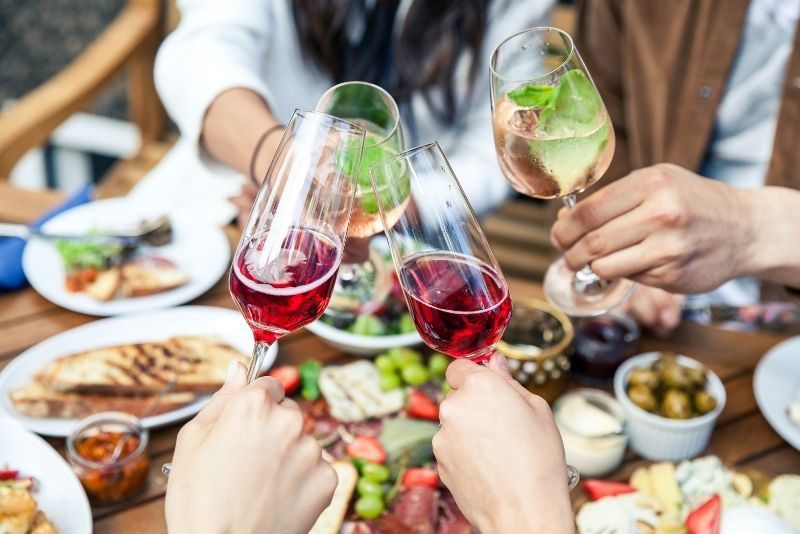 Tapas is Spanish for small savory dishes that get served with drinks at a bar. Along with providing tapas at wineries, you can also find other bars that cater to these unique Spanish dishes.
Travel Tips
Keep in mind the weather. Montserrat is a mountain with its own rules when it comes to weather. You never know what storm may roll in so even if the forecast predicts a warm and sunny day, keep in mind things can change quickly in the outdoors.
Schedule a train for convenience. Bus tours are a good alternative, but depending on the best price you can find on TourScanner.com, the best way to get to Montserrat is via train. Additionally, the cogwheel train is quite the experience.
Respect local religious traditions. Keep in mind that the monastery is an important religious site for the people of Spain. Monks also still practice at the monastery. Therefore, make sure you are respectful of their wishes and don't invade places you aren't supposed to access.