It's not often that a hospital makes the list of a city's most beautiful buildings — but that's exactly what you'll encounter if you some Sant Pau tickets. The complex consists of 13 wonderfully elaborate buildings, connected by underground tunnels of equal splendor and a magnificent plain in the middle — making it the largest Art Nouveau building complex in the world.
Together with Palau de la Música Catalana, this building is considered to be one of Lluís Domènech i Montaner's crowning achievements — and stands on equal footing as the works of the famous Gaudi like Park Güell, La Sagrada Família and Casa Milà.
The hospital started out life as a collection of hospitals and infirmaries dating from medieval times. From 1901 to 1930, the process started to convert these structures into the masterpiece you'll encounter today.
Sant Pau functioned as a hospital until as recently as 2009, but today it serves as a museum and the headquarters of various international organizations — making it the perfect destination for a day of exploring in Barcelona.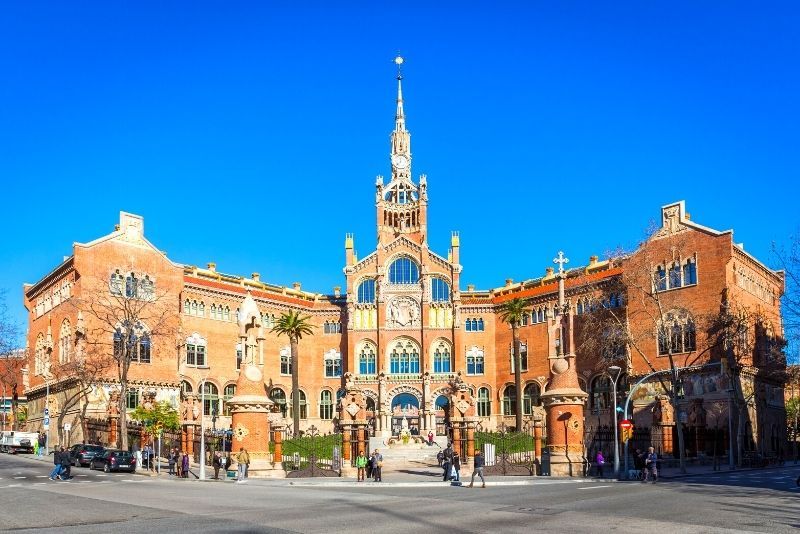 Here's all you need to know about Sant Pau, one of the most exciting attractions in Barcelona.
How much do Sant Pau tickets cost?
Tickets to Sant Pau are really affordable, making the erstwhile hospital a must-visit during your stay in Barcelona.
Sant Pau entrance tickets
Adult ticket (ages 30-64): €16.00
Youth ticket (ages 12-29): €11.20
Children's ticket (ages 11 and under): free
Guided tours of the grounds are available at an extra cost of €20 per adult, €14 per youth and €5 per child. These tours are subject to guide availability and are presented in Catalan and Castilian, but other languages are available on request.
There is an optional audio guide for an additional €4.00, which is available in Catalan, Castilian, English, French, German, Italian, Dutch, Chinese and Japanese.
There are several skip-the-line tickets available, allowing you to explore the world's largest Art Nouveau complex at your heart's content and without tedious queues. This booking option also enables you to reserve an audio guide, a feature that is practical during the week when school groups visit.
Who is eligible for discounts?
There are several types of travelers that will qualify for discounts when visiting Sant Pau. You may be asked to produce documentation to prove that you qualify for the relevant discount.
Sant Pau discounted tickets
People with disabilities and their carer (dependency of 1 or 2):  €11.20
Persons with disabilities and their carer (dependency of 3): free
Pensioner ticket (ages 65 and up): €11.20
Barcelona residents: €11.20
BCN cardholders: €11.20
Single-parent families: €11.20 per person
Large families (5 or more members): €11.20 per person
Is it possible to visit for free?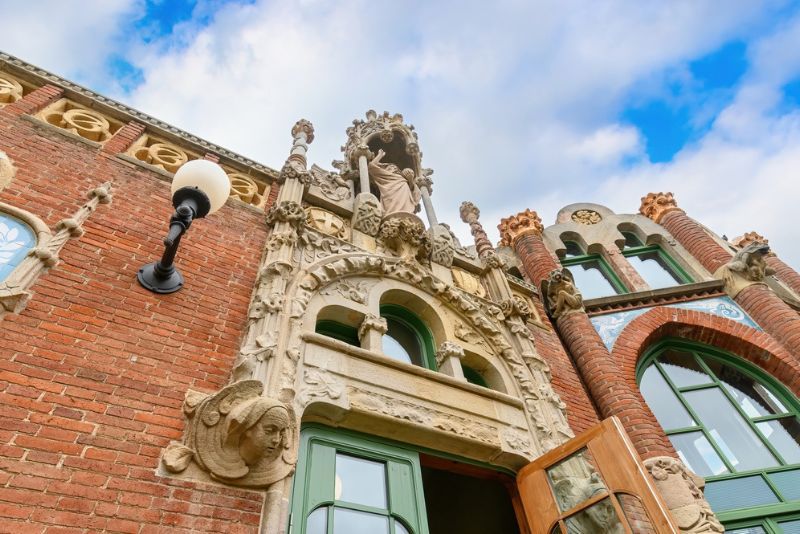 Yes, you may visit Sant Pau free of charge on every first Sunday of the month. To take advantage of this offering, visit early in the morning or later in the evening when there are fewer crowds.
Should you book in advance?
Definitely — especially if you plan on visiting Sant Pau during the week. School and university tours visit the hospital from Monday to Friday, making it a wise choice to book your tickets in advance. Booking ahead also allows you to confirm the preferred time of your visit and protect against tickets being sold out.
What are the best Sant Pau tours?
Self-guided Sant Pau tours with audio guide
This tour offers a straightforward way of discovering Sant Pau and is perfect for solo travelers or visitors exploring Barcelona on a budget.
The audio guide will shed light on all the sights that you encounter, highlighting details that might get lost otherwise — a feature that will be immensely valuable when meandering through the stunningly detailed grounds.
If you want to spend even less money, you may choose to forego the audioguide. This is a feasible option, since there are signs and information boards throughout the Sant Pau grounds.
Sant Pau guided group tours
Guided group tours of Sant Pau can be organized by either in-house or external guides. The in-house option is usually only available in Catalan and Castillian, so tourists looking to enjoy a tour in other languages should consider external guides.
These tours are typically 1.5 hours long and you'll enjoy the company of an expert guide as they take you through the spectacular grounds. Along the way, you'll learn more about the architect, Lluís Domènech i Montaner, and about the Catalan Modernist movement — ending the tour in the lush gardens where you'll enjoy refreshments before saying goodbye.
Sant Pau family tours
Keeping children engaged and entertained can be quite a challenge when visiting attractions, so luckily, there are Sant Pau family tour options specifically designed to do just that. These tours are perfect for children aged 6 and 11 — offering a captivating way of discovering the main elements of Catalan Modernism, as well as the history of the hospital.
Your kids will be kitted out with a backpack, a map of the site, a pair of binoculars, a set of pencils and a booklet. Their mission, as detailed in the booklet, will take them through the palatial grounds, sending them on a mesmerizing voyage of discovery.
What will you see inside?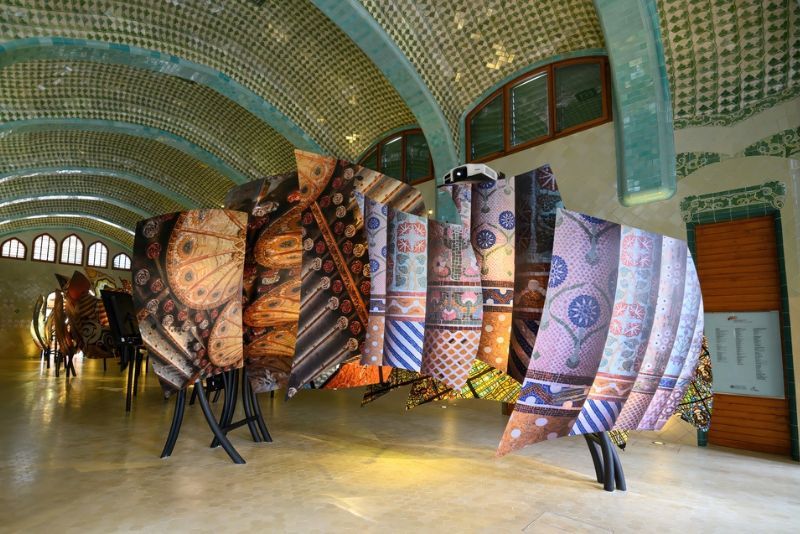 Apart from being the largest Art Nouveau site in the world, Sant Pau is also one of the best examples of Catalan Modernism in all of Barcelona. The buildings' design and elements exhibit a restrained beauty, while still bordering on the fantastical — a feature that is absent in buildings like Sagrada Família and Casa Batlló.
Visitors to Sant Pau will explore all 13 of the main buildings or pavilions, as well as the beautiful tunnels that connect them. The erstwhile hospital's interior is just as striking as the facade of the building and will keep visitors enthralled for hours.
How to get there?
Sant Pau is conveniently located in Barcelona, making it easy to navigate to the Art Nouveau masterpiece while also visiting buildings like Sagrada Familia.
Traveling from Plaça de Catalunya, head towards the iconic cathedral, before cutting diagonally to the Sant Pau Hospital. The route is clearly marked by signs, making navigation in the city a breeze.
What are the opening times?
Generally, Sant Pau is open every day of the year, except for 22 September and 25 December. From April to October the operating hours will be from 10:00 AM to 6:30 PM. From November to March the operating hours will be from 10:00 AM to 5:00 PM. Last entry into the grounds will be granted up until 30 minutes before closing time.
Is it wheelchair friendly?
The entrance of Sant Pau and all of the spaces visited on a self-guided or guided tour are accessible to wheelchair users — as well as to people with other disabilities. Guide dogs will be allowed entrance into the site, provided that they meet the requirements as stated by law.
When is the best time to visit the Sant Pau?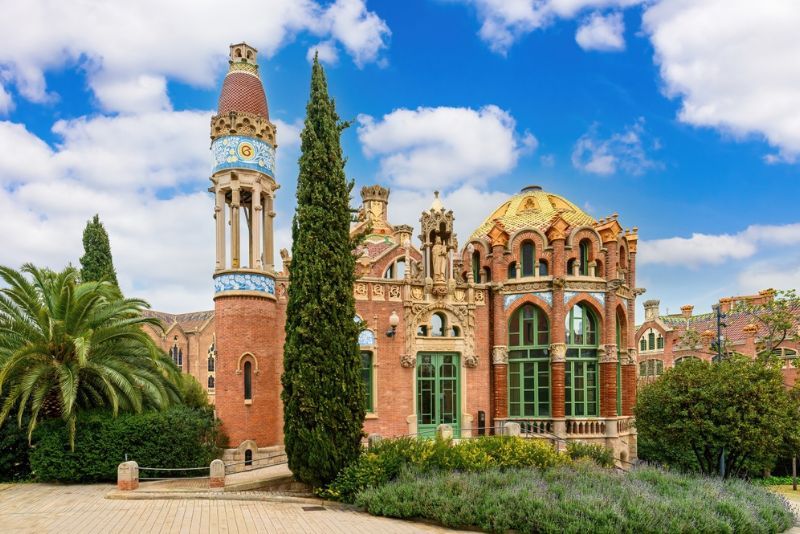 The best time to visit the Sant Pau Art Nouveau Site in Barcelona is during the shoulder seasons of spring (April to June) and fall (September to November), when the weather is pleasant and the crowds are relatively less compared to peak summer months. Mornings are usually less crowded, providing a more peaceful environment to appreciate the site's architecture and history.
Which other attractions can be visited in Barcelona?
Travel tips
Be sure to wear comfortable shoes for walking, since the site is quite large and there's plenty to see.
If you're visiting in the warmer months, be prepared with sun protection, as parts of the site are outdoors.
The Sant Pau Art Nouveau Site often hosts temporary exhibitions related to health and society, architecture, and art. Check the official website to see what will be on during your visit.
Don't forget your camera and take your time to enjoy the beautiful architecture and peaceful ambiance of the site. The buildings and gardens of the Sant Pau Art Nouveau Site are incredibly photogenic.