Located in the heart of Barcelona, Casa Milà is one of Gaudi's most iconic Barcelona buildings. Also popularly called 'La Pedrera' (the stone quarry) Casa Milà is an indirect reference to its uncanny resemblance to an open quarry.
Considered as an incredible achievement in modern architecture, Casa Milà is the last private residence designed by Antoni Gaudi. The World Heritage Site features groundbreaking innovations like a self-supporting stone façade, the Pedrera Apartment, the courtyards, a unique roof-terrace and an underground garage.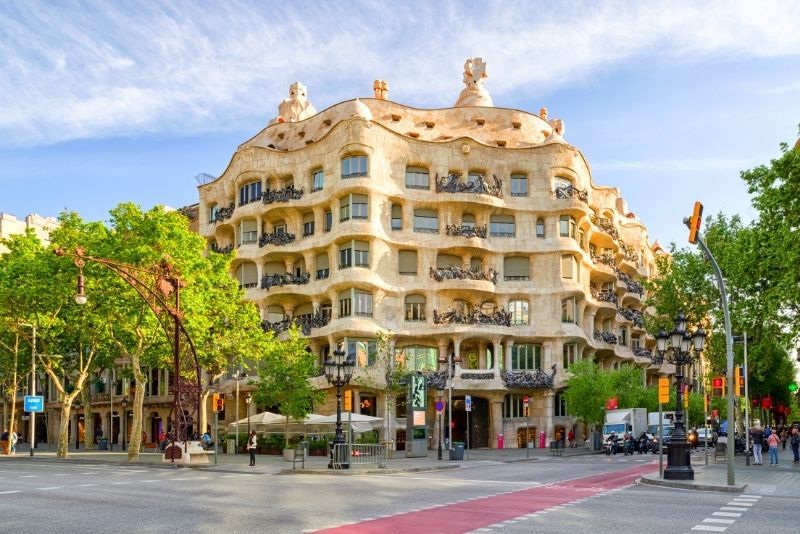 Since 1996, Casa Milà has attracted over 20 million people from all over the world. It is a must-visit attraction for architecture and art lovers. Book your Casa Milà tickets and step inside Antoni Gaudí's creative world.
How much do Casa Milà tickets cost?
Casa Milà tickets to tour the World Heritage Site get sold in a few different packages. You may find below the price for online tickets. Be aware that Casa Milà tickets are more expensive if booked on site.
La Pedrera Essential ticket
This ticket includes the basic entry to Casa Milà with skip the line access and an audio guide.
Adults: 24 € (US$ 27)
Students: 18.50 € (US$ 20.50)
Disabled: 18.50 € (US$ 20.50)
Seniors (65+): 18.50 € (US$ 20.50)
Children (7-12): 12 € (US$ 14)
Children (under 6): FREE
La Pedrera Premium ticket
This ticket includes fast track access to the exhibits of Casa Milà along with the audio guide. This ticket is non-dated, you can come whenever you want.
Adults: 31 € (US$ 34.50)
Children (7-12): 12 € (US$ 14)
Children (under 6): FREE
La Pedrera Night Experience tour
This ticket includes entrance to Casa Milà at night along with a private guided tour.
Adults: 34 € (US$ 38)
Children (7-12): 17 € (US$ 19)
Children (under 6): FREE
La Pedrera Exclusive tour
The special tour limits the guided visit to a select number of people for a more personable experience. English is the only language offered for Exclusive tours.
Adults: 39 € (US$ 43.50)
Children (7-12): 19.50 € (US$ 22)
Children (under 6): FREE
La Pedrera Essential & Night Experience combo
The best of both worlds as you get the audio guide tour during the day and guided experience at night.
Adults: 43 € (US$ 48)
Children (7-12): 21.50 € (US$ 24)
Children (under 6): FREE
La Pedrera Night Experience & Dinner
See Casa Milà at night and enjoy a special meal with your friends and family.
All visitors: 59 € (US$ 65.50)
How do you book Casa Milà tickets in advance? How do you skip the line?
Book online and skip the line: Casa Milà tickets are available online through the official website. It is recommended as you save money compared to buying tickets at the box office on the day of your visit and save time by skiping the line at the entrance.
Compare prices and save money: You may also book Casa Milà tickets though online travel resellers like Headout, Viator, and Musement. Use our search engine and compare all the deals available online, you may find some discounted tickets for your desired date.
Are there any combined tickets including Casa Milà tickets and other attractions in Barcelona?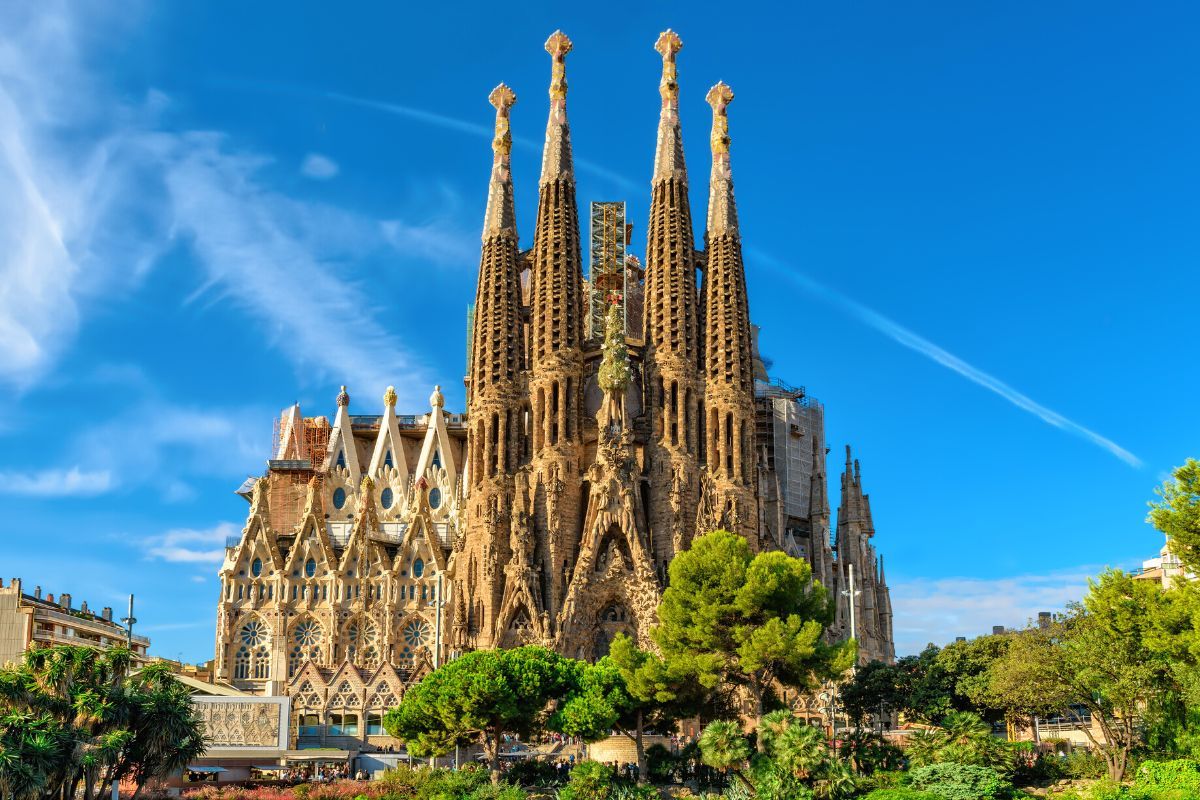 There are a several ways to combine Casa Milà tickets with other attractions in Barcelona. Combined tickets are great to save money and time if you wish to visit several attractions during the same day. You may find belwo the most famous ones.
Casa Milà + Park Guell: See two of Antonio Gaudi's most popular works of architecture during a full day tour.
Casa Milà + Sagrada Familia: Experience the authentic, celebrated history and architecture of Barcelona through two of its most popular attractions.
Casa Milà + Casa Batlló: Another fantastic way to share a memorable day with family and friends traveling around the city and seeing two incredible sights.
Are there Casa Milà guided tours worth it?
Absolutely. Guided tours offer numerous advantages.
Skip the line: You don't need to wait in lines as the tour gets booked in advance, and a spot is already reserved for you. Who wants to spend its previous holiday time queuing up?
Exclusive access: See exclusive portions of Casa Milà that are not always open to the general public.
Learn more: Ask as many questions as you would like to your knowledgeable tour guide, and learn more about the impressive architectural and construction innovations of Casa Milà.
What will I see?
Casa Milà, also known as La Pedrera, is a private residence designed by the iconic Spanish architect Antonio Gaudi.
Gaudi has created several famous buildings in Barcelona, perhaps none as influential as La Pedrera. "The stone quarry" is highly regarded for its rough-hewn appearance. The modernist building also broke ground by building one of the first underground garages. Additionally, the self-supporting stone façade and free-plan floor are equally innovative. Not too bad considering Casa Milà was built at the beginning of the 20th century.
The most important parts of Casa Milà not to be misses are:
The Rooftop: Discover one the most picturesque rooftops in Barcelona.
Espai Gaudi (Attic): Experience a feeling of walking through a maze.
The Pedrera Apartments: Visit the untouched apartments that were home to the Milas.
The Courtyard: Explore one of the most prominent parts of the structure.
The Entrance Hall: Admire the entrance halls that are adorned with mythological tapestries.
Casa Milà is part of several famous architectural designs by Gaudi in Catalonia, including Sagrada Familia and Casa Batlló. Casa Milà is a UNESCO World Heritage Site since 1984.
Visiting at night also offers a different perspective, not to mention fantastic views of Barcelona through the upper floors.
Are Casa Milà tickets included in any attractions city passes?
Casa Milà tickets get included with the Barcelona Pass. Booking a city pass is a good idea if you are spending multiple days in Barcelona and wish to visit as many attractions as possible. Currently, the Barcelona Pass offers access to more than twenty attractions in the city.
What is the best time to visit Casa Milà? How to avoid the crowd?
Casa Milà is very popular, and therefore it rewards you for getting there early morning before crowds begin to gather for the day (check early access tickets). Also, scheduling a Night Tour is an exciting way to see Casa Milà after the attraction closes to the general public.
What are Casa Milà opening hours?
Casa Milà is open daily all year round from 9 am to 10:30 pm. Please note that it closes earlier during winter, at 8:30 pm. Night tours take place daily from 9 pm to 11 pm.
Please also keep in mind that the upper floors close 15 minutes before the closing time of the day.
Travel Tips
Book your Casa Mila tickets online to skip the line. Make sure to use our search engine to find the cheapest tickets available for your desired date.
Plan on an hour or two to visit La Pedrera. The staff recommends that you set aside at least an hour to walk through the audio tour. Guided tours usually last closer to two hours.
Bring a camera if you wish to take a panoramic photo of Barcelona skyline from the rooftop.