Camp Nou is the biggest soccer stadium in Europe and has been home to FC Barcelona since the stadium's completion in 1957. The massive stadium has a seating capacity of just under 100,000 people and is by far one of Barcelona's most visited attractions.
You don't need to watch a soccer game in order to see the stadium for yourself. There are Camp Nou tickets and tours on offer that allow you to explore this historical landmark on your own terms.
Look forward to running through the players' tunnel, taking photos on the pitch and visiting the Camp Nou Museum. Just remember to bring a little extra spending money for souvenirs.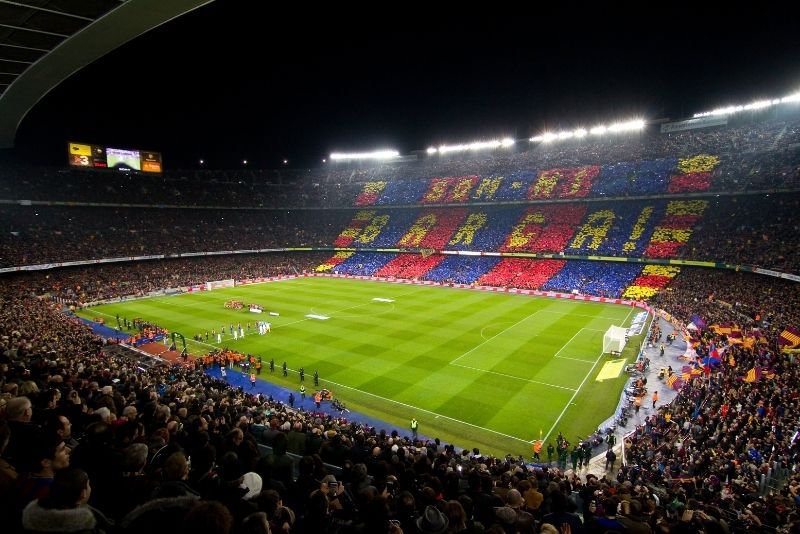 Here's all you need to know about Camp Nou, one of the most exciting attractions in Barcelona.
How much do Camp Nou tickets cost?
When visiting Camp Nou, you'll have to purchase general admission tickets to gain access to the stadium and the museum. General admission ticket prices are as follows:
Adults(11-69): €28.00
Children(4-10): €21.00
Children under 4: Free
Buying tickets online ahead of time is actually significantly cheaper than purchasing tickets at the onsite ticket office. This is because of the €3.50 per ticket handling fee that is charged for offline tickets.
When you purchase tickets online, your tickets will be emailed to you and you can either print them or simply show them on your phone when you enter through Gate 9.
Online tickets have the additional advantage of allowing you to skip the queue, which can be very long.
Who is eligible for discounts?
Local students, who hold a valid student ID, only need to pay €20.00 per ticket as opposed to the standard €28.00 for adults. Pensioners over 70 also receive a discount, and they pay €21.00 per person for general admission.
Should you book in advance?
It makes sense to book your Camp Nou tickets online ahead of time as you'll receive a discount and be able to skip the queue.
If you are not entirely sure when you'd like to visit the stadium, you can always pay slightly more for an open ticket, which provides you with more flexibility.
If you want to book a Camp Nou tour, with a professional tour guide, it is best to book in advance so that you can secure your spot on your preferred excursion.
Start planning your Barcelona itinerary in advance so that you don't miss out on anything.
What are the best Camp Nou tours?
Self-guided tours of Camp Nou
Explore one of the places the Catalonian people hold most dear with a self-guided tour of Camp Nou.
Get the experience of what it may be like to be a famous soccer player as you walk through the players' tunnel and admire the incredible panoramic views of the stadium.
You'll have 90 minutes to visit the press box, the museum, the players' tunnel, the pitch, Messi's room and other areas. The tour is designed to give you a behind-the-scenes look at some of the most iconic areas of the stadium.
The audio guide can be used on your mobile phone and you do not need to download or install any mobile apps. All you need to do is scan your ticket's QR code and listen on your own headphones.
The audio guide is available in 13 languages, including English and Chinese.
Guided tours of Camp Nou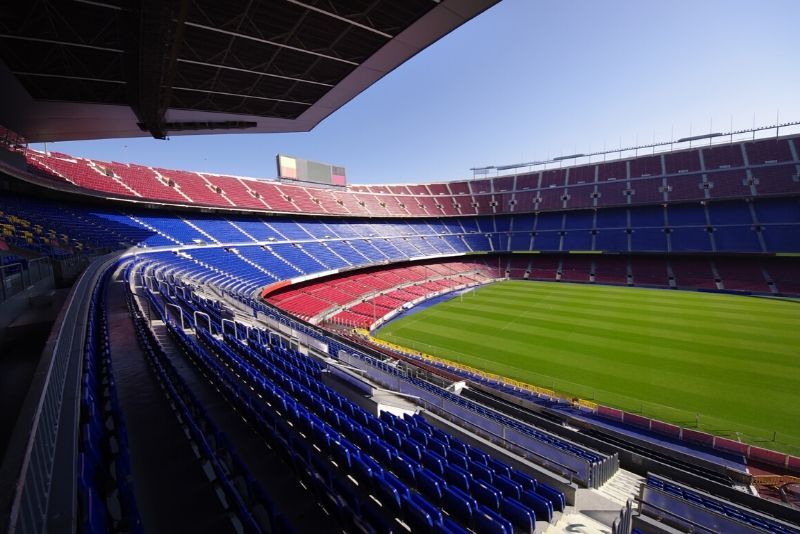 Guided tours provide you with an authentic Catalonian experience and are led by knowledgeable bilingual tour guides. Your tour guide is fluent in both Spanish and English and is more than happy to answer any questions that you may have.
You'll get to admire incredible 360-degree views of the stadium, take photos on the pitch and enjoy exclusive access to the press box, the press room and the dressing room.
The 'Messi Area', where you'll get to see Messi's Ballon d'Or trophies, is a sure highlight of the tour.
Guided tours are typically limited to around 30 participants per tour so that the quality of your experience is guaranteed. There's no way that you'll ever be lost or confused as your professional tour guide will be leading the way at all times.
Players' experience tours of Camp Nou
Players' experience tours are ideal for football enthusiasts looking to experience what it's like to be an FC Barcelona player. In addition to receiving access to exclusive areas, you'll also be given a free FCB gift at the end of the tour.
Follow your bilingual guide as they lead you around the pitch, the museum, the changing rooms and the press box on this 3-hour tour.
You'll also have access to a multimedia guide available in seven different languages that will provide further insight into the club's history.
As these tours are usually limited to 25 participants, you'll enjoy a wholesome experience and there will be loads of opportunities to ask any burning questions that you may have for your guide.
Are there any combined tickets or tours including Camp Nou and other attractions?
Combined tickets and tours provide discounts when visiting Camp Nou and other nearby attractions. Make the most of your time in Barcelona when you visit Camp Nou and another attraction on the same day.
Camp Nou and Park Güell tickets: Purchase this affordable combination ticket, which allows you to experience the prestige of Camp Nou as well as the colorful eccentricity of Gaudi's iconic Park Güell.
Hop-on hop-off Barcelona city tour with Camp Nou experience: Explore Barcelona at your own pace with the convenience of the hop-on hop-off bus. See the city's most iconic attractions and enjoy a tour of Camp Nou.
E-bike tour to Montjuic and Camp Nou: Take the opportunity to visit the site of the 1992 Olympics on an e-bike before you head to Camp Nou, where you'll receive a tour of the stadium and museum.
What will you see inside?
Camp Nou is one of the most famous stadiums in the world, and when visiting it you'll enjoy an experience like no other as you explore some of the most emblematic parts of the stadium— giving you insight into why the people of Catalonia love this stadium so much.
One of the major highlights for many tour participants is the guest dressing room. You'll see the blackboard where world-renown coaches have drawn up life-changing plays for famous players and see the jacuzzi and massage tables for a  behind-the-scenes feel.
Walking through the players' tunnel and out onto the field is an incredible feeling and you'll get to see how massive the stadium really is. Once you have explored the pitch, you'll also get to see the bench area and the announcer's booth.
The Camp Nou Museum is an interactive space where you'll get to hear the club anthem (with optional translation), make use of touch screens to learn more about famous football players and take photos of various trophies and memorabilia.
There is also a space that is dedicated to Messi, who has won so many awards that he needs his very own room. This room is a dream for football enthusiasts around the world. Even those who are not huge football fans will find the entire experience fascinating.
How to get there?
Camp Nou is located in the affluent neighborhood of Les Corts, which is just 5 kilometers from the city center. The stadium is very easy to find and you can get there via metro, taxi, bus or tram.
The closest metro stations to Camp Nou include Palau Reial, Les Corts and Collblanc, with each station being around a 10-minute walk from the stadium. No matter where you are staying in Barcelona, getting to these metro stations by train is relatively straightforward.
Taxis in Barcelona can be quite expensive, especially if you are staying outside of the city center, but they can be convenient if you don't feel comfortable navigating public transport.
You can reach Camp Nou with the 50, 54, 57, 70, 75, D20, H8, H10 and V3 buses, and the T1, T2, and T3 tram lines, with the closest tram station being  Trambaix Avinguda de Xile.
What are the opening times?
Camp Nou is open from 10 AM to 8 PM from 2 April to 7 October, and the rest of the year the stadium is open from 10 AM to 6 PM. On Sundays and public holidays, Camp Nou is open from 10 AM to 2.30 PM, but will be closed on significant public holidays such as Christmas.
Match days usually affect opening times and whether tours will run or not, so it is best to check on this ahead of time with your tour operator.
When is the best time to visit Camp Nou?
Camp Nou is one of Barcelona's most popular attractions and the stadium can get very busy. If you want to explore the stadium without the crowds, it is best to go during the week and avoid match days. Visiting the stadium as soon as it opens is also a good idea.
Which other attractions can be visited in Barcelona?
Travel tips
Wear comfortable shoes for exploring the massive stadium.
Book your Camp Nou excursion in advance to secure your spot on your preferred tour.
Charge your camera and bring it along to capture memories to last a lifetime. Remember not to wear green if you want to get a photo on the pitch.
Bring extra cash with you if you plan on tipping your guide or purchasing souvenirs.