Located in Port Vell, Barcelona Aquarium is the world's most important marine leisure and education center dedicated to Mediterranean undersea life. It is home to an impressive collection of marine life, with Sharks, rays, and other large fishes highlighting the impressive sight.
The 35 aquariums at the facility feature 11,000 animals and 450 different species. Most spectacular of all is the immense Oceanarium: 36 meters in diameter and over 3.7 million liters of water. The Barcelona Aquarium also includes an impressive 80 meter underwater tunnel to get a more personal look.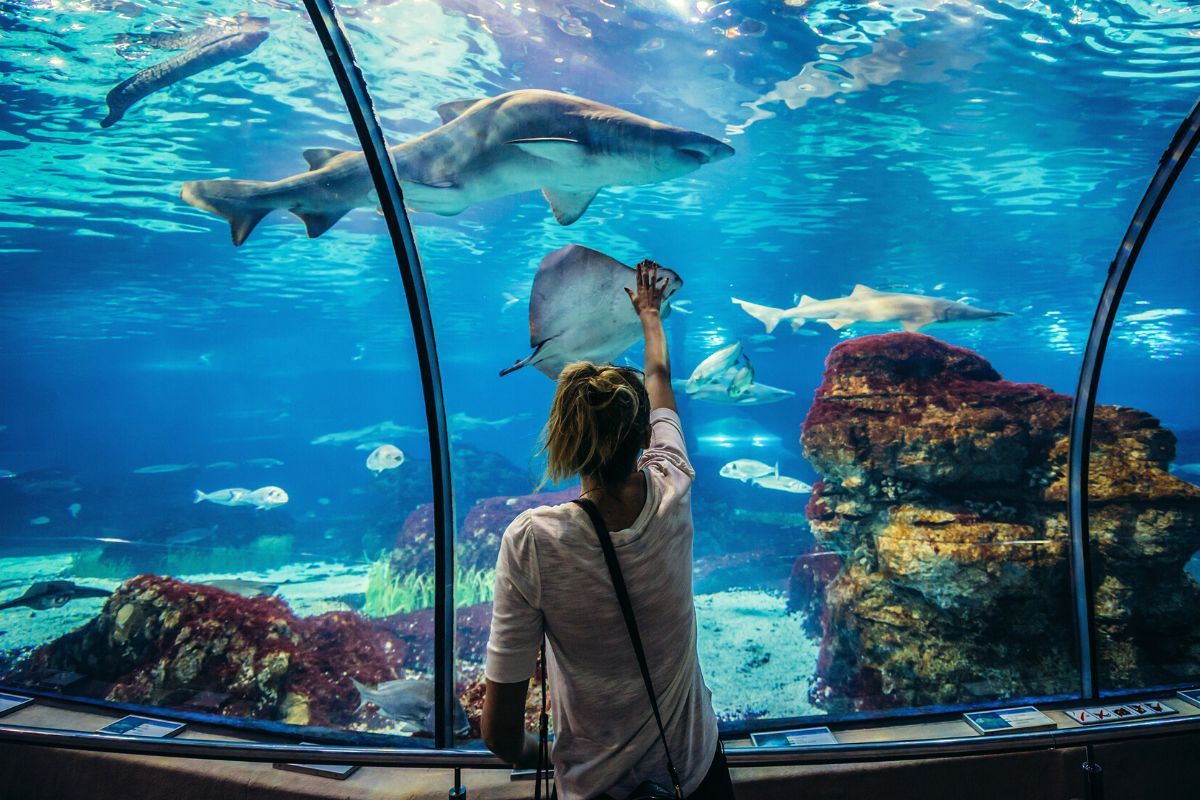 If you're visiting with young kids, the Barcelona Aquarium has to be at the top of your bucket list. This is a unique attraction that has already been visited by more than 14 million people. A day spent at the Barcelona Aquarium is sure to be one to remember!
How much do Barcelona Aquarium tickets cost?
General admission gets you access to Barcelona Aquarium. If you wish to participate in various sponsored activities, you will need to pay a little extra. Here is what you can expect in terms of Barcelona Aquarium ticket prices:
Standard tickets
Barcelona Aquarium tickets get you access to all 35 aquariums.
Adult (11+): €21 (US$ 24)
Children (5-10): €16 (US$ 18)
Children (3 & 4): €8 (US$ 9)
Group Packs
You can save money by bundling a ticket package with multiple members of the household.
Family Pack (2 Adults + 2 Children): €63.50 (US $71)
Friends Pack (4 Adults): €72.00 (US $80)
Special Activities
Barcelona Aquarium offers different activities that are available in addition to a general admission ticket.
Birthday Parties (Minimum 10/Maximum 25): €25 p/ child (US$ 28)
Underwater Observer (Ages 8+): €150 (US$ 168)
Dive with Sharks: €300 (US$ 335)
Sleep with Sharks (Ages 8-12): €90 (US$ 100)
How do you book Barcelona Aquarium tickets in advance? How do you skip the line?
Barcelona Aquarium tickets are available online through the official website or travel websites such as Getyourguide or Viator. It is a good idea to book in advance as tickets are sold by the day and can sell out on weekends and holidays. You will be able to skip the line and head straight to the aquariums.
What will I see?
Barcelona Aquarium is an important attraction in the city and one of the best educational opportunities for the entire family. The aquarium is home to a diverse landscape of marine life, including sharks and rays. All in all, 450 different species and 11,000 animals call the aquarium home.
The Oceanarium is one of the primary highlights. It is the largest aquarium in Europ as well as the highest concentration of different species. The habit inside the 4 million liters of water aquarium contain sand tiger sharks and sandbar sharks, moray eels, ocean sunfish, and stingrays. A tunnel takes you through the aquarium as if you were swimming underwater with the fish!
If you have more time you should also consider paying extra for the Diving with Sharks or Sleeping with Sharks activities. Diving with Sharks presents qualified scuba divers with the opportunity to slip into the main tank with the sharks and thousands of fish. Meanwhile, Sleeping with Sharks is geared toward younger children and provides a special sleepover with the species of the aquarium.
Are Barcelona Aquarium tickets included in any attractions city passes?
There are three different city passes that currently include entry to the Aquarium Barcelona:
Barcelona Card: The pass offers free entry to over 20 of the city's top museums and attractions, including the Barcelona Aquarium.
Barcelona City Pass: The pass offers free timed entry into two attractions of the city, including the Barcelona Aquarium. You can add more attractions at discounts which start at 20% the general admission price.
Barcelona Pass: The pass provides free entry to a number of top attractions, including the aquarium.
What is the best time to visit Barcelona Aquarium? How to avoid the crowd?
The aquarium receives the highest volume of people in the early afternoon (between 1-3 pm). The aquarium staff recommends reserving at least two hours to see all of the exhibits and other activities.
What are the Barcelona Aquarium opening hours?
The Barcelona Aquarium is open 365 days a year. It opens every day at 10 am yet its closing time varies based on the week/month. Monday through Friday the traditional closing time is between 9:30 - 10 pm. Weekends and holidays the closing hours are extended to 10:30 pm.
Additional hours include:
Summer Hours (June-September): 10 am - 11 pm
Easter Holiday: 10 am - 11 pm
Christmas Holiday (December 14 - January 7): 10 am - 11 pm
If you do not purchase Barcelona Aquarium tickets in advance you can do so at the gates. The box office opens one hour prior to the scheduled opening time. It also closes one hour before the posted closing time. Tickets are valid for 90 days after the date of purchase.
Travel Tips
Book in advance: While you may purchase tickets at the Barcelona Aquarium box office the day of your visit, we recommend doing so beforehand. You can potentially find a better deal online, and during crowded days save time waiting in line for the box office.
The Barcelona Aquarium is accessible to people with disabilities. It allows you to appreciate the day with a close friend or family member without having any inconveniences. Ask the staff for any special accommodations during your visit.
Lockers are available for guests. It allows you to leave your essentials in a secure space while exploring the aquarium.
Take your time. If you leave, you'll have to pay again to come back in.
There are no pet care facilities. Bringing your pet is is not permitted