Barcelona, a vibrant city brimming with rich history and architectural marvels but it also offers an exhilarating escape from its urban charm through an array of thrilling theme parks.
These parks provide an exciting and immersive experience for visitors of all ages and take full advantage of their old-world and Mediterranean settings.
From adrenaline-pumping rides to enchanting shows and cultural exhibits, Barcelona's theme parks offer a diverse range of attractions that cater to every taste and preference.
Whether seeking a day of family fun or an adventure-filled excursion, these parks promise an unforgettable journey beyond the city's bustling streets.
Barcelona Aquarium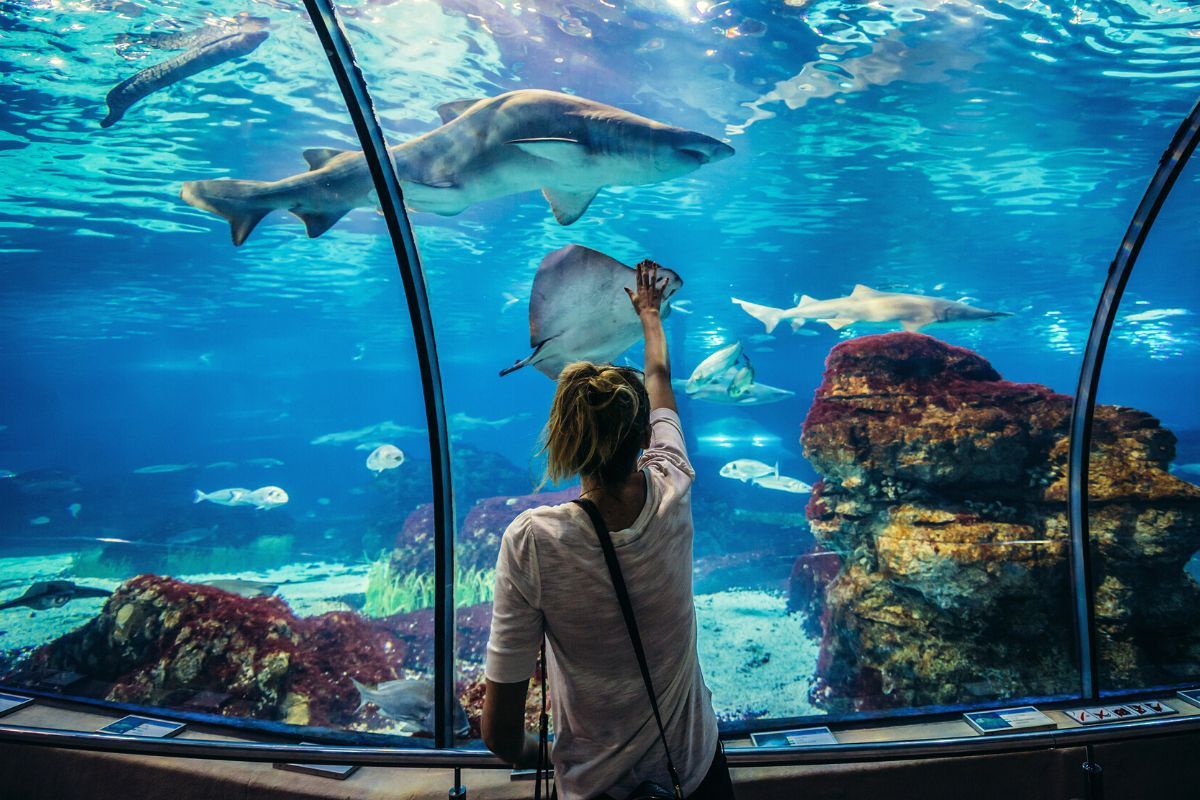 Barcelona Aquarium is a captivating marine wonderland located in the heart of Barcelona and is regarded as one of the most important facilities for Mediterranean marine education.
It offers visitors an immersive experience, taking them on a fascinating journey through the world's oceans and it boasts a mammoth underwater tunnel of more than 35 meters long.
With over 11,000 marine creatures and 450 different species, the aquarium showcases the incredible biodiversity of underwater life in the region and you can expect everything from colorful tropical fish to majestic sharks and graceful rays.
Barcelona Zoo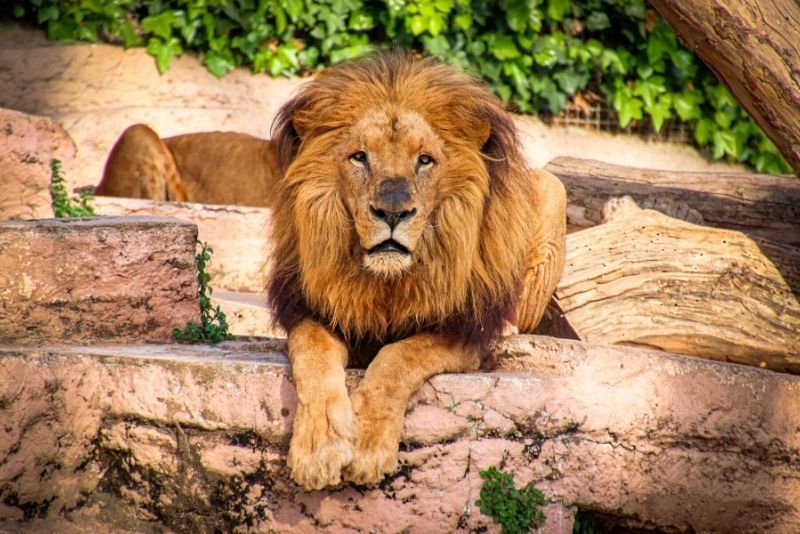 Within the confines of the city, you can enter the lush greenery of Ciutadella Park to visit Barcelona Zoo. The zoo is home to a diverse range of animals from around the globe, providing a unique opportunity for visitors to observe rare and magnificent animals and learn about wildlife conservation.
From elephants and giraffes to playful sea lions and mischievous monkeys, the zoo offers a memorable experience for animal lovers of all ages.
With its commitment to education and conservation efforts, Barcelona Zoo serves as a hub for raising awareness about the importance of protecting endangered species.
The tranquil atmosphere of the Barcelona Zoo offers a space to escape the city and be transported to far-away worlds without breaking the bank.
PortAventura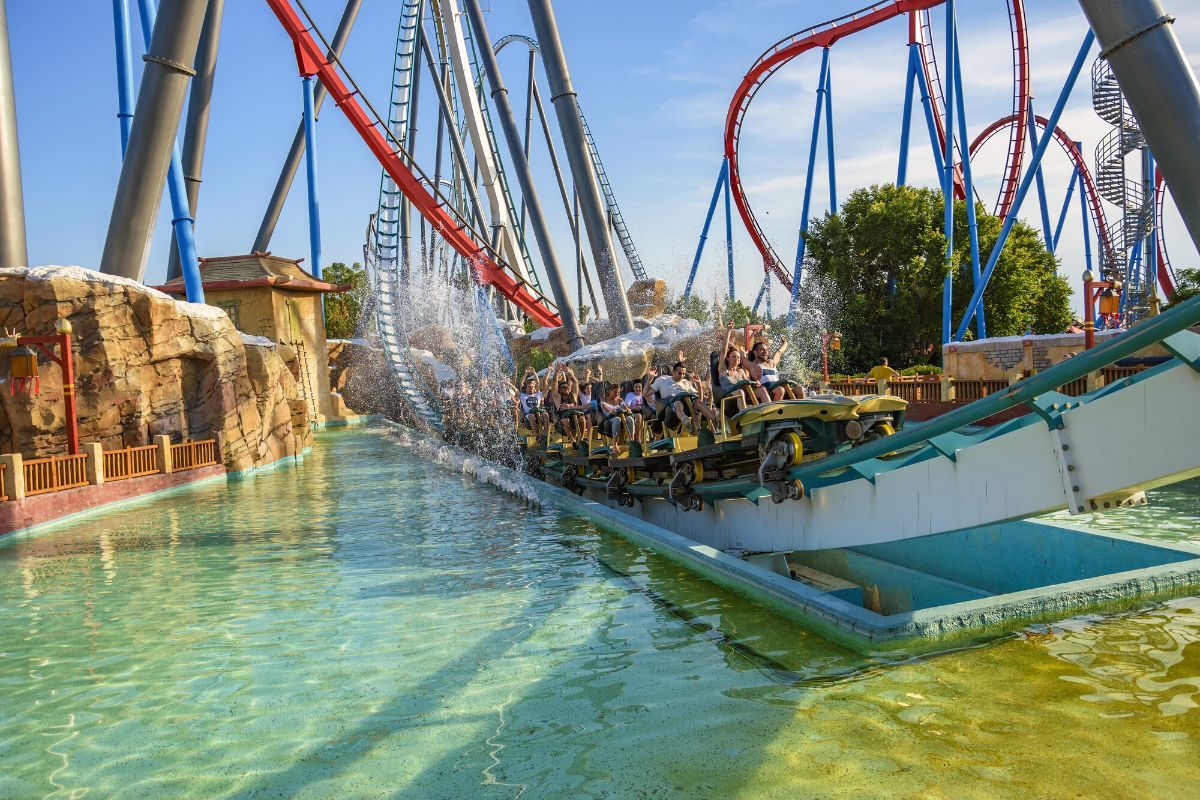 If you are looking for a thrill a minute, visit PortAventura in Salou, near Barcelona. It promises an adrenaline-pumping adventure for visitors seeking excitement and entertainment and is listed among the most visited theme parks in Europe.
With a variety of exhilarating roller coasters, family-friendly rides, and live shows, PortAventura offers something for everyone.
The park is divided into different themed areas, each boasting a unique atmosphere and attractions inspired by different cultures and civilizations.
From the ancient temples of China to the wild west of the United States, PortAventura takes guests on a captivating journey through time and imagination.
Ferrari Land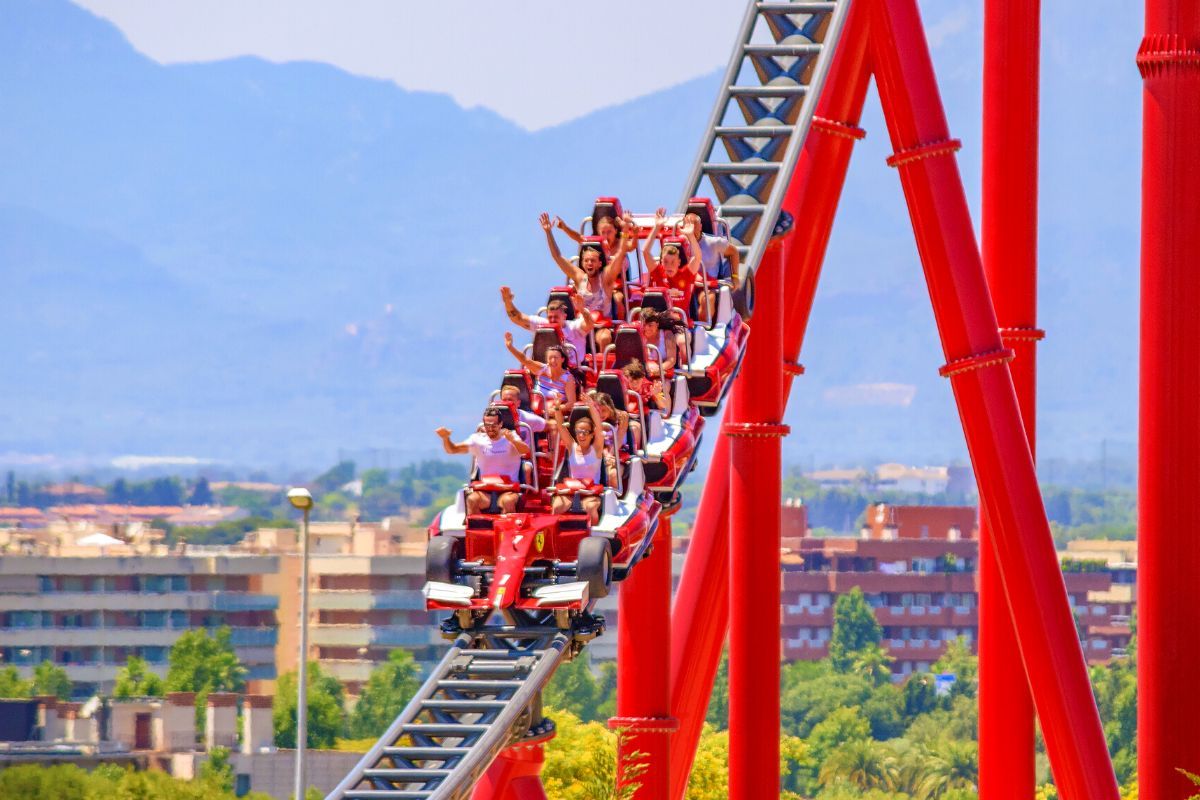 Situated within the PortAventura World complex, Ferrari Land is a dream come true for car enthusiasts and thrill-seekers.
This unique theme park is dedicated to the legendary Italian automobile brand, Ferrari, bringing its groundbreaking technology and iconic status to Barcelona.
Visitors can experience the excitement of Formula 1 racing by taking on high-speed rides and simulators inspired by the world of motorsport.
From the vertical acceleration of the Red Force roller coaster to the adrenaline-pumping racing experiences, Ferrari Land immerses guests in the exhilarating world of Ferrari and its iconic racing heritage.
Illa Fantasia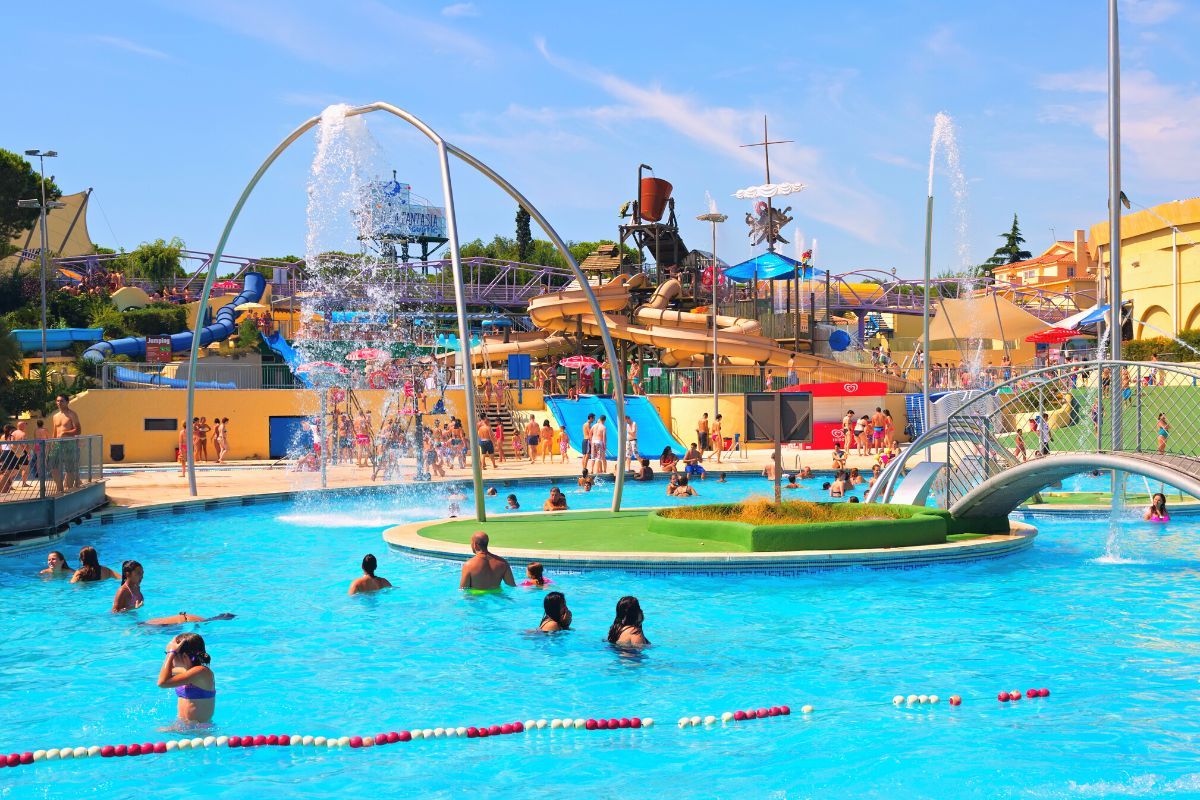 Nestled in the beautiful countryside just outside of Barcelona, Illa Fantasia is a refreshing water park that offers a welcome escape from the summer heat.
It features a wide range of water attractions suitable for visitors of all ages, including thrilling slides, wave pools, and relaxing lazy rivers.
Whether you're looking for an adrenaline rush or a serene retreat, Illa Fantasia has something to offer. The park's lush green surroundings and tropical landscaping create an idyllic ambiance, making it an ideal place to spend a fun-filled day with family and friends.
Caribe Aquatic Park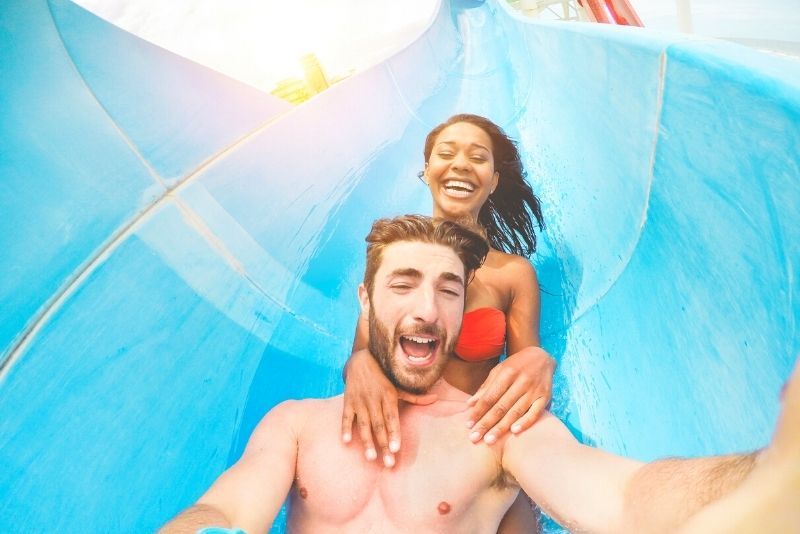 Caribe Aquatic Park is a tropical paradise located within PortAventura World. This water park is inspired by the vibrant and colorful Caribbean islands, swapping your Mediterranean destination for an equally unforgettable beach destination.
With an array of exhilarating water slides, swimming pools, and water play areas, Caribe Aquatic Park provides endless aquatic adventures.
Visitors can relax on sandy beaches, drift along lazy rivers, or take on thrilling slides that will leave them soaked and smiling. You can look forward to more than 50 hectares of watery fun, the perfect addition to your Barcelona getaway.
Tibidabo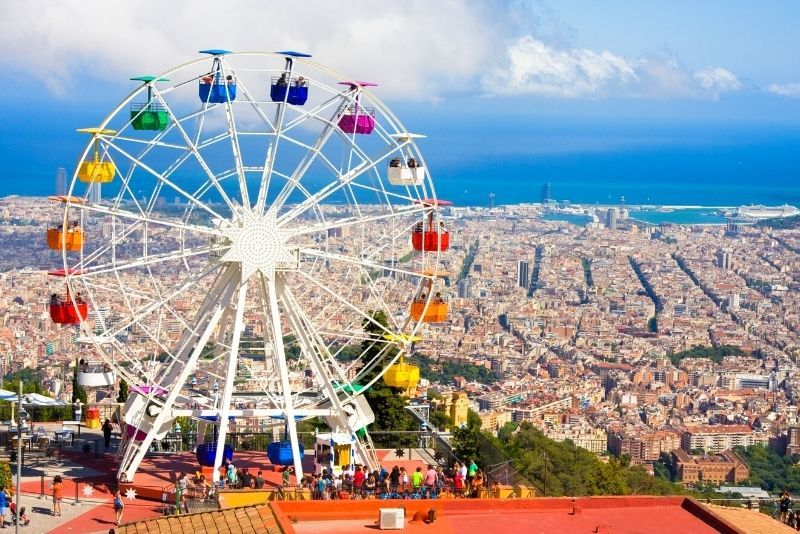 Towering above the city of Barcelona, Tibidabo is a magical mountain that offers breathtaking views and a wide range of attractions for visitors.
At the summit, you'll find the iconic Tibidabo Amusement Park, which inundates you with nostalgic rides loaded with classic charm. From vintage carousels to exhilarating roller coasters, the park provides fun for visitors of all ages.
Additionally, Tibidabo boasts the stunning Temple Expiatori del Sagrat Cor, a magnificent church with its towering statue of Jesus Christ overlooking the city. Visitors can explore the church's beautiful interior or ascend to the observation deck for panoramic views of Barcelona and its surroundings.
With its unique blend of amusement park thrills and spiritual tranquility, Tibidabo offers a one-of-a-kind experience that captures the essence of Barcelona's charm and beauty.
Catalonia in Miniature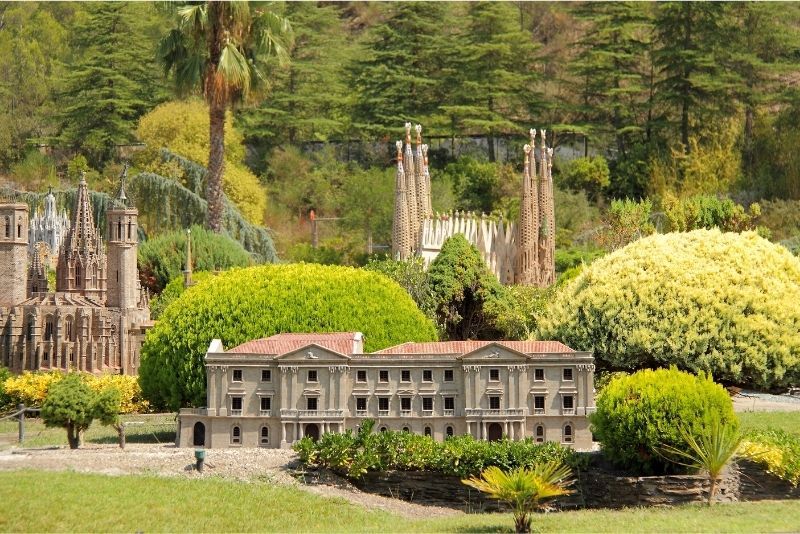 Catalonia in Miniature, located in Torrelles de Llobregat near Barcelona, is a captivating attraction that allows visitors to explore the rich cultural heritage and architectural wonders of Catalonia on a small scale.
This miniature park showcases meticulously crafted replicas of famous landmarks, including iconic buildings, cathedrals, and historical sites from different regions of Catalonia.
Strolling through the park, visitors can admire the intricate details and marvel at the craftsmanship that brings these miniatures to life. Catalonia in Miniature offers a unique way to appreciate the diversity and beauty of Catalonia's cultural heritage in a single visit.