Famous for being the birthplace of artist Salvador Dalí, Figueres is a Spanish town bursting with charm. The centerpiece is the Dali Museum, which stands in vivid contrast to its more muted surroundings.
On a day trip to Figueres from Barcelona, you'll have the chance to explore the museum and learn all about the iconic Surrealist painter. Many tours also stop in medieval Girona as a bit of a bonus side trip.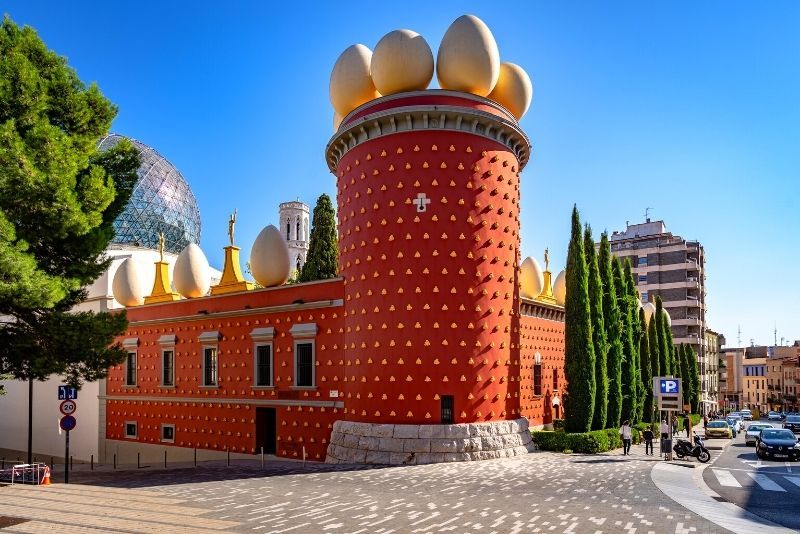 Here's all you need to know about Figueres, one of the most exciting day trips in Barcelona.
How to get to Figueres from Barcelona?
The town of Figueres is located in the Girona province, up in northeastern Catalonia. It's not far from the border with France and makes an easy day trip from Barcelona.
From Barcelona to Figueres by car
If you have a rental vehicle, you can enjoy a road trip up to Figueres from Barcelona. You'll need to take the C-33 north out of the city, before following the AP-7 all the way to your destination.
The journey to Figueres takes around 1 hour and 40 minutes by car. There are several parking areas in the town, although it's best to go early if you want to bag a prime spot.
From Barcelona to Figueres by train
It's also possible to take a Figueres day trip by train. There are several direct trains every day, with the journey lasting about an hour.
Trains depart from Barcelona Sants Station and arrive into the Figueres Vilafant Station. It's a good idea to reserve train tickets in advance, especially in summer.
Guided tour to Figueres from Barcelona
For a stress-free experience, book a guided day tour to Figueres from Barcelona and let someone else do all the work. Round-trip transportation will be provided, sometimes with hotel pickups from central Barcelona.
These Figueres excursions last a full day, so you know you're getting your money's worth. Many tours also stop in Girona to break up the travel.
What is the typical itinerary?
Your adventure begins in Barcelona, either with a hotel pickup or at a convenient meeting point in the city. If you would like collecting from your accommodation, check the provider details before booking.
Once on board the coach, your guide will give an outline of the day's itinerary as you head out of town. You'll enjoy a scenic drive through the Spanish countryside before reaching Girona. Most day trips to Figueres from Barcelona include a stop in Girona along the way.
In Girona, you'll have a guided tour as well as a bit of leisure time to explore the medieval center and the cathedral. Don't miss the views from the top of the ancient city walls or the colorful houses that line the River Onyar. You will be able to purchase lunch in Girona at your own expense. After exploring Girona, it's time to return to the coach for the next leg of your journey to Figueres.
The focus of your visit to Figueres will be the Dali Museum. Entrance is often included in your package, but if not, you will be able to buy entry at the door. A guided tour of the museum is usually available to help you understand what you're seeing.
You will then be transferred back to your starting point in Barcelona in the evening, usually around 8 PM.
What kind of tours are available to go to Figueres?
When it comes to choosing a Figueres day trip, there are several contenders to consider. Group tours present a cheaper option, while private excursions offer more independence. Think about your budget and the sort of experience you're looking for before making this tough decision.
Guided day tour to Figueres plus Girona from Barcelona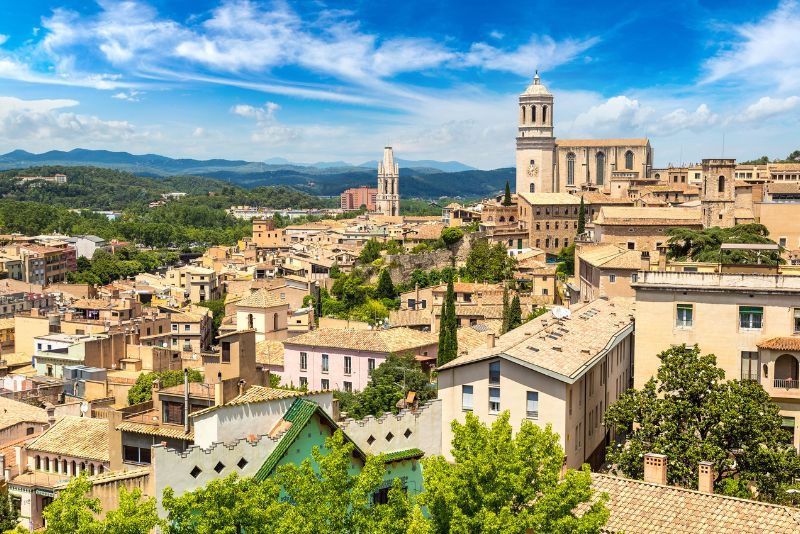 Most Figueres day trips from Barcelona also include a stop in Girona, combing two of the prettiest settlements in Catalonia. These tours operate on a small group basis, which keeps costs down for an affordable day out. You might even make some new friends after this convivial sightseeing experience.
Travel is by air-conditioned coach, with the majority of excursions departing from central Barcelona. All group tours include a guide to make sure the day goes without a hitch. All you have to do is show up and everything else will be taken care of.
Day trip to Figueres plus the Costa Brava from Barcelona
If you want to cram in as many sights as possible, then this day trip ticks all the boxes. As well as taking in Figueres, the tour also makes a couple of stops on the Costa Brava. You'll get to explore the coastal village of Cadaqués and the fishing cove of Portlligat, where Dali had his studio.
Door-to-door transport is included from central Barcelona hotels. This group tour usually has a maximum of eight people to keep the experience personal. You'll have a guide throughout the day, so feel free to ask questions.
Private tour to Figueres plus Girona from Barcelona
Opt for a private jaunt to Figueres if you'd like a more exclusive experience for just you and your group. This is the ultimate way to travel, and you'll receive the full VIP treatment from the moment the trip departs.
Hotel pickups and drop-offs are provided for seamless transfers. You'll also have your own private vehicle and guide at your disposal throughout the day. Itineraries aren't fixed, so if you'd like to spend longer in certain places, just ask.
Private day trip to Figueres plus Girona and the Costa Brava from Barcelona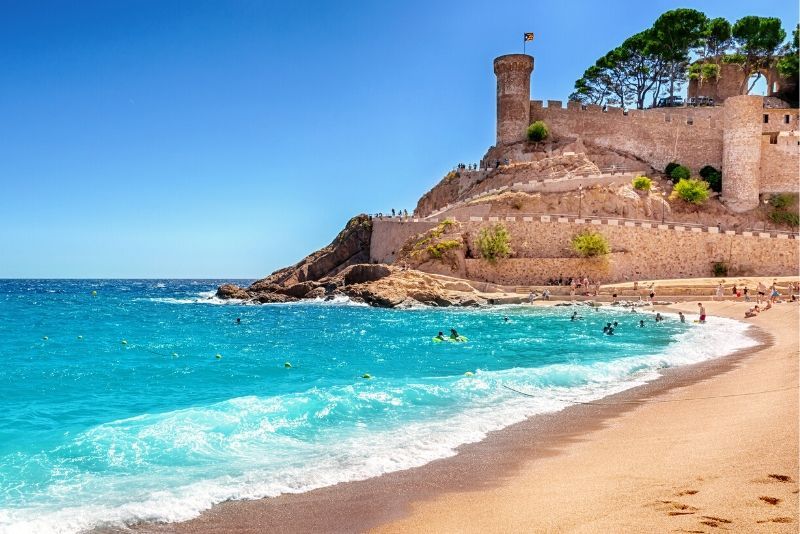 These tours run similarly to the one above, but this time with an added stop on the beautiful Costa Brava. This will be in Cadaqués in winter, or Palamós during the summer. These private day trips to Figueres from Barcelona are long and jam-packed, but you'll see a lot along the way.
Exclusive transfers and a guide are all part of the package, as well as entrance to the Dali Museum. These trips are more expensive, but the elevated experience speaks for itself.
How much does a day trip to Figueres from Barcelona cost?
The cost of a Figueres day tour from Barcelona varies according to group size and package inclusions.
For a day trip to Figueres plus a visit to the Costa Brava, expect to pay €60 for the basic transport and guide package. To include hotel transfers, the total tour cost is €120. Attraction tickets must be purchased separately on arrival.
Group trips that stop off in Girona, as well as Figueres, start at €80 per person. This includes return coach transfers from a central meeting point in Barcelona, plus a guide and entrance fees. If you want to include hotel pickups, the price rises to €110.
A private day tour to Figueres from Barcelona costs €240 per person and incorporates a visit to the Costa Brava. An exclusive vehicle and guide are provided, as well as collection from your hotel. Tours that focus on Figueres and Girona are €270 with a guided tour of the Dali Museum included.
What will you see and do?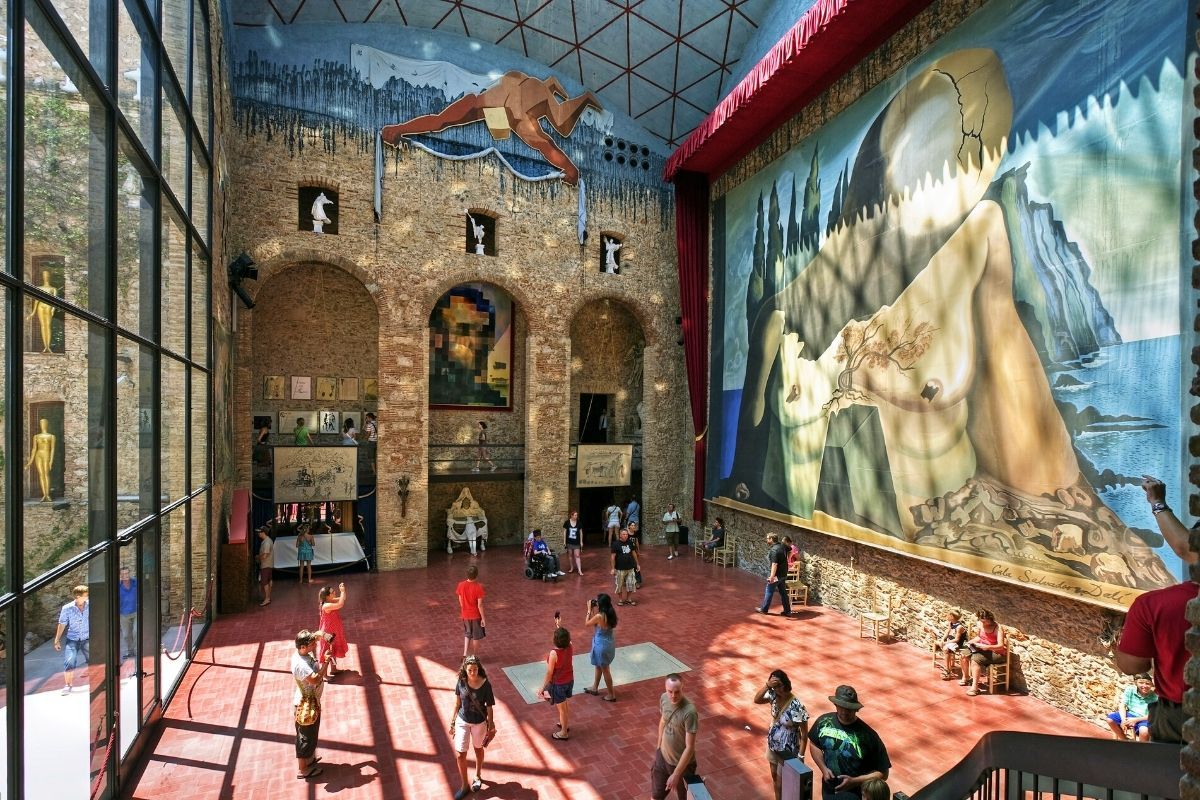 The town of Figueres is known primarily for being the birthplace of Salvador Dalí. The Spanish artist specialized in Surrealism and was famed for his unusual imagery, including the world-renowned melting clocks paintings.
The main event on your day trip to Figueres from Barcelona will be the Dalí Theatre-Museum. It was established by Dalí himself to showcase Surrealist painting and the art of thinking outside the box. The museum is home to the largest collection of art by Dalí, with everything from paintings to sketches on display.
Inside, the artworks are mind-boggling, with illusions, mysterious rooms and giant installations all drawing you in. You'll see the interactive "Rainy Taxi" exhibit and visit the "Palace of the Wind Room" where the Sistine Chapel has been reimagined. Don't miss the "Dalí-Jewels" – a dazzling exhibition of 39 golden jewels and stones, plus the paintings that the artist made of them.
Outside, you'll notice the iconic egg-shaped sculptures that adorn the rooftop of the museum. The pink castle-style façade makes the scene even more striking – it's the perfect backdrop for photos.
Finally, you will also have the opportunity to pay your respects to the great artist, who is buried in a crypt below the stage.
When is the best time to visit Figueres?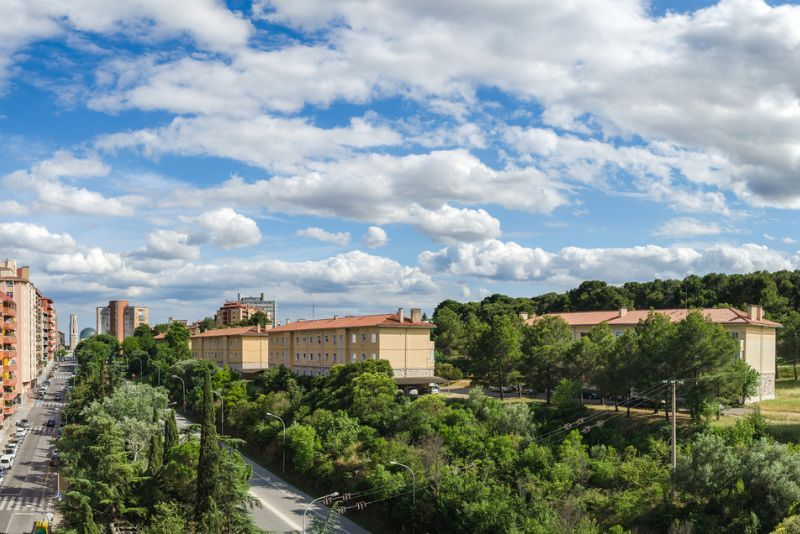 Figueres day tours are possible all year round, thanks to the mild climate in this part of Spain. However, if you want to stroll around with the sun on your face, come between May and September.
It does get busy in the peak summer season, so avoid July and August if you're not a fan of the crowds.
Are there any tours to Figueres from other cities in Spain?
Yes, there are other tours departing from several other cities in Spain:
Travel tips
Don't leave booking your day trip to Figueres from Barcelona until the last minute. Places can sell out in summer so it's best to plan ahead.
You will be walking around the cobbled town streets, so wear comfortable shoes and leave the heels at home.
It's a good idea to carry water, especially if you're visiting during the hotter months of the year.
Photography is allowed inside the Dali Museum, but you can't use flashes or tripods.