Boboli Gardens is a world-renowned site in Florence that was originally intended to be the private gardens of the Medici family. Today, you can purchase Boboli Gardens tickets and view the numerous historic buildings, fountains and sculptures that the gardens hold.
The Medici family began their rule of Florence in the mid-15th century and were influential in the city's history. Visiting the gardens is a must for anyone interested in exploring the Medici's powerful hold on Florence.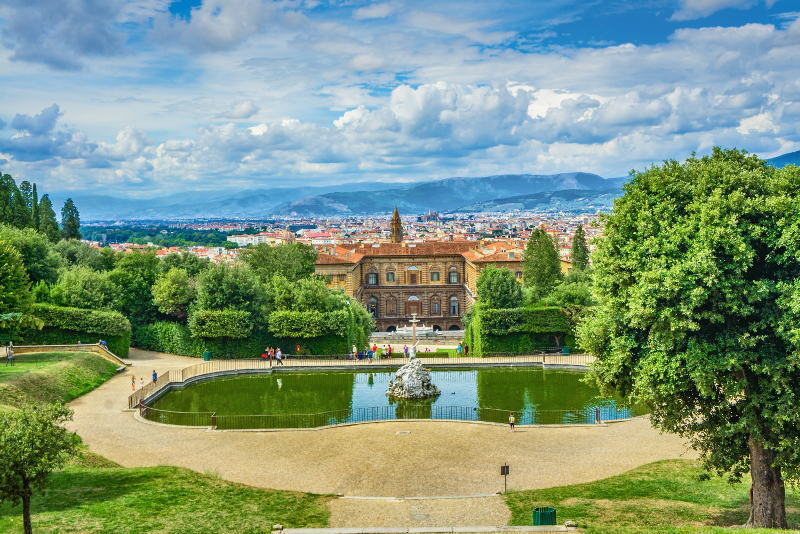 You will find below everything you need to know about Boboli Gardens, one of the best destinations for attractions in Florence.
How much do Boboli Gardens tickets cost?
Full ticket: €10
Children under 18: Free
There is a €3 booking fee when purchasing Boboli Gardens tickets online.
Who is eligible for discounts?
Persons with disabilities can enter the site for free, alongside one carer.
Young adults between the age of 18 and 25 benefit from a reduced Boboli Gardens entry fee of €2. This is only valid for EU citizens and residents of countries with a reciprocity agreement in place with Italy, including Switzerland and Uruguay.
What are the best Boboli Gardens tours?
Boboli Gardens guided tours
These walking tours take you on a guided adventure around the historic Boboli Gardens. You'll hear myths and legends of the ancient Greek Gods, as you stroll through the perfectly manicured hedges.
After exploring the flawless lawns and lemon trees, you'll wind your way to the top of the gardens. Here, you'll gain a panoramic view of the spectacular city of Florence and end your Boboli Gardens guided tour.
Are there any combined tickets or tours including Boboli Gardens and other attractions?
By combining your Boboli Gardens tickets with other attractions like the Uffize Gallery, you'll save money. Combined tours also help you to maximize your time in Florence by enabling you to view several sites in a few hours.
●    Skip-the-line combo tickets to Uffizi Gallery, Palazzo Pitti and Boboli Gardens: Witness Renaissance art, flawless horticulture and Italian fashion through the ages with this combined ticket to three iconic sites in Florence.
●    Dan Brown's "Inferno" tour of Florence: Focused around the spots that appear in the famous thriller novel "Inferno," this tour visits several key sites in the city, including the Duomo and Boboli Gardens.
●    Medici's Mile tour with entrance to Boboli Gardens: Discover the power of the renowned Medici family by visiting this UNESCO World Heritage site, which is brimming with historic chapels and palaces.
Is it possible to visit Boboli Gardens for free?
Like many other gardens and museums in Florence, it's possible to visit Boboli Gardens for free on the first Sunday of the month. On this day, the city becomes extremely busy and the site can become overrun with long queues.
Should you book Boboli Gardens tickets in advance?
You should consider booking your Boboli Gardens tickets online in advance. You'll be able to secure your desired time slot and you won't have to waste time queueing instead of sightseeing.
What will you see inside Boboli Gardens?
The 16th-century gardens span over 111 acres and are the largest green space in Florence. They were originally commissioned by Eleanora de Toledo who was part of the powerful Medici family that ruled Florence for over three centuries.
The gardens are made up of a collection of statues and fountains that range in style from Renaissance to ancient Roman. These include the "Fountains of the Ocean" sculpture by Giambologna, which is based upon Roman myths and embellishes the lavish amphitheater.
Another key feature that you'll see on your Boboli Gardens visit is the Buontalenti Grotto. The grotto resembles a cave and is elaborately adorned with sculptures, and plaques that depict zodiac signs and showcase the Medici coat of arms.
The artistic influence doesn't end once you step inside the cave. The interior is decorated with frescoes of magical animals. What appears to be stalactites are, on closer look, carvings of shepherds, goats and sheep.
Alongside the numerous buildings and monuments are the verdant gardens themselves. Featuring many exotic plants, Boboli Gardens is a gardener's dream, with olive trees, neatly trimmed hedges and a labyrinth made of flower beds.
No visit to Boboli Gardens is complete without strolling up the hill to its highest point and looking out over the city. From this vantage point, you'll gain incredible views of  Duomo, as well as other fascinating landmarks in Florence.
Giambologna's statue — named "Abundance" — also sits atop the hill like a cherry on the magnificent site.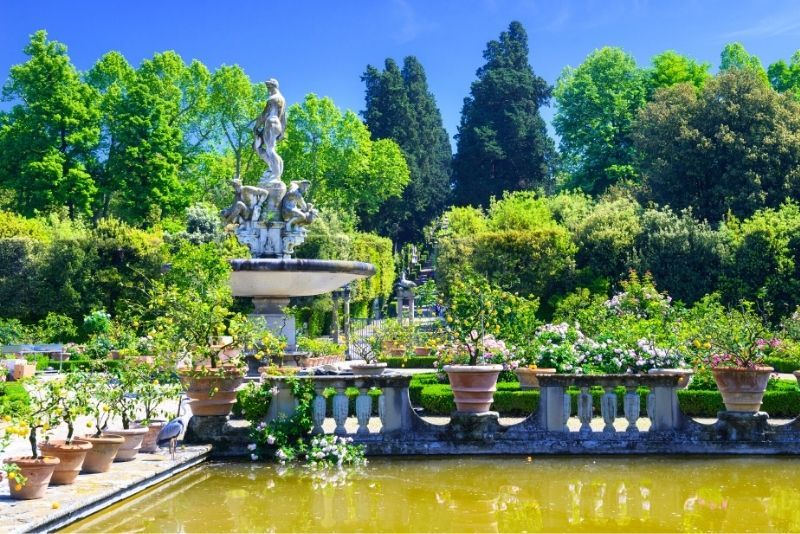 How to get to Boboli Gardens?
Boboli Gardens is located directly behind Palazzo Pitti and has two entrances — one in the Palazzo Pitti itself and one in Palazzo Porta Romana.
You can access the gardens on the bus lines C3 and C4 from Rucellai. You'll depart at Santo Spirito and complete the remaining eight minutes of your journey on foot. The journey takes 15 minutes in total and the buses run regularly throughout the day.
When is the best time to visit Boboli Gardens?
September is the best month to visit Boboli Gardens, as there are fewer tourists and the temperature drops somewhat, to an enjoyable 27 degrees Celsius.
It's worth noting that Boboli Gardens closes on the first and last Monday of every month. It is not full of flowers as you may expect. Instead, the majority of the garden is composed of greenery, which makes it an impressive sight year-round.
Which other attractions can be visited in Florence?
Travel tips
Boboli Gardens covers a large area, so ensure you wear comfortable shoes for your visit.
Buy Boboli Gardens tickets in advance if you wish to choose a specific time slot.
If you are interested in the history of the Medici family, take a combination tour that allows you to explore Palazzo Pitti or Medici's Mile.