If you want to see the hidden gems and back streets of Florence, take to the city streets on two wheels. On a bike, you'll be able to see a plethora of magnificent churches, striking piazzas and historic monuments in a few short hours.
Bike tours in Florence also allow you to get some exercise while exploring, and feel the warm Tuscan breeze through your hair.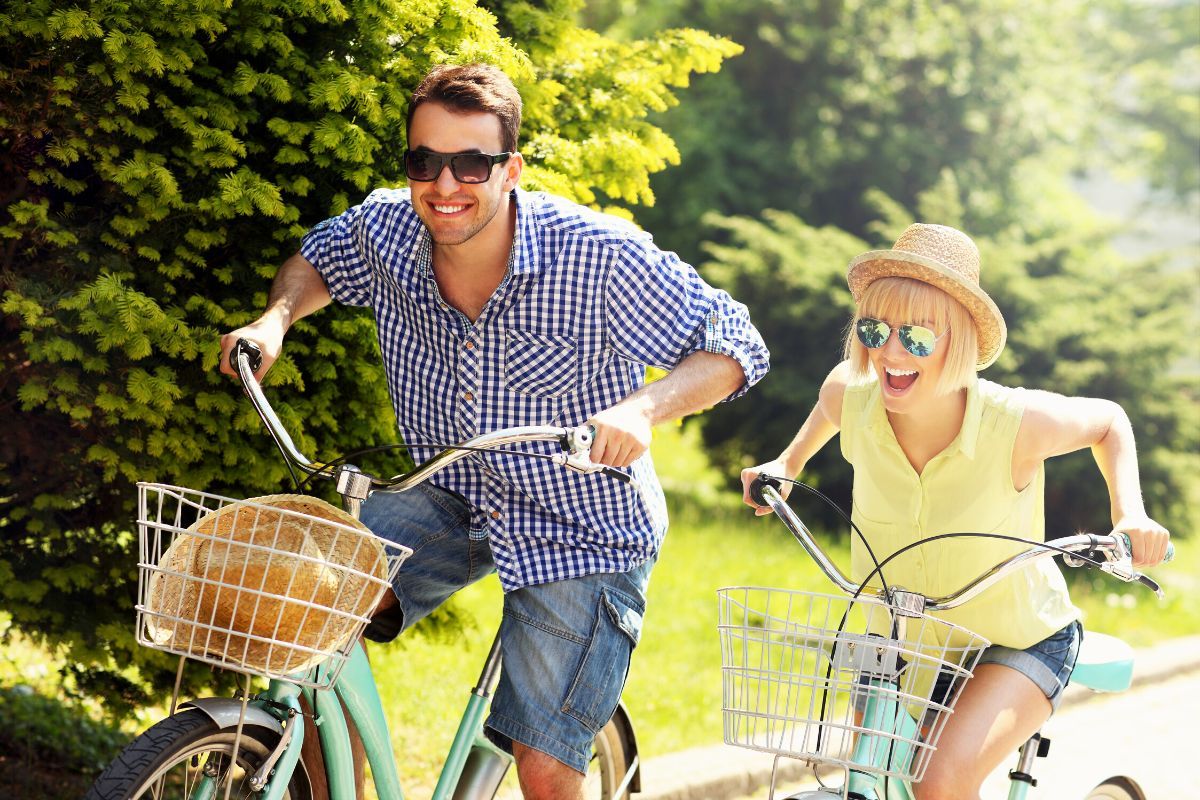 You will find below everything you need to know about bike tours, one of the most delightful outdoor activities in Florence.
What are the best bike tours in Florence?
Florence guided bike tour
One of the best ways to see the renowned attractions of Florence while on a sightseeing tour is by bike.
Once you've hopped onto your bicycle, you'll set off around the city in search of historic piazzas and ornate churches. You'll travel through the Old Town, as well as the Oltrarno neighborhood, pointing out sights of interest as you go.
As you saunter through the streets of Florence on two wheels, you'll see many of its famed monuments, including the duomo and the Basilica of Santa Croce. Other spectacles you can feast your eyes upon on your tour include Pitti Palace, Ponte Vecchio and Piazza della Repubblica.
To gain a broad perspective on Florence's many neighborhoods, you'll cycle through both the artisan and the medieval districts. Along the way, your guide will provide you with useful knowledge, such as the best gelato spots in the city.
Chianti Hills bike tour
If you want to see what Tuscany is like away from the beeping motorcycles and bright lights of Florence, head to the Chianti Hills.
You'll enjoy a comfortable transfer to your starting location in the quiet Tuscan countryside. You'll cycle down country lanes lined with olive trees and opulent villas.
Traveling past the numerous picturesque vineyards the region is home to, you'll stop at a historic villa to enjoy a freshly-prepared traditional Italian lunch. As you're devouring an array of Tuscan fare, you'll enjoy a locally-produced olive oil tasting and a wine tasting session before returning to Florence.
Florence E-bike tour by night
Florence comes to life at night, when the city is illuminated by thousands of lights. Once the sun has set over the cityscape, you'll take to its streets and avoid the daily swarm of cars, and pedestrians cluttering up Florence.
Enjoying the mild conditions of dusk, you'll speed up a hill to the Piazzale Michelangelo, which will reward you with panoramic views of the city. From this viewpoint, you'll also be able to see several of the city's historic monuments, as well as the meandering River Arno.
Once you've captured the perfect picture from on top of the hill, you'll head back into the center of Florence to explore its landmarks up close. These include Brunelleschi's Dome, the Basilica of Santa Croce and the numerous statues in Piazza della Signoria.
How much do bike tours in Florence cost?
For a guided bike tour of Florence, you'll pay between €30 and €40 per person.
Combination tours that stop for gelato cost €40 per participant, while nighttime tours on an easy-to-ride E-bike cost around €50.
Alternatively, Florence bike excursions that visit a winery cost approximately €70 per person.
If you wish to speed through the Chianti Hills, you can expect to pay between €90 and €110 for each participant.
What is included in a bike tour in Florence?
Bike tours in Florence include cycle hire, as well as a safety helmet. You'll be led by a professional guide who will direct you to the most interesting sites in the city. Some tours include added extras, such as a wine or olive oil tasting session, lunch or a scoop of gelato.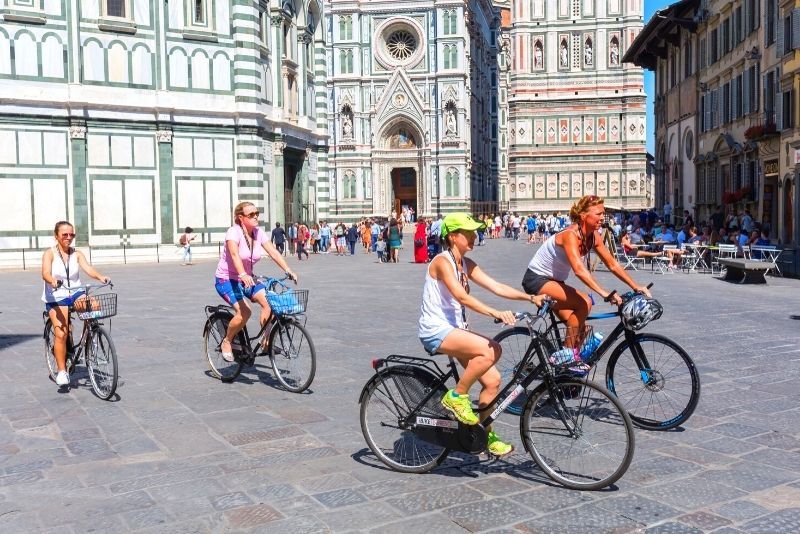 Where do bike tours in Florence start?
Florence cycling trips usually begin at the tour provider's bike shop in the city, where you'll take part in a safety briefing. You can see the location of the shop before booking so that you can arrange your transportation there in advance.
How long do bike tours in Florence last?
Most bike tours in Florence last approximately 2 hours. This gives you plenty of time to discover the most fascinating monuments and districts in the city.
You can expect excursions into the Chianti Hills to last between 4 and 6 hours, depending on whether they include lunch, and a wine or olive oil tasting.
When is the best time for a bike tour in Florence?
You can participate in a bike tour in Florence at any time of day, however, those that journey toward the Chianti Hills often take place over lunchtime. You'll be able to enjoy a meal and see the sun shine over the vineyards.
Alternatively, if you get hot easily, you may wish to participate in a sunset tour of the city, when you'll benefit from cooler conditions.
Are there any combo available with bike tours in Florence?
Florence E-bike tour with vineyard visit
Mounting your comfortable E-bike, you'll whizz through Tuscany to the town of Fiesole, which is built upon a hill and offers remarkable views over Florence. Continuing on, you'll break for lunch at the village of Settignano — a charming spot in the hills.
Once you've filled yourself with mouthwatering Italian fare, you'll make your way to a vineyard, where you'll enjoy a wine tasting, as well as traditional snacks.
Vintage bike tour with a gelato tasting
Kicking off your combination tour, you'll slowly cycle along the bustling streets of Florence to the Basilica of Santa Maria Novella. Once you've admired its intricate Gothic and Renaissance architecture, you'll move on to Pitti Palace, and the Ponte Vecchio bridge.
After seeing a host of other sights, you'll be provided with a sumptuous scoop of local gelato as you people-watch in the Oltrarno district.
Which other outdoor activities can be done in Florence?
Travel tips
Bike tours in Florence operate in all conditions. Check the weather before leaving your hotel and make sure you're prepared for any eventuality with a rain jacket and sunhat.
You can request an infant seat for the back of your bike if you have little ones traveling with you.
If you're not up to cycling through the city, choose a tour that takes place on an E-bike.