Santa Maria Novella is a unique basilica in the city of Florence. It features extraordinary Renaissance architecture on its exterior and holds many precious artworks by notable Italian artists.
By purchasing Santa Maria Novella tickets, you can discover yourself the vibrant frescoes that depict Bible tales, adorning the religious site. Whether your interests lie in Catholicism, painting techniques or the history of the city, you're sure to be thrilled by the stunning basilica.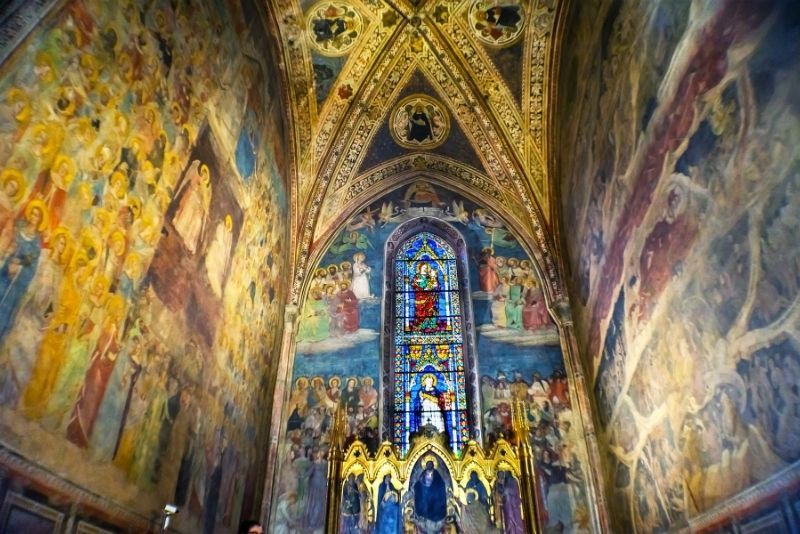 You will find below everything you need to know about the Basilica Santa Maria Novella, one of the most famous attractions in Florence.
How much do Santa Maria Novella tickets cost?
Adults (18+): €7.50
Youths (11-17): €5
Children under 11: Free
There is a €1 booking fee for all Santa Maria Novella tickets that are purchased online. You will need to buy a ticket for all members of your party, regardless of whether they qualify for free entry.
Who is eligible for discounts?
Persons with disabilities and their carers can gain free tickets to Santa Maria Novella, which can be accessed online.
What are the best Santa Maria Novella tours?
Santa Maria Novella audio-guided tour
The most budget-friendly way of touring Santa Maria Novella is with an audio guide. You'll have a running commentary, as you stroll through the basilica and you'll be provided with a tablet for the ultimate multimedia experience.
You'll learn about the artists who contributed to the design of Santa Maria Novella, including Giotto, Brunelleschi and Lippi. Alongside its artistic influence, the 13th-century basilica has a fascinating history, which will be unveiled in this hour-long tour.
Santa Maria Novella private tour
If you want your visit to the basilica to be more interactive, you might consider choosing a privately guided Santa Maria Novella tour. You'll have your own dedicated guide to converse with and ask questions.
The tour is approximately three hours long, which allows plenty of time to discover hidden gems hiding within the walls of Santa Maria Novella. The tour starts at the square situated just outside the church, which is laced with its own rich history. It also includes the lesser-known, but fascinating, pharmaceutical workshop.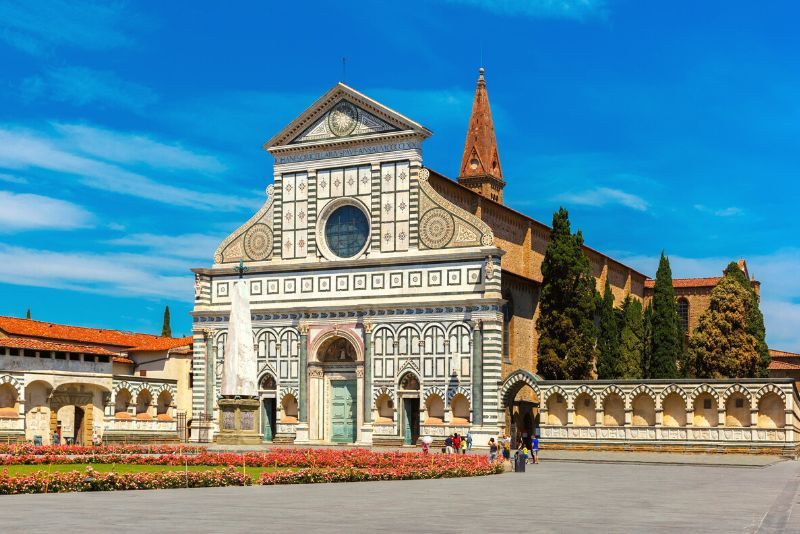 Should you book Santa Maria Novella tickets in advance?
It's worth purchasing Santa Maria Novella tickets online in advance although you can buy on-site. This will guarantee you priority access and you'll be able to select the date and time slot that works best for your itinerary.
What will you see inside Santa Maria Novella?
Santa Maria Novella was originally commissioned in the late 13th century and was finished 80 years later. It was built upon a ninth-century oratory — Santa Maria delle Vigne — and showcases classic Renaissance architecture of the time.
The site comprises the basilica and its museum, which showcases relics and artifacts from the basilica's treasury, in the former cloisters and adjoining chapels. The basilica was founded by the Dominican Order, which is an order within the Catholic church, best known for preaching and pursuing truth.
Alongside its striking exterior, Santa Maria Novella houses a priceless collection of Renaissance artworks, including the painting entitled "Holy Trinity" by Masaccio. Other artists with their works on display in the basilica include Brunelleschi and Lippi.
The Filippo Strozzi Chapel is located to the right of the altar and features colorful frescoes depicting the lives of two apostles — James and Philip. Other chapels on-site include the Tornabuoni Chapel, which focuses on the Virgin Mary and John the Baptist, as well as the Strozzi of Mantua Chapel.
The Spanish Chapel is one of the most celebrated sights in the basilica and features a large mural of the crucifixion of Jesus. You can access all areas of the grounds when you purchase Santa Maria Novella tickets.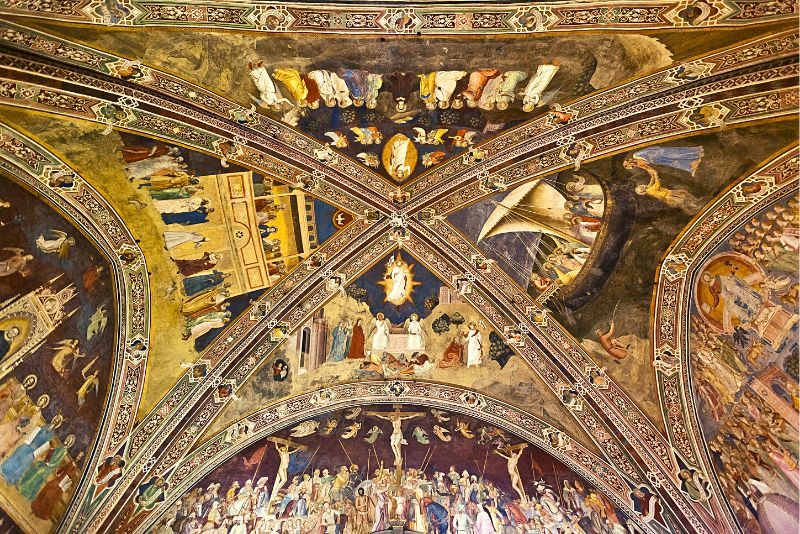 How to get to Santa Maria Novella?
Santa Maria Novella is located in the main district of Florence, close to other landmarks, such as the Duomo.
You can catch a train to the basilicas namesake station — Firenze Santa Maria Novella. As you exit the station, you'll find yourself directly opposite the church.
Alternatively, there are many buses that run from Firenze Montelungo bus station to Stazione Largo Alinari, located a four-minute walk away from Santa Maria Novella.
When is the best time to visit Santa Maria Novella?
The best time to visit Santa Maria Novella is when it first opens at 9:30 AM. By heading to the basilica early, you will beat the tourist groups to the site and enjoy a peaceful experience inside. On Sundays, Santa Maria Novella remains closed until 11 AM for mass.
Which other attractions can be visited in Florence?
Travel tips
Religious sites in Florence require you to dress modestly. Ensure your knees and shoulders are covered before entering the basilica, and wear closed toe shoes. You'll also be asked to remove your hat if you're wearing one.
By booking your Santa Maria Novella tickets online in advance, you'll gain skip-the-line entry to the site. This allows you to spend more of your vacation time exploring and less time queueing.
Be sure to visit all of the buildings that make up the Santa Maria Novella complex.