Santa Croce is one of the most distinguishable and celebrated religious monuments in Florence. Built between the 13th and 15th centuries, the basilica is still the principal Franciscan place of worship in the city.
More than just a place to pray, Santa Croce is known for its tombs that house the remains of influential Italians, including Michelangelo.
By purchasing Santa Croce tickets, you'll have access to a mixing pot of art, history and religion all under one roof.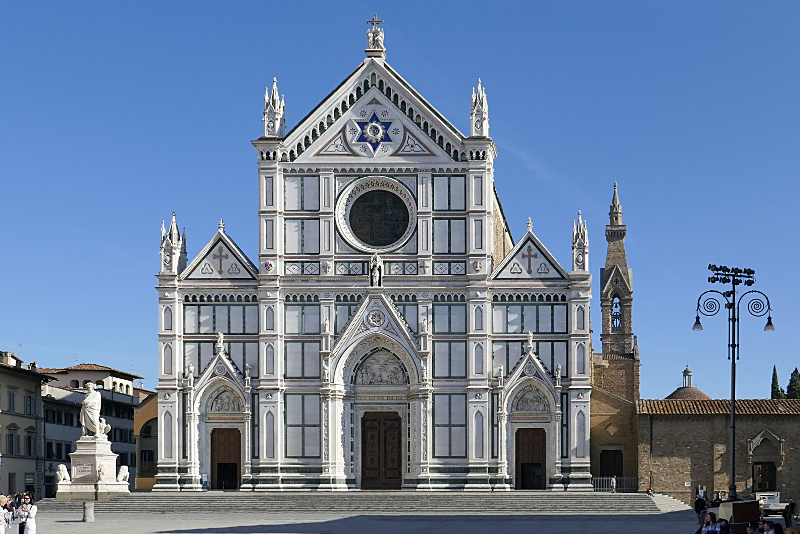 You will find below everything you need to know about the Santa Croce Basilica, one of the most famous attractions in Florence.
How much do Santa Croce tickets cost?
Adults: €8
Youths (ages 12-17): €6
Children under 12: Free
Children under 18 can enter the site for free when accompanied by a paying adult.
There is a €1 online booking fee for all Santa Croce tickets.
Who is eligible for discounts?
The Santa Croce entry fee is waived for persons with disabilities and their carers. University students benefit from a reduced rate of €6, with a valid student ID card.
What are the best Santa Croce tours?
Santa Croce guided tour
On a Santa Croce guided tour, you'll learn about the deep history of the grand basilica. Starting outside of the church, you'll hear about the famous medieval soccer game that takes place in the square annually, before discovering the building itself.
As you stroll through the basilica, you'll see its artistic influences through its 16 chapels, cemetery and bell tower. The frescoes inside the church intricately depict many different scenes, including the life of St. Francis.
Santa Croce small-group tour
Small-group tours allow for a more personal experience. There will be a maximum of 15 participants on your tour of the basilica. You'll wander around, learning about its roots as a cemetery for the most iconic figures in Italian history.
A professional guide will fill you in on the church over the centuries, and you'll witness traces left by the devastating 1966 flood.
Private tour of Santa Croce
If you wish to personalize your visit, you should consider a private tour to Santa Croce. Your tour guide will be able to cater the excursion to your personal interests. You'll also have plenty of time to converse with them about the history of the basilica.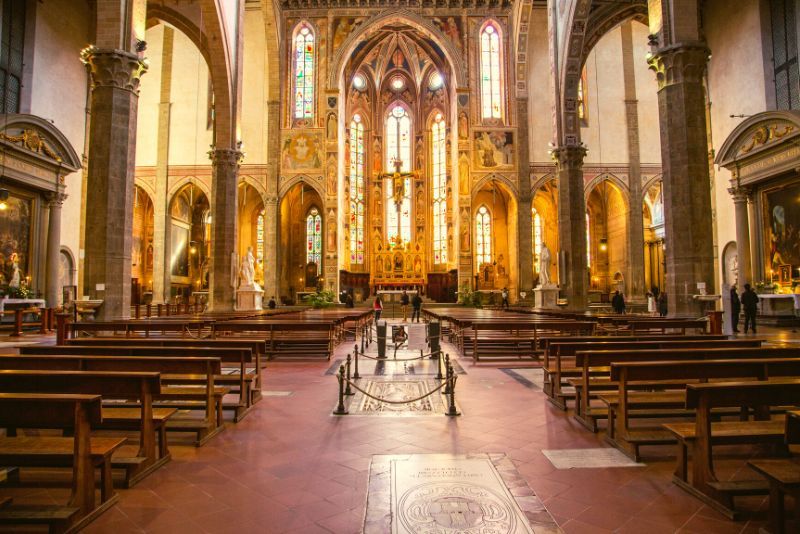 Are there any combined tickets or tours including Santa Croce and other attractions?
If you have little time to spare in Florence, consider purchasing combined Santa Croce tickets. These allow you to see the most renowned sights in the city. You'll save both money and time by taking a combined tour.
●    Florence highlights walking tour: On this walking tour of Florence you will have the opportunity to take in several of its most well-known sights, such as the Duomo and Santa Croce.
●    Private tour of Uffizi Gallery and Santa Croce Basilica: Embark on a journey to see the most magnificent artworks in the city by Florentine artists, such as Michelangelo, Da Vinci, Botticelli and Donatello at the Uffizi Gallery and Santa Croce Basilica.
Is it possible to visit Santa Croce for free?
It's possible to gain free entry to Santa Croce if you wish to attend a religious service or pray independently. However, those wishing to access the site for tourism purposes will have to pay the entrance fee.
Should you book Santa Croce tickets in advance?
You can purchase Santa Croce tickets at the box office on the day of your visit. However, by booking online in advance, you can secure your desired time slot and will save time queueing when you reach the religious site.
What will you see inside Santa Croce?
Santa Croce is the largest Franciscan church in the world. Founded in the early 13th century, the Franciscan religion is composed of a group of several religious orders within the Catholic church. Its members adhere to the religious teachings of the founder, Francis of Assisi.
It is thought that Santa Croce was commissioned by Francis of Assisi himself in the late 13th century.
The Gothic building houses several chapels, which are lavishly decorated in frescoes. The architecture itself is a point of interest, with intricately carved columns and arches throughout the church.
Santa Croce Basilica is most famous as the resting ground of several distinguished Italians, including Michelangelo, Galilei and Machiavelli.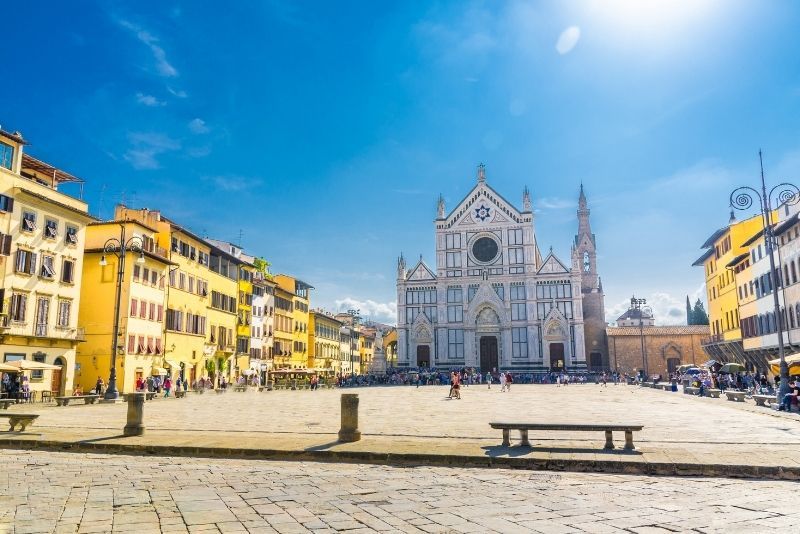 As graveyards were not used in the Middle Ages, over 250 of Florence's most illustrious and devout residents are buried under Santa Croce. You can see the tomb slabs which adorn the floors, as well as several funerary monuments. These were reserved for the wealthiest and most noble figures of the time.
Galilei was one such individual, whose funerary monument was created by his student — Vincenzo Viviani. It depicts the great scientist with one hand on a globe and the other clutching a telescope — symbols of his astronomical discoveries.
The basilica holds almost 4,000 artworks dating as far back as the 13th century. While ambling through the grand church, you will stumble upon the high altar, which is surrounded by frescoes painted by Agnolo Gaddi.
The Pazzi Chapel is home to a host of Renaissance masterpieces, created by some of the most talented artists of their time, including Donatello and Brunelleschi.
How to get to Santa Croce?
Santa Croce is located in the heart of Florence and is easily reached by public transport. Placed in District 1, you can walk to the basilica from other landmarks, such as the Duomo.
Alternatively, you can catch the Line C2 bus from Stazione Via Panzani, which runs every 20 minutes. The journey to Ghibellina Pepi, where you'll depart, takes nine minutes and you'll cover the remaining 200 meters to the basilica on foot.
When is the best time to visit Santa Croce?
You can purchase Santa Croce tickets and visit between the hours of 9:30 AM and 5:30 PM from Monday to Saturday. If you wish to avoid the crowds, consider heading to the basilica as soon as it opens.
Alternatively, head to Santa Croce in the late afternoon when the tourist groups have thinned out. Santa Croce is open between 12:30 PM and 5:45 PM on Sundays.
Which other attractions can be visited in Florence?
Travel tips
Set aside one to two hours to explore Santa Croce fully.
Duomo is located a 10-minute walk away from Santa Croce. If your itinerary allows, explore both religious sites in one day.
When booking your Santa Croce tickets online, select the first slot of the day for a quieter experience.