Florence is a city thoroughly steeped in art and history, but few places speak of these elements as clearly as the Palazzo Vecchio. This impressive fortress was built to serve as a home to Florence's governing body and continues to operate as both museum and city hall.
The unique museum takes visitors on a journey through time from the era of the building's construction in 1299 through its many artful lives up to now. Consider booking your Palazzo Vecchio tickets in advance for your next trip to Florence!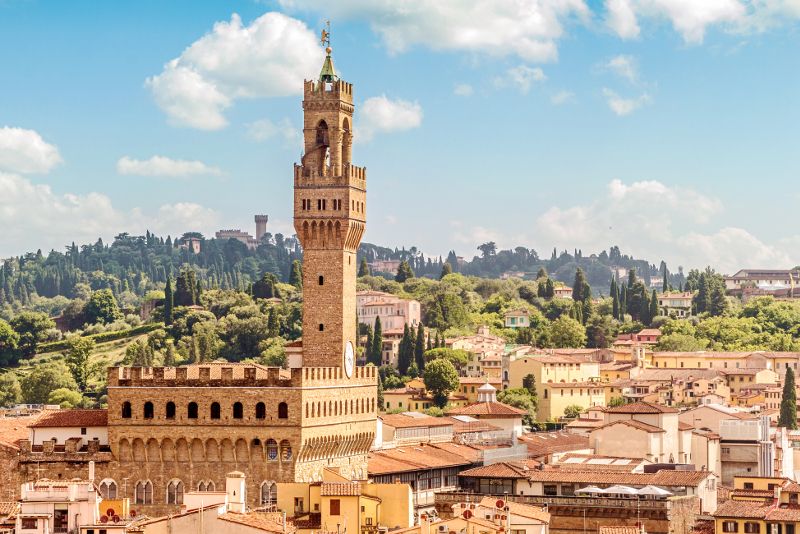 You will find below everything you need to know about visiting the Palazzo Vecchio, one of the most popular attractions in Florence.
How much do Palazzo Vecchio tickets cost?
The Palazzo Vecchio offers several different tickets based on your age. These tickets include entrance to the museum's permanent exhibits only and do not include any special exhibits or guided tours. The prices are as follows:
Adults over the age of 25: €12.50 + €1 booking fee
Adults between the ages of 18 and 25: €10 + €1booking fee
Children under 18: Free of cost
Skip the line: €45
Who is eligible for discounts?
The Palazzo Vecchio offers many discounted tickets. Tour guides, interpreters, teachers accompanying student groups, journalists, people with disabilities and their guests, researchers and ICCROM members receive free admission to the museum.
Florence Card holders, or residents of the Florence area, receive reduced admission. Please remember that you may have to show proof of eligibility to qualify for a discounted ticket.
What are the best Palazzo Vecchio tours?
The museum offers many great guided tours of Palazzo Vecchio with options for groups of all sizes. These tours will give you a better understanding of the history by exploring the museum in greater depth with a professional guide.
You can choose between a children's tour that focuses on whimsical art and history, a secret passage tour that takes you down winding halls and through secret doors, or the Giorgio Vasari guided tour that teaches you about the building's long history from his firsthand knowledge.
You can also take an audiovisual museum tour using a tablet or an audio device. These tours offer guests the option of self-pacing and a little more privacy than guided tours.
If you're keen to explore other attractions in Florence, consider booking a combination tour to get the best value for money.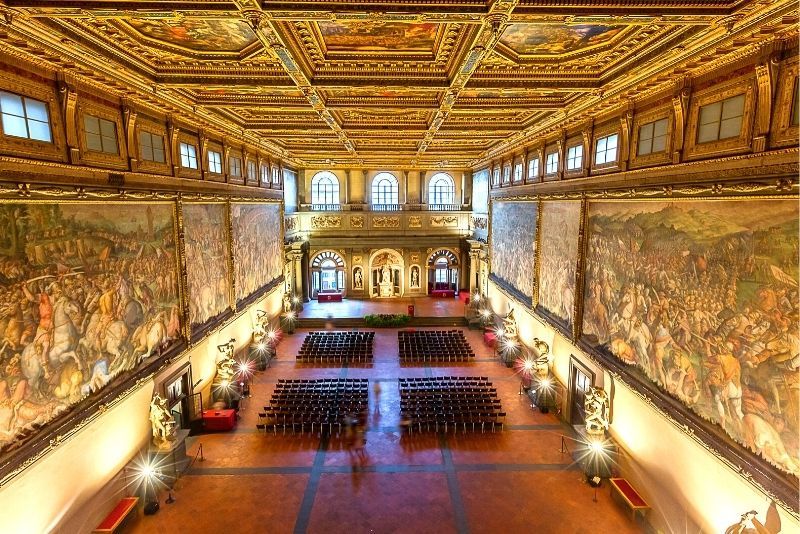 Are there any combined tickets or tours including the Palazzo Vecchio and other attractions?
Combination tours can be an amazing way to experience what Florence offers without paying for multiple excursions. These experiences combine two or more great local sites into one tour and ticket price. The following combination tours include a visit to the Palazzo Vecchio:
Private tour of the Palazzo Vecchio, Palazzo Pitti and Boboli Gardens
With a professional guide, make your way to three of the most popular attractions in Florence. Private tours offer more scheduling flexibility, so you will have ample time to navigate all three iconic sites.
Private tour of Palazzo Vecchio and Signoria
This private tour will take you to both the Palazzo Vecchio and Signoria. You will learn about the history of Piazza della Signoria and its many notable art pieces from an expert guide.
Uffizi Gallery and Palazzo Vecchio guided tour
Take advantage of this once-in-a-lifetime opportunity to see masterpieces by Botticelli, Michelangelo and Da Vinci all in one day. This combination tour combines visits to the Uffizi Gallery and Palazzo Vecchio. Your professional guide will provide useful information about prominent art pieces and explain the history of the Palazzo Vecchio.
Should you book Palazzo Vecchio tickets in advance?
Booking your Palazzo Vecchio tickets in advance is highly recommended. The palazzo is a popular attraction and only opens up a limited number of tickets per day which can sell out quickly.
Purchasing your ticket in advance guarantees your admission to the Palazzo Vecchio on the specified date. Many tours offer flexible booking and cancellation policies, so you can book your ticket in advance without worrying about if you need to reschedule or cancel.
What will you see inside the Palazzo Vecchio?
Many visitors claim that the Palazzo Vecchio is quite simply one museum that you can't miss. A trip to the museum allows you to travel back in time and explore Florence's extensive history.
Visitors are immediately greeted by the building's ornate frontispiece and two amazing statues — a replica of Michelangelo's "David" and Bandinelli's "Hercules and Cacus."
The spectacle continues into the first courtyard, where you can see amazing frescos by Giorgio Vasari and "Samson and Philistine" by Pierino da Vinci. The next two courtyards don't disappoint with other showstopping artworks.
The second-floor houses elaborate art-filled apartments, including the aptly named Lion House where Cosimo the Elder kept his lions. The wonders continue in rooms like Sala dell'Udienza, or the audience room, and the Sala delle Mappe Geografiche.
The impressive mezzanine houses one of Europe's most impressive municipal art collections and includes pieces from the medieval and renaissance eras. The Salone dei Cinquecento is a massive fresco-filled chamber that will leave visitors in awe. This beautiful and massive room holds so much Italian history.
You will not be able to forget the amazing frescos and striking statues that you saw at the Palazzo Vecchio!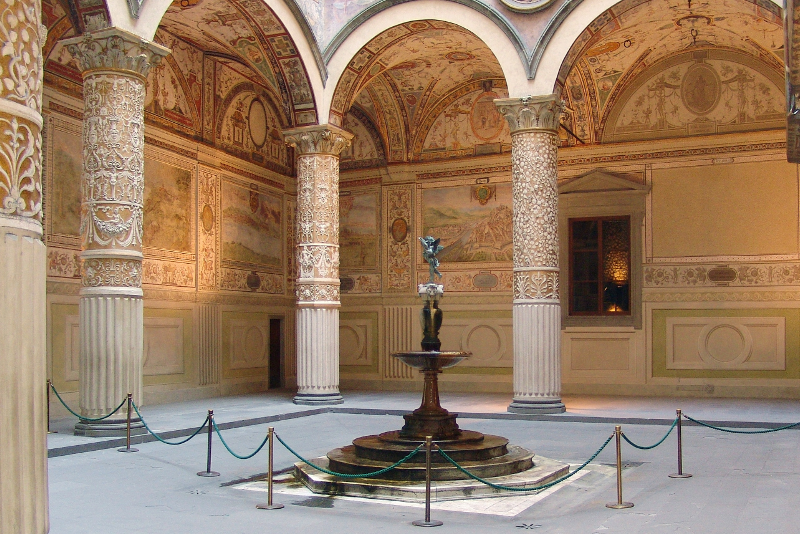 How to get to the Palazzo Vecchio?
The Palazzo Vecchio is located in the famous Signoria Square in the heart of Florence.
This museum is easily accessible by bus, rideshare, taxi or car. Parking can be difficult since Florence can get rather crowded, so plan your journey accordingly. If you take the bus, you can get off at the Galleria Degli Uffizi or Clarks Orsanmichele bus stop.
When is the best time to visit the Palazzo Vecchio?
Typically, it is best to visit the Palazzo Vecchio in the morning since the museum tends to be less busy during this time of day. Keep in mind that tickets are subject to availability, so you may not be able to enter at your preferred time.
Your visit to the Palazzo Vecchio will provide you with a detailed journey through Florence's history. The information that you learn while visiting the museum may come in handy during your stay in the city, so it is advisable to plan your visit towards the beginning of your trip.
Which other attractions can be visited in Florence?
Travel tips
All bags must be inspected before entering the museum. There is a coat/bag check at the entrance if you don't want to carry your items. Please remember that some tours may ask you to check your bag.
Wear comfortable shoes! The museum boasts plenty of things to see, so you can expect a lot of walking and standing.
Book your tickets in advance to guarantee your admission on the selected day.