The picture-perfect part of the Ligurian coastline, known as Cinque Terre, is one of the most spectacular destinations in all of Italy. The five colorful villages of Corniglia, Manarola, Monterosso al Mare, Riomaggiore and Vernazza cling to steep cliffs overlooking the Italian Riviera.
Take a Cinque Terre day trip during your time in Florence and see this popular UNESCO World Heritage site famed for its classic beauty.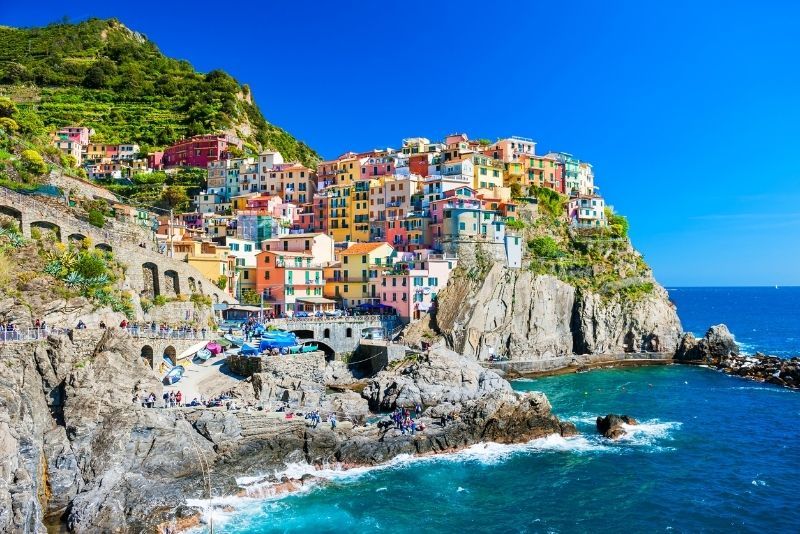 How to get to Cinque Terre from Florence?
The Cinque Terre is a stretch of coastline that can be found in the northwest Italian region of Liguria. It is around 200 kilometers northwest of Florence and can be easily reached by car, train or on a guided tour.
From Florence to Cinque Terre by car
The fastest and simplest way to Cinque Terre is by car and the journey takes around 2.5 hours. Simply take the SS67 out of the city and join Via Marco Polo (Bagno a Ripoli/Siena). Follow the E35/A1 and then take the A11/E76 which will take you all the way to the coast.
From Florence to Cinque Terre by bus/public transport
If you plan to travel from Florence to Cinque Terre by public transport, it's best to take the direct train. This journey takes around two hours from Florence Campo di Marte Station and requires you to change at La Spezia.
There are only a few express trains each day so be sure to plan ahead. There is no direct public bus to the Cinque Terre from Florence, so journeys can take well over three hours and require multiple changes.
Guided tour to Cinque Terre from Florence
The simplest and most trouble-free way to visit the Cinque Terre is on one of the many guided tours heading out of Florence. These day-long bus jaunts allow you to kick back and enjoy the scenery without the hassle of changing trains or driving.
What is the typical itinerary of a day tour to Cinque Terre from Florence?
A typical tour of the Cinque Terre begins with pickup at your hotel or a specific meeting place. From here you will board the bus and head off through Tuscany and Liguria to Italy's northwest coast and the Cinque Terre.
Visit the picturesque villages of Vernazza and Monterossa to see the medieval ruins and ancient fishing port before heading down the coast to visit Manarola — famous for its colorful tower houses.
The last of the villages, Riomaggiore is particularly scenic and stands atop a steep cliff overhanging the Ligurian Sea. You will have free time to explore at all the stops before jumping back onto the bus for the return journey to Florence.
What kinds of tours are available to go to Cinque Terre?
There are a couple of different kinds of Cinque Terre day trips from Florence to choose from. Guided group day tours can accommodate up to 25 people and offer great value, while private tours allow a more personalized and flexible schedule.
Guided tours to Cinque Terre from Florence
These large and small group guided tours offer the best value and include transport to and from the Cinque Terre. A local guide will tell you all you need to know along the way.  Some tours include train and boat journeys, while others are more basic, but there are plenty of options available.
Transport without guide to Cinque Terre from Florence
These tours are not guided but may still include a tour escort who will help you out along the way. Check to make sure in the tour descriptions before booking. These tours include basic travel and transportation.
Private tour to Cinque Terre from Florence
See the Cinque Terre without the crowds. Travel in a private minivan with a local driver and guide who will make sure your day tour goes smoothly. These Cinque Terre tours are the most customizable and allow you to visit what you prefer and discover the treasures on your own private tour.
Day trip to Cinque Terre plus Pisa from Florence
These Cinque Terre day trips include transport and guide, and take in the highlights of Pisa too. Visit the colorful villages of Cinque Terre and the most famous monuments of Pisa all in one day. See the famous Piazza dei Miracoli and its popular Leaning Tower, as well as the impressive Cathedral and Baptistry.
How much does a tour to Cinque Terre from Florence cost?
For the most basic tours with transport and a tour escort included, prices start at around €50 per person. Guided group tours to the Cinque Terre begin at around €60 per person, whereas private tours start at around €250 per group for a train tour or €350 for a bus tour.
If you would like to visit Pisa also on your Cinque Terre day tour, prices start at around €120 per person.
What will you see and do in Cinque Terre?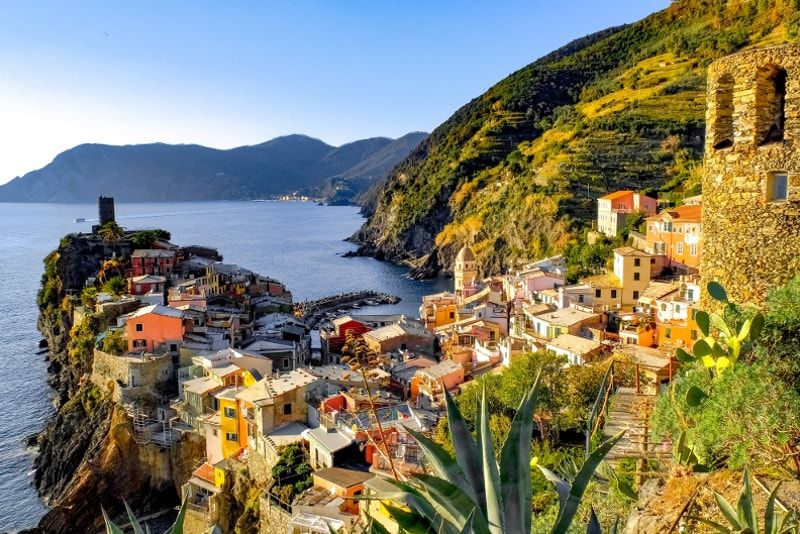 The Ligurian Riviera has lots to see and do, with the attractive towns and fishing villages of the Cinque Terre. Explore the local restaurants and the best-kept culinary secrets of the region.
If you enjoy the great outdoors, take the opportunity for some hiking, swimming or a boat ride along the scenic coastline. The five individual villages that make up the Cinque Terre have their own unique character too.
Corniglia
A little way back from the sea, Corniglia is often bypassed but it offers great views for those willing to climb the steps to its hilltop location. This historic settlement is thought to be the oldest of the five villages and dates back to Roman times.
Manarola
This tiny clifftop village is a real treat for the eyes and boasts wonderful viewpoints. It has many colorful buildings and sits above a sheer vertical cliffside of rugged rocks. The winding streets of the village slope down to the natural harbor which is a popular swimming spot through the summer months.
Monterosso
Monterosso is the largest of the five villages of the Cinque Terre and boasts the ruins of a Medieval castle and the area's only proper stretch of sandy beach. The village is a mixture of  old and new, where you can find historic churches and the Aurora tower, as well as plenty of places to shop and dine.
Riomaggiore
The most southern village, Rio Maggiore is worth a visit on your Cinque Terre day tour. The village boasts the same colorful buildings which are typical of the area, scenic viewpoints and a rugged natural harbor. If you plan on kayaking or swimming in the Cinque Terre, this is a great place to do it!
Vernazza
The beautiful seafront village of Vernazza is one of the most popular places in the Cinque Terre. It boasts a small beach in the town harbor and pretty streets lined with small shops and restaurants.
When is the best time to visit Cinque Terre?
Though the Cinque Terre can be visited at any time of year, from late spring to autumn is the best time. This will almost guarantee fine weather ideal for exploring.
It is a very popular destination, so avoid the crowds by traveling out of season. The months of May, June and September will be quietest.
Are there any tours to Cinque Terre from other cities in Italy?
Yes, there are other tours departing from several other cities in Italy:
Travel tips
Remember to book your Cinque Terre day trips in advance for the most straightforward travel experience. Check what the tours are offering carefully to ensure they are suitable for you.
Bring sun cream and a hat, and remember to drink plenty of water during the hot sunny weather.
Wear comfortable shoes, as most tours include at least some walking.
Don't forget your camera! The Cinque Terre is one of Italy's most photogenic destinations.