Regarded as the cradle of the Italian Renaissance, Tuscany and its capital, Florence, are known for their spectacular landscapes, ancient history and artistic heritage.
With a viticultural tradition dating back to the Etruscans in the 8th century B.C., it is also home to some of the world's most notable wine regions.
If you have been dreaming of immersing yourself in this fascinating environment, you can now choose from a large selection of wine and wine-tasting tours from Florence.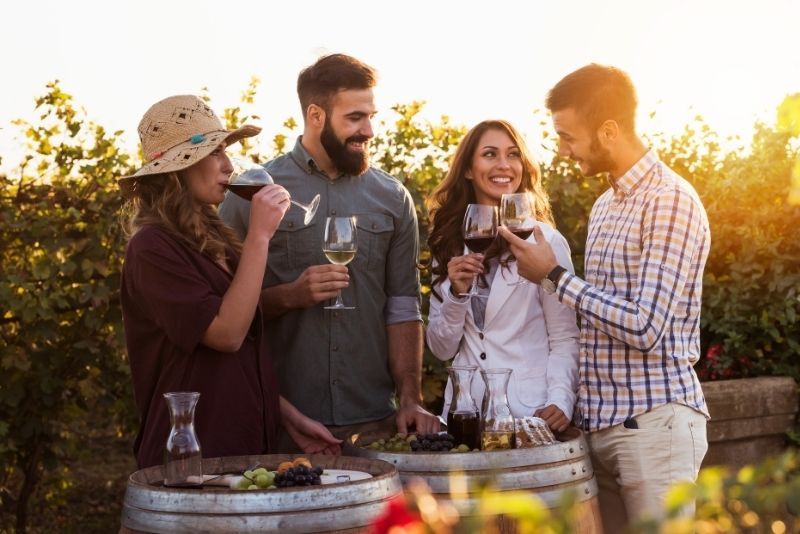 Here's all you need to know about wine tours and tastings, one of the most characteristic culinary experiences in Florence.
What are the best wine and tasting tours from Florence?
San Gimignano and Pisa wine tours from Florence
Your first stop on your day tour from Florence start in Siena, known as Italy's most scenic medieval city. Admire the beauty of the city's main cathedral in its Gothic and Romanesque splendor.
Enjoy a farmhouse lunch and taste four regional wines at a wine estate in Chianti with a lunch option. Next, you will visit the UNESCO-listed town of San Gimignano, famous for its medieval tower houses, impressive palaces, public squares and churches.
Last but not least, you will explore the small but beautiful coastal town of Pisa, known around the world for its iconic leaning tower, before returning to Florence.
If you choose a tour with lunch, you will be served a homemade farmhouse lunch with four Chianti regional wines while overlooking the undulating vineyards. You have a choice of a small group or a private guided tour.
Electric bike and wine tour of Tuscany from Florence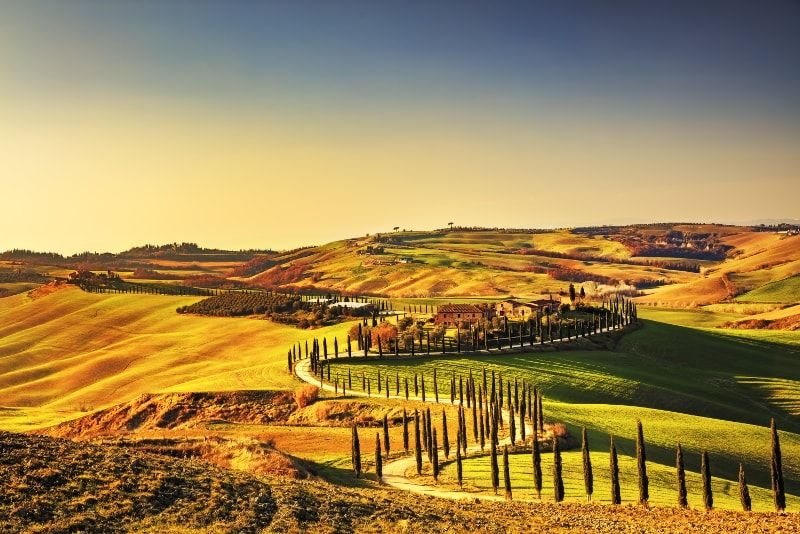 On this guided tour of the Tuscan countryside, you will appreciate the marvelous view of the city while cruising around the beautiful hills of Fiesole. You will travel effortlessly on your electric bicycle through the glorious rural Tuscan landscape.
In the scenic town of Fiesole, you can observe the locals in their relaxed, rural lifestyle. You will continue along quiet old roads, admiring the harmonious landscape and the Renaissance-era walkways, and finding some local produce.
The tour will finish with a delicious tasting of Florentine food and wine at a small osteria.
San Gimignano, Siena and Chianti wine tours from Florence
On this wine tour from Florence by coach, you will travel through the Tuscan countryside past the vineyards and experience Tuscany's jewels of San Gimignano, Siena and Chianti.  
Your first stop will be the charming walled hilltop town of San Gimignano, renowned for its towers, frescoes and works of art, where you will explore the historical center.
From here, you will make a short trip to a homey winery where you can enjoy three fine Chianti wines and a 3-course Chianti-style lunch.
At Siena, you will get a comprehensive tour of the historic center, starting from the famous Basilica of San Domenico, a jewel of Renaissance architecture.
Along the Piazza del Campo, you will admire the Palazzo Pubblico (Town Hall) and the magnificent 12th-century cathedral Duomo di Siena. To end your memorable day, you will have some free time to enjoy the special ambiance of this fascinating town.
Options available for English or Spanish-speaking guides.
Chianti safari wine tours from Florence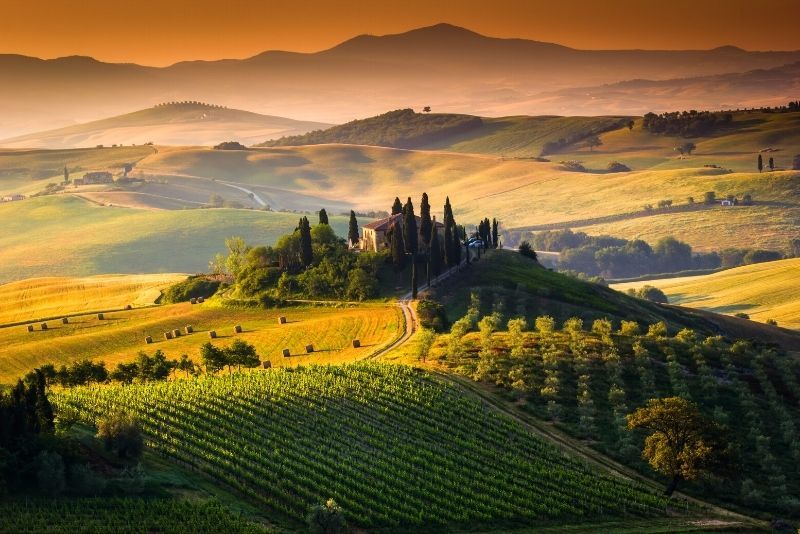 On this guided tour, you will travel through the Tuscan hills in a 4x4 off-road vehicle and visit a wine estate, historic villa and wine cellar specializing in Chianti Classico.
Your first stop is at a beautiful winery owned by a prestigious Italian aristocratic family, where you will taste three wines paired with cured meats and have a guided tour of the old wine cellars.
From here, you will go further through ancient woodland to a typical Tuscan winery restaurant to enjoy delicious food and wine.
To finish your tour, you will go even deeper into the Tuscan hills on your way to a Chianti Classico vineyard, where you will taste two award-winning wines.
Private tour to Chianti wine region from Florence
This full day private wine tour of the picturesque Chianti region with your own chauffeur allows you to set your own itinerary and pace. Traveling in a luxury Mercedes vehicle with Wi-Fi and bottled water, you can pause when you like to explore the lovely towns and wineries.
Your first stop is the small village of Greve, where you can immerse yourself in local hospitality. Next, you will be driven to the nearby Montefioralle, one of the most ancient and beautiful villages in Italy.
Finish your tour on a high if the optional wine excursion is part of your itinerary. Your driver will take you to a fine wine estate overlooking the hills of Chianti to indulge in a Chianti Classico wine tasting, along with fresh, local products.
At the end of the tour, you will be taken back to your hotel in Florence along the beautiful Chianti landscape.
Which places are visited?
San Gimignano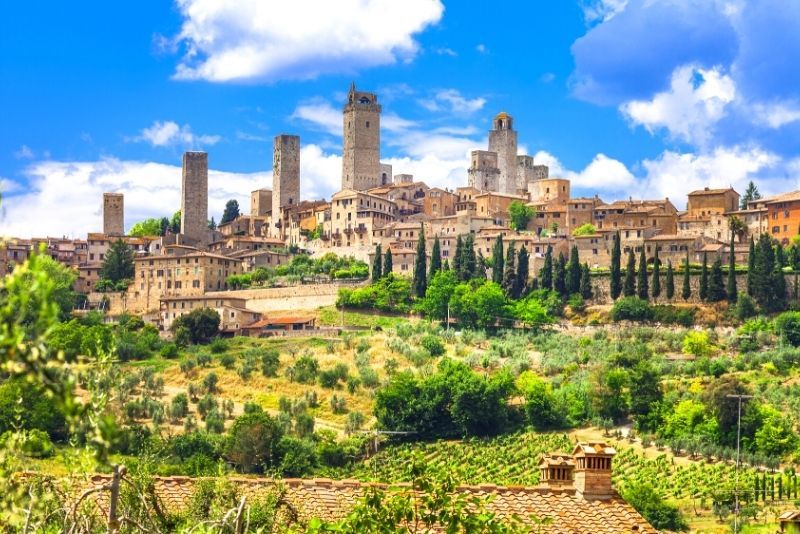 The historic center of this Italian hill town is a UNESCO World Heritage site. San Gimignano is encircled by 13th-century walls, and its old town centers on the Piazza della Cisterna Square.
The town's skyline is accentuated by 14 medieval towers (previously 72), including the stone Torre Grossa. The latter was built in 1310 and is the tallest tower in the town at 54 meters.
A very prominent landmark is the Bell Tower, which was built by the town's powerful patrician families during the era of feudalism. San Gimignano is also known as a filming location for the movie "Tea with Mussolini."
Pisa Piazza dei Miracoli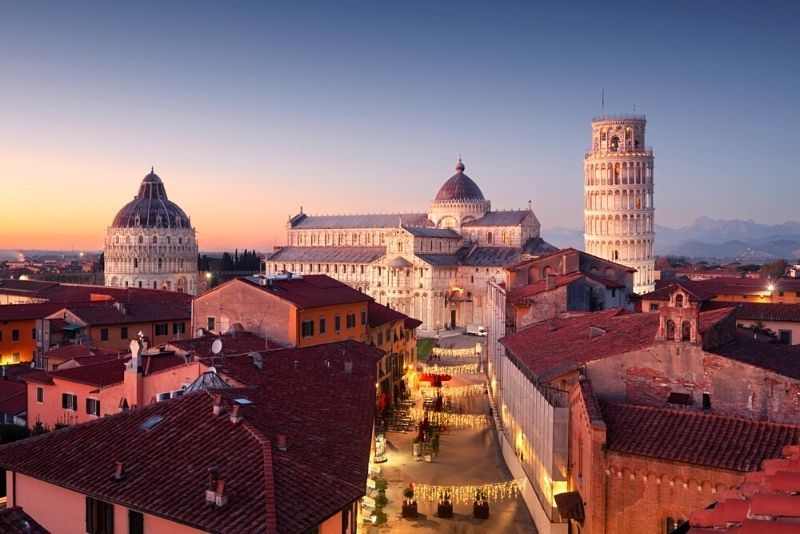 Well-known for its leaning tower, Pisa, however, offers many other historic landmarks. The spectacular Romanesque-style tower of Pisa (1372) stands on the Piazza dei Miracoli, one of the most splendid town squares in Italy.
Explore some of the other monuments in the Piazza, such as the Pisa Cathedral, known as the Duomo of Santa Maria Assunta (1092), a fine example of Roman-Pisan Gothic architecture.
At the Piazza, you will also find the Roman Catholic Baptistery (completed in 1363) and the Camposanto Monumentale (cemetery) dating back to 1464.
Siena Historic Center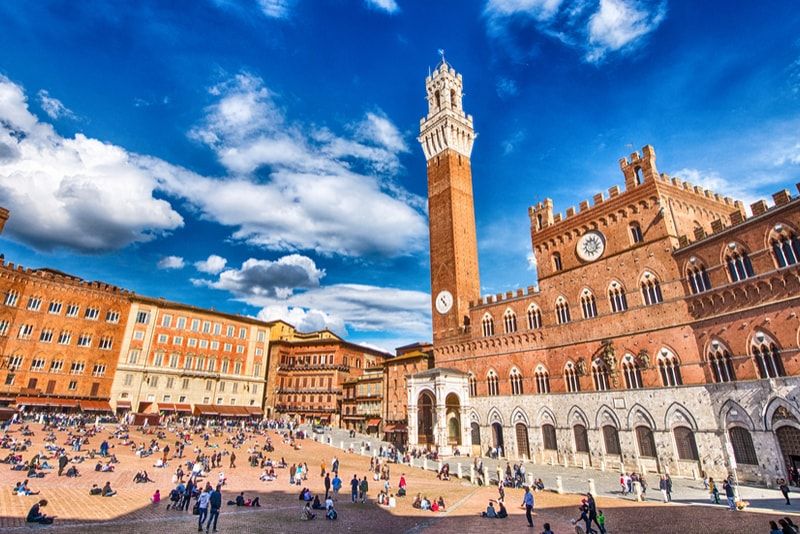 Over the centuries, the citizens of Siena preserved their town's Gothic look that was established from the 12th to the 15th century. The whole city of Siena was built around the main public space, the Piazza del Campo.
The ancient ramparts set the boundaries of the historic center of Siena. Basilica of San Domenico is one of the most important icons and is dedicated to St. Catherine of Siena.
How much do wine tours from Florence cost?
Wine tours in Florence cost between US$70 and US$120 per person depending on the length of the tour and the extra stops, amenities and activities included.
San Gimignano and Pisa wine tours from Florence cost around US$70 per person. The electric bike tours of Tuscany as well as San Gimignano, Siena and Chianti wine tours from Florence cost around US$80 per person.
The Chianti safari wine tours cost around US$180 and include cheese tasting and lunch. The private tour with a chauffeur to the Chianti wine region costs around US$340 per person.
What is included?
Hotel pickup and drop-off
Expert guide
Rain poncho
Food and drinks
Wine tastings
Admission tickets
In case you opt for a tour with lunch you will also be treated to a farmhouse lunch at a winery estate and a wine tasting of four regional wines. In electric bike tours, the ebikes, helmets and child bike seats are included in the tour price.
Where does it start?
Starting points of wine tours from Florence vary from one tour to another. The day trip to Tuscany with optional lunch starts at the Florence central train station.
The starting point for the electric bike tour from Florence is the corner of Via de' Neri and Via della Mosca in District 1.
The day trip by coach to the towns of San Gimignano, Siena and Chianti starts at Piazzale Montelungo, Florence. For the private tour of Chianti with a chauffeur, you will be picked up at your hotel lobby.
How long does it last?
You can opt for a full-day or a half-day tour, depending on the mode of transportation and amenities or activities included.
The longest tours are those that include lunch or several stops, lasting around 11 hours. There are also tours of only 3.5 hours, such as the bike tour. A full day private tour with a chauffeur to the Chianti region lasts about 8 hours.
When is the best time for a wine and tasting tour from Florence?
Tuscany's best months for wine tours are April, May, June, September and October, but are also the busiest and most expensive. You will have the benefit of the peak season with pleasant weather.
In June, Florence and Tuscany are very festive, celebrating the feast of St. John.
Are children allowed?
Most wine tours from Florence allow children to participate in the company of an adult. However, Italy's minimum legal age for drinking alcohol is 18. The electric bike tour is not suitable for children aged under 15.
Travel tips
Make sure to book in advance.
Travel insurance is recommended.
Bring comfortable shoes.
Wear sunscreen during day tours.
Before entering places of worship and some museums, check if they have dress codes.