The walled town of Monteriggioni sits just northwest of Siena. It has a historic old town that is entirely surrounded by fortifications that date back to the Middle Ages.
Pass through the Porta San Giovanni gate and visit the historic castle before a walk around the walls to glimpse commanding views of the Chianti countryside. Explore this charming Medieval hilltop fortress on a Monteriggioni day trip from Florence.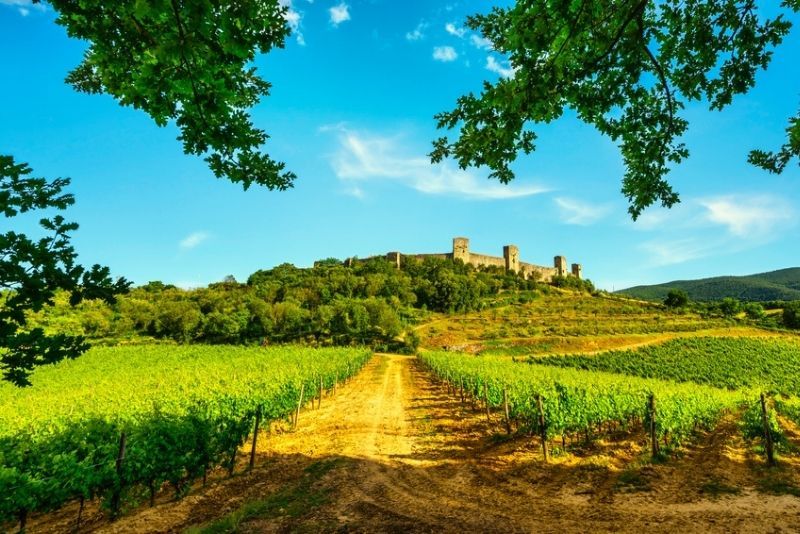 How to get to Monteriggioni from Florence?
Located in the region of Tuscany in west central Italy, Monteriggioni is about 60 kilometers south of Florence. It can be reached by car, bus and rail within two hours.
From Florence to Monteriggioni by car
The fastest way to Monteriggioni from Florence is by car. The journey takes a little over an hour and is pretty straightforward but does include some toll roads.
Follow the SS67 out of Florence on to Via Marco Polo. Next take the Raccordo Autostradale Firenze - Siena and follow for around 55 kilometers. Take the exit marked Monteriggioni onto the SR2 and follow the signs for Monteriggioni.
From Florence to Monteriggioni by bus/public transport
There are a couple of options for visiting Monteriggioni by public transport but by bus is the fastest and simplest. Take the 131 (Siena) bus from Florence Bus Station to Poggibonsi then change to the 130 (Policlinico Le Scotte) bus which will take you all the way to Monteriggioni. The journey will take around one hour and forty minutes.
To travel by train take any of the trains to Poggibonsi (Siena) from Santa Maria Novella Station in Florence then change to the 130 bus at Poggibonsi. There are usually a couple of trains an hour and the journey takes between one hour to one hour and 20 minutes.
Guided tour to Monteriggioni from Florence
If you are looking for a simple no-hassle way to see Monteriggioni, you can hop on a guided tour from Florence. These tours include pickup and drop off at your hotel or a convenient location, all transport fees and a local guide to show you around.
What is the typical itinerary of a day tour to Monteriggioni from Florence?
Because Monteriggioni is not very large, most day tours also include trips to other popular places in the region, including Siena, San Gimignano, the Chianti wine region and Pisa.
On a typical tour you will begin your Monteriggioni day trip with pick up at your hotel or a meeting place. You will then take the hour ride to Monteriggioni where you will have time to walk along the ancient town walls, explore inside the fortification and see local highlights such as the Porta San Giovanni and the castle.
As most tours include trips to other places the itinerary will differ greatly between Monteriggioni day trips.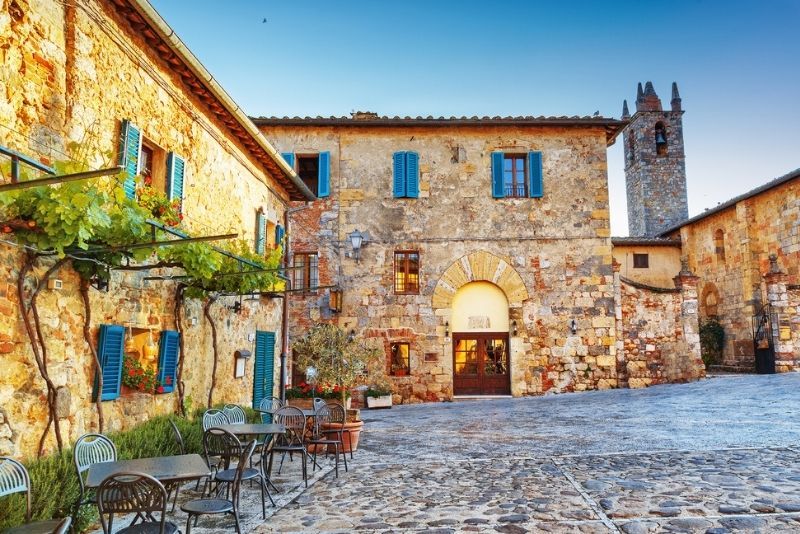 What kinds of tours are available to go to Monteriggioni?
There is lots of choice when it comes to picking a Monteriggioni day tour. As mentioned earlier most trips will include visits to popular nearby locations such as the attractive city of Siena, the medieval town of San Gimignano — famed for its dozen or so historic towers, and the idyllic Chianti wine growing district.
You can join a guided group tour for the best value day trips or a private or semi-private tour for a more personalized experience.
Day tour to Monteriggioni plus San Gimignano and Siena from Florence
One of the most popular group and small-group tours allows you to see the highlights of the Tuscany towns in one day. Visit the settlements of Monteriggioni, Siena and San Gimignano and discover the best of Medieval Tuscany.
Explore two fortified towns from the Middle Ages and Siena's most important landmarks, including the Piazza del Campo, Torre del Mangia and the Siena Cathedral on these Monteriggioni day tours from Florence.
Day tour to Monteriggioni plus San Gimignano, Pisa and Siena from Florence
These whirlwind Monteriggioni day trips are ideal for those with limited time in which to see the best of Tuscany. Take in the region's historic cities and settlements on a jaunt to Monteriggioni, San Gimignano and Siena and see the world-famous landmarks in Pisa's Piazza del Duomo. Check out the beautiful Duomo di Pisa cathedral, the Baptistery and the famous Leaning Tower.
Day tour to Monteriggioni plus San Gimignano, Siena and Chianti from Florence
Visit the charming and historic hill towns of Monteriggioni and San Gimignano, the city of Siena and the Chianti wine region all in one day. See the area's most picturesque cities, towns and the rolling hills of the Tuscan countryside. Include a wine tasting in your trip or a meal in a traditional winery or villa.
Private tour to Monteriggioni plus Siena, San Gimignano and Chianti/ Pisa from Florence
Avoid the crowds and choose your own schedule with a private Monteriggioni day trip. These private tours include a driver and guide and offer the most flexible and customizable way to see Tuscany. This is a great way to see the highlights of the region for those who appreciate privacy and a more personalized experience.
Private transfer to Monteriggioni, plus Siena and San Gimignano from Florence
These Monteriggioni day tours include private transportation and a driver but are self-guided.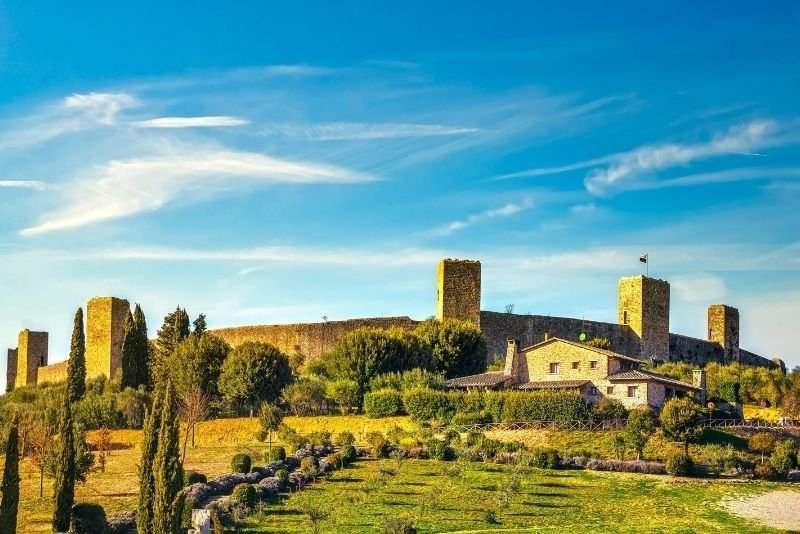 How much does a tour to Monteriggioni from Florence cost?
The prices of tours can vary a little depending on what is included. Private and small-group tours are more expensive per person but could work out cheaper for a large family or group.
Larger group tours visiting Monteriggioni, Siena and San Gimignano, including Pisa and Chianti generally cost between €50 - €80 per person. Small group tours with up to 8 participants start at around €200 per person and private transfers which include transportation but no guide start around €170 per person.
Private Monteriggioni day tours visiting San Gimignano and Chianti begin as low as €90 per person and €460 for a group of up to seven participants.
What will you see and do in Monteriggioni?
The hilltop town of Monteriggioni is a beautiful example of a Medieval fortification. The town is enclosed within high walls that are interspersed with over a dozen lookout towers and two large gates — known as "portas" in Italian.
The town of Monteriggioni is particularly famous in Italy and is even referenced in Dante Aligheri's "Divine Comedy" where he compares its turrets to the ring of giants that circle hell.
It is only a small place so you can see most of the town in an hour or less. Some of the most popular attractions include the Monteriggioni Museo della Armature, which features replica Medieval weapons and armor and the town walls which can be walked around for views over the Tuscan countryside.
Grab a coffee or snack in the cozy cafes of Piazza Roma or check out the Church of Santa Maria Assunta which dates back to the 13th century and is one of the oldest buildings inside the walls.
When is the best time to visit Monteriggioni?
You can visit Monteriggioni at any time but late spring to Autumn is best if you want to see everything. Some of the town's restaurants and attractions may be closed during the winter months.
June to August are the busiest months for tourists so plan ahead if you wish to avoid the crowds.
Are there any tours to Monteriggioni from other cities in Italy?
Yes, there are other tours departing from other cities in Italy:
Travel tips
Book your Monteriggioni day trips in advance to ensure the simplest and most hassle-free travel experience.
Wear comfortable shoes as some walking on uneven stone or cobbled surfaces is guaranteed on these tours.
If you plan to go inside churches or religious buildings anywhere in Italy it is customary to cover your shoulders and knees.
Pack sunscreen and a hat and remember to drink plenty of water in hot weather.