Book your Chianti day trips from Florence and discover the sleepy villages and rolling hills of the Tuscan countryside. Visit the area's world-famous vineyards and sample its celebrated olive oils, cheeses and other gastronomic delights.
Tour the Medieval city of Siena and the picturesque village of San Gimignano and explore the region that gave birth to the Italian Renaissance. With excellent food, fine wine and fabulous scenery, Chianti is waiting to be explored.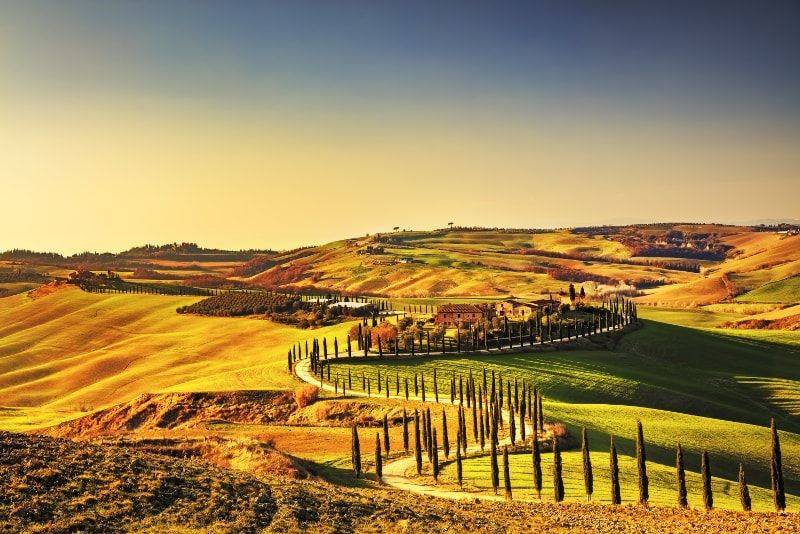 How to get to Chianti from Florence?
Chianti is located in Tuscany in northwest Italy. It is a mountainous area that lies between the cities of Florence and Siena and extends for around 100 kilometers. The Chianti Classico region — which is the historic center of Chianti winemaking, begins just to the south of Florence.
From Florence to Chianti by car
This region is pretty vast and is spread over mountainous and hilly terrain so driving times may vary a great deal.
The town of Greve in Chianti is considered to be the northern gateway to the region and is located approximately 30 kilometers south of Florence, which usually takes around 50 minutes to drive. From Florence, follow the signs marked SS222/SR222 Greve or Greve - Siena
Though most people would choose to stop on the way, it's possible to drive the whole route from Florence to Siena in under three hours, passing by Radda, Castelnuovo and then onto Siena.
From Florence to Chianti by bus/public transport
It is possible to travel to some of the main towns in Chianti from Florence using public buses which depart from Florence Bus Station (Autostazione Italia Firenze).
To travel to Greve in Chianti take the 365A (Tondo Lucarelli) bus from the center of Florence. The bus departs from Autostazione Italia Firenze and the duration of the journey is around an hour.
To travel to Radda in Chianti, take the same 365A bus and then transfer to the S101 (Gaiole) at Tondo Lucarelli. This trip takes around 1.5 hours.
Guided tour to Chianti from Florence
Guided tours from Florence to Chianti are a much simpler option than taking the bus and give you the opportunity to see more of the region. If you're not planning to rent your own car in Florence, a Chianti day trip is probably the most hassle-free way to tour the area.
Some tours include hotel pickup and drop-off, while others will begin at a convenient city center meeting point.
What is the typical itinerary of a day tour to Chianti from Florence?
Most day tours begin with a hotel pickup or rendezvous at a meeting point. You will then begin the short drive from Florence, exploring the rolling hills and villages of the Tuscan countryside.
Visit the hillside village of  San Gimignano and the historic city of Siena to see its famous landmarks and sample the traditional foods of the region. This is often combined with a typical Tuscan lunch in a traditional restaurant as a highlight of the experience.
Most tours conclude with a visit to a vineyard or winery to taste the region's famous wine varieties.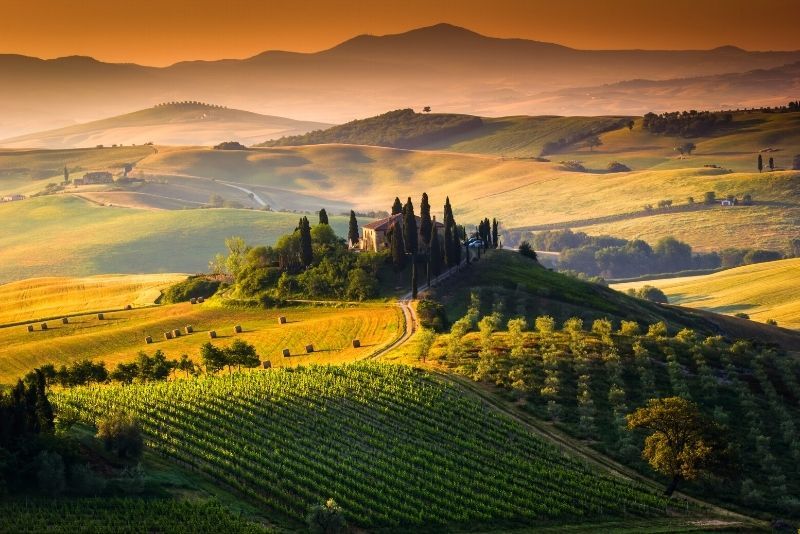 What kinds of tours are available to go to Chianti?
There are many different day trips to choose from from Florence to Chianti and all offer something a little different. Be sure to choose the right tour for you and get the most out of your time in the region.
The details will vary between Chianti excursions but the main types of tours are as follows.
Guided wine tour to Chianti from Florence
Travel by minibus with a local guide to a selection of vineyards where you will sample the best of the local wines. Taste different wine varieties produced in Chianti and meet the growers and makers that keep the traditional standards alive.
Explore the vineyards to see where the grapes are grown and discover what gives each wine variety its unique character. Enjoy some traditional snacks or an authentic Tuscan lunch, and some time to relax and take in the views.
Private tour to Chianti plus Siena and San Gimignano from Florence

Take an exclusive guided Chianti day trip from Florence to Siena in a private minivan. Call at the picturesque village of San Gimignano to enjoy the scenery before heading on to Siena to discover the historic city.
Your guide will tour you and your private group around the city and give you insights into the history of the region. Taste local specialty foods and stop for lunch in a traditional restaurant.
These day tours are suitable for groups of up to seven people. They are typically more expensive but are a great way to discover the region without the crowds.
Group tour to Chianti plus San Gimignano and Siena from Florence
The hilltop village of San Gimignano is a popular and picturesque stop en route to the city of Siena. These guided minibus tours will take you deep into the heart of Chianti to its most attractive places.
Visit the bustling city of Siena and its famous Duomo Cathedral and take some time to explore, with or without a guide. Return to the bus for a journey back through Chianti to visit a vineyard and enjoy a traditional Tuscan meal.
These action-packed bus tours provide many highlights of the region in a single day.
How much does a tour to Chianti from Florence cost?
Tours of the region vary greatly in price depending on what is included and how many people are joining the tour. On private tours, for example, you will receive a more personalized experience so expect to pay a little more.
Typically, half-day guided wine tours begin at around €42 per person and Chianti day trips with visits to San Gimignano and Siena start at €50. Private day tours to Chianti with a driver and guide begin at around €84 per person.
What will you see and do in Chianti?
In the Chianti region of Tuscany, you have a lot of options for what to see and do. Though many people visit the area to explore its famous vineyards and try the wines, there is much more to discover in the region.
Try a food tour and sample the flavors of the region, including cured meats, cheeses and traditional products such as olive oil and balsamic vinegar that are produced there.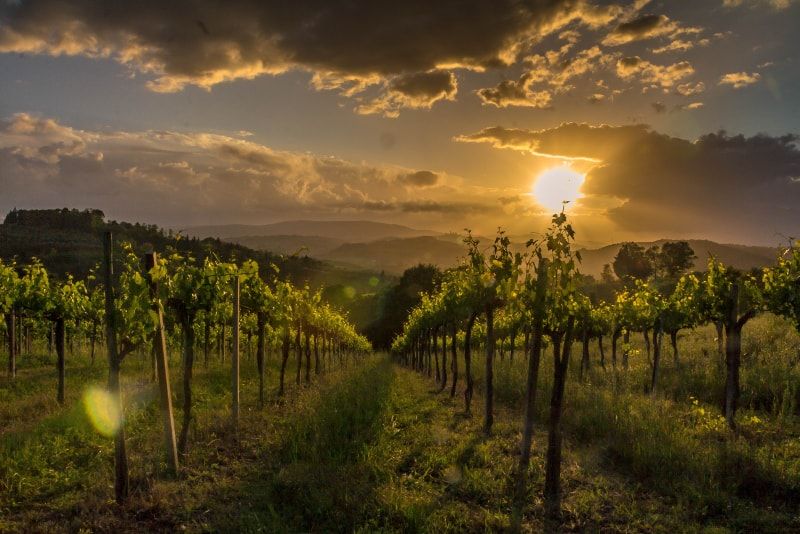 Explore the medieval castle and walled village of Monteriggioni and the captivating rolling hills of the Tuscan countryside. Wander through the attractive city of Siena and see its famous Duomo Cathedral, the shell-shaped Piazza del Campo and the Torre del Mangia.
Alternatively, take a cycling tour to experience the sights and sounds of the Chianti hills at a slow pace.
When is the best time to visit Chianti?
There is never a bad time to visit Chianti but for the most pleasant experience, late Spring through to Autumn is a perfect time.
The warmer Summer months draw the crowds to this popular Italian region so if you prefer it quieter avoid the high season. It's ideal to visit in April or May before the larger crowds arrive or in late August to September.
Are there any tours to Chianti from other cities in Italy?
Yes, there are other tours departing from several other cities in Italy:
Travel tips
Book your day tour in advance to get the best deals and be sure you don't miss out.
Pack sunscreen and a hat as the Summer months in Tuscany can be very warm.
Be sure to wear comfortable shoes as some walking will be required.
If you suffer from hay fever be sure to pack medication if your Chianti jaunt is taking place in the warm and dry months.