See historic Romanesque and Medieval architecture on a Siena day trip from Florence. Explore the famous Piazza del Campo, The Torre del Mangia and the Duomo di Siena. One of the most popular places to visit in Tuscany, Siena has history, art and its own rich and unique variety of regional cuisine.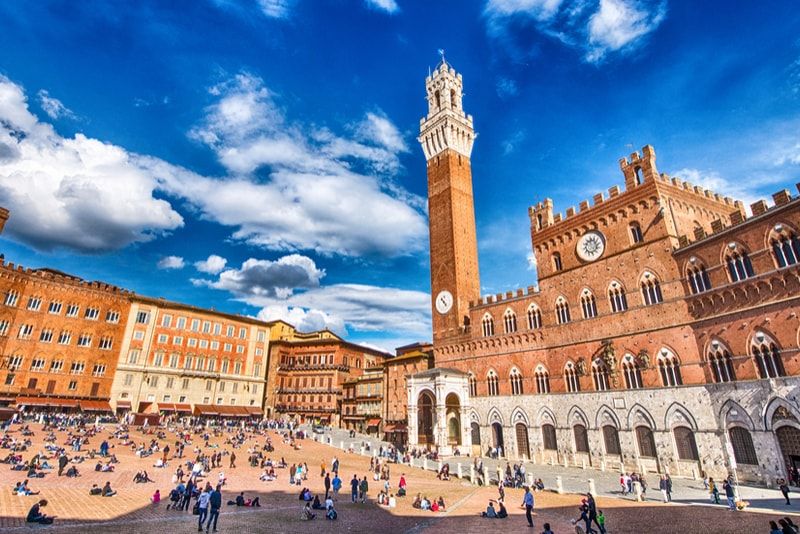 How to get to Siena from Florence?
Located in the Tuscany region in west-central Italy, the city of Siena is just over 70 kilometers to the south of Florence. It is easy to reach by car, bus and rail in under two hours.
From Florence to Siena by car
Getting from Florence to Siena by car is fast and simple, and takes a little more than an hour. Take the SS67 out of Florence and then follow Via Marco Polo/E35 before joining the Raccordo Autostradala Firenze to Siena which will take you the rest of the way.
From Florence to Siena by bus/public transport
You can reach Siena from Florence by public transport, which runs regularly between the two cities.
The quickest and simplest way is to take the 131R bus from Florence Bus Station, which will take you directly to Siena in around one hour and 15 minutes.
The same journey by regional train (18217-Siena) takes around 1.5 hours and departs from Santa Maria Novella Station.
Guided tour to Siena from Florence
By far the easiest and most hassle-free way to travel between the two cities is to hop on board one of the many Siena day tours from Florence. This will include pickup/drop-off at your hotel or a convenient meeting point leaving you free to relax and enjoy the journey.
What is the typical itinerary of a day tour to Siena from Florence?
A typical Siena day tour will begin with pickup from your hotel or a central meeting point, where you will meet your guide and board the bus. You will then travel through the Tuscany countryside taking in the views before arriving at the city of Siena.
Here you will usually get a guided tour of the major sights and landmarks, and have free time to explore, do some shopping and visit the places that interest you. Most tours will give recommendations for where to eat or include lunch at a restaurant or winery as a highlight of your Siena day trip.
You can sample some of the famous wines from around the region and some of the popular local products such as cheese, meat and olive oil before boarding the bus for your return trip to Florence.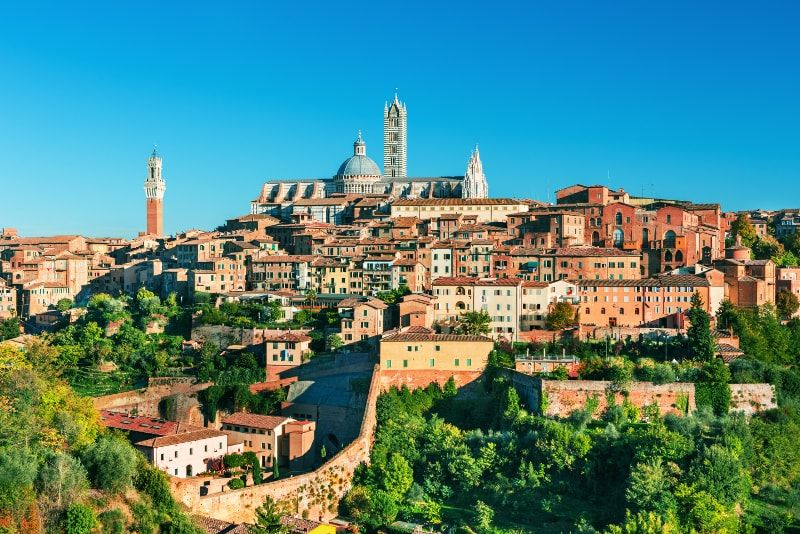 What kinds of tours are available to go to Siena?
There is a wide selection of Siena day tours to choose from when staying in the city of  Florence. A typical Siena day tour will usually visit one or two additional places, often the picturesque town of San Gimignano and/or the popular city of Pisa.
The best tour for you will really depend on your personal preferences. You can join a group tour for a great value Siena day trip that covers all the important sights or choose a private tour and have more control over where you go and what you see.
Private tour to Siena from Florence
Private guided tours offer the most flexible way to visit Siena and are usually the only tours that don't visit other locations. You will have the benefit of being joined by a local guide and can usually tailor the trip to your own desires.
Day trip to Siena plus San Gimignano from Florence
This is one of the most popular Siena day trips from Florence and includes a visit to the picturesque hilltop town of San Gimignano, as well as the city of Siena. See two of Tuscany's most popular locations in a single jaunt.
Day tour to Siena plus San Gimignano and Chianti from Florence
Tour the historic city of Siena and the Medieval streets of San Gimignano in one day. Wrap up your Siena day trip with a journey through the Chianti Hills where you can visit a winery to enjoy wine tasting and lunch, and get to see the picturesque Tuscany countryside.
Day tour to Siena plus San Gimignano and Pisa from Florence
This is a quick tour of three of the most popular locations around Florence. Visit beautiful Siena, the Medieval town of San Gimignano and the popular landmarks of Pisa all in a single day. These tours are great for those who have limited time to spend in the area.
How much does a day trip to Siena from Florence cost?
The prices of day trips to Siena can vary a great deal. The most budget-friendly way to see the city is on a larger group tour that visits San Gimignano and Pisa also. These begin at around €60 per person for a full day excursion.
Small group Siena day tours that visit San Gimignano start at around €130 per person. If you prefer a private tour of Siena for just you and your loved ones, the price is around €300 to € 600 per group.
What will you see and do in Siena?
Siena is a treasure trove of experiences for those who enjoy history, culture and fantastic food and drink. Visit one of the city's many gelaterias to sample fantastic ice cream or try the local specialty sweets such as ricciarelli and pan forte.
The city's unique fan-shaped main square, the Piazza del Campo is a must-see. It is surrounded by Medieval brick buildings, including the Torre del Mangia and the Palazzo Pubblico, and is located near where the famous Palio horse race takes place.
Brave and adventurous souls can climb over 400 steps to the top of the Torre del Mangia to grab some epic views of the city. The tower was built between 1338 and 1348, and stands at over 100 meters tall, making it one of the highest in Italy.
The Duomo di Siena Cathedral is one of the most impressive structures in the city and blends elements of Gothic, Romanesque and Classical design in its exterior architecture. The interior is even more magnificent and features an awe-inspiring golden dome and striped marble columns, as well as sculptures by Michelangelo, Bernini and Donatello to name but a few.
When is the best time to visit Siena?
Any time between late spring and autumn is a fantastic time to visit Siena. If you would like to avoid the crowds try to book outside of the main summer season. April to May or the month of September is usually the quietest and the weather is a little cooler.
Are there any tours to Siena from other cities in Italy?
Yes, there are other tours departing from several other cities in Italy:
Travel tips
Book your Siena day trip in advance to give you the most straightforward and hassle-free trip.
Remember to pack sun cream and a hat, and drink plenty of water, especially if you are traveling in July or August.
Don't forget your camera, as there are many photo-worthy sights in and around the city.
If you plan to visit the Duomo di Siena or any other church in the city, remember to wear suitable clothing. In most Italian churches, it is a must that your shoulders and knees are covered.