Book your San Gimignano day trips from Florence and discover one of Tuscany's most attractive towns. The picturesque hilltop settlement is a UNESCO World Heritage site and is famous for its imposing skyline, which boasts more than a dozen Medieval towers.
Tour the historic center and discover the town's wealth of Romanesque and Gothic architecture. Explore Piazza della Cisterna and see the fantastic frescos of the Church of Santa Maria Assunta in this alluring walled town.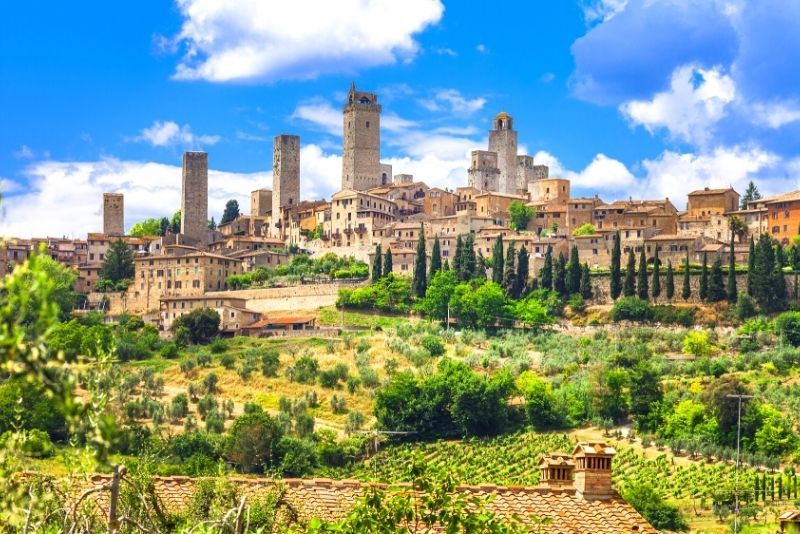 How to get to San Gimignano from Florence?
The town of San Gimignano is located in the Tuscany region of west-central Italy. It is around 60 kilometers southwest of the city of Florence and can easily be reached by car or bus.
From Florence to San Gimignano by car
The drive to San Gimignano takes you through the heart of wine country and takes just over an hour by car. Take the SS67 out of Florence and follow the signs for Siena-Bagno a Ripoli and the SP127 until it joins with E35 Sud. Take the Raccordo Autostradale Firenze towards Siena and then the SP1 until San Gimignano.
From Florence to San Gimignano by bus/public transport
There are a couple of ways to San Gimignano from Florence by public transport and both journeys take around 1.5 hours.
You can take the 131 bus (Colle V. Elsa) from Florence Bus Station to Poggibonsi. Here you must change to the 131 bus (Porta San Giovanni) which will take you all the way to San Gimignano.
The second option is taking the Siena Regional train (18223) from Florence Santa Maria Novella Station to Poggibonsi and then hopping on the 131 bus (Porta San Giovanni) to San Gimignano.
Guided tour to San Gimignano from Florence
One of the easiest and most hassle-free travel options is to join a guided San Gimignano day trip from Florence. These day tours include pickup and drop-off at a hotel or convenient meeting point, and transport to and from the destination leaving you free to relax.
What is the typical itinerary of a day tour to San Gimignano from Florence?
A typical San Gimignano day excursion from Florence often includes visits to the cities of Pisa and Siena in the itinerary also.
Begin the day with pickup at a hotel or central meeting point before you head off to the first stop on your tour, San Gimignano. Here you will have a chance to explore the walled town center which is loomed over by 14 Medieval towers and visit the Collegiate Church and Piazza della Cisterna.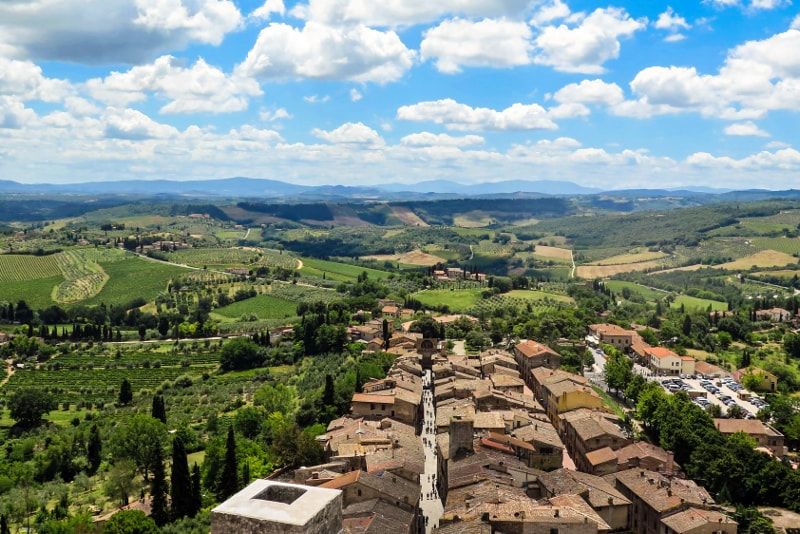 Next, take the short road trip to Pisa to see its most famous landmarks, including the Piazza dei Miracoli, the unique Leaning Tower and the Cathedral and Baptistery.
The next stop will be in the historic and beautiful city of Siena where you can discover its Romanesque and Gothic architecture. Sample some of the local wines and grab a bite of gelato before boarding the bus for the return journey back to Florence.
What kinds of tours are available to go to San Gimignano?
There are a few different kinds of tours to choose from when visiting San Gimignano from Florence. The choice really comes down to what else you would like to see in the region, namely the Chianti wine region and the cities of Siena and Pisa.
Guided tours to San Gimignano from Florence
You can take a half-day small group tour of San Gimignano with a professional driver/guide who will show you the town, as well as views from the surrounding countryside.
Pick up some history on the Medieval architecture, stroll through the historic streets and get recommendations for where to visit.
Day trip to San Gimignano plus Chianti Florence
See the historic sights of San Gimignano and then discover the picturesque region of Chianti, famous for its vineyards, olive groves and wine estates. These tours often include wine tasting and lunch in a traditional winery as a highlight of the day.
Day trip to San Gimignano plus Siena from Florence
Combine a tour of San Gimignano with a trip to the Medieval city of Siena to see its historic landmarks and old-fashioned charm. Enjoy a walking tour and free time to explore before you grab a light lunch with wine tasting at a local winery.
Day tour to San Gimignano plus Pisa and Siena from Florence
A whistlestop tour that takes in some of the most popular places in the region, this jaunt is great for those who want to see everything but have only a short time to do it. Check out the views of San Gimignano, the historic alleys of Siena and the famous landmarks of Pisa all in one day.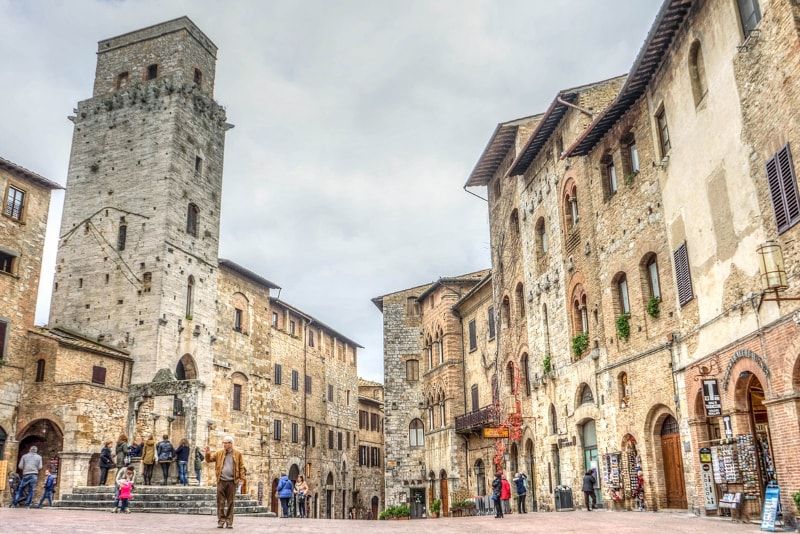 How much does a tour to San Gimignano from Florence cost?
Prices can vary a great deal depending on what you want to see and do on your San Gimignano day tour. For a day trip to San Gimignano and Chianti, prices are a little higher and begin at €130, whereas, if you would like to visit Siena and Pisa, prices begin at around €60 to €70.
If you opt to beat the crowds and enjoy a private tour, prices start from as little as €80 per person.
What will you see and do in San Gimignano?
The town of San Gimignano is beautiful but not so big, so it can be explored in a fairly short time.
Walking through the historic center of the town, you can see the main squares of Piazza della Cisterna and Piazza del Duomo. The 12th-century Church of Santa Maria Assunta can be found here which is decorated with outstanding fresco artworks.
The first thing you probably will notice on arriving in San Gimignano are the large towers that dominate the skyline. These were built as status symbols by the town's wealthy families in the Medieval period. Out of the more than 50 towers that used to stand in the town, only 14 remain. You can climb the 54 meters to the top of the tallest tower, known as Torre Grossa.
For a look into the history of the town, you can visit the San Gimignano 1,300 exhibit which features a clay model of the town as it appeared in the year 1300. A grislier exhibit is the Museum of Torture and the Death Penalty, which features all manner of horrific devices — demonstrated by unfortunate wax figures from the town's medieval past.
When is the best time to visit San Gimignano?
Between late spring and autumn is a good time to visit San Gimignano. The town is a popular tourist attraction and can get pretty busy during the summer months. To avoid the busy season, late April, May and September are the best months to visit. Alternatively, you can visit earlier in the morning to beat the rush.
Are there any tours to San Gimignano from other cities in Italy?
Yes, there are other tours departing from several other cities in Italy:
Travel tips
Be sure to book your San Gimignano day trips in advance for the most hassle-free travel experience.
Wear comfortable shoes, as there will be some walking involved on uneven or cobbled surfaces.
Pack water, a sun hat and sun cream, especially if you are traveling through the months of July and August when temperatures are at their highest.