Take a Pisa Day Trip from Florence and discover more about the famous Italian city. Home to one of the world's most iconic structures — the famous Leaning Tower, Pisa is one of the most popular cities to visit in Tuscany.
Explore the Piazza dei Miracoli or "Square of Miracles" where many of the famous landmarks of the city can be found including the Leaning Tower, Pisa Cathedral, the Camposanto and the Baptistery.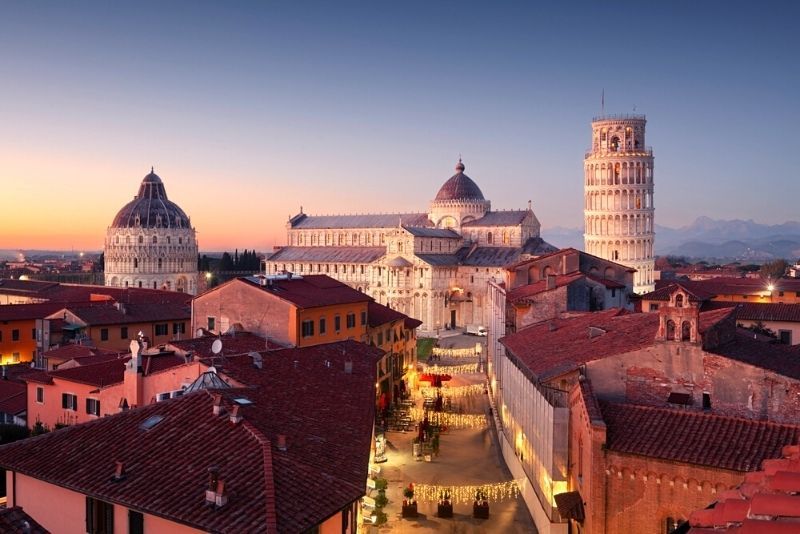 How to get to Pisa from Florence?
Pisa is located in the Tuscany region of west central Italy and is around 90 kilometers to the west of Florence. It is easy to reach by car, bus and rail within a reasonably short time making it the perfect destination for a day trip from Florence.
From Florence to Pisa by car
To travel between the two cities by car takes approximately one hour and 20 minutes. Take the SS67 out of Florence and then take Via Marco Polo to the A1/E35. Follow the A1/E35 and then the SGC Firenze - Pisa/Livorno road which will take you all the way to Pisa.
From Florence to Pisa by bus/public transport
The quickest and easiest way to visit Pisa via public transport is on the train. The journey takes about an hour on average and the trains run almost every 30 minutes from Firenze Santa Maria Novella Station.
Guided tour to Pisa from Florence
If you aren't planning on renting a car in Florence, the most hassle-free way to take a Pisa day trip is on a guided tour. Join one of many varied tours leaving from Florence daily and you can relax and enjoy the sights as the transportation is taken care of for you.
What is the typical itinerary of a day tour to Pisa from Florence?
There are plenty of Pisa day trips which visit only Pisa but there are also many that take in other popular nearby destinations. You can combine your trip to Pisa with a visit to the Cinque Terre, San Gimignano, Siena and more.
Most Pisa day tours start with pickup at your hotel or a convenient central meeting place where you will meet your guide, board the bus and travel the hour or so distance to Pisa. One of the first stops is usually the city walls which date back to the middle ages, from here you will see the Porta Santa Maria city gate and get your first views of the Piazza dei Miracoli.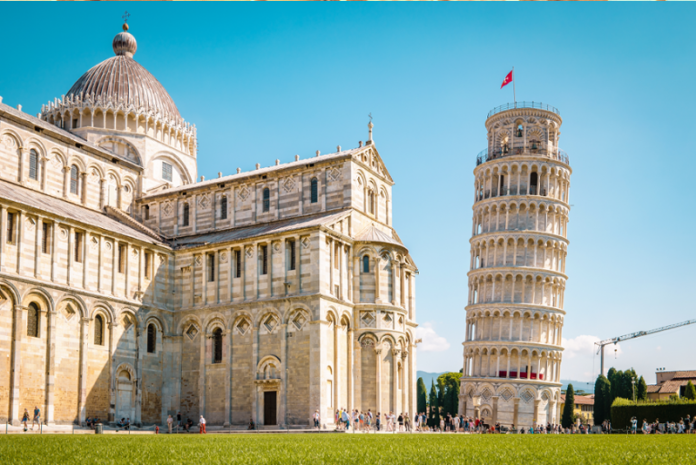 Take some time to explore the area's grand landmarks including the Duomo (Cathedral) which dates back to the 11th century, the Baptistery of Saint John and the huge monumental graveyard the Camposanto.
Of course what Pisa day tour would be complete without a visit to the famous Leaning Tower to pose for the obligatory photos. Next spend some time exploring the city itself before boarding the bus for the journey back to Florence.
What kinds of tours are available to go to Pisa?
There are a wide variety of Pisa day trips from Florence to suit all budgets and tastes. From whirlwind group tours which take in lots of sights and landmarks in a single day to private guided minivan tours for just you and your loved ones, there are plenty of Pisa day tours to choose from.
Here are some of the most popular.
Guided tours to Pisa from Florence
Guided group bus tours from Florence that visit all the most important Pisa landmarks. Spend some time at each site and pick up some history from your professional guide before enjoying some free time to explore the city of Pisa.
Private tour to Pisa from Florence
Private guided minivan tours for small groups and families. These tours offer the most flexibility and allow you to tailor your Pisa day trip to your own preferences more than a group tour does. See the sights in a private van with your own personal guide.
Day trip to Pisa plus Cinque Terre from Florence
Visit the must-see attractions of Pisa's Piazza dei Miracoli and then visit the colorful seaside villages of Cinque Terre. Get a taste of the Italian Riviera on these small-group guided day tours.
Day tour to Pisa plus Siena and San Gimignano from Florence
Tour Tuscany's most enchanting towns and cities all in one day. Visit the Renaissance monuments of Pisa, the Medieval hilltop town of San Gimignano and the beautiful city of Siena on an action packed full-day trip from Florence.
How much does a tour to Pisa from Florence cost?
As there is such a wide choice of Pisa day tours available, the prices can differ greatly. Guided group day tours begin at around €50 per person and private tours are offered from €320 per group.
For a Pisa day trip visiting the Cinque Terre prices start at around €120 per person and for Pisa, San Gimignano and Siena trips prices begin at around €60 - €70 per person.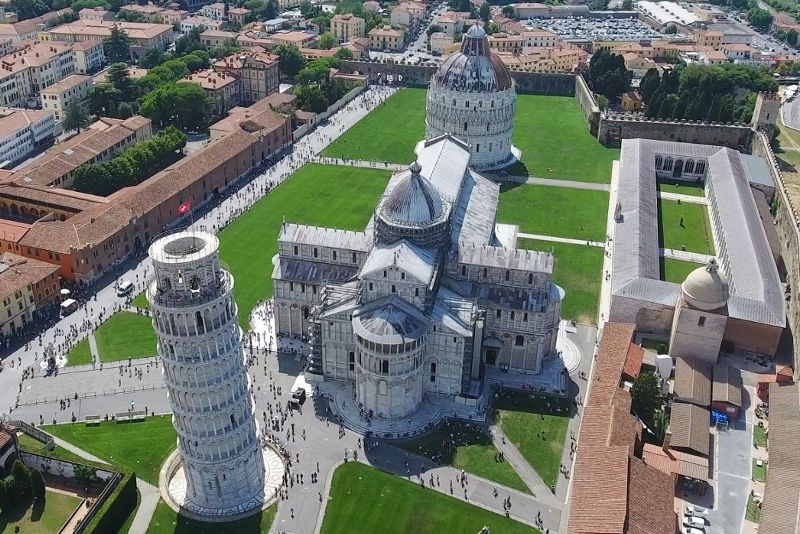 What will you see and do in Pisa?
Pisa has lots of attractions to visit and is strewn with historic landmarks  and excellent photo opportunities. The Piazza dei Miracoli (square of miracles) is the city's touristic center and contains some of the world's most iconic buildings.
The Leaning Tower
You surely couldn't visit Pisa without a trip to the famous Leaning Tower. The tower dates from the 14th century and has a famous four degree tilt in its geometry. Visitors can actually climb to the top of the tower, which stands almost 60 meters tall. This is one of Italy's most photo worthy landmarks!
Pisa Cathedral (Duomo)
Pisa's Duomo Cathedral is the oldest building in Piazza dei Miracoli and dates back to the 11th century. It has an eclectic design which includes Classic, Romanesque, Islamic and Byzantine elements. The interior features important artworks by Andrea del Sarto and sculptures by Giovanni and Nicola Pisano.
Baptistery
The Baptistery in the Piazza dei Miracoli dates back to 1152 and its construction took over 200 years to complete. It is the largest Baptistery in Italy and is renowned for its fantastic acoustics.
Camposanto
The Camposanto is a Monumental Cemetery that dates from the 13th century and sits on the site of a former burial ground. It has some impressive frescoes which date to the 14th century and has been the final resting place for some of the city's most important people.
What are the opening times?
If you want to visit the Piazza dei Miracoli and its historic landmarks the opening times are from 9 AM to 8 PM Sunday to Friday. The Saturday opening hours are 8.30 AM to 11.30 PM.
When is the best time to visit Pisa?
Anytime is a great time to visit Pisa. The months of June, July and August are the busiest and warmest months of the year. If you like to explore without the crowds then the months of May and September are best.
Are there any tours to Pisa from other cities in
Italy?
Yes, there are other tours departing from several other cities in Italy:
Travel tips
Book your Pisa day trips in advance especially if you are traveling in July and August. The summer months draw millions of tourists to Pisa so these tours are likely to sell out.
If you plan to spend time in each of the attractions be sure your tour allows time for each and that tickets are included in the price.
Pack sunscreen and a hat and remember to drink plenty of water during the warmer months.
Dress appropriately to avoid disappointment! When visiting churches and religious buildings in Italy it is often necessary to cover your shoulders and knees.